Tom Holland Spider-Man™ Homecoming
Cast: Tom Holland, Michael Keaton, Zendaya, Jon Favreau, Donald Glover, Marisa Tomei, Robert Downey Jnr.
Director: Jon Watts
Genre: Action, Adventure, Sci-Fi
Rated: PG
Running Time: 132 minutes

Synopsis: A young Peter Parker/Spider-Man (Tom Holland), who made his sensational debut in Captain America: Civil War, begins to navigate his newfound identity as the web-slinging superhero in Spider-Man: Homecoming. Thrilled by his experience with the Avengers, Peter returns home, where he lives with his Aunt May (Marisa Tomei), under the watchful eye of his new mentor Tony Stark (Robert Downey, Jr.).

Peter tries to fall back into his normal daily routine – distracted by thoughts of proving himself to be more than just your friendly neighbourhood Spider-Man – but when the Vulture (Michael Keaton) emerges as a new villain, everything that Peter holds most important will be threatened.

Spider-Man™ Homecoming
Release Date: July 6th, 2017
www.Spidermanhomecoming.net
About The Production
In Spider-Man: Homecoming, Peter Parker strives to join the Avengers as the most popular character in comic book history takes his rightful place as part of the Marvel Cinematic Universe. Marvel's crown jewel, Spider-Man made a cameo debut in the MCU in Captain America: Civil War last summer; the overwhelming positive reaction by both the critics and fans to the new vision for the character has whetted the appetite as now, Sony Pictures and Marvel Studios team for this new adventure.
Tom Holland, who plays the web-slinger, adds that before Peter can join his heroes, he has a host of challenges to face. 'Peter goes from having the time of his life battling with the Avengers in Civil War to suddenly feeling like he's got nothing to do," explains Holland. 'Tony Stark has assigned him to be the friendly neighborhood Spider-Man, which means helping get cats out of trees, helping old ladies across the street and stopping petty thieves – nothing too hairy. But then Spider-Man stumbles across hightech weapons, which leads him down a path of learning and mastering his new abilities and powers."
And if Peter is going to prove himself worthy of being an Avenger, he will have to face a mentor like no other. 'Tony Stark has taken a continued interest in Peter Parker," says Robert Downey Jr. 'He's helping him up his game with a new suit and tech. But he's kind of keeping a real close eye on him and making sure that he's worthy of being a potential recruit for the Avengers."
For producer and Marvel Studios President Kevin Feige, bringing the character into the Marvel Cinematic Universe in an original way that film audiences have never seen before was a top priority. 'Over the past 15 years, we have built the Marvel Cinematic Universe with so many characters and movies, and now we have the opportunity to introduce Peter Parker and the Spider-Man franchise into that universe for the first time," says Kevin Feige. 'It's exciting because that's how he truly was in the comics, from the very beginning – he didn't enter the comics as the only hero; he entered a world in which Tony Stark, Captain America and the Avengers all were there. And now, for the first time, we get that in an entire film, which makes it fresh and new."
Producer Amy Pascal speaks to the unprecedented collaboration. 'This movie is a product of Sony and Marvel working closely together," says Amy Pascal. 'It's a Sony movie and a Marvel production. Everyone came together and decided if we can put SpiderMan back in the MCU, which he always was a part of in the comics, everybody wins – and the biggest winner is the fans, as they finally get to see what they've been waiting a long time to see."
'Putting Spider-Man in the MCU is the best thing in the world for me as a storyteller," says director Jon Watts, who takes the helm of Spider-Man: Homecoming. 'Not only did they take care of the origin story and heavy lifting in Captain America: Civil War – which they did so economically and beautifully – we also didn't have to spend any time explaining why this 16-year-old kid would come up with the idea of becoming a superhero. He's grown up in the MCU; when Peter Parker was eight years old, he saw Tony Stark say -I am Iron Man' on TV. So the idea of this being a world where superheroes exist means that we don't have to spend any time addressing any of these issues. We just get right into the fun of it."
Keeping with the mantra of wanting a fresh new story and tone for the franchise, the filmmakers chose Jon Watts to direct the film. Watts' persistence and previous work convinced Kevin Feige and Amy Pascal that he was the right person for the job. 'Kevin Feige and I saw a small film Jon Watts wrote and directed called Cop Car," says Amy Pascal. 'It was incredibly impressive. He was able to get incredible performances from two children who were not actors. It was completely tense; you love these kids. He showed he has that rare quality of being able to tell a story through action."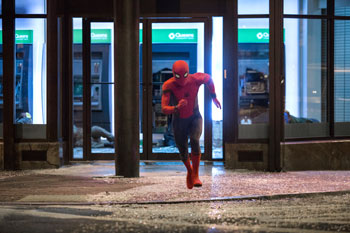 'What was important to us was not that he proved that he could shoot a big action sequence, because a lot of directors can do that," says Kevin Feige. 'It was that every time he showed us something, it came from the place and humor of Peter Parker himself."
For Jon Watts, being tapped to direct Spider-Man: Homecoming was something he never thought was a possibility when he first met with Marvel Studios president Kevin Feige. 'When Marvel called for a meeting, I assumed it was just to see what I was like," he recalls. 'Then, they started to talk about what they wanted to do with Spider-Man and this amazing new opportunity where Sony and Marvel were teaming up. I was incredibly excited when I left and proceeded to beat them into submission until they said yes."
Jon Watts' film Cop Car was an influential film in the boardrooms and creative studios of Hollywood. 'I think one thing that people really responded to in Cop Car was the performances felt like the way real kids would talk and act," explains Jon Watts. 'I really remember what it was like to be in high school, when your brain isn't an adult brain yet – you're thinking about things in a very skewed, specific way. That's was one of things I wanted to inject into the story and film."
Watts also connected with Peter Parker specifically in a very personal way, with parallels to his own youth. 'I've always sympathised with Peter Parker, because I was a science nerd in high school, just like Peter is before he gets bit by the spider," he reveals. 'I loved chemistry and was going to college to be a chemical engineer. I would hang out in the chemistry room at lunch. My friends were other kids who were into chemistry, physics… we were just the nerdiest group of people."
'Imagine if you had Spider-Man's abilities – you would spend every moment of your day trying to maximize the amount of time you get to be Spider-Man, because it would be the best feeling in the world," Watts continues. 'Sure, there are all these responsibilities that come with the power of being Spider-Man, but it's also important to remember how much fun it would be to be swinging from building to building. It's a great yin and yang effect: having to deal with all the complications and stress from having these powers, but at the same time the fun and excitement of it all."
'I hope what we're doing is telling a relatable Spider-Man story," says Amy Pascal. 'What has always been great about the character of Peter Parker is that he has the same sort hopes, dreams, and problems that we all had. So audiences who are going to be able to instantly identify with Peter Parker, but at the same time see a Spider-Man interacting in a world he was not able to be a part of before."
'We introduced Spider-Man in Civil War and you got to see the banter and the fun and contrast between he and the other heroes there," says Kevin Feige. 'And now, after the greatest vacation of all time, in which he got to spend this time with these rock stars, he's got to go back to high school. So, it exacerbates his problem – a problem that I certainly had and I think most people who go to high school have – -Is there something more for me out there?' But Peter knows there is because he just did it. He thinks he's ready, and of course when you're fifteen years old you often think you're ready for something before you really are. That's the fun of this movie, that's the relatability of Peter Parker, and that's why we wanted to do this and reintroduce Spider-Man to audiences through the lens of the Marvel Cinematic Universe."
In selecting Tom Holland for the role, the filmmakers cast an actor who has the youth the character needs in this story. 'That's the character as he was in the comics originally," says Kevin Feige. 'That was the miracle when we found Tom Holland, because we found someone who could clearly look and play fifteen years old. We wanted to keep that as the contrast to some of our other superheroes who look good, but are not fifteen."
And Peter's arc in this film, as he rises to be a hero, is one that fits perfectly with his age. 'Peter Parker loves being Spider-Man but he doesn't necessarily love being Peter Parker," says director Jon Watts. 'Peter Parker sort of represents everything that he was – an awkward, weird science nerd – but now, he has a whole new life ahead of him being a superhero who hangs with Tony Stark and Captain America and all the Avengers. But even though he has all these new powers and connections, he hasn't come to terms with who he is as Peter Parker.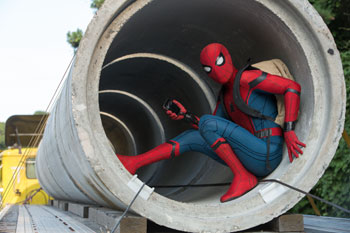 One of the journeys for him is realising that you can't move ahead to be Spider-Man until you've really figured out who you are as Peter Parker."
Playing Spider-Man is a dream long in the making for Tom Holland. 'Five years ago, I was at the Empire Awards in London and one of the interviewers asked me if I could be a superhero, who would I be," recalls the actor. 'I said, -In ten years, I'd like to be the Spider-Man after Andrew Garfield.' I would never have guessed that it would have come true so quickly."
After several rounds of sending in tapes of himself, Tom Holland recalls his final test: meeting with Robert Downey Jr. But before he could meet Tony Stark, he got the next-best thing. 'I actually met Robert Downey Jr's stand-in first – he looks a lot like Robert Downey Jr. I thought, -Wow, you look really different in real life' – and got the immediate nerves of meeting him out of the way. When Robert Downey Jr. came in, we improvised and riffed off each other, which was great."
And Iron Man himself vouches for the casting. 'Tom Holland is just the perfect man for the job," says Robert Downey Jr. 'He's enthusiastic, bright and gifted, a very physically talented guy by virtue of his dance and acrobatic background. He has just the right combination of elements required to bring a new take on the character."
'Tom Holland was astonishing during the casting process," says Amy Pascal. 'He brought a whole other quality to Peter Parker that was so true in the comics. We screen-tested a lot of kids, but from the first second we saw him on the monitor with Robert Downey Jr., we knew he was the one."
'The energy of Tom Holland meeting Robert Downey Jr. for the first time was exactly what we wanted out of Peter Parker meeting Tony Stark," says Kevin Feige. 'The audition scene was the bedroom scene in Captain America: Civil War, and so we wanted to continue that relationship between Peter Parker and Tony Stark that we set up in the film."
'Tom Holland has a wide-eyed innocence, he seems awkward and stumbly, but you feel like there's a rightness and deep morality at the heart of it. To see this kid totally hold his own and bring the scene to life was impressive," says Watts. 'It was just the three of them – Marisa Tomei, Robert Downey Jr. and Tom Holland – doing this scene, and it felt so alive and exciting that it blew open the doors for the possibilities of where I could take the story in Spider-Man: Homecoming."
Tom Holland says that the give-and-take between the director and star was natural, organic, authentic, and easy. 'Jon Watts is great at collaborating and letting you have your own voice in bringing your own version of the character to the screen," he says. 'He's an actor's director. We were both thrown in the deep end a bit – I've never been in a movie of this scale as the lead before, and he's never directed a movie of this scale – so we helped each other out as much as we could, and we built a really nice relationship around it."
Spider-Man: Homecoming picks up the action directly following the epic battle scene of Captain America: Civil War, with Tony Stark returning 'underoos" back home to Queens. 'Peter really believes he has a mentor in Tony Stark, and Tony really likes Peter, but he can't be babysitting this kid," Kevin Feige explains. 'Tony gives Peter a little bit of rope to see what he can do on his own."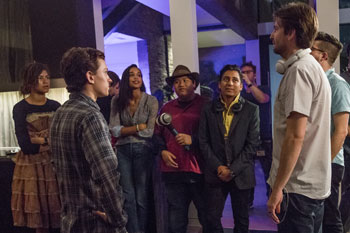 Peter believes that his 'internship" with Stark Industries is merely a prelude and test toward becoming a full-fledged member of the Avengers – but the spider needs to learn to crawl before it can fly, as Tom Holland explains: 'We go back in time to relive the Civil War splash panel fight from Peter's perspective. We see him having the time of his life. He's on a private jet with Happy, he's staying in this crazy beautiful hotel room to suddenly him being crammed on a subway late for school. No one's called him to give him another mission. That's the contrast: the kid at summer camp is suddenly the kid back at school."
'Tony becomes a kind of father figure to Peter," says Tom Holland. 'Peter's trying to prove himself to Tony that he is old and wise enough to take on bigger tasks, but Tony keeps putting him down and telling him he isn't ready yet. I think that's what really drives Peter to possibly go down the wrong path, before he figures it out and we see why Peter Parker is the most beloved and powerful super hero of the MCU."
It's one thing for Peter Parker to have a father figure in Tony Stark – but he actually does have a familial guardian who cares deeply for him: his Aunt May. While Tony Stark helps Peter Parker up his game with a new suit and tech and monitors him as he navigates his newly found superhero powers, May is his guiding light.
'The character of Aunt May is so important to Peter Parker," explains co-producer Eric Hauserman Carroll. 'In this telling, we all agreed that the character should be more like a big sister or someone much closer to him in age."
'How do we play Aunt May as a young single mom still trying to figure out her own way through life?" asks Kevin Feige. 'She clearly did an amazing thing in the past by taking in Peter and raising him. She's had tragedies in her past that we allude to, but ultimately, she is a woman who, like Peter, is trying to find her way. It gives her character a much more contemporary arc."
With that in mind, the filmmakers cast Oscar® winner Marisa Tomei. 'We took the spirit of who Aunt May is – in many ways, she's Peter's conscience – and see her dealing with things in the same way that Peter is. I think making the character younger and hipper is just a great way make that feel vital," says Jon Watts.
'In the vein of Spider-Man history, Aunt May takes over the maternal duties and gives guidance to Peter," says Marisa Tomei. 'In this iteration, we live in Queens, and it's just May and Peter, and she is all about encouraging him to get out his shell a little bit. He's super studious and very smart, which is great, but May also encourages him to have some more fun and experience life a little bit."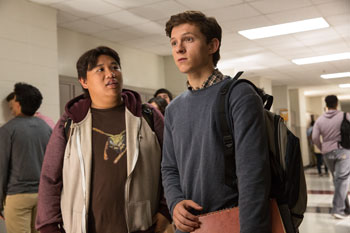 This is an Aunt May who is much more in tune with her own youth as she raises a teenager. 'Their relationship is very close and tender – she really is the person who gave him his values – but it's clear to her that he's hiding things from her," says Marisa Tomei. 'She's concerned about what might be going on inside him, because she knows that high school can be a very difficult and awkward time. Of course, she doesn't have any idea that what he's hiding is that he's a superhero."
Marisa Tomei says that May's relationship with Tony Stark is a careful one. 'She thinks that Peter is an intern for Stark Industries, and she's thrilled that he has that position – the potential to learn and have a mentor in Tony Stark. She's been watching Tony Stark for a while and seen how he's changed from being a hypercapitalist into a person who does more good on his own redemption trail. But she is keeping a close eye on how he is influencing Peter, so he doesn't just become a workhorse. He is still a boy becoming a man, and needs space to explore his inner life and just be a kid."
So, Peter is yearning for independence, and Tony and May are both willing to give him a bit to see how he handles it… and that independence leads him directly into the path of a dangerous new villain – The Vulture, Adrian Toomes, brought to life by Academy Award® nominee Michael Keaton. 'Michael Keaton's body of work is amazing," says Kevin Feige. 'He has so many qualities that made him perfect for the role, and there's also the fun, meta quality in that he played Batman and Birdman. He's at an incredible point in his career and comes to roles with such gravitas that elevated this character beyond our expectations."
Tom Holland has been a fan of Michael Keaton's for a long time, but he says that work took precedence when they first met. 'I've been a huge fan of his ever since Beetlejuice," says Tom Holland. 'The first time I'd met him, we shot the most intense scene of the whole film. It was just so intimidating and in all honesty required very little acting on my behalf because he brings this focused intensity that made me feel truly terrified.
He's also very generous and giving as an actor and his presence in the film really raises the stakes and action in the film."
Spider-Man: Homecoming begins with a ground-level result of the previous MCU films: as thrilling as the Avengers' battles have been, they've left ordinary New Yorkers with a mess to clean up – an effort that is still ongoing. The restoration effort has been very good for Adrian Toomes, whose salvage company has been awarded the contract of collecting the various alien articles and weaponry left behind in the wreckage… until Tony Stark swoops in by teaming with the government to create the Department of Damage Control, taking the entire business away from Adrian Toomes.
'Adrian Toomes is a hardworking guy who's built a great business," says Michael Keaton. 'He's not wealthy, but he works hard, by dealing with the destruction that some of the Avengers' adventures have caused. But when orders come down that this job is going to be under the auspices of Tony Stark, he thinks, well, what's fair about that?"
This is what separates the heroes from the villains. Michael Toomes, desperate to continue to provide for his family, begins stealing exotic alien technology, even building himself a wing suit that he and his men use to continue to rob the DODC trucks – repurposing their loot as weapons to sell on the black market.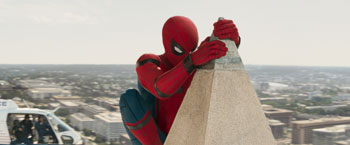 'I wanted Spider-Man: Homecoming to be a ground-level super hero movie in the MCU, so we needed a ground-level villain," says Jon Watts. 'I really liked the idea of having villains with problems that people can relate to. It's not about world domination; it's not about some crazy revenge plot; it's about not having enough money to get by and really wanting to have a place in the world."
'What's cool about the Vulture is the same thing I thought was cool about Bruce Wayne – he builds his suit and armor and what he needs," says Michael Keaton. 'He doesn't have any kind of inherent super power; he's just a man, though one who has all these other things going for him."
Many actors, when called upon to play the villain, will say that the challenge is to find the universal human drive in the character and to almost be convinced by their misguided approaches. Michael Keaton is no exception. 'What's kind of cool about the underlying plot in the story is that in some ways Peter doesn't see the bigger picture; Adrian Toomes is a mature man who has seen first-hand how the world works," he says. 'Adrian Toomes looks at the real world and has experienced all its unfairness and inequity firsthand. That is how the Vulture thinks, and I think he's kind of right." If Tony Stark is the father figure for Peter, Happy Hogan is the big brother. Irascible, annoyed, busy, but ultimately deeply caring, Tony's right-hand man has been placed in charge of checking up on Peter's progress while Tony does whatever it is genius billionaire playboy philanthropists do all day long.
'To Peter, Happy is that slightly older sibling who's always giving you a hard time," explains Eric Carroll. 'Happy thinks, -Wait a minute, you meet this new kid and make him a fancy suit, and he gets to fight alongside the Avengers?' He takes a little bit of that jealousy out on Peter."
Jon Favreau grew up in Queens and attended a school not unlike Midtown Science, where Peter attends. For these reasons, he says, Spider-Man: Homecoming was a bit of a homecoming for the actor. 'Because of what we had in common, I've always had an affinity for the character," he says. 'Seeing it depicted on film as it was in the books gives me a bit of a kick."
Peter also has an ordinary life to lead – helped out by his best friend, Ned, played by Jacob Batalon.
While many of the actors in Spider-Man: Homecoming have experience with the behind the-scenes demands of promoting an MCU film, Jacob Batalon is making his motion picture debut. (Not a bad way to start one's career.) He got his first taste last year at Comic- Con, which culminated a long casting process. 'The gravity of it didn't sink in until we went to Comic-Con," he says. 'I could see how much fans love this character and go crazy for him. I've never felt an energy like that – and knowing that they support us really made me feel great. The first super hero film I saw was the first Spider-Man and those first films were such a big part of my childhood. It's hard to explain what it feels like to know that you're now part of building that story."
In the film, Ned Leeds is Peter's best friend and confidant. But when Peter begins his journey into the solitary world of Spider-Man, it leaves Ned as more of an outlier than his best buddy. 'Ned's very sweet, genuine – well, I guess you'd say he's nerdy," says Jacob Batalon. 'He loves technology. He's super-duper smart. And all he wants to do is be Peter's right hand man. It is very tough on him not knowing what Peter is keeping from him – he finds it very frustrating and thinks that Peter is just getting too cool for him, like when you think you may lose a person who's very important to you at one point in your life. So when Ned finally finds out Peter's secret, it's the greatest thing in the world for him – it's going to be so cool having Spider-Man as his best friend."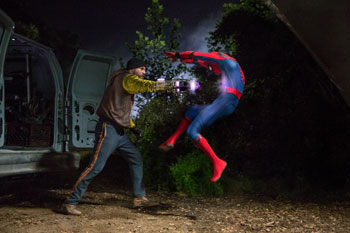 'The relationship between Peter and Ned is probably the most important relationship in the movie because Ned is the only person who Peter confides in and talks to about being Spider-Man," says Tom Holland. 'Tony Stark and Happy Hogan seem a little distant, so Ned is almost like a shrink that he can just really let it out to."
And, Holland says, that's similar to their off-screen dynamic. 'Since day one, Jacob Batalon and I hit it off immediately. Jon sent us off on some tasks to sort of start bonding, but we didn't really need to do that. We were already really good friends and we just gelled, and it's exactly what happens in the movie."
Even though Jacob Batalon was not the most experienced actor who was up for the role, Carroll says it was an easy call to cast him. 'He brought an authentic, high school innocence," he says.
'He really is this young kid who's super excited about everything. That came through in his screen test and auditions and translates perfectly to the way Ned Leeds would be excited about finding out that his best friend is Spider-Man. And he was the perfect Ned Leeds - the entire crew loved him, he hugged every single person on his way to and from set, and he became the unofficial mascot of the production."
At school, Peter and Ned face the toughest challenge of all: girls. Liz, played by Laura Harrier, is the ambitious, beautiful object of Peter's affections, while Michelle, played by Zendaya, is the straight-shooter who sees through whatever game Peter thinks he has. 'Liz is very driven and smart. She's a senior, so she's a bit older – the other characters are sophomores," says Harrier. 'She goes through a huge character arc in this movie – at the beginning of the film, she's completely focused on getting into college, going to MIT early decision, winning the academic decathlon… but by the end, after her experience with Peter, she completely reevaluates everything – there are so many bigger and more important things that she could've been focusing on than her chemistry test."
At the outset of the story, Liz doesn't really see any romantic possibilities with Peter – in fact, she doesn't even notice his mooning over her. 'But after a life-threatening event at the Washington Monument, she begins to rethink her perspective begins to see Peter as smart, interesting and cool," says Harrier.
'It's fun to play those scenes because Peter has a golden ticket he can't use – he could get any girl in the world if he just said that he was Spider-Man. But he knows he can't do that," says Tom Holland. 'He knows he's different and he knows he can be the best at everything, but he has to be mature enough not to make that wrong decision and tell everyone his secret."
If Liz is the gorgeous, popular genius, Zendaya's Michelle has chosen to stake out different ground. 'My character is very smart, intellectual – but I'm not gonna lie: she's super-weird," says Zendaya. 'She's super-cool to me, because she's constantly thinking about something, sits back and observes, and only says little things – but what she does say is very true and real."
'Even by the end of the movie, we don't know everything that's going on with Michelle," says Holland. 'But she seems to follow Peter and Ned around quite a lot, so that might suggest that there's a friendship to progress in the future."
'Zendaya herself really informed her character," adds Eric Carroll. 'In a school full of really smart kids who build computers at home in their spare time, she's the kid walking around with a novel in her pocket and any spare moment she has is spent reading. She's the artsy kid in a school full of nerds."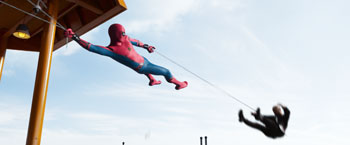 For Zendaya, as cliché as it sounds, being cast in the film was a dream come true. 'My first reaction was that this is one of the coolest things I've ever been a part of," she says. 'Everybody says -I always was a fan of Spider-Man' but to be completely honest it's true. The character was always my favorite growing up because I always felt like he was like the realest superhero. He wasn't born with his powers, it just happened to him. He's not well off financially; he deals with tragedy and normal everyday problems like paying rent and helping around the house, which I always thought that that was cool. I think that's why a lot of people like Spider-Man; you can connect to him. When I was 16, my first date was to see Spider-Man. And now here I am now in a Spider-Man movie. Pretty crazy."
Zendaya says that she especially appreciated the filmmakers' approach, bringing a grounded, honest and real look to the superhero story. 'The movie is full of diverse, real characters," says Zendaya.
Standing in the way of a potential date with Liz is Flash Thompson, played by Tony Revolori, who moviegoers will recognize as Ralph Fiennes' protégé in The Grand Budapest Hotel.
It's very personal rivalry for Flash. 'He can't stand Peter Parker because Peter is so talented and smart and doesn't need to study to get good grades. Flash studies extremely hard and works his butt off and still is always second fiddle to him," says Revolori. 'Flash has no idea that Peter is Spider-Man and will probably never realise that, because he does not want Peter to exist at all. There's no way those two will ever come together in his mind."
Among the villains, actors Bokeem Woodbine and Logan Marshall-Green join the cast as two of Adrian Toomes' top guys, Schultz and Brice.
'Within the crew, Brice wants in bad in the superhero world, which is why he calls himself -The Shocker,'" adds Logan Marshall-Green. 'That's his idea. I think he's a guy who's gotten in over his head – a guy who Toomes probably did a favor for by putting him on his crew but is now compromising the crew, himself, and of course Toomes."
Rounding out the talented cast of Spider-Man: Homecoming is Angourie Rice as academic decathlon team member Betty Brandt; Michael Chernus as Mason, Adrian Toomes' salvage technician; Donald Glover as Aaron Davis; Tyne Daly as Anne Marie Hoeg, head of the DODC agency; Martin Starr as Mr. Harrington, the academic decathlon coach; Hannibal Buress as gym teacher Coach Wilson; Kenneth Choi as Principal Morita, Tiffany Espensen academic decathlon team member Cindy; Abraham Attah, the young actor acclaimed for his performance in Beasts of No Nation, as academic decathlon team member Abe; and Michael Barbieri as academic decathlon team member Charles.
'There's no template in New York City schools – there's every race, shape, and creed of kid at pretty much every school," says Eric Carroll. 'So that freed us – we didn't have to cast a type for any role – we could just find the best actor for each part, no matter how tall, short, what body shape they have or their race, let's just find the best."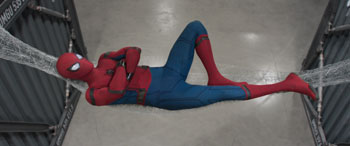 About The Production
Spider-Man: Homecoming called Pinewood Studios Atlanta its home base, but for the first two weeks of shooting, Jon Watts set the tone by filming at a real Atlanta-area high school, which doubles as Midtown High School of Science.
This was not the only practical set in the film; on the contrary, Watts' sensibilities as a director and his approach to making Spider-Man: Homecoming a grounded superhero film combined to make practical filming a priority.
'I come from the world of independent filming, where you really don't have the luxury of building sets on stage. You're basically on location the entire run of show," says Jon Watts. 'It gets much tougher to do that on a big spectacle film with a lot of action and the need for secrecy, but our locations team came up with so many great practical locations that were not only able to double Queens and New York seamlessly, but also let us fly under the radar most of the time. Our production designer Oliver Scholl did a great job of augmenting physical locations and designing and building sets within existing practical locations."
'Shooting on all of the practical sets was really a godsend for me," says Tom Holland. 'You forget all the cameras, crew and people and you get a much better sense of all the real tangible elements within the environment in which to act and react off."
Scholl was able to give the Vulture's lair a real-world authenticity by enhancing a massive, old abandoned warehouse that once printed phone books.
'The Vulture and his gang were supposed to be located across the river from Manhattan, with a sight line to the Avengers tower," Scholl explains. 'Our location manager, Mike Fantasia, found a location in Atlanta that used to be occupied by a phone book printing company. There were several connected spaces and architectural styles that we could enhance. The hero space used to house the printing press with an existing platform; we added another staircase, matching the industrial style, and built big vertical yellow I-beams that supported a heavy-duty crane rig to frame a VFX rooftop opening, where the Vulture could fly in. The Vulture's landing platform also had built-in shock absorbers to soften his landing and articulate, to give us realistic impression of weight upon the landing. Our Set Decorator Gene Serdena had found and built interesting hardware that we interspersed with our props to simulate an assembly and packing line for the Tinkerer's crazy inventions."
'The first day I walked onto the salvage company set, I was really impressed with the size and scope of the set," says Michael Keaton. 'It really exceeded what I had envisioned in my head – it was such a great visceral environment to work within and was perfect for the creation of the Vulture and his suit."
The old phone book warehouse would also serve as the set for an action sequence that harks back to one of the all-time classic Spider-Man comic books. 'In the film, the Vulture has used his wing suit to collapse a warehouse, and Spider-Man gets trapped under the rubble," explains Eric Carroll. 'It is straight out of the comics, one of the most famous Spider-Man comics of all time – Amazing Spider-Man #33. Everyone at Marvel has been excited to bring that sequence to the big screen for a long time now, and we've gone to great lengths to try to replicate the look."
It was Scholl's challenge to pull it off. 'We used another space in the facility, which was an old, empty packing warehouse where we could sleeve some of the existing I-beams to make them look like concrete pillars and load charges for special effects explosions. Our visual effects supervisor Janek Sirrs and pre-viz had keyed out the flight path that determined the placement of the charges for a crazy destruction choreography.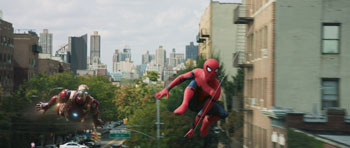 he collapsed warehouse aftermath was then built on stage as a pile of rubble back at Pinewood Studios."
But perhaps the benefits of practical sets and effects is best seen in one of the film's biggest action sequences, in which Spider-Man ends up in a perilous situation on the Staten Island Ferry. 'Spider-Man is determined to prove himself a real superhero," explains Jon Watts. 'He wants the name Spider-Man to be right up there next to Iron Man, Captain America, and Thor. He thinks he's going to take down a bunch of dangerous thugs who are doing a black-market deal on the bottom deck of the Staten Island Ferry and he gets in over his head. While they weren't expecting him, the criminals are more than capable of holding their own against him and before too long the Vulture appears and the ferry is split in half, and Spider-Man just hoping to get out of this without anyone getting hurt."
For the filmmakers figuring out how to pull of the sequence started long before the production started. At first, the producers assumed that it would be a VFX sequence – only to be surprised by the production team. 'Our amazing team – Oliver Scholl's art department, John Hoskins's construction department, Dan Sudick's special effects team – all said what we should build the front end of the ferry, raise it six feet off the ground, rig it with hydraulics, and split the thing in half. It also allowed us to film the ship cracking apart practically as opposed to filming it together and hoping that the visual effects team can make it look like it's split."
Oliver Scholl started by modelling the real Staten Island Ferry. They located a wooden scale model, and took photos and measurements of the real Ferry they would later film on: the Spirit of America. From there, set designers Richard Mays and Kil Won Yu were able to create a 3D model and generate blueprints for the construction crew. In the end, the production team built an enormous set, 64 feet wide, 45 feet high, and 100 feet long, that stood in for roughly one-quarter of the real ferry. Each half of the set was built onto of a steel gimbal, able to split the ship as determined in the computer model and matching to what VFX would extend in post-production.
Dan Sudick's effects team even had to cut the concrete on the backlot to add deeper concrete enforced footings for the hydraulics to enable the tilt.
The chaotic aftermath of the split, with rushing water and panicked New Yorkers, is also a practical effect, says Oliver Scholl: 'Each side of the gimbal and set came in at about 210,000 pounds of weight plus approximately 25,000 pounds for the shooting company and equipment. Dan Sudik actuated it with giant hydraulic rams to tilt the parts while 40,000 gallons of water were dumped down the middle of the car bay. Building the ferry probably took five months, between prefabricating ship pieces on stage, prepping the backlot concrete slab to receive the steel gimbal. Then stacking the steel and wood ship elements on the frames. Painting, dressing and rehearsing the water dump. The end result was it provided the big, real playground for effects, stunts and our actors to portray the scene and ferry split event more realistically."
For Tom Holland, the productions efforts were well spent once he was able to get up on the wires and shoot his scenes on one of a kind set. 'The day we shot the sequence on the incredible Staten Island Ferry set really was one of my favorites," he says. 'The ferry was spitting in half and we had tip tanks and cars being tossed all over the place. And at one point we have this great shot, in which Spider-Man flips in, lands and then camera goes all the way around him as he has a fight scene – it's incredibly all in one shot as the whole thing's revolving. It took a really long time to rehearse it and get it right, but the end result is just so awesome and cool. It's the most badass part of Spider-Man I think I've ever seen."
Later, the production shot parts of the sequences (with an intact ferry) on the ferry itself. 'There's nothing that can bring the actual scale of the Staten Island Ferry to the big screen better then shooting on the actual ferry," says Carroll. 'While we did build that amazing four story section of it on the backlot of Pinewood Studios, the pieces we shot on the real ferry combine to make it feel like a huge, epic action sequence in the film. We were incredibly fortunate that the city, state, film commission and Department of Transportation all worked with us in helping us pull this off."
It was a sequence that struck especially close to home for Jon Watts. 'I have many great childhood memories riding on the Staten Island Ferry," says Jon Watts. I think many people would agree that it is one of the most beautiful ways to come into New York City, with the Statue of Liberty, Ellis Island and the spectacular iconic view of downtown skyline of Manhattan. It was important for the film to incorporate those iconic New York images without actually going into Manhattan – I wanted to keep the action deep in Queens."
In addition to shooting on the Staten Island Ferry, the production would shoot for two weeks in New York that included many locations in Queens including locations in Astoria, Sunnyside, Richmond Hill, Lefferts Blvd., Jamaica Ave., and Queens Blvd. as well as Coney Island, Brooklyn, Long Island, and Staten Island.
'Shooting in New York is so important on a Spider-Man film," says Amy Pascal. 'Peter Parker is from Queens, and Spider-Man is New York City's hero. They are baked into each other."
Spidey's Suit
You might think that putting on the Spider-Man suit for the first time is a special, life-changing moment – and it is – but Tom Holland says that the magic feeling doesn't go away. 'Putting on the Spider-Man suit is one of the coolest things that has ever happened to me in my entire life. I still to this day can't really believe that it's happened," he says. 'There's always a real special moment when I put the suit on, especially in front of little kids and they see the suit and their eyes light up and it reminds you of what a real privilege it is to bring that sort of happiness to people." 'When Tom Holland puts on the Spider-Man costume, he just becomes Spider-Man in every sense of the character," says Amy Pascal.
Part of that is inside the actor, of course, but part of is the Spider-Man suit he wears. When Tom Holland puts it on, she says, 'his posture changes, he walks differently, and the suit looks perfect on him. Our costume designer Louise Frogley did such an amazing job creating the physical costume – or re-creating it, because we did something that was unfair: we took the digitally created suit from Captain America: Civil War and told them, -We want you to build this.' They nailed it."
Even for veterans of a decade's worth of superhero franchises, there's something different about working with the Spider-Man suit. 'The Spider-Man costume is probably, with no exaggeration, one of the best graphic-designed elements in the history of graphic design," enthuses Kevin Feige. 'It is unbelievably well done image – I see kids and babies who can't speak come into our offices and they all gravitate over to the Spider-Man drawing or toy. It really is a testament to the design. So, when you sit down to make a Spider-Man movie, you don't start thinking about how you're going to change the most perfect piece of graphic design in history of superhero films. You think about how you can pull that to the surface in a unique way, taking it places that you haven't seen in the other films, while staying true to the conceit of the image."
For costume designer Louise Frogley, that meant working closely with Marvel's concept design team and source material. 'We are all very influenced by the work of Steve Ditko and try as hard as possible to follow the strong imprint that he created," says Louise Frogley. 'For the Spider-Man suit, we worked very closely with Marvel's Head of Visual Development Ryan Meinerding to achieve the look – Ryan Meinerding even worked with us to place the lines on suit. Robyn Gebhart was the person responsible for the construction of the suit."
The way that the filmmakers were able to fulfill their mission of honoring the design of the suit while taking it to new places is – as audiences saw in Civil War – to imagine that it is a creation of Tony Stark. 'It's purely Spider-Man, but it also has just the right amount of high tech and a lot more bells and whistles – which you might imagine for anything that Tony Stark builds," says Kevin Feige.
For example: 'The suit now has web wings under his arms, which pays homage to early comic books. The very first issue of the very first Spider-Man he's swinging across, and he's got web wings," says Kevin Feige. 'Stark Industries has designed a version of the wings that come out when Spider-Man needs to glide down a cityscape. They can retract when h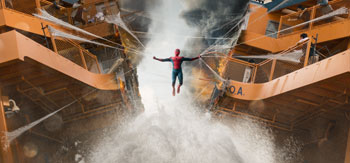 e doesn't need them. It's something we have seen in the comics, but never before on film."
Another new development for the Spider-Man costume is his eyes. 'The new eyes in the costume bring us something that has been in every issue ever drawn of Spider-Man, but we've never been able to do in the movie before, which is create movement in the eyes," says Kevin Feige. 'Tony has been able to construct a mask with an eye form that allows them to open and close and get wider, which within our story allows Peter Parker to focus his spider sense as he takes in massive amounts of information. But they will also now give us for the very first time the ability to see emotion expressed while Peter is wearing the suit, which in the comic books the artist would always do. In the comics, if Peter was angry the eyes would get a little bit smaller; if he was surprised, the eyes would get a little bit bigger. You can't do that in a movie unless there is a reason and technological explanation for how that's possible. We now have that."
And that's just the beginning – in fact, there's a whole array of features in Spidey's suit that Peter Parker has only begun to explore. 'If you think about Tony Stark building a suit for a 16-year-old, you would want to include some stuff for -just in case,'" says Watts. 'The idea that the suit could be Stark tech really just opened up the door to a lot of possibilities. Some of the new tech has never appeared in comics before – including capabilities that Tony Stark puts in that he thinks would be helpful to Peter in the future, but isn't quite ready for yet… and it's up to Spider-Man to prove otherwise."
Creating The Vulture
The Vulture is one of the classic Spider-Man villains, first appearing in The Amazing Spider-Man #2.
'In the comics, the Vulture was traditionally drawn in a very cartoony suit that features almost real birdlike wings," notes Carroll. 'We took a step back and looked at other flying characters to see how we could differentiate The Vulture and make him feel scarier and more dangerous."
For one example, they didn't have to look too far. 'Falcon is another flying character in the MCU, but the Vulture's rig isn't some small backpack that he straps on and wings pop out of it. The wingspan on the Vulture suit is 36 feet. It's more like a vehicle, an aircraft that he straps himself into, rather than a jetpack or a set of wings that he just pulls on."
For Michael Keaton, seeing the Vulture's full costume was very exciting for the Academy Award® nominee. 'It's intense and really cool looking," he says. 'One of the things that knocked me out about being the Vulture was the amazing artistry from the people who built the vulture suit. It was extraordinary down to the tiny little nuts and bolts, literally. They told me one time how many nuts and bolts it took to build it and it was mind blowing and I was just knocked out by how talented those people are."
Like many of the new Marvel Cinematic Universe characters, as well as the Spider-Man suit, the concept and look of the Vulture again started with drawings from Marvel's Head of Visual Development Ryan Meinerding, who produced the template from which costume designer Louise Frogley would design the costume and practical suit. 'Marvel is always very involved with the look of the characters," says Louise Frogley. 'To that end they have amazing concept/visualization artists. We worked very closely with Ryan to achieve the look for The Vulture.
The Vulture costume was really a question of proportion on the actor, and once Michael was cast, the rest flowed. We used original World War II fabric for the pants; they had a slight sheen that lit well, especially at night. We also made a straggly fur collar for the jacket to hint at the feathers on a real vulture and, once again, to respect Steve Ditko's original Vulture."
About The Stunts
As part of his pitch to get the role, Tom Holland sent Marvel tapes of himself performing gymnastic stunts and parkour – which gave Tom Holland a unique combination of acting and athletic skill.
Tom Holland says that these are skills he honed while playing in the musical 'Billy Elliot" on the West End. 'I think probably one of the main reasons why I'm here today is because of my work on -Billy Elliot,'" says Tom Holland. 'The training I was given on that show was just so good. They trained me in everything that I know really in gymnastics. There wasn't a day on this movie where I didn't use some sort of athletic ability."
When Tom Holland proved what he could handle, the stunts team began to put the actor in a position bring those skills to the fore. 'It's nice to have that ability to work with the stunt guys and say, -I think it would be cooler if I jump down from there and the wire then pick me up later on,'" he says. 'The fact that the stunt coordinator and team trusted me to make suggestions and then to perform later was a real privilege. I really think we've benefitted on the movie by having me in the suit to do the stunts and pull the suit off so you can see that I did it. I couldn't have asked for a better people to work with and [stunt coordinator] George Cottle and his stunt team are so loving and supportive and have your back at every turn."
For Tom Holland, the collaborative nature of the set was in full effect during a sequence in which Spider-Man jumps off the roof onto the golf course.
'In the script, it was supposed to be a swing into the golf course, which we've seen it countless times," he says. 'George Cottle and I thought it would be more interesting to see him jump down in a different way, so when we first started shooting, we went through all the previous movies and took pictures of every Spidey pose that he lands in. Then Holland Diaz, my stunt double, and I worked through finding ten new poses so that we could mix it up and bring new things – and fortunately, Jon loved them."
Even as the filmmakers sought to deliver the film's exciting action sequences, it was important to remember the character and tone of the film. 'Whenever something really badass happens, we will then remind the audience that Peter Parker is not a badass character," says Tom Holland. 'I'll do something cool and then immediately after that I'll walk into something or do something really stupid. Even when we are doing the final battle scene on the beach, the thing he's thinking about is going to do his homework. There are loads of different ways for us to make sure that while these fight scenes are incredibly cool, action-packed, and scary, they're also a lot of fun."
Michael Keaton says he was impressed by what Tom Holland was able to bring to his role. 'Tom Holland has a ton of energy and he's really physically formidable. It's impressive how he started and how he had to learn to dance for -Billy Elliot.' But from a flat out acting standpoint, he's a pro and 100% committed."
Spider-Man™ Homecoming
Release Date: July 6th, 2017
www.Spidermanhomecoming.net