Tom Hardy and Shia LeBeouf Lawless
Cast
: Tom Hardy, Shia LeBeouf, Guy Pearce, Jessica Chastain, Jason Clarke, Mia Wasikowska, Dane DeHaan, Gary Oldman
Director
: John Hillcoat
Genre
: Crime, Drama, Western
Rated
: MA
Running Time
: 115 minutes
Synopsis
:
'We control the fear, you understand? Without the fear, we are all good as dead.'
Acclaimed director John Hillcoat delivers a thrillingly vivid slice of American outlaw history in his epic gangster tale, Lawless. Lawless is the true story of the infamous Bondurant Brothers: three bootlegging siblings who made a run for the American Dream in Prohibition-era Virginia. Based on author Matt Bondurant's fictionalised account of his family, "The Wettest County in the World," the film gathers an ensemble of gifted, dynamic new-generation stars - Shia LaBeouf, Tom Hardy, Jessica Chastain, Jason Clarke, Mia Wasikowska, Dane DeHaan - alongside two of the finest actors of their generations, Guy Pearce and Gary Oldman. A riveting, intense story of crime and corruption, loyalty and love, brutality and tenderness, Lawless is a rich addition to the American gangster canon.
In the mountains of Franklin County, Virginia, the Bondurant brothers are the stuff of legend. The eldest, Howard (Jason Clarke), managed to survive the carnage of the Great War, but he returned home unmoored by what he had seen and done. His brother Forrest (Tom Hardy) nearly died from the Spanish Flu that took his parents. He beat back death with a quiet strength and ferocious, visceral invincibility that came to define him. Jack (Shia LaBeouf) is the youngest sibling, impressionable, sensitive, smart. Times are tough and jobs are scarce, but the Bondurants are entrepreneurs and have built a thriving local business by concocting an intense and popular brand of moonshine. But Franklin County's bootlegging days are about to end with the arrival of Special Deputy Charlie Rakes (Guy Pearce) from Chicago. The new "law" Rakes brings is lethal and corrupt and will challenge everything the brothers have built and represent. But while the rest of the county gives in to Rakes' ruthless crackdown, the Bondurants will bow to no one.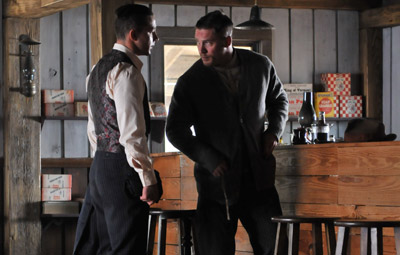 As the family rallies to fight Rakes, the fraternal dynamic shifts. Jack's ambitions and enterprises alter the balance of power between the brothers as he careens into manhood. Dreaming of expensive suits, fast cars and beautiful women, Jack starts his own bootlegging operation, with his friend Cricket (Dane DeHaan) helping him to soup up cars and build stills - even against Forrest's wishes. Jack starts to prosper, even selling his moonshine to Floyd Banner (Gary Oldman), the big city gangster he idolises. The lives of the Bondurants are soon complicated by the appearance of two beautiful women: the exotic, steadfast Maggie (Jessica Chastain), who brings a secret past with her and catches the eye of the guarded
Release Date
: October 11th, 2012
About the Production
The notorious gangster Al Capone observed that "Prohibition has made nothing but trouble," and "I am like any other man. All I do is supply a demand." While his bailiwick was Chicago by way of Canada, the Bondurant brothers in Virginia would have heartily agreed. Brazen rebels, the Bondurant boys - Howard, Forrest and Jack - ran a flourishing family bootleg business in Franklin County, Virginia, where the hills glowed orange from the light of countless illegal stills.
"The Wettest County in the World" began when Matt Bondurant decided to write a fictional account of the very picaresque exploits of his paternal grandfather Jack and grand-uncles Forrest and Howard. Though his novel is inspired by true events, it isn't entirely factual. As he writes in the author's note, "The basics of this story are drawn from various family stories and anecdotes, newspaper headlines and articles and court transcripts … However, this historical information does not help us fully understand the central players in this story, at least in terms of their situation or what their thoughts were; all involved are now deceased and little record exists. There are no letters, and my grandfather and his brothers did not keep diaries. My task in writing this book was to fill in the blank spaces of known record. There are family stories … and these memories and stories are vague, and often specious at best, mixed with several decades of rumour, gossip and myth … My intention was to reach the truth that lies beyond the poorly recorded and understood world of actualities."
The book, published in 2008, garnered rhapsodic reviews and won two early, ardent fans in Red Wagon producers Douglas Wick and Lucy Fisher. Says Douglas Wick, "The book was overflowing with moments of hard men and their softness; fierce, violent behaviour intertwined with silent moments of desire and longing; vivid flesh-and-blood pain mixed with legends of indestructibly. You could not read the book without imagining performances." Rachel Shane, executive vice-president at Red Wagon Entertainment alerted her bosses to the book prior to its publication, and Red Wagon quickly secured the movie rights to the novel. Matt Bondurant was thrilled; his tale was already a "dramatic reimagining" and the notion of a filmmaker and screenwriter further exploring the material excited him.
"There wasn't a whole lot of information available to me to write a non-fiction piece so I took several of the principal events that are verified as happening and strung them together like a constellation, using some things I knew about the brothers, along with pictures and documents, to create lives for them. I knew my grandfather when I was a young man but I certainly didn't know him as an 18-year-old, so there's a lot of artistic license that I took. I knew the movie would take that one step further and that seemed natural," Matt Bondurant says.
Meanwhile, Red Wagon executive Rachel Shane approached director John Hillcoat. Says Rachel Shane's previous work on The Proposition was incredibly visceral and dramatised violence in a way I had never really seen before. You could also see the care he takes with his actors through the specificity of their performances, and how he loves creating worlds that are similar to ours, but also very alien. I knew John Hillcoat would bring everything we needed to take this book to film and it would be a very happy marriage."
John Hillcoat realised "The Wettest County in the World" offered an opportunity to tackle two of his favourite genres in an intrepid and innovative way.
"I loved the world of the novel. I love westerns, but I was actually looking for a gangster movie. I had really struggled with that over the years because there are so many fantastic gangster movies, I was hard pressed to find one with anything new to say. And this was new. It was like a western as well as a gangster film. I hadn't seen a gangster film in the rural landscape since Bonnie and Clyde. And moonshine has mostly been treated in comedies like Smokey and the Bandit. This was based on a true story, which was incredible. It felt vivid and alive and unique. So that was really it for me," John Hillcoat says.
John Hillcoat enlisted his old friend and frequent collaborator since art school, Nick Cave, to write the screenplay and the music, as he did on The Proposition. On a John Hillcoat/Nick Cave project, the script and the music are always intertwined at the project's inception and evolve together. Because Lawless is set in the backwoods of Virginia, the main characters? speech has a special, almost musical cadence, which Nick Cave incorporated into the dialogue, as if it were a musical score.
"Nick Cave's songs are really narrative-driven, which of course lends itself to screenplays but more than that, I think all films have a musicality to them," says John Hillcoat. "There's a rhythm to the way Nick Cave writes, to the dialogue, the way scenes unfold. It's subtle thing but it's definitely there. With Lawless, we talked about adapting the novel - it's the first time he has adapted a book - but we also talked about the score, what sort of music it would be. When Nick Cave writes the material and the music, it's a very organic process. The music comes first, and then the script, and then the music again."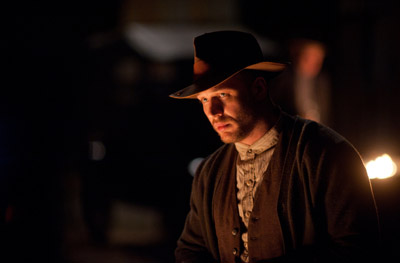 Matt Bondurant was especially pleased that John Hillcoat and Nick Cave would bring his book to the screen. "I am John Hillcoat fan; I loved The Proposition and The Road. And I'm a fan of Nick Cave's music and writing, so I was super-excited when I heard he was writing the script. He did some really amazing work with the adaptation, and I'm flattered that he retained quite a bit of my language. I was incredibly honoured to have John Hillcoat and Nick Cave adapt my work," Matt Bondurant says.
Shia LaBeouf joined the team soon after John Hillcoat and Nick Cave, taking on the role of the youngest Bondurant - smart, sensitive, forward-thinking Jack. The next two years would prove a rollercoaster ride of near-starts and disappointing setbacks, but Shia LaBeouf never wavered in his commitment to Lawless, even as his star rose further with the Transformers franchise.
Shia LaBeouf was drawn to the project for myriad reasons, not the least of which was John Hillcoat. "I'm a fan, I would show up to do anything with John Hillcoat," the actor enthuses. "John Hillcoat's films are all very visceral and honest. He is a truth-seeker, incredibly intelligent and has a great visual style. He lets shots breathe; it's old-school, John Ford vista-type stuff. He knows how to tell the story in one frame and he lets that frame do the work. It's a style of working I hadn't experienced before, and I was very excited by it."
Shia LaBeouf was also captivated by Matt Bondurant's novel and the seminal period of American history it explored. He delved into the history of bootlegging, its specific relationship in Virginia to the legacy of coal mining, the socioeconomics of the region, particularly the religious and racial schisms. Above all, the role of Jack intrigued Shia LaBeouf. Jack, enterprising and eager, has to find his way, not only as resourceful young bootlegger but also within the Bondurant clan, as the power dynamic between the three brothers begins to shift. Jack experiences a spectrum of emotions throughout the course of the film as, essentially, he grows up.
"I had never played a part like this before. This is a boy becoming a man in many ways. He has his first drink of moonshine, his first kiss," Shia LaBeouf observes. "The film is also about a family going through combustion. They're dealing with many problems all at once; meanwhile, the power balance is shifting from Forrest and Howard to Jack. When you first meet Jack, he's full of empathy; he lives on a farm and he can't watch his brothers kill a pig. That empathy is hindering his criminal career, and 'this is a family of criminals. During that time, bootlegging was the only avenue available to many poor and disenfranchised people. All they had was their skills. For the Bondurant family, their talent was for making liquor."
He adds that Jack has a fascination for the bootleggers, specifically the Chicago-style gangsters and that admiration informs much of the character's drive and ambition. "Jack comes from a new generation. He was seeing these Robin Hood-type characters fighting against the government, specifically Prohibition, and succeeding. These were the new Americans. Guys who came from the bottom of the barrel and were able to muscle their way into some kind of foundation where they could not only support their families but their entire communities. This family was spearheading this revolution at the time. The bootlegger was the superhero of that period, especially to someone in his twenties, like Jack," Shia LaBeouf notes.
Shia LaBeouf was not yet a major international star when John Hillcoat caught the young actor's performing in the 2006 independent drama A Guide To Recognising Your Saints. Remembers the director, "I thought, who the hell is that kid? Then I saw him in Disturbia and again I thought his performance was amazing. Then came Transformers, and even as he was surrounded by special effects and robots, Shia LeBeouf managed to create a compelling, three-dimensional character. So I thought he was really interesting and it would be great to see him do something more unexpected. Shia LeBeouf had the range to play Jack, who experiences every single emotion, from rage and despair to total joy and happiness. And I could easily see him as a young man in the Prohibition era. He was very interested, he was very passionate when I met him and continued to be throughout, so I knew this was the guy. And I am pretty particular about casting."
Meanwhile, Shia LaBeouf had been looking for opportunities to work with acclaimed English actor Tom Hardy. The two had struck up a friendship after Shia LaBeouf sent Tom Hardy a fan email about his arresting performance in the crime biopic Bronson, and had begun forwarding scripts back and forth to one another. Shia LaBeouf sent Matt Bondurant's novel to Tom Hardy, followed by Nick Cave's screenplay. Tom Hardy loved them both, and proved to be ideal casting for the role of quiet, fearless and fearsome Forrest Bondurant.
John Hillcoat was also keen to work with Tom Hardy, whose reputation as an exceptional talent preceded him. "I kept hearing about this incredible guy called Tom Hardy. I started watching his work, and I was awestruck - he was amazing. I could also see Tom Hardy and Shia LeBeouf as brothers. And Tom Hardy's take on the character was quite audacious - he saw Forrest as the matriarch and the patriarch of the family, in the wake of their parents? deaths. He wanted to explore Forrest's softer side and play him in a quiet, contained way. By taking on the roles of the mother and the father of this family, he was really responsible and very caring, especially towards his brothers. But because of the time and the culture, he is unable to articulate it. Tom Hardy's approach was very much about the different emotional textures there were to Forrest and how distilled and controlled he was. It was a unique and fascinating attitude towards the character," John Hillcoat notes.
With Shia LaBeouf and Tom Hardy in place, the casting process steamed forward. Attracting financing, however, was proving to be a struggle, says producer Lucy Fisher "Our material was intrinsically original and idiosyncratic. It was a portrait of three brothers, violent outlaws with fierce family ties; at the same time, it was lyrical and romantic. It didn't fall into any easy category." In the end, it take two years of dedicated work before Red Wagon found the creative, enthusiastic production support they were looking for. In 2011, Annapurna Pictures, a new production company headed by Megan Ellison, and Benaroya Pictures, headed by Michael Benaroya, signed on to finance Lawless and produce with Douglas Wick and Lucy Fisher.
Finding the right combination of actors had been a complicated and lengthy process, but John Hillcoat, Lucy Fisher, and Douglas Wick agree that each of the actors who would ultimately bring the Bondurant tale to life was the perfect artist for the job.
"It's a weird thing about films; it's almost like alchemy," John Hillcoat muses. "You're playing around with all these ingredients and sometimes there's this combination that finally comes together that's the perfect one. There were earlier combinations that would have made a different film and would have been amazing and special too, I'm sure. But I do feel like we found the ideal group in the end. It's tricky with an ensemble because it's a real balancing act so as soon as one person drops out, it may not be just a matter of replacing them. It's the combination of people, how they work against the different energies and qualities that they have."
Australian actor Jason Clarke completes the sibling trio as Howard, the eldest Bondurant. Often drunk and woefully unreliable, Howard is outsized in every way, perhaps a reaction to an inner turmoil he is ill-equipped to handle.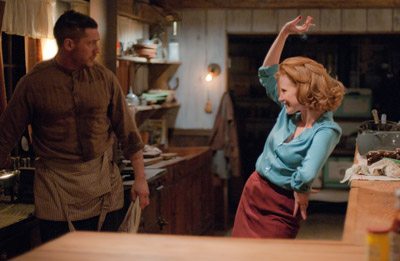 "In terms of the violence in him, everything with Howard was projected outward, kind of like a tsunami; whereas with Forrest it was completely controlled and internal. They were polar opposites as a force and Jason Clarke completely identified all of that within his character. At one point, the script had changed the eldest brother from Howard to Forrest, and Jason Clarke put forward a strong case for Howard as the firstborn. And it had to do with Howard's sense of guilt and shame. Because in those times and in that world, the eldest brother would become the patriarch of the family after the father passed away. But Howard was kind of a fuck-up, this messed up guy that couldn't really occupy that position. It's agonising for him, the fact that he's not there for his brothers. And these brothers really love each other and would do anything for each other. We wanted to explore those dynamics and we changed the script for Jason and cast him because of his argument," John Hillcoat explains.
As an Australian, Jason Clarke was deeply familiar with both John Hillcoat and Nick Cave's work, and was eager to work with them. One of several Australians in front of and behind the camera, he did not know John Hillcoat or Nick Cave prior to joining the movie but of course was a big fan and student of both.
"It was just a great script. And also being Australian, I am of course a longtime Nick Cave fan and I knew of John Hillcoat's work - The Proposition and Ghosts of the Civil Dead - and even his original projects from his film school days. He was always a guy who I thought had a unique, visual voice. After I read the script, I thought, yep, these guys are going to do this well. It's a dense, fascinating piece of storytelling and these are the right guys to make it. And then when I found out the caliber of the other people involved - it was a no brainer," Jason Clarke says.
Jason Clarke's expectation of John Hillcoat's process and style happily proved to be true. And Jason Clarke had a personal connection to the filmmakers and the material.
"His visual sense is really particular and he is a gentle open man who is constantly looking and thinking in a unique way. Plus they shot The Proposition in a place called Winton where I was born. Not many people have been there, let alone shot there," he says. In fact, Jason Clarke drew on his life in Winton to inform his character.
"Jason Clarke came from the country. He grew up in the outback and was used to rural violence, which he drew on and worked out in so many ways … like he had leg weights on to help give Howard this heft as he walked. He explored moonshine - as they all did except for Tom Hardy. Tom Hardy is more controlled than that, true to his character," John Hillcoat notes.
Jason Clarke believes that Howard considers his relationship with his brothers to be the only thing of value in his life; for this haunted man, his love for his brothers is his only redeeming quality. He credits his onscreen brothers Shia LaBeouf and Tom Hardy, for helping him make the fraternal bonds real.
"Howard has a story and a conflict that can only be answered in the film, not off screen, not by some big event but by what's going on with him and his brothers," Jason Clarke explains. "And my relationship with Shia LeBeouf and Tom Hardy, on and off-camera, was great from day zip. We are the type of actors who develop character through our interactions. As soon as I was onboard, Shia LeBeouf sent out some texts and pictures and it was just a let's get stuck in it attitude, which is how I like to work. Tom Hardy is a very ferocious actor, in terms of his pursuit of character and truth and the choices that he makes. Both of them give you so much to work with that it makes your job easier."
Romantic love is also key to the story of Lawless, which lyrically depicts the longing and tenderness that is a much a part of the brothers? world as violence and ferocity. Jessica Chastain plays the enigmatic Maggie, who breezes into the Bondurants world like an exotic bird assured of finding her place. But Maggie is fleeing her own troubled past, which ultimately will crash into her new life.
Maggie was a tricky role to cast; like Forrest, she is keenly observant and chooses when and what she will reveal. John Hillcoat describes what he was looking for: "We needed to find a Maggie that had a real maturity, who was a real woman and complicated. Because she has a history that we don't really know about - she comes from Chicago, she's damaged in a way that Forrest is also damaged and that's why they gravitate to one another. So we needed to find someone who had that emotional depth to convey that connection without too much being said. She also needed incredible strength because in fact she is the strongest character in the film - she's stronger than all the brothers. So we needed someone who had real gravitas, who could stand up to all these alpha males but who is also appealing and has this warmth." Benoit Delhomme, John Hillcoat's cinematographer, suggested that he meet with Jessica Chastain, at the time mostly known for her stage work. A single meeting was all it took to convince the director he had found his Maggie. After watching some of her film work, he knew he had struck gold.
Jessica Chastain was already a John Hillcoat admirer and she was immediately hooked by Lawkess. "I thought the script was dynamic and shocking and great," she remarks. "What really drew me to the character was the love story between Maggie and Forrest. I liked the idea that they were two damaged people who have one shot at happiness. That was very moving. "Having won the role, Jessica Chastain immersed herself in research, with topics ranging from Chicago gun molls to the Depression and moonshine.
Jessica Chastain shared most of her screen time with the three brothers and enjoyed them immensely. "The casting is amazing. The three of them look like brothers to me and even act like them. They play-fought and joked - really stupid 'guy' jokes - and it was wonderful to see their dynamic together. Shia LeBeouf was so prepared all the time, such a professional, it was really exciting to see him in this role. I worked with Jason Clarke before and he is fantastic as Howard. It's such a huge metamorphosis, I've never seen him do anything like this. And Tom Hardy, who I have most of my scenes with, for me, it was just another level of acting."
Mia Wasikowska plays Bertha, a member of the Dunkards, a conservative Christian sect, who nonetheless attracts Jack Bondurant's attention and affection. She eventually responds in kind, in complete defiance of her family and clan.
"I liked Bertha because she was a really independent spirit and I admired the journey that she went on. And the creative team was so incredible, from John to the cast and crew. John is a great actors? director. He is so collaborative and trusting and so open to hearing all of your ideas and everything you have to offer," Mia Wasikowska says. Besides researching the Dunkard and Mennonite religious sects, the actress took mandolin lessons to prepare for her role.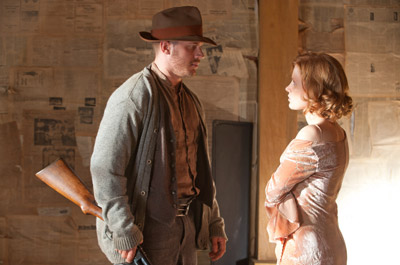 John Hillcoat had met Mia Wasikowska years before through mutual friends and had long been impressed by her talent and uncanny maturity. Like her onscreen romantic interest, she possessed both the talent and look necessary for the role. "Mia Wasikowska had the perfect face and bearing for someone in that religious sect. She had studied ballet for a long time so she had that elegant, strict posture; She is a really skilled actress with an immense range," John Hillcoat says.
The influence of these two female characters, Maggie and Bertha, and their relationships with the Bondurants, was pronounced in Bondurant's novel and became a critical theme in Lawless. "I like the contrast of having strong women in a gangster movie; that's not very common in contemporary cinema," John Hillcoat observes.. "The relationships in the story were very special and fresh. The relationship of the three brothers, the relationship between Forrest and Maggie was very complicated, unusual and very modern. Whereas Jack and Bertha were timeless, all about youth and innocence. And there was the fact of Bertha, a girl from a strict, closed religious community, getting involved with wild bootleggers - it was fascinating." John Hillcoat explains.
As Jack seeks to prove himself in the moonshine racket, he relies on the mechanical ingenuity of his childhood friend Cricket. Played by rising young star Dane DeHaan, Cricket is gentle soul who is effectively Bondurant brother number four. Like his friend Jack, Cricket has an entrepreneurial spirit and a progressive attitude about the moonshine trade. His drive and ingenuity is even more impressive because he has suffered permanent disfigurement from a childhood case of rickets. To get a feel for the kind of pain and obstacles Cricket must experience every day, Dane DeHaan spoke to a doctor about rickets and decided to literally walk in Cricket's shoes. "I felt I needed shoes that would make it look like my feet were flush on the floor even though my legs were bent. So we had a lot of costume fittings to craft these boots and make them accurate. When I wore them, my feet on the inside were on an angle but when you see them on screen, it will look like my feet are flat on the ground. Consequently, when I walked around all day wearing the boots, my feet were at an angle. When I was doing my scenes, they were completely crooked and I was putting my weight on the wrong parts of my feet. At the end of a work day, I was in a lot of pain - I was definitely feeling Cricket's pain."
John Hillcoat credits his longtime and "fantastic casting director" Francine Maisler with introducing him to Dane DeHaan - and praises Dane DeHaan for elevating the character beyond a mere caricature. "Dane DeHaan's completely nailed the part in his audition tape. It was just like, "oh, there's Cricket." He had a very hard role to pull off. The hillbilly character is so entrenched in popular culture that there is real baggage to it and Dane DeHaan had the brunt of it. There was the fact that his character had rickets; the fact that he had this huge spirit and was actually extremely bright. I remember someone talking about Appalachia, which has a long history of incredible poverty and is very isolated from the rest of the world and yet there are people there who with the right education and opportunities, they could have done extraordinary things - they DID extraordinary things within that world. And Cricket is one of those people; he basically invents Nascar. Nascar actually came out of the running of the moonshine and outrunning the law. One might think at first glance Cricket was insubstantial and dumb, but Dane DeHaan beautifully conveyed Cricket's heart and his intelligence," John Hillcoat says.
Lawless marks the third collaboration between John Hillcoat, Nick Cave and their fellow Australian, Guy Pearce, following The Proposition and The Road. Guy Pearce was delighted to re-join his colleagues, particularly with a role as juicy as Charlie Rakes, the corrupt, sadistic Chicago lawman who is determined to break the Bondurant clan.
The actor appreciated Nick Cave's stylistic flair in creating Rakes. "In typical Nick Cave fashion, Rakes was a character with very specific quirks and details. He's very particular in his judgment of people, which shows when he first arrives in the town. His disdain for people like the Bondurant boys was a wonderful thing to play. I think he oozes utter contempt for them and their mere existence," Guy Pearce explains.
Rakes is a fastidious, narcissistic fellow and his very particular look reflects it. It included pristine attire, a massive part separating shiny, slicked-back ebony hair, and a distinct and disturbing lack of eyebrows. This bold appearance also exemplifies the working relationship between John Hillcoat and Guy Pearce. "I did have quite a hand in the look of Rakes," Guy Pearce allows. "Obviously, it was a collaborative process. John Hillcoat is very interested in making characters memorable and he has a wonderful imagination, so it was satisfying working with him on this character. I feel the haircut, the shaved eyebrows and the dying of the hair were all great ways to express the vanity of the man. Rakes also has a disdain for all things grubby and dirty in a physical sense, and yet is so disgusting as a personality."
Both John Hillcoat and Guy Pearce relished the notion of Guy Pearce playing such a nefarious, complicated character. "I loved the idea of Guy Pearce playing a villain and I knew he was capable of it - at this stage in his career, he is capable of playing anything."
Somewhere in the zone between good guy and bad guy lies Chicago gangster Floyd Banner, who is both a foe and a friend to the Bondurants. Given that Floyd Banner is a fleeting presence in the film, John Hillcoat required an actor who could convey the charisma and bravado that would impress a young bootlegger like Jack - and he counted himself lucky when Gary Oldman signed on for the role.
"Gary Oldman is one of the great actors of his generation. He's incredibly precise actor and yet he also has this undeniable power. I was trying to think of a Chicago gangster who would have this as well as have a real pizzazz, which Gary Oldman certainly possesses. I hadn't seen him do a character quite like that before, and I like to try to find people who nail the character but also bring something fresh to it. Gary Oldman lived up to every bit and we were all very excited to have him," John Hillcoat says.
Fans of John Hillcoat and Nick Cave will notice Floyd's lieutenant Gummy Walsh, played by Noah Taylor, who last worked with the filmmakers on The Proposition. Nick Cave himself makes an appearance in Lawless as a gangster. Unfortunately his bootlegging days - and scenes in the movie - are numbered to one.
Lawless shot for 43 days around Peachtree City, Georgia, a suburb outside of Atlanta. The location proved to be a boon for the production for many reasons, including a broad spectrum of buildings dating back to the Prohibition era or earlier. Notes executive producer Dany Wolf, "Sadly, there has never been a huge economic rebound in most of the small towns in Georgia, so it was fairly easy for us to find buildings that existed from the late 20s, 30s. A lot of them were in good condition and a lot of them had been abandoned. We really had our choice of different properties." The Cotton Pickin? Fairgrounds, a rarely used facility in Gay, Georgia, became a kind of backlot for the production, offering a wealth of unrenovated period buildings.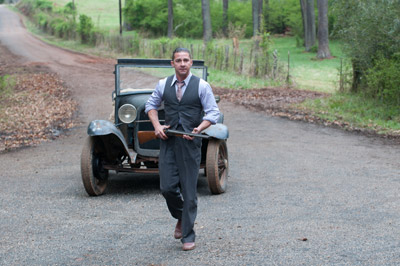 Another notable location included the Red Oak Creek Bridge, the longest covered bridge in Georgia. Built in the 1840s by freed slave Horace King, it is still in use today and provided a stark backdrop for an operatic shoot out in the movie. The historic town of Haralson, Georgia became Rocky Mountain, Virginia, where an awestruck Jack first glimpses his idol Floyd Banner. Cricket's Aunt Winnie's home was an actual rickety wooden cabin that was so period-correct that it also contained a cache of clothing from the 1920s and 1930s. Costume designer Margot Wilson salvaged the garments and used them as wardrobe for some of the extras.
Production designer Chris Kennedy built the main set, Blackwater Station, a rambling wooden building where the Bondurants' live and conduct business, legal and otherwise. He based his design on a photograph taken in the Virginia Mountains, showing an old barn that had been turned into a gas station. "I was quite taken by the notion of the transition from the old world to the new," Chris Kennedy explains. He imagined how the developments of the 19th and 20th Centuries would have changed the way Blackwater Station was used. "My idea was that this family has been living here for over 100 years, and initially the area was very remote. Then the road got put through, with some passing traffic, so they started a blacksmith shop and then it became an overnight inn. Then as automobiles became more common, it became a gas station and a general store. Of course the Bondurants run a moonshine operation, so it's a front for all of that."
Chris Kennedy's main colour palette was muted earth tones, punctuated with occasional with pops of colour. The goal was be true to the period as well as the story. "It's all natural timber and earth tones; newspapers, which the Bondurants use as wallpaper, brings a little colour. The idea was that we're in a world that is really hand-made, from timber and found materials sourced from the location. The strong primary colours we see, whether in the form of a gas pump, a red sign or colour magazine pages stuck on a wall, those represent the civilised world on the outside," Chris Kennedy says.
Photography was key inspiration when it came to the look of the film. Given the film's setting during the Great Depression, the photography of the WPA (Works Progress Administration) was a natural resource. But it wasn't the well-known black and white images by Walker Evans, Dorothea Lange that most influenced the filmmakers, says John Hillcoat. "The real turning point for us came when we discovered a book called 'Bound for Glory: America in Colour,? which features colour photography from the Great Depression. Another key reference was the great Southern photographer William Eggleston and the organic types of colours he used - he is a master of colour photography. Overall, the look of the film owes much more to photography than film."
They hewed closely to the colours that were prevalent at the time, whether in clothing, advertising or exterior paint. "It was a more limited palette simply because the manufacturing capacity didn't exist," John Hillcoat explains. "So in advertising, there's a technical reason that certain colours became more familiar, the same with the colour of clothes. It was a more limited palette because of what they could print or dye," John Hillcoat notes.
Much of the colour in several scenes, in fact, comes from Jessica Chastain's Maggie. In vibrant crimsons, purples and turquoises, with her porcelain skin and red hair, she is an exotic bird who flies into the Bondurants' lives. Says costume designer Margot Wilson, "Maggie was the flower who comes into the story, who introduces another world into the brothers' lives. Jessica Chastain's costumes were informed by her beautiful red hair, and we picked strong colours that were completely different than the boys' colours. She was a wonderful canvas."
Margot Wilson created distinct looks for each of the brothers. "I wanted to set the Bondurant boys in a world of their own, as opposed to the gangsters or other bootleggers. So their colours were very earthy, quiet colours that worked with the landscape and the sets. I set their wardrobe in the late 1920s even though the film is set in the 1930s because they live in the country and they're not the kind to follow fashion. Jack starts out in the backwoods but he is on a mission to make more money and improve himself. So his clothes change as he becomes closer to the gangsters of the time. Howard's just Howard; He's drunk and pretty much stays the same. I put Forrest in a cardigan; it has a quietness and an old feel about it that reflected Forrest's stillness quite well."
In his sharply tailored suits and ever-present gloves, Guy Pearce's villainous Rakes stands out like the intruder he is. Says Margot Wilson, "Rakes is very self-conscious about what he wears and what he looks like. I wanted a very angular silhouette for Rakes, to make the separation clear. He is not from this world and he has come to destroy it."
As Bertha, Mia Wasikowska was costumed in the nondescript dresses, bonnets and aprons worn by the Dunkards. That finally changes when Shai LaBeouf's Jack gives her a yellow dress.
Remarks the actress, "Margot Wilson's amazing. I always say the costumes are the last piece of the puzzle to figure out who your character is and it really gave me an idea of who the Dunkards are, how they lived. And the yellow dress was beautiful - I loved it. I would wear that dress myself in life."
John Hillcoat and his cinematographer Benoit Delhomme shot the film digitally, with the Arri Alexa camera - a first for both of them. "Benoit Delhomme and I jumped off a cliff together on this which is shooting with the Arri Alexa. There's been this quick kind of shift and we had a choice of being one of the last to shoot on film or one of the first to shoot this new camera," says John Hillcoat. "The big turning point was that we had a lot of night scenes and a very tight schedule. We didn't want to light it at night; we wanted to see the detail in the woods. The amazing thing about the Arri Alexa - we did side by side tests - is that you have this incredible latitude between stops and you can film beyond what even our eyes can see. Plus it had a softer quality than the other digital cameras."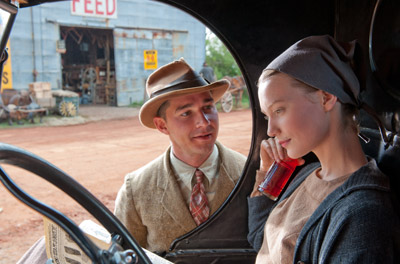 Although the film is set in the 1930s, John Hillcoat sees parallels between that era and this one, particularly in the Bondurants' fierce independence and their distrust of the government, personified by the new "law," Deputy Rakes. "There are many parallels - it was a time of immense unrest. There's the economic Great Depression and whatever we have now. There were environmental upheavals; there were devastating dust storms, which we reference in the film.
There was an incredible imbalance between the rich and the poor. I'd say the corruption and the helplessness of people trying to do the right thing and getting stomped on by greater, more powerful, cynical forces is even more pronounced now. The introduction of modern technology; now it's the digital and Internet age but then it was the machine gun, the fast car. It was the beginning of the modern media, with the influence of the radio. Then, there was this crazy law called Prohibition, which is not unlike the insane situation with Mexico and the cartels - in terms of who is benefiting by outlawing certain substances, who is controlling it and who is making the money," John Hillcoat says.
One of the ways John Hillcoat and Nick Cave underscore the similarities between then and now is through the music. They mash-up genres and artists and periods and create a signature sound for film.