Hello friends check out Canada's THE WILD! If you love AC/DC, Aerosmith, Airbourne, Backyard Babies, Hardcore Superstar, Hellacopters, Rose Tattoo etc you will dig these guys!

THE WILD!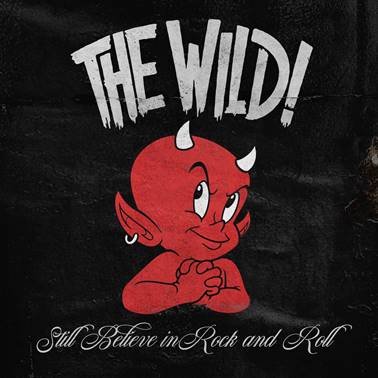 Release New Album 'Still Believe In Rock And Roll' Toda
Today, West Coast Canadian rockers, THE WILD! return with their new full-length album, Still Believe In Rock And Roll, out now via Entertainment One ("eOne").
"In a time where our genre has never seemed more lost, we stay the course," says lead vocalist and guitarist, Dylan Villain. "Some of us still believe in rock and roll music and this album is for those of us that do."
Dylan has been making his rounds with media this week, waxing poetic on the new music with interviews featured in Brave Words and Soundcheck Entertainment.
THE WILD! have traversed stages worldwide; from intimate venues to festival grounds, the band delivers a highly passionate live set with no shortage of blistering solos, sing-alongs, and crowd-surfing, with your fist in the air.
THE WILD! still believe in rock n' roll and after one listen, so will you. The rebellious foursome from the Great White North are a perfect mixture of rock'n'roll swagger and punk rock attitude. The Canadian quartet's third album, Still Believe In Rock And Roll was produced by the band's own Dylan Villain and A-list producer/engineer Mike Fraser (AC/DC, Metallica, Aerosmith), who has been a massive champion of the band from the start.

In just a handful of years, THE WILD! have cracked the Active Rock and iTunes Rock Charts with top numbers, while logging significant road miles in North America and Europe, touring with the likes of Airbourne, Steel Panther, Rose Tattoo, Godsmack and many others. They've played major festivals like Carolina Rebellion, Welcome To Rockville, Wacken Open Air, Sweden Rock, and more. Over the years, the band has always been committed to writing songs that ignite their high-energy live show. Right from the first album, GxDxWxB (2015) to the follow-up, Wild At Heart (2017) and especially, Still Believe In Rock And All (2020).
THE WILD! are lifers on the highway paved by the many great bands that came before them with heart, authenticity, and a deep commitment to what they do. To quote Classic Rock Magazine, "The Wild! celebrate the spirit of rock and roll and flatten everything that stands in their way."
LINEUP
Dylan Villain – Vocals/Guitar
Benny The Kid – Guitar
Boozus – Bass/Vocals
Crash Anderson – Drums
"With songs absolutely reeking of rot-gut moonshine and hi-octane gasoline, The Wild! really do rock it like they talk it, and then some!" – Classic Rock Magazine (UK)
"A sound that is hard, rough, and real as it gets." – Tattoo.com
"We just can't get enough of these guys." – Pure Grain Audio
"Even before The Wild! released their phenomenal debut album, there was a real buzz about the Canadian rockers." – Sleaze Roxx
"The Wild! (exclamation mark not optional) are a raucous hit of
southern-fried rock n' roll." – Electric City
WATCH the video for 'Playing With Fire':