Beloved Melbourne artist Hannah Cameron is back with new indie noir masterpiece 'Backsliding'.
Hannah Cameron is a weaver of emotionally wrought, poetic folk music that navigates the spaces between relationships, trust, acceptance and forgiveness. A master in the art of subtlety, Hannah's nuanced songwriting has amounted to two full-length albums and a B-side EP in five years - her unique folk-pop sound deepening with each release. Following her beloved 2018 LP I Lay Where You Lie, the accomplished singer songwriter is thrilled to now share her first release of the year, with new single 'Backsliding'.

'Backsliding' is a treasure trove of indie noir that could just as easily soundtrack your favourite spaghetti western film as it could your next sundrenched road trip or lazy Sunday afternoon. Strewn out over four blissful minutes of driving baritone guitar, ethereal harmonies, cinematic strings and subdued percussion, the song carries Cameron's great poetic wisdom to mystic new heights yet to be explored. Produced by Matt Redlich (Husky, Holy Holy, Ball Park Music) and Mastered by Lachlan Carrick , 'Backsliding' is yet another effortless display of Cameron's distinct knack for weaving honest stories aimed to question, console or confront our own humanity.

Hannah Cameron is a seasoned live performer who has blessed many stages of the Australian touring circuit and beyond, garnering fans the world over with her arresting vocals and insightful lyricism that must be seen to be truly appreciated. Hannah has opened for the likes of Leah Senior, Ryan Downey, Luluc, Broads and The Northern Folk , and recently completed an extensive tour of North America and Europe with local outfit The Paper Kites. In addition to her solo project, Cameron also performs with several Melbourne based bands and musicians including On Diamond, Clio, Grand Salvo, Brain Romance, Brian Campeau and Husky Gawenda.

Whether equipped with her full live band or simply with a guitar and her thoughts, Hannah Cameron's music is a delightful journey that carries audiences through pin-drop moments of dignified storytelling and intricate instrumentation.
Interview with Hannah Cameron
Question: How would you describe your music?

Hannah Cameron: Alternative Folk (maybe now verging on alt-folk-rock).


Question: Can you tell us about Backsliding?

Hannah Cameron: I wrote it as a reminder to myself to practice what I preach and to take responsibility for my choices and my actions.


Question: Is there a particular message you hope listeners take from your music?

Hannah Cameron: Not really, I hope that they draw their own messages and meaning from the things I write about.


Question: Do you prefer performing live or recording?

Hannah Cameron: I love both. They each offer different outlets, both creatively and emotionally. I love the feeling of connection and release that comes from performing live. It's a rare and special thing. But I also love bunkering down in the studio and hearing an idea evolve and watching the various pieces of the puzzle fall into place.


Question: Which is your favourite song to perform live and why?

Hannah Cameron: I think at the moment it's probably Backsliding. I haven't actually performed it many times live but I love playing the baritone guitar - it feels like a powerful instrument and it's nice to sing over it. I also really like playing What Remains which is a track off my second album.


Question: If you could have anyone, in the world, attend a show, who would it be?

Hannah Cameron: I mean, right now, playing a show to literally anyone would feel amazing (laughs).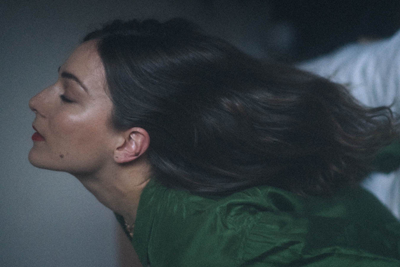 Question: What motivates you most when writing music?

Hannah Cameron: I don't know that there's one thing. Sometimes I'll feel inspired by an emotion, or a story or another artist. But I think often it's a self-driving force. You kind of enter this flow state and once you're in it you don't need any other external motivators because you're so inside the process.


Question: Which music/artists are you currently listening to?

Hannah Cameron: Weyes Blood, Lizzo, Margaret Glaspy, Laura Marling, Townes Van Zandt, Hand Habits, The Band, Elizabeth, Moreton, Angelo De Augustine and actually I spent all of yesterday listening to Glenn Gould playing Bach which was a delightful time.


Question: What or who was your inspiration to go into the music industry?

Hannah Cameron: I don't think I really made a conscious decision to go into the music industry. I knew that I loved music and that I wanted to be better at it so I spent four years studying it. And then I guess I got to the end of that and realised that all of a sudden I was part of the "music industry" and that I had no idea what that meant or how to navigate it. So I'm still figuring that part out. But I was recently really lucky to be a part of The Seed Future Maker's Workshop and during one of the sessions someone proposed that we replace the word "industry" with "community". To me that just feels like a much more inclusive and less intimidating way of thinking about it.


Question: If you could collaborate with another artist, who would it be?

Hannah Cameron: There's not really one person that comes to mind in terms of an ultimate collaborator but I feel like I'm super lucky in that I already get to collaborate with so many of my favourite artists in Melbourne (I play with On Diamond, Brain Romance, Grand Salvo and Clio).


Question: What is the biggest challenge you have faced along the way to your musical success?

Hannah Cameron: Figuring out how to navigate the "industry" while maintaining a steady creative practice.


Question: What's a typical day like?

Hannah Cameron: Right now things are obviously not very typical. But I'm trying to create routine and structure within my days. I've been waking up early, doing a ten minute meditation, going for a walk to the park with my coffee and reading there for a while. I've been trying to do guitar practice and setting myself little tasks and goals for the days and the weeks.


Question: What has been your favourite part of becoming a music artist?

Hannah Cameron: Getting to create things with people I love.


Question: What's next, for you?

Hannah Cameron: Getting through this strange time and hopefully recording and releasing some new music at the other end.


Question: Can you share your socials?

Hannah Cameron: https://www.facebook.com/hannahcameronmusic
@hannahcameronmusic/
https://soundcloud.com/hannah-cameron
https://hannahcameron.bandcamp.com/


Interview by Brooke Hunter