The Vegetarian Italian Kitchen
"I believe in the value of home cooking as an instrument of culture, knowledge and education. Knowing the ingredients, their seasonality and origin, means to cook in a conscious way." – Veronica Lavenia

The Vegetarian Italian Kitchen represents the true contemporary culture of Italian homemade cooking that is both healthy and affordable for everyone.

This beautifully presented book is a collection of vegetarian recipes uniquely divided into seasons and then further into savory and sweet sections.

Italian born Veronica Lavenia is passionate about the beauty and goodness of healthy homemade recipes, believing that the true charm of Italian cuisine lays in the luxury of simplicity.

Veronica's recipes encapsulate the delectable culture of an Italian village, where the dishes you enjoy satisfy both body and soul.

Veronica Lavenia was born and raised in Italy, surrounded by the strong, intense colors and flavors of Sicily. Her mother and my father passed down their love for travel, food and a passion for cooking and organic sustainable food. Food has always been the subject she thought about most, though, so, inspired by family recipes, and valuable Italian culinary heritage, she moved into writing about my experiences and studies on the subject.

The Vegetarian Italian Kitchen
New Holland Publishers Australia
Author: Veronica Lavenia
RRP: $40



Asparagus and Zucchini Cake
Serves 4 -6

Spring is asparagus season, time for outdoor meals and recipes to be enjoyed cold for picnics or brunch.

This is one of my most popular savory dishes with wild asparagus. Not always easy to find, wild asparagus is as precious as its distinctive flavour.

Ingredients
4zucchini (courgettes) (3, if large)
1 onion
15 asparagus
Sea salt and white pepper, to taste
2 large eggs
75 g (3½ oz) grated Parmigiano cheese
Extra virgin olive oil, to taste
1 sheet puff pastry

Method
Wash and slice the zucchini, peel the onion and steam cook all for about 15 minutes.
Clean the asparagus, removing the ends and blanch in salted water for 10 minutes. Once cooked, mix all the vegetables in the pan and season with salt.
In a bowl, beat the eggs and season with salt, pepper and Parmigiano.
Roll out the pastry on a greased baking sheet or covered with parchment paper. Add the vegetables and cover with the beaten eggs
Bake, in preheated oven, for 15–20 minutes at 180°C (350°F/gas 4).



Chocolate Salami
Serves 6 - 8

Chocolate salami reminds me of my childhood and even now I consider it one of my favourite desserts. You only have to try one slice and you'll be craving more. The unique thing about this recipe is the Marsala dessert Sicilian wine which gives a special and delicious taste to the dessert. If you prefer, you can replace it with another fine Sicilian dessert wine like Passito di Pantelleria.

Ingredients
150 g (5 oz) dry digestive cookies, palm oil free
4 tbsp raw sugar
50 g (2 oz) cocoa powder
100 g (3½ oz) chopped roasted hazelnuts
100 g (3½ oz) roasted pistachios
1 large egg
300 g (11 oz) 70% dark chocolate
150 g (5 oz) butter
2 tbsp Marsala Sicilian wine dessert or Rum (to be avoided if the dessert is made for children)

Method
Chop the cookies and add them to the sugar, cocoa powder, hazelnuts and pistachios.
Lightly beat the egg with a fork and add to the cookie mixture.
Melt the chocolate in a double boiler with the butter. When cool add the Marsala wine and stir into the cookie mixture.
Pour the dough onto parchment paper, sprinkle with more cocoa powder and work it into a sausage shape. Keep the dough wrapped in parchment paper and store in the refrigerator for 4–5 hours.
Remove the salami from the refrigerator 20 minutes before serving.
You can present it in its entirety on a serving dish (adding, if necessary, another dusting of cocoa powder) or serve it sliced.



Interview with Veronica Lavenia
Question: What inspired The Vegetarian Italian Kitchen?

Veronica Lavenia: I was born and raised in the countryside. My parents are great foodies. My mother, excellent cook, always prepared (and still does) delicious dishes with vegetables that my father picked up from our family garden. I learned as a child the importance of plant based sustainable food. This is my way of living. This in the inspiration behind this book and my previous.


Question: Which of the recipes featured in the book hold the most memories, for you?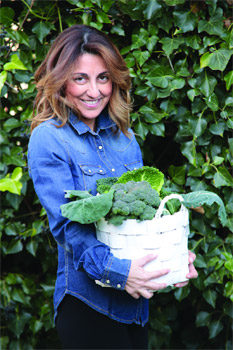 Veronica Lavenia: Each recipe is a reminder, not only of family memories but also of Italian culinary history. The unique taste of baked potatoes, prepared by my mother (Luisa's roast potatoes), reminds me of the wonderful family meals. And I am not referring only to the festive lunches but those of every day, which are the most important. For Italian families, lunch (and / or) dinner is a ritual to be respected, a moment of dialogue, discussion between parents and children. If all this is also graced with simple but tasty dishes, then it is a real treat.

"Cacio e Pepe" pasta (of which I tell the story in the book) it is the symbol of Italian gastronomic culture. Few ingredients (three), simple, tasty, born as a poor dish, are the protagonists of a loved recipe in the world. This reminds me of one of my father's advice: look for simplicity in everything you do and you will find the key to everything.


Question: What was it important for you to include healthy recipes?

Veronica Lavenia: The term "Healthy" can mean everything and nothing at the same time. It is not eating salad every day that makes us healthier but it is the knowledge of the food we put into the plate. If we consume out of season vegetables, rich in pesticides, we do not help our health.

When I was little, in winter my mother always prepared baked oven apples and pears, glazed with honey. When I asked her why I could not eat strawberries and peaches in winter she answered: "Fruit cold when it's hot, hot fruit when it's cold". In winter, the body needs fruits and vegetables suitable to face the cold and seasonal ailments. There is no point eating strawberries or tomatoes in winter. By the way, they are tasteless. Italian cuisine is, in large part, a natural cuisine, with many vegetarian recipes. It is rich in legumes and vegetable dishes. So, seasonality is the most important message that I wanted to include in my recipes.


Question: If you were throwing a dinner party this weekend - what would you serve from The Vegetarian Italian Kitchen?

Veronica Lavenia: For a delicious Australian informal dinner party, I would make simple but luscious dishes with autumn/winter seasonal vegetables.

"Cheese truffles", "Carrots and dried fruit salad", "Bruschetta with tofu sauce" or "Grape salad" would be perfect appetizers.

"Pasta with radicchio and stracchino cheese", "Potato cake", Pumpkin soup" or "Ustichese lentils" would be not only a delicious first course but a full nutritious dish.

"Baked pumpkin with marinated herbs and Gorgonzola", "Aragula (rocket) salad" or "Valdostana salad" would be a perfect, refined side dish for " Seitan stew".

"Pears and ricotta cups", "Tiramisu cups (eggs and mascarpone free) or "Ricotta and almond cake" are some of the most elegant and tasty desserts to serve.


Interview by Brooke Hunter