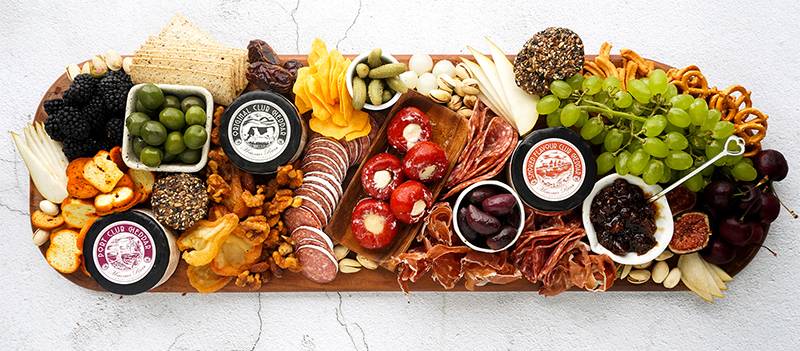 5 tips to create the ultimate grazing board
With restrictions lifting it's the perfect time to invite friends over and create a cozy atmosphere, complete with delicious food and wine. A perfect starter for such an occasion is a grazing board, complete with a range of flavours and colour combinations that will appeal to all the senses and warm up those taste buds.

"Grazing boards are the perfect entertaining option," says Don Hancey, WA Cheese ambassador and The Margaret River Dairy Company. "Paired with the perfect ambience, it is a fun set up that looks spectacular and will delight your guests, tapping into all their senses." The Margaret River Dairy Company produces mouthwatering dairy products embodying its philosophy that the best taste and quality come from the purity and simplicity of its ingredients.

Seeped in artisan craftsmanship, the dedicated team is celebrating its 30-year anniversary in 2021, with a relaunch of its artisan Margaret River Dairy Waxed Cheddar range. The range is anchored in traditional cheese making techniques dating back to the 1800's, including preserving the cheddar in natural bees wax which is melted and poured over the cheese to form a barrier and as it cools, it forms a protective seal.

Below are The Margaret River Dairy Company's top five tips on creating the perfect grazing board:

1. Get Inspired with a mood board
Plan what will be going on your grazing board and where each item will be placed, ahead of time. Make a list of all the cheeses, meats, fruits, nuts, and other accompaniments you need to create a mouthwatering creation and. You can even draw up an example of what you want your board to look like.

2. Not just fresh is best
Its great to mix a variety of fresh & dried produce for your board. This can include fruits such as passionfruit, berries, melon and grapes, and mix it up with luscious, dried additions such as apples, apricots, and figs. The Margaret River Dairy Company's newly launched range of artisan waxed cheddar cheeses are a perfect addition as these cheeses remain fresher for longer. Coated in wax it will add a rustic feel to your board, all the while keeping the moisture of the cheese intact.

3. A feast for the eyes
Make your board full, appealing, and bursting with colour, after all we eat with our eyes! Filling your board to the brim with different colours and textures allow for the cheeses on your board to pop. Another tip would be to serve your choices on an artisan wooden serving board or marble plate to give that authentic and professionally catered feel.

4. Flavour combination
Pick complimenting flavours for your board. For every cheese you have on your board, have accompanying fruits and/or nuts. For example, pears with Brie or Gouda, and apples with Gruyere or a sharp cheddar cheese. In terms of wine, quince paste pairs well with The Margaret River Dairy Company's new artisan waxed cheddar.

5. Salty or sweet?
There are no rules when it comes to your board. You can still have all your favourite cheeses, fruit, and crackers, with the addition of sweeter elements. Varieties of milk and dark chocolate, honey, caramel fudge, or figs are the perfection addition and make for an impressive dessert spread.