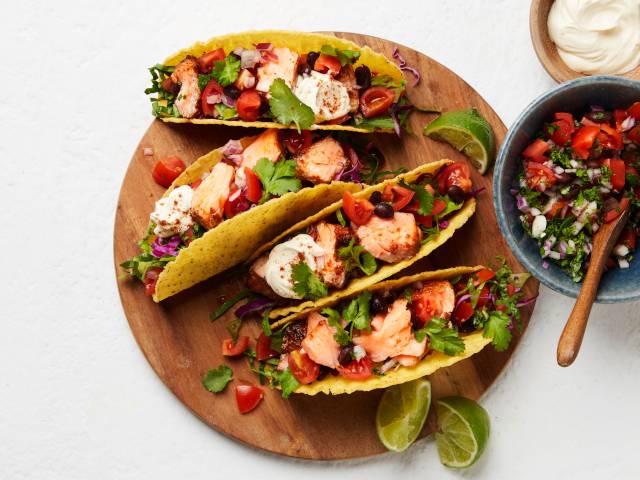 Tassal's Diced Salmon Tacos
Ingredients:
• 2 portions (approx. 300g) Tassal Salmon fillets, skin-on or 300g Tassal Diced Tassie Salmon
• 1 tbsp olive oil
• 2 tsp Mexican spice mix
• Juice of 1 lime
• 4-6 hard taco shells
• 2 baby cos lettuce, shredded
• ½ cup red cabbage, finely shredded
• ¼ cup sour cream
• ¼ cup coriander leaves
• extra lime wedges, to serve

Tomato and Black Bean Salsa
• 250g cherry tomatoes, chopped
• ½ red onion, finely diced
• Juice of 1 lime
• ½ teaspoon ground cumin
• ¼ cup coriander, finely chopped
• 400g tin black beans, drained and rinsed

Method:
1. Combine olive oil, lime juice and Mexican spices in a medium bowl and add the salmon, coat well. Allow to stand for 10 minutes.
2. Mix all salsa ingredients in a small bowl and set aside.
3. Heat a small pan to high and cook the salmon for 4-5 minutes on each side, break into small pieces.
4. Prepare taco shells according to packet instructions.
5. Arrange shells on plate or board and layer with lettuce, cabbage, salsa and salmon.
6. Top with coriander leaves and dollops of sour cream. Serve with extra salsa and lime wedges on the side.