The Tuscan Sun Cookbook
When Frances Mayes fell in love with Tuscany and wrote about creating a new life there in Under the Tuscan Sun, she started an affair that led to millions of readers around the world sharing her dream.

In all her bestselling books about Tuscany, food plays a starring role. It transports, comforts, seduces and conveys perfectly the friendly, warm and improvisational spirit of Tuscan life.

So naturally, in her first cookbook, Frances and her husband, Edward, welcome readers to their beloved Villa Bramasole, introducing their Tuscan friends and offering a deliciously tangible toast to la dolce vita by sharing a collection of favourite recipes and stories from 21 wonderful years of feasting in Tuscany. The book is beautifully illustrated throughout with the luscious photography of longtime collaborator Steven Rothfeld.

From lovely antipasti, to delicious entrees, mains, sides and desserts, you'll find the most genuine combinations to honour your guests with a truly Tuscan feast all of your own. Indulge in a roast of Rabbit with Tomatoes and Balsamic Vinegar or a Polenta with Sausage and Fontina main. These flavours are unforgettable.

Frances Mayes is the internationally bestselling author of Under the Tuscan Sun, which remained on the NYT bestseller list for more than two-and-a-half years and became a Hollywood movie starring Diane Lane. She is also the author of Bella Tuscany, Every Day in Tuscany, A Year in the World and, with Edward Mayes, In Tuscany and Bringing Tuscany Home. Frances is also the author of a novel, Swan, six books of poetry and The Discovery of Poetry. Her books have been translated into more than 40 languages.

Edward Mayes is the prize-winning author of four books of poetry.

The Tuscan Sun Cookbook
Harper Collins Australia
Authors: Frances Mayes and Edward Mayes
ISBN: 9780732292935
Price: $35.00
Buy now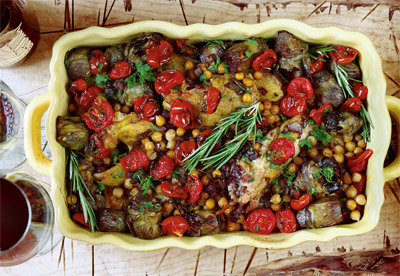 Chicken with Artichokes, Sun-dried Tomatoes and Chickpeas
Serves 6
Stick a Post-it note on this recipe, and when in doubt, turn to it. The Mediterranean flavors transform "just chicken" into a memorable dinner.

Chickpeas are a late love of ours. Just a taste of chickpea fritters, which are a favoriteSicilian street food, and we were fans. Now we roast them for snacks, serve them with herbs and tomatoes as a cold salad, and adore them in this super-fast piatto unico, one-pot dinner.

Refer to the pantry section of The Tuscan Sun Cookbook for information on chickpeas. You can simmer them in light stock with onion, celery, carrot, and garlic, or just cook them in water and season afterward. Cooking chickpeas yourself yields a much better texture than you'll fi nd in the soft and viscous canned ones. Artichokes partner well with the ceci. Although fresh artichokes are a primary passion, in this recipe I opt for the convenience of canned or frozen ones. If you're using sun-dried tomatoes in dry form, plump them for a half hour in wine or olive oil.

This hearty stew calls for a big wine, such as Tenuta Sette Ponti, IGT, Crognolo. All the Sette Ponti wines are terrific.

Ingredients
5 tablespoons extra-virgin olive oil
1 brown onion, chopped
3 chicken breasts, halved, skin on
1 teaspoon salt
1/2 teaspoon pepper
1/2 cup red wine
1/4 cup chopped flat-leaf parsley
2 cups cooked chickpeas (see page 24)
2 400-gram cans water-packed artichoke hearts, drained
1/2 cup sun-dried tomatoes, slivered, or 1 cup sliced oven-roastedtomatoes (see page 42)
1/4 cup fresh thyme or fresh marjoram leaves or
2 tablespoons dried
1/2 cup black or green olives, pitted

Method
Preheat the oven to 180°C.
Over medium-low heat, in a large, enameled ovenproof pot with a lid, heat 1 tablespoon of the olive oil. Sauté the onion, and after about 3 minutes, remove it to a medium bowl.
Season the chicken breasts with the salt and pepper. Add the remaining 4 tablespoons olive oil to the pot, raise the heat to medium-high, and brown the chicken for 3 minutes per side. Add the wine, bring it quickly to a boil, and then turn the heat off immediately
.Combine the onion with the parsley, chickpeas, artichoke hearts, sun-dried tomatoes, thyme, and olives. Spread the combined vegetables over the chicken, and bake, covered, for 30 to 40 minutes, depending on the size of the pieces, turning the chicken once.
Serve right from the pot or transfer to a platter.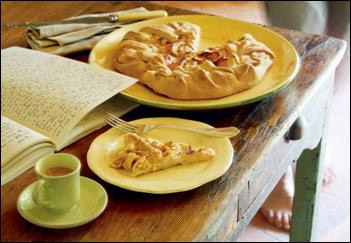 Folded Fruit Tart with Mascarpone
Ingredients
flaky pastry
1 cup (225 grams) mascarpone
¼ cup sugar
12 mint leaves, torn
¼ cup sliced almonds, toasted
6 large peaches, peeled, pitted and sliced into eighths
4 tablespoons unsalted butter, in pieces

Method
Preheat the oven to 190°C.
On a generously floured surface, roll out the crust 7 centimetres larger in diameter than you normally do for a pie plate. Flip it over the rolling pin and slide it onto a baking paper-lined baking tray.
In a large bowl, combine the mascarpone, sugar, mint and almonds. Fold the peaches in very gently. Pile the mixture into the centre of the pastry, dot the peaches with butter, and flop the edges of the crust over, pressing them down a bit into the fruit. Don't seal the top-leave a 10- or 12-centimetre hole. Bake for about 20 minutes or until the pastry is golden and the peaches have softened.