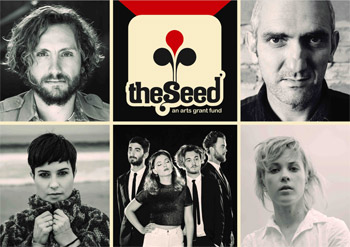 The Seed Fund
The Seed Fund is a music-focused not-for-profit organisation which was developed with the aim of facilitating musicians in their quest to become self-sustained professionals. The brainchild of John Butler and Danielle Caruana (Mama Kin), The Seed offers financial support as well as unique professional development opportunities to those doing great things in Australian music. Through the likes of grants, workshops, partnerships and initiatives, The Seed has linked the rising with the ratified, fostering a sense of community and security within a challenging, creative world.

2015 will see The Seed launch their first official fundraising campaign, including an all-star line-up event at The Athenaeum Theatre on Monday October 12. Hosted by Triple J's Zan Rowe, featuring the talents of Missy Higgins, San Cisco, Emma Louise, Paul Kelly and John Butler; these icons of Australia's music industry are banding together for a one-night fundraiser. Tickets on sale now.

The event will run in conjunction with a month long Pozible campaign kicking off 1 September. Rewards for donations include personal and live offerings from the likes of Harry Angus (Cat Empire), Marlon Williams, Skipping Girl Vinegar, Mama Kin and Ruby Boots. These rewards sit alongside VIP Passes to each St Jerome's Laneway Festival in Australia, digital marketing and PR mentoring sessions with industry heavyweights and money-can't-buy band paraphernalia from such legends as Gotye, Temper Trap, Clare Bowditch and much, much more.

John Butler on The Seed:
'The Seed Fund is in its eleventh year. Holy shit! That's amazing. What started as a crazy idea to give money away to emerging Australian artists has literally turned into a self seeding movement and this gig in so many ways is the epitome of what the Seed is all about; the Australian music industry, supporting the future movers and shakers of Australian music culture. Paul Kelly, Missy Higgins, San Cisco and Emma Louise all coming together to raise money for emerging artists and managers in this country...That's f*ckin' rad. It's been an absolute honour to be part of the Seed Fund, it's such a grand gesture, supported and made possible by so many generous culture makers in the Australian music industry. It's gonna be a fun night!"