The Possession
Cast
: Jeffrey Dean Morgan, Kyra Sedgwick, Madison Davenport, Natasha Calis, Grant Show, Matisyahu
Director
: Ole Bornedal
Genre
: Horror, Thriller
Rated
: M
Running Time
: 92 minutes
Synopsis
: Based on a true story, The Possession is the terrifying story of how one family must unite in order to survive the wrath of an unspeakable evil.
Clyde (Jeffrey Dean Morgan) and Stephanie Brenek (Kyra Sedgwick) see little cause for alarm when their youngest daughter Em becomes oddly obsessed with an antique wooden box she purchased at a yard sale. But as Em's behavior becomes increasingly erratic, the couple fears the presence of a malevolent force in their midst, only to discover that the box was built to contain a Dibbuk, a dislocated spirit that inhabits and ultimately devours its human host.
Release Date
: October 2012
About the Production
"I would destroy this thing in a second, except I really don't have any understanding of what I may or may not be dealing with…"
-From the original ad on eBay auctioning an antique wooden box said to contain a Dibbuk, a malevolent demon spirit from the Jewish tradition.
Warning: Don't Open The Box
From horror master Sam Raimi and legendary Danish director Ole Bornedal (Nightwatch, The Substitute) comes a contemporary supernatural thriller that is based on a terrifying true story of paranormal events -- and the unleashing of an ancient evil into our 21st Century world. The film chronicles the experience of one family over 29 days, after they acquire a mysterious antique container, and unsuspectingly let escape an insatiable demonic force that has been lying in wait to take full possession of a human soul.
The descent into fear begins for the Brenek family at a typical weekend yard sale. Newly divorced father Clyde (Jeffrey Dean Morgan) is still getting used to life apart from his ex-wife Stephanie (Kyra Sedgwick), but he sees little cause for alarm when their youngest daughter Em (Natasha Calis) purchases a mysteriously inscribed wooden box that catches her fancy. Yet as soon as she does, awfully strange things start happening. Em becomes increasingly obsessed with the box - to the point that she carries the curious object everywhere. Her behavior grows darker and darker, even dangerous. Yet try as he might, Clyde cannot separate Em from the box, not even when Stephanie begins to believe it is causing their daughter to lose her mind. Plagued by one disturbing and inexplicable event after the next, the family is about to unearth the truth of what is really happening to them: they have opened a Dibbuk's Box… and the dislocated spirit warned of in ancient Jewish folklore that had been trapped within now seeks to devour its human host.
Lionsgate and Ghost House Pictures present The Possession, starring Jeffrey Dean Morgan (Watchman) and Kyra Sedgwick ("The Closer"), directed by Ole Bornedal and written by Juliet Snowden & Stiles White. The film's producers are Sam Raimi (The Evil Dead, Drag Me To Hell, the Spider Man series) Robert Tapert and J.R. Young.
Dibbuks 101
Throughout history, one of the darkest and most relentlessly persistent of human fears has been that of possession - the blood-curdling idea that your body and mind could be overtaken by a hungry, inhuman force with a sinister will of its own. All manner of demons and phantoms have been rumoured to prey on our souls, but unique among them is the Dibbuk. Written about in Jewish folklore, one type of Dibbuk (which literally means "an attachment") is said to be a malicious spirit wandering in limbo, which survives by fusing itself to a living person and inhabiting their very flesh. To keep their harrowing power at bay, carpenters built special arks or boxes to trap the Dibbuks - and the incomprehensible evil they represented -- for all time.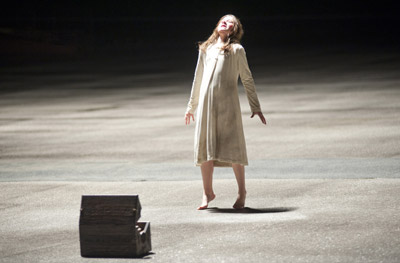 There are stories of Dibbuks going back to the Biblical era. But heads were recently turned by an unexpected 21st Century emergence that made for chilling news headlines. In 2004, Los Angeles Times journalist Leslie Gornstein uncovered the story of a man who was auctioning a particularly disturbing item on Ebay: what he claimed was an authentic "Dibbuk Box," one that had beset each of its owners, including himself, with so much unholy terror that he was desperate to be rid of it. His story recounted the box's harrowing effects on its owners to date. Hair fell out. Nightmares stalked entire households. Sudden illnesses struck some owners down, while others saw freakish visions and heard unexplained voices. And every single owner reported a string of horrific bad luck that the seller likened to "all hell breaking loose."
The box drew interest from supernatural investigators around the world, and quickly sold to a university museum curator named Jason Haxton. Jason Haxton then began to further document its macabre history of tormenting its owners and to examine the peculiar tokens and relics within, aided by Jewish mystics familiar with the myths and legends of the Dibbuk. Ultimately, the box was traced back to a 103 year-old survivor of the Holocaust, who had brought the sealed vessel with her to America after the war, warning her family (apparently in vain) to never, ever attempt to open it.
The real-life existence of such an accursed box frightened those who already knew about Dibbuks. One person was reported in The Los Angeles Times to have even begged Jason Haxton to take the photos of the box off the Internet, lest the spirit find its way into someone through that portal.
But the spine-tingling true tale fascinated others - among them Sam Raimi, the filmmaker who has put his own original stamp on the horror film genre with storytelling that is all about the art of the unforeseen surprise. While going on to the blockbuster success of the Spider Man series, Sam Raimi has always stayed true to his love of a good, primal scare - and of stories that bring audiences face-to-face with the numinous mysteries that remain, even today, hauntingly inexplicable. Because the Dibbuk Box was completely real - and scaring people out of their minds - Sam Raimi felt the story had all the makings of a cinematic journey that would have audiences on the edges of their seats and haunted by frights that linger long after the movie is over.
"We always live with the fear of the unknown," says Sam Raimi. "And of course we want to know if ghosts and demons really exist or not, and what happens to your spirit when you die. So when someone tells a story like that of the Dibbuk Box and its terrible, terrible effects on everyone who got close to, it cuts to very core of our most immense fears and desires. In this real story, we saw a chance to explore some classic horror themes - and make them new for a new generation."
Sam Raimi's production company, Ghost House Pictures, was ready to jump on the concept. "As soon as we read the article in the LA Times, we couldn't believe this box was really out there in the world," comments producer J.R. Young. "Sam Rami said this is exactly the kind of movie Ghost House should be making. It had all the creepy, supernatural qualities to inspire something really special."
Adds producer Robert Tapert: "The story had several new and intriguing elements that Sam Rami and I had never seen before, especially the whole mythology of the Dibbuk. The fact that there was a horrifying, recent truth behind it that you could find on the internet made it that much more exciting. It really challenges your beliefs when you read about all the scary things that seem to be happening around this box."
The box was so frightening that, even as they began development, the team at Ghost House maintained a respectful dread and kept their distance. "I never got close to the box, nor did I want to," says Sam Raimi. "The website itself was scary enough, so the last thing I felt I needed to do was to risk bringing it to my home or office. The price of finding out more was just too high."
While the real Dibbuk Box had been passed from one shell-shocked owner to the next, Ghost House began looking for a way to tell a single story about its macabre history. They found that in a screenplay by Juliet Snowden and Stiles White. "They took all the scariest elements of the box's true history and made it all happen to one family," says Sam Raimi. "The family is so relatable that when the fantastical begins to happen to them, that makes it all the more potent."
Ghost House was especially excited to collaborate with Lionsgate, with whom they have a deep creative affinity. Notes Robert Tapert: "Lionsgate is a company that has proven time and time again that they really understand horror movies." Adds Sam Raimi: "The team at Lionsgate brought very intelligent ideas, but at the same time, they let us have creative control. It turned out to be a wonderful, healthy collaboration."
Both Ghost House and Lionsgate were excited to add a new entry to the roster of horror movies based on unsettling news stories. Among others, The Exorcist was inspired by an article about the real exorcism of a teenaged boy from Maryland; The Amityville Horror was based on George and Kathy Lutz's experiences living in a Long Island house rocked by occult events; and The Hills Have Eyes was based on an actual story of a cannibalistic clan in Scotland. "When you know what are seeing on screen is linked to real events, that only magnifies your questions and fears," says Sam Raimi.
To direct the film, Ghost House and Lionsgate wanted a fresh vision. They found that in an unexpected source: Ole Bornedal, an award-winning Danish director who makes his long-awaited return to American filmmaking after his spine-tingling suspense thriller Nightwatch.
"Sam Rami and myself are great lovers of cinema and one thing horror films have is the director's vision printed squarely on the material," explains Robert Tapert. "We felt Ole Bornedal had the experience to really deliver on the horror in this story while also bringing out the interpersonal relationships that allow the audience to personally relate to what is happening to this family."
Sam Raimi had been intrigued by Ole Bornedal since he saw his film The Substitute, a Danish horror-comedy about a substitute teacher who turns out to be literally from another planet. "We were big fans of Ole Bornedal already and when he pitched his approach to The Possession, we were sold," he recalls. "Ole saw that all the fear and suspense would hinge on the story of the family. He has a terrific sense of character and he built the atmosphere around the family being threatened, the family being broken apart, and the family having to find the courage and love to beat back the darkness of this demon. He really went to great lengths to make what each person is experiencing psychologically real."
From the beginning, Ole Bornedal was excited about the story, but he, too, was very wary of the real-life box, wanting to keep the production safe from the source of apprehension that inspired it. "I was invited to stay with a family who had the Dibbuk Box, but I turned the invitation down," he admits. "I heard too many rumours that it's not a good idea for anyone to be around the real thing."
Since it all started with a true story, a disquieting psychological realism became a cornerstone of Ole Bornedal's approach. He hoped to explore the enduring theme of an innocent child threatened by all-consuming evil in a more probing, contemporary way.
"With this movie we wanted to see if we could interpret the genre a little differently," says Ole Bornedal. "What we tried to do with this film was to first and foremost make the characters real - and then to show how an authentic modern family might truly react to these terrible, unexplained events. We wanted not just to show the audience the possession of Em, but to give them the experience of how a little girl reacts emotionally to the devastating realisation that she is harbouring a demon within her own body."
Anxiety and paranoia seep through the Brenek family as they are turned against each other by the Dibbuk - and must fight to regain control from the demon that would not only claim their daughter but destroy their bonds. "There are no greater stakes than a family trying to survive - and Ole makes that the focal point of the film," says J.R. Young. "We want audiences jumping out of their seats fifteen times during the movie - but at the same time we want audiences to walk away feeling that all this happened to a real family."
The real Dibbuk Box might have been kept far away from the set, but its ghostly presence was felt nonetheless. Indeed, for cast and crew the production of The Possession would challenge not only their skills but also their courage - as something about the Dibbuk seemed to inspire bone-chilling occurrences throughout.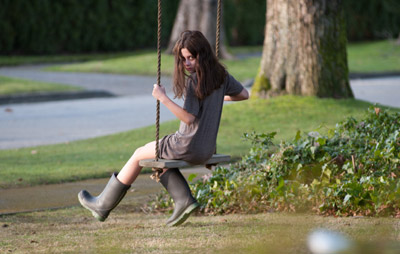 "Strange things happened over the course of this movie," confesses J.R. Young. "At one point we were scouting for the room where the film's final exorcism takes place - and suddenly there was a huge 'boom' and a light bulb literally exploded. We had already heard that there were claims that the Dibbuk Box could cause light bulbs to shatter, and then it happened. One of the previous owners of the box, an antique dealer, had reported that one day he left his shop and his employee called him crying 'There's someone in here, there's someone in here.' When he returned, every bulb in his shop was smashed. So when you start making these connections, you start wondering: what did we bring upon ourselves by getting involved in this movie?"
A Family Overtaken
When the long-trapped Dibbuk is released from its box to menace the very soul of young Em Brenek, the only thing that stands in its way is her father, Clyde, who at first is distracted by trying to start a new life as a single, divorced dad who has become too accustomed to putting work before family. Only when he watches his daughter's seemingly start to disappear inside her own body, and her innocence replaced by an overwhelming malevolence, does he being to realize how much his family means to him. Taking the role is Jeffery Dean Morgan, known for such films as The Watchman and Texas Killing Fields, as well television roles in "Grey's Anatomy" and "Supernatural."
Says Robert Tapert: "Clyde is a man who when we first meet him is driven by ambition. He loves his family, but in the course of the film he has to draw on strength he didn't know he had to regain his possessed daughter. I think you really believe Jeffrey Dean Morgan's journey as an imperfect guy trying to fight to get what is important in his life back. You relate to him and you root for him to succeed against a supernatural force that challenges all his beliefs."
Jeffery Dean Morgan was drawn to the film's original approach to a story that would scare any parent down to the bone. "It didn't really interest me to do something that has been done before," he notes. "What was interesting to me is that surrounding this supernatural horror is a story about a family trying to survive. That makes all the jumps and scares add up to something powerful."
He was also attracted to the character of Clyde, who begins the film dismayed by his ex-wife's new boyfriend only to uncover a horror that is unimaginably more threatening. "He's definitely a flawed character, which is good because those are the kinds of characters I gravitate towards," says Jeffery Dean Morgan.
"He's first and foremost trying to be a good dad, but he's also a guy going through a lot stuff. He's a guy who is a little lost when this all begins. He has screwed up his priorities and now he is being forced to find them again under extreme duress."
Jeffery Dean Morgan too was changed by the experience. He started out the film not really believing in ghosts and demons, but admits the Dibbuk Box unnerved him to the point of doubts. "I'll tell you this: I won't sit around mocking the box," he declares. "If so many people believe in its power, there might be something to it."
Playing Clyde's newly estranged wife Stephanie is Kyra Sedgwick, well known from her long-lived, Primetime Emmy and Golden Globe winning run in the lead role of "The Closer." She, too, found the couple's situation intriguing - facing a primeval force just as they thought they were separating forever - and found Stephanie's initial reaction of blaming Clyde's inattentive fathering for Em's bizarre behavior very authentic.
"Stephanie and Clyde think they've just put the final nail in the coffin of their marriage," Kyra Sedgwick explains, "and then their daughter becomes this angry, violent child which she never was before. I think Stephanie tries to see that there are rational explanations for that . . . until she finally realises that her child is not alone. There is something else inside her."
Like Jeffrey Dean Morgan, Kyra Sedgwick was drawn to the humanity within the film's many moments of sudden shock and abject fear. "I think that all really good horror movies have their basis in strong characters and relationships," she says, "and I like that with this story, first you are moved and then you are very, very scared."
Robert Tapert was impressed with Kyra Sedgwick's ability to bring emotional honesty to a role filled with ratcheting anxiety. "Kyra Sedgwick brings a likeability to Stephanie and an understanding that her need to control things in the family comes from a place of love," he says. "She's a brilliant actress."
Although Kyra Sedgwick says she greatly enjoyed working with her co-stars and Ole Bornedal, she too acknowledges that an eerie feeling hung over the production. "I'm not going to lie," she says. "There were some strange and creepy things that went on. But the most haunting thing for me were the incredible performances of these two little girls who play our daughters."
From the beginning, the filmmakers knew The Possession's potency would rest on finding a child actress who could take 11 year-old Em into the most starkly bone-chilling territory - and the audience along with her through the raw experience of losing one's mind to a demon. To find someone who could pull all that off, Bornedal set out on an intense audition process.
"I interviewed a lot of children and told them to pretend they were already possessed by an evil spirit," he explains. "It was during one of these interviews that Natasha Calis started crying. She started improvising very real emotions that would be attached to a girl going through an actual possession. It was one of the most heartbreaking casting sessions I've ever participated in. All of us had tears in our eyes. We'd never seen a possessed character like this before. That's what Natasha Calis brings to this movie. She is not just an evil little girl - there is a deep sadness in knowing that she is possessed and cannot control what is happening."
Natasha Calis, who took her first role at age 7, was fearless as she dove into the role. She relished the chance to do what few children ever get to do - take a character to the very edge. "It was exciting to me to play a possessed character because I really got to experiment," she says. "I got to play around with the whole idea of possession, I got to experience what it feels like and what you would do and what you would look like, and it was really thrilling."
The young actress also took heart from Em's bravery, noting that she never completely gives in to the Dibbuk, struggling to keep it contained within in her no matter how ferocious it becomes. "She is constantly struggling with it, but as it is slowly devouring her, she's not quite sure what to do," Natasha Calis explains.
Those struggles had Natasha Calis throwing violent rages, battling flocks of moths, gorging herself on raw meat and ultimately, undergoing a desperate exorcism at the hands of a young Hasidic master, but her enthusiasm and imagination never wavered. Says Jeffrey Dean Morgan of her performance: "Natasha Calis blew me away more than once. The whole key to this movie was having a really believable girl in the role of Em and being possessed is no easy task for any actor, but Natasha Calis has extraordinary talent."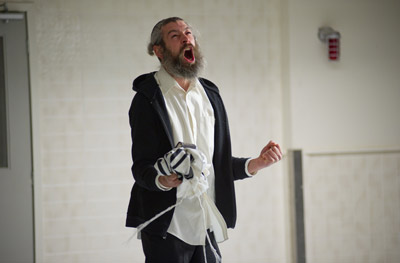 Adds Kyra Sedgwick: "Natasha Calis really turned herself completely over to the process of being possessed and at the same time, allowed us to see into the depths of Em's soul as she battles the demon. Her pure love for the work was so exciting to see."
Completing the Brenek family is Madison Davenport, known for her role on Showtime's series "Shameless," in the role of Em's protective big sister Hannah. Her resemblance to and rapport with Natasha Calis were both uncanny. "They really do feel like sisters, on and off the set. They even palled around like sisters," observes producer J.R. Young. "That was so important because it carries over into the storytelling."
Fifteen year-old Madison Davenport says she found what happens to Em in The Possession to be "all of your worst nightmares combined." She continues: "For Hannah, she's losing her sister to something nobody can explain. Her own little sister becomes the force tearing the family apart and bringing chaos into all of their minds."
As for audiences, she expects they will be pulled into the fright and panic of Em's experience. "I think it's one of those films that after you see it, you'll go home and watch behind you on the stairs because you're going to feel something creepy is still with you," Madison Davenport warns. "That will be very exciting to see."
A Dibbuk Exorcist
Throughout the long history of legends surrounding demonic possessions, there have always been those in every religion and culture who undertake to cast out whatever evil might infest the human soul.
Urgently needing help and with nowhere to turn, Clyde Brenek engages the services of Tzadok, the street-smart but spiritual son of a Hasidic rabbi who knows the merciless ways that a Dibbuk can devour a human - and despite his community's paralysing fears, dares to help. To cast this unusual role, the filmmakers took an unusual route and recruited a non-actor: the Hasidic rap and reggae star who is known around the world by his Hebrew name Matisyahu.
Ole Bornedal says he saw something organic and real in Matisyahu that made him think he could embody Tzadok despite having zero screen experience. "Sometimes casting has to do with intuition," he explains. "When I met Matis, it was clear that he was a very authentically religious young man. He didn't having the timing or the training yet of an actor, but he had so much charisma. There is a strong presence that he brings. He's a little bit off but Tzadok should be a little bit off, because he's essentially from another world outside the family's experience."
Immediately, Sam Raimi became a big supporter of casting Matisyahu, despite the potential risks. "He's not just an unusual choice for shock value, I think he's really right for the film and I fought for that choice," says the producer. "Ole wanted to update the traditional view of the wise, old rabbi; and Matisyahu goes against all those expectations, and yet you believe in his faith. His performance was so true and original, he made the idea of an exorcist new to me."
Matisyahu couldn't put the script down. "It was a page turner and I felt this was a part I wanted to do justice to," he says. "Tzadok is a Rabbi's son but he is also a little on the fringe in his community; he's more worldly, and I could relate to him on that level. It's a role that gives me the ability to do what I do - which is to sort of connect my heritage with popular culture."
The research the writers did on the Dibbuk and the little-known rites of Jewish exorcism impressed him. "The script was pretty on the money," he comments. "The Torah does speak of different types of demons and ghosts that can attach themselves to people."
He was also intrigued by the fact that Tzadok decides to battle this relentless demon knowing he is up against near impossible odds. "Tzadok is this family's last hope, but at the same time, he really has no clue what he is doing," he explains. "All he knows is that he has to somehow channel this Dibbuk out of this little girl."
Robert Tapert was taken aback by the freshness of Matisyahu's performance. "He's so sympathetic and likeable as a guy who chooses to the right thing even though he knows things could turn out very badly," he observes.
Tzadok's attempted exorcism leads to one of the most menacing scenes in the film. "That scene was crazy, crazy, crazy," recalls Jeffrey Dean Morgan. "It was me, Kyra Sedwick, Matisyahu, Natasha Calis and Madison Davenport and at a certain point, it was like we were all just taken over by whatever was happening. It was weird, intense, very emotional - and I walked away from it a little bit freaked out. Something weird happened, but weird is good for this film."
Into the Asylum
The film's climactic exorcism scene was shot at a particularly haunting location: the abandoned Riverview Mental Institution, whose dilapidated buildings - once rife with paranoia, fear and grim treatments - still stand in Coquitiam, British Columbia. Built in 1913 and closed 70 years later, the buildings left behind are renowned for their instantly chilling atmosphere.
"Riverview has its own history of odd occurrences," notes location manager Terry Mackay. "There's a feeling inside that is otherworldly, and because it's been vacant for so long, you have the sense of spirits or some kind of presence always there. I think it heightened all of our senses to film in there." Cast and crew were on edge on this set, with some even refusing to enter rooms that seemed to be especially cold or oddly forbidding. But for screenwriters Julia Snowden and Stiles White nothing could have been more thrilling than to see such an organically scary place become home to their high-tension scene. "There was a double eeriness to shooting in a location that people already say is haunted," muses White. "There were multiple layers of horror and weirdness. Along with the screaming and flashing lights of the scene, I have to admit, after watching the day of shooting, I had trouble getting to sleep that night."
Other locations also seemed to fall under the film's spell - one even burned to the ground (under circumstances that had nothing to do with the production) before shooting began. Production designer Rachel O'Toole added further touches of fright and foreboding to rooms that might seem ordinary but are filled with subtle, symbolic touches and the ability to shift into the nightmarish at any moment. Also adding to the contrasting atmosphere between family life and the hellish pursuit of a voracious demon is the work of cinematographer Dan Laustsen, who plays with light and shade throughout the film, breaking the usual rules. "Scary doesn't always take place in pitch black," Dan Laustsen notes. "Some of the scariest things in our movie take place in bright light."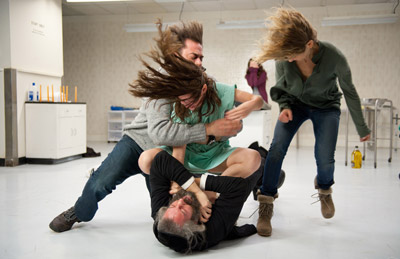 Monster Moths
The real-life owners of the Dibbuk Box recounted many horrors - among them gruesome insect manifestations involving scorpions and cockroaches. When Ole Bornedal came aboard The Possession he made the decision to focus on an insect less commonly seen on film: the hypnotic and spooky moth. "Moths are weirder and more ancient than most insects and they seem to have something supernatural about them," the director explains. "The eerie flutter of their wings, the way they unexpectedly brush against your skin, it's chilling." And accordingly, Ole Bornedal made a decision that would shock everyone on set - the decision use live moths for the pivotal scene. He explains, "Having actors act against the feeling of having real moths crawling on your face and your body, you can't fake that."
Adds producer J.R. Young: "When we saw Ole Bornedal's vision of these huge moths, it was something we'd never seen in a horror movie before. It was very fresh."
The film's big moth scene called for a staggering 2000 insects to invade Em's new bedroom in her father's house. In order for the moths to be ready for the sequence, they had to be shipped to the set as larvae and hatched on location. Overseeing the process was another unusual addition to the crew: Moth Wrangler Brad MacDonald.
Says Robert Tapert: "We could have created the moths entirely with CGI, but Ole Bornedal very much wanted the real thing. I commend him for his staunch decision to bring in the moth wrangler. The moths made the scene that much more chilling for us all."
Every department had to work around the peculiar nature of moth behaviour. Production Designer Rachel O'Toole designed bedroom walls that the moths would stick to naturally. Director of Photography Dan Laustsen learned to light the set so the moths wouldn't be completely distracted by their attraction to bright objects. Later, visual effects supervisor Adam Stern enhanced the creepiness factor of the moths.
Most of all, the actors had to deal with the heebie-jeebies of having these insects crawling all over them. "I'm not a big insect guy," confesses Jeffrey Dean Morgan. "And these were really huge monster moths. On the first day shooting with them, one got on my bare foot, and let's just say it wasn't pretty."
Adds Natasha Calis: "I was up for a challenge but these things were huge and they're like black and orange and when I saw them it was kind of like how when you go bungee jumping and at first you're excited, but then you look over the edge and it's like uh-oh. Some of them even have little spikes coming out of their legs and are sharp on your skin."
Still, J.R. Young was impressed with how well Natasha Calis kept her composure within the invading storm of moths. "She was a real trooper," he says.
As for moth wrangler Brad MacDonald, at the end of the day, his only comment was, "I prefer working with snakes."
Dibbuk Unleashed
To keep the curse of the real-life Dibbuk Box at bay, Ole Bornedal decided to recreate a box that would hopefully protect cast and crew. Like the actual container that was auctioned on Ebay, the film's box needed to be ordinary enough not to arouse immediate suspicion, but mysterious enough that it could, in Ole Bornedal's words, "symbolise the evil we all hope to keep trapped forever."
Explains J.R. Young: "It was less important for us to recreate the actual box as to create a box you believe might contain something that was locked away to never be let out in the world. Rachel O'Toole came up with some great concepts, and we also went back to the original story for the contents, including the bird skeleton, the locks of hair and the strange wooden carvings."
For the demon itself, the production turned to makeup special effects designer Bill Terezakis. "How do you give face to a demon? What is the face of evil?" asks J.R. Young. "Bill Terezakis and Ole Bornedal came up with a design that would embody this. Their vision was to ask not how much can we show, but how little can we show to completely shock you?"
Without giving anything away, Bill Terezakis notes: "Ole Bornedal wanted something that would feel very ancient and I think we delivered on that."
Adds visual effects supervisor Adam Stern: "We really wanted to create something that was not only scary but also grounded in reality as much as possible."
For Robert Tapert, that hope of creating something that lingers in the imagination, that continues to make your heart pound long after the final images, was the driving force behind the entire creative process on The Possession.
He concludes: "We want audiences to leave the theater with the feeling that, since the horror you just witnessed is based in fact, it could come calling for you. The idea of the Dibbuk Box is something we think will scare audiences not just in the theater, but after they leave."