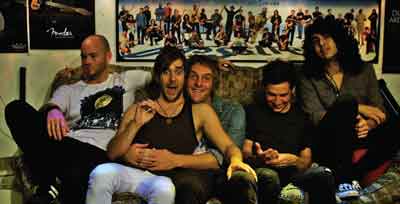 The Lazys
Sydney rockers, The Lazys, have released their highly anticipated self-titled EP and then backed it's release with a full national tour - their first since the band's massive success after the Jack Daniels Set national tour.

The Lazys burst onto the Sydney scene in 2006, and quickly built a loyal fan base following a national tour supporting Something With Numbers to an estimated 20,000 people.

Since then, The Lazy's have been fortunate enough to have graced the stage with many other bands including US Rockers Against Me, UK's The Answer, Hollywood's Juliette and the Licks, Grinspoon and After the Fall before scoring coveted billing on the main stage at Come together and Coaster festivals with The Living End, Kisschasy & Cog.

The band took their next step in the studio with producer Phil McKellar (Grinspoon/Silverchair). Double A Single "All Fired up / Union of the Underdogs" was released in July 2008, played on Nova and JJJ. This immediately caught the attention of Australian Music legend Michael Chugg who put the boys forward to Jack Daniels to go on the inaugural Jack Daniels Set.

After being voted on to the set in record numbers, the band set off around Australia showcasing their renowned live set. When lead vocalist Leon Harrison twisted his knee jumping 20 feet off the top of Marshall cabinets at the Gaelic club they jumped right back on the tour bus headed to Perth, crutches and all, for the last set of the Jack Daniels Tour. And in November last year after securing more than 8000 votes, the band were presented live on stage in Melbourne with the Inaugural Jack Daniels Winners award by Gyroscope and Jabba.

2009 was a massive year for the five piece band, with the track 'All Fired Up' being licensed for the Channel 7 series Thank God You're Here.

Recorded in the legendary Albert studios, home of AC/DC, it's a showcase of the band's sheer ability. Instantly memorable songs, catchy as hell with huge choruses, thrashing guitar solos, a driving rhythm section and topped with Leon's howling vocals. There's nothing out there like it. Unforgettable, hard and edgy you'll be hearing it in your head long after you've turned it off.