The Hunger Games Review
Cast
: Jennifer Lawrence, Josh Hutcherson, Liam Hemsworth, Woody Harrelson, Elizabeth Banks, Lenny Kravitz, Wes Bentley, Toby Jones, Alexander Ludwig, Isabelle Fuhrman, Amandla Stenberg
Director
: Gary Ross
Genre
: Drama, Action, Sci-Fi
Rated
: M
Running Time
: 142 minutes
Synopsis
: Every year in the ruins of what was once North America, the nation of Panem forces each of its twelve districts to send a teenage boy and girl to compete in the Hunger Games. Part twisted entertainment, part government intimidation tactic, the Hunger Games are a nationally televised event in which "Tributes" must fight with one another until one survivor remains.
Pitted against highly-trained Tributes who have prepared for these Games their entire lives, Katniss is forced to rely upon her sharp instincts as well as the mentorship of drunken former victor Haymitch Abernathy. If she's ever to return home to District 12, Katniss must make impossible choices in the arena that weigh survival against humanity and life against love.
Verdict 1
: As a massive fan of The Hunger Games book trilogy by Suzanne Collins I have been extremely excited for the release of the first film, The Hunger Games and I was certainly not disappointed. The Hunger Games film is still able to maintain suspense, even for those who know how the film will end; I found myself anxious as Katniss was sent into the field of the Hunger Games and in shock through every fast-paced step she took during the film.
Whilst the film does stay relatively true to the book, fans will need to walk into the film with an open mind and be able to distance the film from the first book and not pick the differences. I was surprised at which bits had changed or been discarded in the translation, but I still thoroughly enjoyed the film version.
"The world will be watching" The Hunger Games.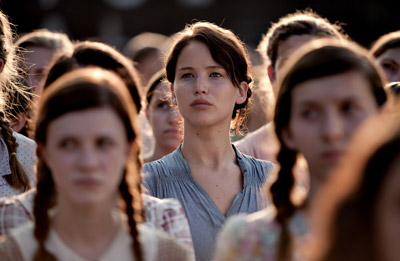 Jennifer Lawrence as Katniss showcases unbelievable talent and is incredibly engaging and loyal in her portrayal of one of the strongest heroines we have seen, on screen, in some time. Haymitch is clearly wrong when he describes Katniss as having "as much charm as a dead slug".
I enjoyed seeing Aussie, Liam Hemsworth as Gale and look forward to his stronger feature in Mockingjay, the third and final book in the trilogy. Whilst Lenny Kravitz was able to take everything I'd envisioned the creative designer Cinna to be and amplify it!
Audiences who haven't read Suzanne Collins' trilogy will be absorbed by a captive storyline and be asking "what's next?" I can almost guarantee those who haven't read the series will, after seeing this film.
I wonder how long I now have to wait for the next film in the trilogy, Catching Fire...
Rating
: *****
Brooke Hunter
Verdict 2
: Going in blind to this film there was much anticipation given the hype. While you don' thave to read the book to enjoy the film, there is a definite pull to now learn more about the characters in the Hunger Games book series. This fast paced action film, had me on the edge of my seat and actually gripping it at one point. Jennifer Lawrence (Katniss) was captive and convincing, Josh Hutcherson (Peeta) endearing, both showing great talent and depth of character.
The Hunger Games is thought provoking and maybe a little confronting if you are not sure what it's all about. After an uprising many years ago, a definite class system has been formed to keep the workers from the district under control. Food is used as a weapon, and the only way to survive is to exchange Hunger Game entries for food. It's a high price to pay, as being selected as a 'tribute' or competitor for the hunger games, is guaranteed death, all in the name of entertainment...
But for just over 2 hours, strap yourself in for a thrilling survival game that mashes futurist technology with reality TV, plus some great costumes....and "may the odds be forever in your favour".
Rating
: *****
Michelle Warmuz
Release Date
: March 22, 2012
"The only thing stronger than fear is hope."
- President Coriolanus Snow
In the ruins of the land formerly known as North America, the annual Hunger Games are about to get under way - and 16-year-old contender Katniss Everdeen has only the remotest chance of beating the fearsome odds. Like most of the nation of Panem, Katniss lives in one of twelve enslaved districts, ruled over by a mystery-shrouded Capitol, which after decades of chaos and war, now suppresses the people under the thumb of a harsh yet decadent dictatorship. Every year, on Reaping Day, each of the districts must choose, by lottery or volunteer, one boy and one girl to represent them in the Capitol's twisted idea of grand entertainment that proves its total control, while also giving the famished populace the faintest ray of hope to hang onto. These are the Hunger Games - an intense gladiatorial competition between 24 adolescent warriors known as Tributes, broadcast live on TV until only one survivor remains... and once Katniss is entered there is no turning back.
On this day, in District 12, the unthinkable happens - Katniss' little sister, Primrose, whom Katniss has helped to feed and care for much of her life, is chosen for the Games. In a brave, self-sacrificing move that she knows might seal her fate, Katniss volunteers to take her sister's place. Instantly, she and her new co-Tribute, the baker's son Peeta Mellark, are taken into custody, whisked to the Capitol, thrown into glamorous makeovers and grueling training, readying themselves to be pitted against the ruthless "Career Tributes," who hail from the wealthier districts and have prepared for these Games their entire lives. In the days to come, under the mentorship of drunken former victor Haymitch Abernathy, Katniss will sharpen her instincts, hone her archery skills and focus her growing strength and will on what seems to be the task at hand: stay alive at all costs.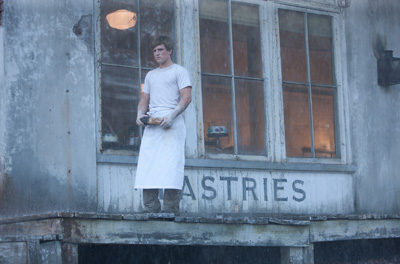 But as she enters the forested outdoor arena as a surprise leading contender in the Games, Katniss begins to see that far more than the promise of fame, fortune and existence itself are on the line. For if she is to win, she will have to make decisions both defiant and heart-rending, weighing survival against humanity, safety against trust and life against love.
The Hunger Games is directed by Gary Ross, with a screenplay by Ross and Suzanne Collins and Billy Ray, and produced by Nina Jacobson's Color Force in tandem with producer Jon Kilik. The executive producers are Robin Bissell, Collins and Louise Rosner-Meyer. The film stars Jennifer Lawrence, Josh Hutcherson, Liam Hemsworth, Woody Harrelson, Elizabeth Banks, Lenny Kravitz, Wes Bentley, Toby Jones, Alexander Ludwig, Isabelle Fuhrman, Amandla Sternberg, with Stanley Tucci and Donald Sutherland.
The behind-the-scenes team includes Oscar®-nominated director of photography Tom Stern (The Changeling, Million Dollar Baby); editors Stephen Mirrione, an Oscar® winner for Traffic; and Juliette Welfling, an Oscar® nominee for The Diving Bell and the Butterfly; production designer Philip Messina (Ocean's Twelve, Ocean's Thirteen); 3-time Oscar®-nominated costume designer Judianna Makovsky (Seabiscuit, Harry Potter and the Sorcere's Stone, Pleasantville) and composers T Bone Burnett (Oscar® winner for Crazy Heart) and eight-time Oscar® nominee James Newton Howard.
Who's Who in Panem
In District 12:
Katniss: The Tribute who becomes a heroine when she volunteers to take her sister's place in theHunger Games
Gale: Katniss' fellow hunter, rebel and best friend, who is heartbroken when she volunteers anddeparts for the Games
Peeta: The male Tribute from District 12, who has long harbored secret feelings for Katniss
Katniss' Hunger Games Team:
Haymitch: Victor of the 50th Hunger Games, now the rarely sober mentor for Katniss and Peeta
Effie: Katniss' elaborately-coiffed escort and PR handler for the Games
Cinna: Katniss' personal Stylist for the Games who becomes her unexpected confidante and supporter
Portia: Peeta's Stylist for the Games
Venia, Flavius and Octavia: Katniss' Prep Team for the Games
Key Tributes:
Marvel and Glimmer: The ruthless, dangerously skilled Career Tributes from District 1
Cato and Clove: Hailing from District 2, the two most fearsome Career Tributes in the Games
Foxface: The female Tribute from District 5, whose smarts lead her to favor strategy over force
Rue: The Games' youngest Tribute from District 11, who becomes Katniss' closest ally
Thresh: The male Tribute from District 11
The Capitol Powers:
President Snow: The dictator of Panem who rules with his own brand of laid-back brutality
Seneca Crane: The head Gamemaker, who created the 74th Hunger Games
Caesar Flickerman: The official television interviewer for the Games
Claudius Templesmith: The infamous TV announcer of the Hunger Games
Jennifer Lawrence The Hunger Games -
www.girl.com.au/the-hunger-games.htm
The Hunger Games Katniss Team -
www.girl.com.au/the-hunger-games-katniss-team.htm
The Hunger Games Training -
www.girl.com.au/the-hunger-games-training.htm