The Expendables 2
Cast
: Sylvester Stallone, Jason Statham, Jet Li, Dolph Lundgren, Chuck Norris, Jean Claude Van Damme, Bruce Willis, Arnold Schwarzenegger, Terry Crews, Randy Couture, Liam Hemsworth, Scott Adkins, Amadna Ooms, Charisma Carpenter
Director
: Simon West
Genre
: Action, Adventure, Sequel
Rated
: MA
Synopsis
: The Expendables are back and this time it's personal...
Barney Ross (Sylvester Stallone), Lee Christmas (Jason Statham), Yin Yang (Jet Li), Gunner Jensen (Dolph Lundgren), Toll Road (Randy Couture) and Hale Caesar (Terry Crews) -- with newest members Billy the Kid (Liam Hemsworth) and Maggie (Yu Nan) aboard -- are reunited when Mr. Church (Bruce Willis) enlists the Expendables to take on a seemingly simple job. The task looks like an easy paycheck for Barney and his band of old-school mercenaries. But when things go wrong and one of their own is viciously killed, the Expendables are compelled to seek revenge in hostile territory where the odds are stacked against them. Hell-bent on payback, the crew cuts a swath of destruction through opposing forces, wreaking havoc and shutting down an unexpected threat in the nick of time - five tons of weapons-grade plutonium, far more than enough to change the balance of power in the world. But that's nothing compared to the justice they serve against the villainous adversary who savagely murdered their brother.
That is done the Expendables way....
Release Date
: 30th August, 2012
Website
:
www.theexpendables2film.com
The Expendables Are Back and This Time It's Personal
Expendable: ex·pend·a·ble/ik'spend??b??l/ an adjective 1. Open to sacrifice in the interest of gaining a military objective, especially of a mercenary nature.
2. Of no or little significance when compared to the overall mission, therefore able to be abandoned or easily discarded.
Sylvester Stallone, the driving force behind The Expendables franchise, again brings together a powerhouse cast of action-adventure superstars - never before seen together in one film. From Lionsgate and Millennium Films, The Expendables 2 is the highly anticipated sequel to the summer 2010 worldwide box-office success (over $273 million worldwide). The latest instalment stars Sylvester Stallone, Jason Statham, Jet Li, Dolph Lundgren, Terry Crews and Randy Couture, with Bruce Willis and Arnold Schwarzenegger, with newest cast members Liam Hemsworth, martial arts legends Chuck Norris and Jean Claude Van Damme, Scott Adkins and Chinese actress Yu Nan as the first female Expendable.
Directed by Simon West, written by Sylvester Stallone and based on characters created by David Callaham, The Expendables 2 is produced by Avi Lerner and Kevin King-Templeton, Danny Lerner, and Les Weldon. Executive producers are Boaz Davidson, Trevor Short, Danny Dimbort, Jon Feltheimer, Jason Constantine, Eda Kowan, Basil Iwanyk, and Guymon Casady.
Barney Ross (Sylvester Stallone), Lee Christmas (Jason Statham), Yin Yang (Jet Li), Gunnar Jensen (Dolph Lundgren), Toll Road (Randy Couture) and Hale Caesar (Terry Crews) - with newest members Billy the Kid (Liam Hemsworth) and Maggie (Yu Nan) aboard - are reunited when Mr. Church (Bruce Willis) enlists the Expendables to take on a seemingly simple job. The task looks like an easy paycheck for Barney and his band of old-school mercenaries. But when things go wrong and one of their own is viciously killed, the Expendables are compelled to seek revenge in hostile territory where the odds are stacked against them. Hell-bent on payback, the crew cuts a swath of destruction through opposing forces, wreaking havoc and shutting down an unexpected threat in the nick of time - six pounds of weapons-grade plutonium; enough to change the balance of power in the world.
But that's nothing compared to the justice they serve against the villainous adversary who savagely murdered their brother. That is done the Expendables way....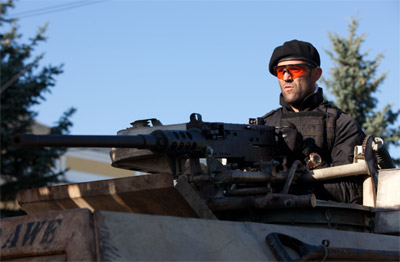 The Expendables 2 was on the drawing board months before the original movie was completed and released in theatres. Sylvester Stallone, who built the mythology of the Expendables team from the ground up, brought together the grouping of big-screen action icons - as he did in the first film - at the same time writing for the all-star ensemble cast, while taking on the physically and emotionally challenging lead role of Barney Ross. "The cast that we've pulled together is phenomenal," Stallone says, "and without exception, The Expendables 2 is the biggest action-adventure film that I've ever been involved with."
In the wake of the phenomenal global success of the first film, Sylvester Stallone says, "The first movie filled a gap. I thought if we get together all of these characters, present and past, and try to bring back a little of that hard-core action, that old time rock 'n roll, it would give audiences something that they haven't seen for a while. Most of the action films today are highly technical and this one really isn't."
Producer Kevin King Templeton adds, "This film has an all-star cast of hard-core action-adventure guys, who actually look like they're physically capable of doing what real mercenaries do. No muscle suits, prosthetics or CGI body enhancements, for these guys. This is the real deal."
Jason Statham reprises his role of Lee Christmas, the film's knife-wielding killing machine who wears his heart on his sleeve and struggles in his personal relationships. Jason Statham explains why he expects The Expendables 2 to resonate against the current landscape of motion pictures, "These are real guys. They are the workingman's hero… guys you'll want to go out and have a beer with. They're not super-human. They're not indestructible. And, they're not bullet proof. They have their flaws and each character is screwed up in their own little way. They're fragile and sensitive, and at the same time they can kick some ass.
I think that's the sort of thing what the audience can relate to. There's a lot more colour in the characters that Sylvester Stallone is writing than a man running around in a superhero suit that makes him completely indestructible."
Bruce Willis' and Arnold Schwarzenegger's cameo turns with Sylvester Stallone in The Expendables was the first time audiences got to see the three biggest action stars of the last three decades together on screen. In The Expendables 2, their roles as Church (Bruce Willis) and Trench (Schwarzenegger) are fleshed out and greatly expanded. "My old buddies," as Mr. Sylvester Stallone says. "Church, again, is played by Bruce Willis. I'm so glad we got him because he's the key to the beginning of the adventure. Mr. Church is an enigma. We don't really know exactly what he does, but he's in the thick of things and he's extremely powerful and devious."
One week prior to beginning his work on Lionsgate's Last Stand, in his return to action-adventure films, Arnold Schwarzenegger shot his role, alongside Bruce Willis, Sylvester Stallone and the rest of the cast on location at Bulgaria's second largest airport in Plovdiv, much to the delight of local residents and airport employees.
Sylvester Stallone says of Arnold Schwarzenegger, "Though our characters are somewhat archenemies, we're also compatriots when the stakes are high enough. Trench comes through for us this time! Last time was just a cameo. Here, Arnold Schwarzenegger's role is expanded and fleshed out and this will be the first time that we really join together, which we haven't done in our entire careers. It'll be well worth the wait when people see it. Our styles are vastly different, which makes for a great contrast. Arnold has a different way of approaching a role. It's certainly different than mine, but we arrive at the same destination, which is to entertain the audience."
Legendary martial artist and actor Chuck Norris joins The Expendables 2 as Booker. The character's name is a nod to the 1978 actioner Good Guys WearBlack in which Chuck Norris portrayed a character named John T. Booker. In that film and The Expendables 2, Chuck Norris plays a retired military operative in a rescue mission to help his old comrades.
Sylvester Stallone says, "Chuck Norris basically retired from films but he agreed to join the movie. He plays a character that mysteriously comes out of nowhere to save our butts. We call him Lone Wolf. He's there when you need him, and gone when you don't."
He continues, "It took a long time to get Chuck Norris aboard. He's very script-oriented and he wanted to make sure this thing was not going to be so ultra-violent that it would be shocking to his demographic. So when he found out the script is largely an action and adventure story rather than a full-on graphic bloodbath, he signed on."
Chuck Norris is the popular culture subject of countless Paul Bunyan-type larger than life 'Chuck Norris' fictional "facts" created by fans, with more than half-million of these "facts" circulating on the Internet. The film's multinational cast & crew working in the southeastern European nation of Bulgaria, affectionately jumped on the bandwagon, almost as soon as Mr. Chuck Norris disembarked from the airplane as it arrived at Sofia airport, coining a new one: "Chuck Norris doesn't visit Bulgaria… Bulgaria visits Chuck Norris."
Every great action-adventure film demands a ruthless and memorable villain. Jean Claude Van Damme joins The Expendables 2 as Jean Vilain. Sylvester Stallone says of Claude Van Damme "People have never seen him like this before. Usually he plays heroes and I think people will be quite surprised by Vilain - who is fearlessly hell-bent on destroying us despite the risk of self-destruction. He's willing to die and eventually when Vilain and Barney meet one-on-one, it'll end up being a hellacious battle until the very end. It's kind of like a heavyweight championship fight that you never thought would happen."
Sylvester Stallone laughs at the thought of what the world is about to enjoy, "It's like if you bring two guys out of retirement and say, let's find out once and for all what they've got."
And there is some new, young blood in the mix. Sylvester Stallone explains, "Liam Hemsworth plays Billy The Kid, a world class sniper. An incredible hero out of Afghanistan but disenchanted, after being on the verge of winning the Medal of Honor. He joins our team but soon realizes that it's really not for him. Regardless, he agrees to go along for one last mission. But, what he really wants is to go home, be with his girlfriend and start a normal life. The rest of us are a little jealous of The Kid because we never really got to have normal lives. My character, Barney understands him. At one point Barney tells him, 'If you have a choice, I wouldn't grow up to be us, either.'"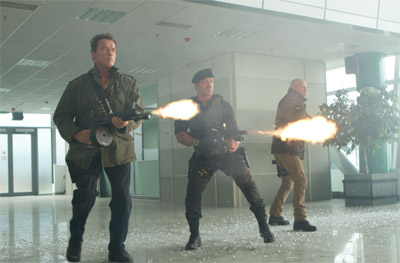 Sylvester Stallone reveals, "Then something happens which sets the whole movie on a course of, you might say… revenge. Our team then sets out to get the people that have done one of us a great disservice. There's this turn of events that you don't expect. Liam Hemsworth is just fantastic in this. At one point, Barney asks 'Why is it the ones who deserve to live, that want to live the most, die. And the ones that don't deserve to live, keep on going?'"
As each member of the cast was confirmed to join The Expendables 2, the bar was raised and then raised again. As Mr. Sylvester Stallone relates, "There's a lot of alpha-dogs here. Nobody on set wants to be outdone. So, when we're in our 12th hour of shooting for the day, and the time comes for their close-up, they're right there on camera, bringing their A-game. It's pretty remarkable. All the scenes and dialogue are designed to fit each of their personalities, so the audience is going to get a thrill seeing all these different archetypes on the canvas together."
Dolph Lundgren weighs in about some of the good-natured competitive spirit on set, "There is definitely some competitiveness, not just physically but also to do good work and make your character shine among the other actors. And obviously, you know with people like Sylvester Stallone, Arnold Schwarzenegger, Bruce Willis, Jason Statham, Chuck Norris, Claude Van Damme, Randy Couture, Terry Crew, Scott Adkins… all of us, it's fun and at the same time it raises the quality of our work."
Of crafting the team of old-school mercenaries loved by audiences worldwide, Sylvester Stallone has said that he was originally inspired by classic action films like The Dirty Dozen, The Wild Bunch and Dogs of War - movies that were defined by hard-hitting action and by tough yet sympathetic characters, "These guys harken back to a time when our heroes were flesh and blood. They didn't have any extraordinary abilities other than the desire to survive and to be victorious, even at the expense of their own lives. There's something that is relatable about that. These are humans helping other humans in need. The Expendables put their lives on the line for a cause. They are real flesh & blood characters and not superheroes with superpowers."
Sylvester Stallone says of the all-star cast, "Pulling together this high-octane mix of alphadogs on the same screen has never been done before. Successfully getting together this particular group of guys is at the movie's core. Each of us has built our own audiences over, many years and we are all from different walks of life; from wrestling, from MMA, and some very long-term acting and action backgrounds."
Dolph Lundgren adds, "Sly came up with a great concept to put together a team of guys like they used to… something like The Dirty Dozen. Real action, real stunts and real fights. I think that was something movie audiences hadn't seen for a while. So even though it's a throwback, there's also a certain freshness to the concept."
Jason Statham describes the feeling of coming to set at dawn to shoot with production's call sheet outlining the day's work with the Mount Rushmore of action heroes, "Sylvester Stallone, Bruce Willis, Arnold Schwarzenegger: There it was. A massive line-up and it was a great feeling to see my name on the call sheet with the biggest action movie stars of all time. It's an amazing privilege."
Sylvester Stallone reflects, "You know, sometimes on set you stand outside your own character, and you say, God, this is The Terminator over here, and John McClane over there. We're all shooting together at the same time. It's all highly choreographed. It's all of us working together in tandem like we should have done years ago. But maybe it's good that we waited this long. 'Cause now it's going to be well worth it!"
Dolph Lundgren adds, "When you see that call sheet it's almost like you want to frame it and stick it on the wall someplace. I'm sure a lot of the cast & crew will, because I don't think that'll ever happen again. I was honoured to be part of that after 25 years in the business."
Sylvester Stallone directed The Expendables as well as seven previous films. The Expendables 2, Simon West (Con Air, The General's Daughter, The Mechanic, Lara Croft: Tomb Raider) takes the helm. Sylvester Stallone says he's happy to leave his director's chair behind and let Simon West take the reins so he can focus on the writing and making Barney Ross a more memorable character, "Simon West is wonderful shooter. It's a very good move on our part to bring him aboard. The scope, the story, the heart and the action is going to be infinitely better than the first one. I mean, just the opening scene in this movie is going to blow people away. We learned from what worked and what didn't work on the first film. There's no way I could have done all those jobs this time and have this scope, especially coming to Bulgaria. This is truly massive."
Jet Li describes working with both Sylvester Stallone and Simon West, "Sylvester Stallone is a great action man, but he's also a great writer. The Expendables movies always show you great characters. Simon West is a very smart director. I think he's a genius. You know, usually with a Hong Kong film crew we work very fast and the American films give you longer time to shoot. I appreciate that Simon West gave me the opportunity to decide the different fighting styles that we get to use. I really enjoy working with him very much."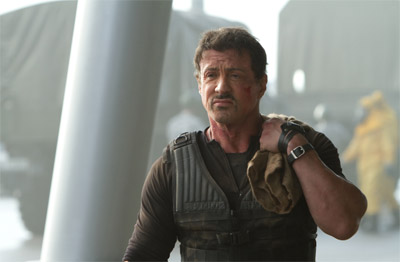 Jason Statham adds, "I've worked with Simon West before when we did The Mechanic together and he's extremely versatile and very confident in the realm of big action movies."
What Makes A Great Action Hero?
Right before filming the movie's climatic mano a mano show-down between Sylvester Stallone's Barney and Claude Van Damme's character Vilain, Sly considers: what makes a great action hero?
"It's not muscles. It's not incredible athletic ability. I think there has to be something for the audience to relate to. He has to be touchable, approachable, and real. Maybe even somewhat flawed. The hero has to be part of the audience. The audience has to want to be able to root for him. I really think what makes an action star is the audience is mentally shoving the character forward."
Jason Statham says, "What makes a great action hero? I'd say, four Rambo movies and six Rocky films. Mr. Sylvester Stallone is the one that you look to when you talk about an action hero. And, the same thing goes for Bruce Willis and Arnold Schwarzenegger. These are the guys that inspire me and I think they have the recipe."
Over twenty-five years ago, Dolph Lundgren went head-to-head against Sylvester Stallone as Russian fighter Ivan Drago in Rocky IV. Now he returns in The Expendables 2 in the role of Gunnar Jensen. Dolph Lundgren says, "Gunnar is still crazy but the main thing now is that he's with the team all the way through. In the first picture he was kind of on his own journey." A vicious fighter who struggles to control his impulses, Gunnar exemplifies the toll that the Expendables' violent, wayward lifestyle can take on a man. He's emotionally unstable, undone by too much adrenaline, drinking, and combat stress.
Dolph Lundgren adds, "The first picture was a great event for me because I had first worked with Sylvester Stallone back in '85. And I got a chance to do it a second time when he directed, wrote, and starred in the first Expendables movie. It was a great reunion for both of us, and especially for me. It gave me a shot at a very wellwritten character, this crazy guy Gunnar Jensen."
Dolph Lundgren applauds Sylvester Stallone for his willingness to collaborate, "It's really nice to have the writer right here on set, while we are on camera working. I really enjoy it."
Mixed Martial Arts superstar Randy Couture returns as Toll Road, the brawny intellect of the group. "Toll Road is the glue that holds all of these dysfunctional guys together," says Randy Couture.
Former NFL football player turned actor, Terry Crews, best known for his comedic roles in television shows like Everybody Hates Chris, returns as barrel weapons specialist Hale Caesar, Terry Crews brings a tough, street-smart sensibility to the part that's a far cry from his comedic work. During production, Terry Crews became reacquainted with Hale Caesar's weapon of choice in the film: the AA-12 auto assault 12-gauge shotgun. Designed in 1972 specifically for the military, the AA- 12 is capable of delivering 300 rounds per minute and is considered the most powerful weapon in the world by enthusiasts.
Scott Adkins plays Hector, chief henchman to Claude Van Damme's Vilain. And there's a new female addition, by Chinese actress Yu Nan, who plays a specialist that The Expendables desperately need on their side.
Producer Avi Lerner sums up the unique alchemy that is The Expendables 2, "Sly is one of the biggest screen legends of our time and he is also an excellent writer and a good friend. I am happy to again be working with Simon West, who is a great director and the perfect choice to direct this film. I'm thrilled to have the returning cast plus the greatly expanded roles for Arnold Schwarzenegger and Bruce Willis plus the new additions of Chuck Norris, Jean Claude Van Damme, Scott Adkins, and Yu Nan. We'll have more adventure, more action, and more excitement for the audience to see.
The first film was a great success and this one will be too."
The Expendables on Location
The Expendables 2 filmed in Bulgaria during late 2011 and completed shooting in Hong Kong and New Orleans in early 2012.
Situated in southeast Europe, bordering Romania, Serbia, the Republic of Macedonia, Greece, Turkey and the Black Sea, Bulgaria offered Simon West, Sylvester Stallone and the rest of the cast and crew a wide variety of practical film locations - from stunning hidden underground caves to spectacular, denselyforested mountain ranges. Throughout the country's interior, production set up camp and the film's stars shot in picturesque Balkan villages untouched by time.
"We're using these locations as characters," Sylvester Stallone says, "The caves in Bulgaria, for instance, are world famous. You just can't duplicate this sort of thing on a soundstage. Some of them are so big that you could fly a plane through them… and we do. The caves are so huge and overwhelming that they are spectacular visuals in themselves. The scope of some of these locations just takes my breath away. It's massive and the way that Simon West is shooting it… it's going to have extraordinary appeal."
After weeks of planning and construction, a real bridge over the river Osam in Bulgaria was built for the film, and remains today, as a gift to the local residents and tourists to the Balkans.
Dolph Lundgren is certainly no stranger to Bulgaria, "There's a real colorful and interesting backdrop to this film. I've shot about seven movies in Bulgaria and some of the Balkan villages that we are working in here, remind me of my home country, Sweden, when I was a kid back in the '60s. It's an interesting place and there's something charming about that and it certainly works for this picture."
Plovdiv Airport, Bulgaria's second largest, near the famous Bulgarian ski resorts Bansko and Pamporovo, served as a filming location to the all-star cast, much to the delight of local residents and airport employees.
While shooting on stage at Nu Boyana Film Studios near Bulgaria's capitol city Sofia, Arnold Schwarzenegger, during a brief break in filming, met with the Bulgarian Prime Minister - and the former California governor presented the current Prime Minister with the sword of Conan the Barbarian. The latest version of that film starring Jason Momoa as Conan was also shot in Bulgaria. In addition to the lush forests, pristine lakes, massive caves, and ancient Balkan villages throughout Bulgaria, the stars and filmmakers shot on stages and massive outdoor sets at Nu Boyana Film Studios near the nation's capital of Sofia.
The idea to create a national movie studio in Bulgaria started to develop immediately after WWII. In spite of the difficult times, a large-scale project was planned and construction began in the 1950s. Boyana Film Studios was officially launched in September 1962 and it employed hundreds of film professionals, trained in the former Soviet Union, Czechoslovakia and Hungary.
At the time, the socialist state was funding cinema generously and the number of movies produced at Boyana Film started to grow. The studio soon became the largest film producer in the Balkan region. By the early 1980's approximately 50 feature films were produced per year, half of which were intended for theatrical distribution and the other half for national television.
However, in 1989 a radical series of political changes took place across the former Eastern Bloc. After the onset of democracy in Bulgaria, the state monopoly and their funding of the film industry was removed and the independent producer principle introduced. As a result of these sweeping changes, film production at Boyana Studios sharply declined, and the studio fell into disrepair. Soon, the state decided to offer the studio and its facilities up for privatization.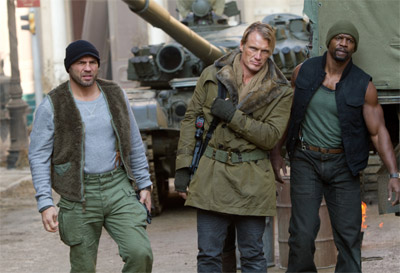 After winning international competitive bidding in 2006, Nu Image/Millennium Films became Boyana Film's new owner with one of the conditions of the purchase: that the facility be refurbished and remain a fully functioning movie studio with an investment and interest in the future of movie and television production in the region.
The studio was renamed Nu Boyana Film. In all, over 32 million euro were invested over a five-year period. Under executive/production designer/producer David Varod, an overall modernization and upgrading of Nu Boyana Studio took place - including the design and construction of a massive scale "New York Street" and replica Roman Coliseum, wardrobe department, armory, a leadingedge visual effects facility and a modern Kodak film lab. With a total of 13 soundstages, state-of-the-art production support sitting against a spectacular wooded mountainside on over 75 scenic acres, close to Bulgaria's capitol of Sofia, the studio now attracts major international film productions.
Now that production is over and filming on The Expendables 2 is completed, Sylvester Stallone reflects, "Maybe it's the beginning of a revival. Or, maybe it's the end of an era. But one thing is for sure; we'll never see this again. Everyone in this movie has had a very stellar career and to get all of us together at one time is a minor miracle. It's never happened before and it will never happen again. This is going to be quite an experience for the audience and one that took years in the making. We finally got it on film and it's something that hopefully people are going to appreciate for years to come."