The Descendants
Cast
: George Clooney, Beau Bridges, Judy Greer, Shailene Woodley, Robert Forster
Director
: Alexander Payne
Genre
: Comedy, Drama
Rated
: M
Running Time
: 115 minutes
Synopsis
: The Descendants is a sometimes humorous, sometimes poignant journey for Matt King (George Clooney), an indifferent husband and father of two teenage girls, who is forced to re-examine his past and embrace his future when his wife suffers a boating accident off of Waikiki. The event leads to a rapprochement with his daughters while Matt wrestles with a decision to sell the family's land handed down from Hawaiian royalty.
Twentieth Century Fox is delighted to announce that The Descendants, has received 5 Golden Globe nominations. The Alexander Payne directed, George Clooney starrer received nominations in the following top categories:
Best Motion Picture (Drama)
Best Director - Motion Picture (Alexander Payne)
Best Performance by an Actor in a Motion Picture - Drama (George Clooney)
Best Performance by an Actress In A Supporting Role in a Motion Picture (Shailene Woodley)
Best Screenplay Motion Picture (Nat Faxon, Alexander Payne, Jim Rash)
The winners will be announced on Sunday, 15th January 2012 in Los Angeles.
Release Date
: January 12th, 2012
Trouble in the Tropics
"My friends on the mainland think because I live in Hawaii, I live in paradise.
Like a permanent vacation, we're all just out here drinking Mai Tais,
shaking our hips and catching waves. Are they nuts?"
-Matt King
George Clooney's Matt King joins the characters of Alexander Payne's previous films as a flawed individual finding his way through a world of lunacy, bittersweet emotion and surprises; he is neither a hero nor anti-hero. Like Matthew Broderick's envious teacher in Election, Jack Nicholson's glass-half-empty retiree in About Schmidt, and Paul Giamatti's muddling, middle-aged wine country tourist in Sideways, King is not the man he would like to be. His mischievous daughters don't trust him, his imperiled wife has been cheating on him and his broke cousins see him and the land trust he controls as a piggy bank. To add insult to injury, he's surrounded by a lush, fertile, awe-inspiring landscape that defies his inner turmoil. Yet all of this leads Matt to a tumultuous awakening that might be awkward, comical and sometimes absurd, but nevertheless changes his concept of love, fatherhood and what it truly takes to be a man.
Alexander Payne has always been drawn to these peculiar situations in everyday life that can be experienced as comical, devastating and revealing all in the same breath. When he read Kaui Hart Hemmings' acclaimed debut novel, The Descendants, he was immediately lured by its sharp contrasts. Here was a portrait of a man grappling with some of the worst news, most difficult people, and most impossible decisions of his life.
"The novel appealed to me because it's an emotional story unfolding in an exotic locale," Alexander Payne says. "It's a story that perhaps could be told anywhere, but what made the book for me was its completely unique setting among the landed upper-classes in Hawaii. It's very specific to this place, yet it is also universal."
"On a filmmaking level, it was very interesting to me because I've never seen a filmic Honolulu. We see New York, Chicago, L.A., Miami and Seattle, but this is a region we never see in films. There's a whole distinctive social fabric to life in Hawaii and that intrigued me. I love films with a specific sense of place. I started making movies in Omaha, then I went to Santa Barbara and now I have ended up in Hawaii."
Kaui Hart Hemmings was able to entwine Hawaiian culture into her story of a bewildered man lurching towards redemption because she herself grew up in a not-so-conventional Hawaiian family, as the step-daughter of well-known champion surfer and local politician Fred Hemmings, Jr. When she started writing short stories, she began entwining themes of family, soil, history and inheritance. The Descendants began as a short story (published as "The Minor Wars"), which Kaui Hart Hemmings started writing in the voice of youngest daughter Scottie, but decided to take a daring leap for a young, female writer: into Matt King's middle-aged, male POV.
The risk changed everything. The story, and then the novel, were no longer just about a clan of fierce individualists doing their own thing but about a father learning to hang on to his family.
"As soon as I switched into Matt's voice, the story found its rhythm," Kaui Hart Hemmings recalls. "There was so much at stake for him."
Those stakes gave the novel's title a double meaning, referring not only to King's comic descent but also to his discovery of what it really means to be a Hawaiian descendant and what his own descendants mean to him. Kaui Hart Hemmings created Matt to reflect a distinct subset of the Hawaiian populace, a generation who trace their births back to the intermarriages of white missionaries and landowners with native Hawaiian royalty and their wealth back to the spoils of the colonial Hawaiian plantation system. As Matt explains, his great-great-grandmother was Princess Margaret Ke'alohilani, one of the last direct descendants of King Kamehameha, who fell in love with her haole (Hawaiian for white or foreign) banker, Edward King, leading to Matt's current life as a Honolulu lawyer with deep, tangled roots in the islands. Like many Hawaiians, he is a hapa-haole, or half-white, who has never quite come to terms with his cultural identity.
This gave Kaui Hart Hemmings' novel another layer, because underneath Matt's worries not only about what his wife has been doing behind his back or how he's going to raise his daughters, but about how his life might be seen by his Hawaiian ancestors, or his own descendants. The book, published in 2009, was an instant hit with critics, with the New Yorker praising the way "Kaui Hart Hemmings channels the voice of her befuddled middle-aged hero with virtuosity, as he teeters between acerbic and sentimental, scoffing at himself even as he grasps for redemption."
When Kaui Hart Hemmings found out Alexander Payne was interested in adapting her book, she could hardly believe the news. "I just about died," she laughs. "I mean he is my favorite director, I love the kind of movies he makes."
After discussing the adaptation of Kaui Hemmings's book with many screenwriters, the producers at Ad Hominem selected the writing team of Nat Faxon and Jim Rash. Wonderful actors who continue to be fixtures at the Groundling Theater, Faxon and Rash had written a much admired screenplay, The Way Back, that suggested an ability to handle shifting tones of humor and pathos as would be required by The Descendants.
All who read their elegant adaptation admired it. But when he decided to direct the film himself, Alexandra Payne determined that the best way for him to forge a personal connection to the material was to adapt the book himself.
In his voice, Alexandra Payne turned the focus in the screenplay on two dove-tailing journeys: the King family's trek to Kaui Hart Hemmings on the hunt for Elizabeth King's unwitting lover; and the pilgrimage of diverse friends and relatives to Elizabeth King's bedside, where she becomes, in her comatose silence, a kind of grand confessor, bringing out secrets and suppressed emotions that might not otherwise see the light of day.
"One of the many things we learned in Hawaii is that people here know their genealogy like they do in no other place," explains producer Jim Burke. "Everybody knows when their family first arrived on the island, and some go back six or seven generations and they feel a deep, deep connection to this place. We learned all this by meeting authentic descendants who have inherited land a lot like Matt."
Kaui Hart Hemmings was impressed with the adaptation. "I wasn't concerned about Alexander Payne changing this or that, because he really got the tone of the book and that's all I cared about. He got that it's funny and it's sad at the same time. I also loved that he took the time to really get to know Hawaii."
From the beginning, Alexander Payne and the production team felt it was essential to venture far from the well-beaten tourist paths to get to know the authentic Hawaii only locals ever see. As they did so, they developed a more nuanced understanding of what the term "descendants" means on an island where ancestors have always been an important link in the chain of living history. This helped to bring into focus Matt King's realisation that he has become disconnected from his own feelings about the land he owns - and its past and future.
Alexander Payne also relied on Kaui Hart Hemmings to serve as an insightful guide into the alluring blend of American and Hawaiian cultures that imbues island life, from its politics to its traditions and relationships. "When we came over to the islands to start making the movie, Kaui Hart Hemmings became a really big part of it, because this is her land. She knows these people. She was able to give us a reality check and at the same time, Alexander Payne was able to run all his ideas past Kaui Hart Hemmings to make sure they seemed right for the characters," Jim Burke continues. "We wanted to protect her story because we believed in it."
"Alexander Payne's voice is absolutely unique," notes Jim Burke, who reunites with producer Jim Taylor for their fifth collaboration with Alexander Payne. "You don't need to be told you're watching an Alexander Payne movie. And yet, each of his films is also quite different. I feel like The Descedants is the most different from his previous work. It's a great story with great characters, but I think the thing that sets it apart is that it is very open to interpretation: none of the characters are entirely right and none of the characters are entirely wrong. It's not a movie everyone will view in the same way. It's a film that allows the viewer to participate and connect in their own way."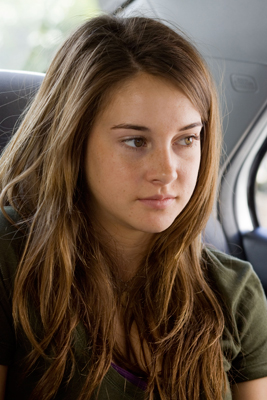 The King Family
"I'm the back-up parent. The understudy."
-- Matt King
When Kaui Hart Hemmings was first creating the character of Matt King - shell-shocked husband, inexpert father and reluctant Hawaiian land baron - she dared to dream of who might play him on the screen. The person that came to her back then was George Clooney, the Academy Award® winning actor and filmmaker renowned for performances that are often as darkly funny as they are palpably human.
George Clooney has established himself as one of today's leading men, but the chance to play a husband and father in The Descendants is a notable departure from his usual roles. He was the smooth-talking convict in the Coen Brothers' screwball musical comedy O Brother, Where Art Thou?, , the heist pro in the blockbuster Ocean's Eleven series, the CIA agent in an Oscar-winning performance in Stephen Gaghan's Syriana. He was also nominated for an Academy Award for his performances as the law firm "fixer" in Tony Gilroy's thriller Michael Clayton and the workaholic, airline miles collector in Jason Reitman's Up In The Air. He has also made his mark as a writer/director, garnering Academy Award nominations for Best Director and Best Screenplay for Good Night, and Good Luck., and directing and co-writing this fall's The Ides of March.
Co-producer George Parra notes that the pairing of Alexander Payne and George Clooney for the first time on this project was an intriguing match. "They're both incredibly talented and, after this movie, I think they will forever be friends. They got along from day one. Alexander Payne is the ultimate professional, very serious and polite and can be fun at times. But he's very serious when he's at work. George Clooney, on the other hand, is the ultimate prankster. He loves to laugh a lot and he's hysterical, so between their two personalities, the set had terrific energy. They were both open to great creativity and just letting the film happen."
Once George Clooney was cast in the central role, the challenge was to build the rest of the Matt King family around him. Alexander Payne soon began an exhaustive series of auditions to find that tricky family chemistry made up of equal parts love, fury and miscomprehension, working closely with casting director John Jackson, who has collaborated with him since his first film, Citizen Ruth. The director considers the auditions a significant part of the creative process.
"We auditioned a ton of people for every part, even one line parts. I think auditions are good. I like to have actors come in and read the words," Alexander Payne says.
It was especially key to find two young actresses who were capable of holding their own against George Clooney in the roles of his two willful and defiant daughters Alexandra and Scottie, who resent Matt for never having been an involved parent until now. For Alexandra, a feisty free spirit who worries that she takes after the mother she is angry with, Payne ultimately chose Shailene Woodley, best known for the television series "The Secret Life of the American Teenager."
Shailene Woodley, in her first major film role, struck Alexander Payne right away as ready to take on the emotional rigors of a role that would take her from a boarding school bad girl to a young woman trying to stitch her family back together. "Like the rest of the cast, she gave the best audition," recalls Alexander Payne. "It was as simple as that."
Shailene Woodley was thrilled because, by the time she auditioned, she was already in love with the story. "It's a heart-wrenching journey about growth," she comments. "I love how everybody in the story grows in their ability to love, grows in maturity, in figuring out their individuality and who they are as a family."
As for Alexandra, Shailene Woodley enjoyed the idea of taking her from a wild rebel with a chip on her shoulder to a young woman ready to battle for her loved ones. "She starts out as a teenager who feels like a victim - to her, the reason why her life is horrible is because her dad did this and her mom did that," she observes. "But during the course of the movie, she starts to realise that she's responsible for her own happiness and it isn't up to her parents. It's fun to watch her grow up in the moment. She's always been a bit manipulative but now she's doing it to help her dad fight his demons."
Alexandra's relationship with Matt is one that Shailene Woodley believes a lot of kids will relate to from their own experiences. "I think she loves her dad but she kind of looks at him as the childish one in their relationship and she's always felt like she needed to take on a parenting role with him," Shailene Woodley describes. "It's only later that she learns to give him his own power as a father."
Another big challenge for Shailene Woodley was finding all the multi-colored shadings of Alexandra's barrage of mixed feelings around her mother that are at once incredulous, angry, worried, sad and freaked out. Shailene Woodley had to literally dive deep, as this storm of emotions begins in a pivotal scene when her father tells her that her mother is not going to recover while she's taking a dip in the family pool.
"She's in the pool, treading water and she has no idea how to react to this news," explains Shailene Woodley. "She feels trapped, so she submerges herself into the water, the one place where she can scream at the top of her lungs and not feel vulnerable. It was such an emotional release to go down there and scream and cry hysterically. It was heartbreaking for me to do, but also empowering."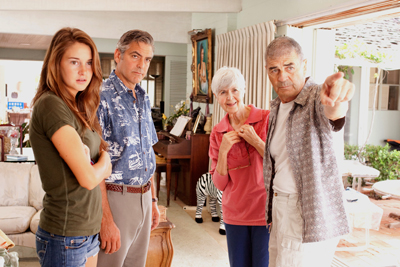 Later, when Alexandra Payne sees her once wildly vibrant mother unresponsive in a hospital bed, her raw emotions come to the surface. "In that scene, I think part of Alexandra hates her mom and part of her just wants to be held and cry in her mother's arms for hours. It is very emotional," says Woodley. "I think the little girl in Alexandra just yearns for the mother she always wanted but never had, but the young woman in Alexandra is starting to accept that it will never happen."
Woodley says she's grateful to Payne for giving her the trust and support to navigate the bumpy terrain of merging outrageous situations with intensely real feelings. "Alexander is up there with a few of the favorite people I've ever met in my life. He's got such heart and I've learned from him as a director and as a person. When he gets excited, he doesn't hold it in. He literally jumps up and down and talks in this funky voice and goes up and hugs people. You can't help but feel excited about life when you're around him. He possesses a great energy and definitely shows it to other people. As a director, he helped me find things about myself that I never thought I could find."
Shailene Woodley says Payne always pushed for one bottom line - naturalism. "He might say, 'Oh, Shai, I don't think that's natural, you would never do that in real life,'" she recalls. "That's how he brings out the best in people."
That kind of naturalism turned out to be easier than expected when Shailene Woodley began performing alongside George Clooney, who obliterated the intimidation factor right away. "He turned out to be completely down-to-earth," she explains. "He's kind of a goofball, always doing something silly, which kept the set light. I felt privileged not only to work with him, but to get to know him."
Even though Matt King is trying to re-establish a connection with his kids, he finds youngest daughter Scottie a complete mystery, almost an alien life form, with whom communication of any kind is an iffy prospect. To find a young actress who could handle the humor and heartache of playing a pre-adolescent eccentric, Payne saw more than 300 girls from around the country. He still hadn't found the right candidate with shooting about to start.
That's when he encountered Amara Miller, a promising nine year-old newcomer from Pacific Grove, California. He received an e-mail with her videotaped audition and recalls that "about a minute into it I just said, 'oh that's her.' I don't need to see her. I knew that she was the one. I just knew she would show up. And like many things in life, she did, but in the most unpredictable way."
Adds producer Jim Burke: "Amara Miller walked on the set like an old pro. She's a natural. She'd never been in a movie before but she was amazing."
Although she had no previous acting experience (she was once in an elementary school play but she had no lines), Amara Miller seemed to have an instinctual feel for Scottie's quirkiness and uniquely uninformed role in their family adventure. "Scottie is the one who doesn't know what's happening in the family," she describes. "She doesn't know her mom is dying or that she had an affair with another man. She thinks that when they go to Kauai to find the guy that they're going on vacation. She's just running around being herself, doing what she wants, in the middle of all this stuff."
Without much guidance from her family, Scottie has developed an almost feral quality of independence. "She's a trouble-maker," laughs Amara Miller. "She's one of those little girls who doesn't really care if she gets in trouble. She's still going to do fun, wild things even if she does. She has a sassy attitude. She goes after what she needs."
What Scottie needs might be time and attention, but she'll do anything to get it, which led to some of Amara Miller's most intriguing scenes. "I do get to flip off George Clooney," she laughs. "He was like 'what?' His facial expression was so funny."
For Payne, working with Amara Miller - his first time directing a child in a major role - was no different from the adult cast. "The great thing about working with Amara Miller is that I didn't have to treat her like a little girl. I could just tell she was an instinctive actress. I could just say, 'No, do it more like this.' Or, 'Please put a small pause between these two lines.' The way to treat people in general, and actors in particular, is to tell them the truth," he sums up. "I was always able to do that with Amara Miller."
The Supporting Cast
"I mean, how often do old people just haul off
and cold-cock you in the face?"
- Sid
As Matt King tries to find his footing as a father to Alexandra and Scottie, he is surrounded by friends, foes and relations who keep throwing him off course. The cast of characters that complete the ensemble that the three Kings run into on their journey towards reconciliation are an accomplished ensemble of actors hand-picked by Alexander Payne.
"The casting in this film provided a new and interesting challenge for John Jackson and me - to piece together not just a believable nuclear family but also an extended family and a community of friends as well - all of whom inhabit a fairly narrow enclave of class and race," says Alexander Payne.
For the catalytic role of Brian Speer - the mysterious real estate agent Matt King is chasing throughout much of the film - Alexander Payne cast Matthew Lillard, the tall, versatile actor best known for his comic performances and as "Shaggy" in the Scooby-Doo movies.
When Matthew Lillard read for the role, he was convinced it was the longest of long shots. "I walked in, and there were like five great looking guys waiting to read, all of them with that California movie star thing - strong chins and pecs and biceps.," he recalls. "I thought to myself, 'There's just no way.' I already know that the chances of me playing George Clooney's wife's lover are pretty slim.'"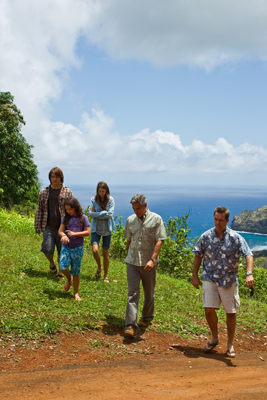 Matthew Lillard gave it his all and was satisfied just to have elicited praise from Alexander Payne. But four months later he was stunned when he received a call from Alexander Payne saying "I'd love to have you be a part of this movie." Alexander Payne recalls that Matthew Lillard's speedy approach clinched it. "I like it when actors act fast. Later I told him that he should do more of his audition with his kids in the car," remarks the director.
For Matthew Lillard, it was a once-in-a-lifetime opportunity. "Your whole life as an actor you look for the chance to be part of an experience that is this special," he says. "I don't think I would ever have been the standard casting choice. I think I'm outside the box, but that's what makes Alexander Payne such a great director. He has the ability to make choices that set his body of work apart."
As for Brian Speer, who unwittingly becomes Matt King's greatest nemesis but also perhaps his liberator, Matthew Lillard says, "He's a real go-getter. He's a family man who truly loves his wife and kids as well, but he has a fatal flaw. He saw a financial opportunity with Matt's wife, only he got himself in too deep, too fast and suddenly, he's in the middle of an incredible situation. What's fun about it is that George Clooney goes on this whole transformative journey of hunting my character. But then, Brian becomes a kind of oracle who sends him back to his family to find a way through."
Another actress known primarily for her comedic abilities, Judy Greer, recently seen in the TV series "Mad Love," was cast as Brian Speer's wronged wife, the seemingly soft-spoken Julie, who first runs into Matt King on a blissful Kauai beach.
Judy Greer was taken by the way her character defies expectations and is much more than comic fodder. "She's a very modern mother figure," Judy Greer observes. "She's earthy and sensitive and committed to keeping her family together no matter what. I like that Alexander put a very calm and grounded human being into this situation."
When the situation nevertheless explodes into chaos, it is Julie, not Brian, who finds herself at the center of a turbulent scene showing up at the hospital to make amends with Matt's comatose wife, only to find herself going off on a bedside rant. Judy Greer could empathise with Julie's reasoning even if her behavior turns shocking.
"I think Julie goes to see Elizabeth because she is confused and concerned," says Judy Greer. "Maybe she just wants to see the other woman. When you find out your husband's been cheating, you're taken over by feelings of jealousy and inadequacy and anger and sadness and maybe she just wants to get a look at the woman who ruined everything she thought she had. She also has an incredible amount of compassion for Matt's situation. The beauty of the scene and the way that it is written is that it is all of these things at once. She becomes taken over by what she's really feeling."
Confusion also reigns in the emotions of Matt's father-in-law Scott Thorson, portrayed by veteran screen and television star Robert Forster (Jackie Brown, Mulholland Drive). A retired military man with a crusty drill sergeant's temperament, Scott is already dealing with his wife's Alzheimer's when he learns that his daughter's life is on the line. He channels all his frustration directly into blaming Matt.
"Scott regards his son-in-law as a grave disappointment," explains Robert Forster. "He thinks his daughter was too much for him, she had too much spirit for this guy. Matt's got a lot of money but not a lot of drive, so he never rose to Scott's expectations of what a serious man should be. Scott's commanded men all his life, and Matt doesn't pass muster for him."
On Matt's side of the family, things are proceeding no more smoothly, especially when he starts to balk at an agreed-upon deal to sell the family's high-worth land to a local developer of golf resorts. This brings him into conflict with his laid-back cousin Hugh, played by two-time Golden Globe® winner Beau Bridges.
Beau Bridges was drawn to the script for a lot of reasons. "Two of the reasons I wanted to be involved are Alexander Payne and George Clooney," he remarks. "These are two guys at the top of their game. I thought that would be pretty interesting."
He was also pulled in by his own passionate connections to Hawaii, a place that is almost a second home to him; he has visited regularly since childhood and attended college at the University of Hawaii. "You can watch life unfold there," he says of the islands. "Hawaii seems to have retained some of the simplicity of life that is missing elsewhere."
Hugh's character reflects back to Matt a way of life he is suddenly questioning. "Hugh is interesting," Beau Bridges muses. "Like Matt, he's a mixed descendant of missionaries and Hawaiians, but he wants to sell the land they've inherited. He justifies his position by saying that the land is going to be sold to a local businessman and not to someone who's going to build a Wal-Mart . . . but he still wants the money."
Beau Bridges also thinks Hugh believes he's looking out for Matt in a time when his cousin might not be thinking straight - even if Matt feels like he's finally seeing things clearly for the first time. "I think Hugh, in his heart, truly wants the best for Matt," Beau Bridges concludes, "but he also does not want him to be a fool, and in his mind, not selling this valuable land is just crazy!"
Alexandra's overbearingly boyish and goofy best friend Sid, played with abandon by rising teen star Nick Krause, is an interloper into the King family who winds up making his own iconoclastic mark on their road adventure.
"Sid kind of serves as Alexandra's comic relief," Nick Krause says, "so they hang out together, especially in troubled times. Sid is so laid back that he's completely forgotten any social standards. He never knows what to say or how to put anything tactfully. Even though he always means well, he just doesn't know how to express it."
That dismaying lack of tact often leads Sid into trouble - as it does when Alexandra's grandfather hauls off and socks him for giggling at his wife. The scene became one of author Kaui Hart Hemmings' favorites on screen. "I like it because it's absurd but it also feels so real," she says. "It's almost all dialogue. I really like the moments in a film where not a lot happens, and yet a lot happens."
Yet, no matter how much Sid provokes the people around him, he also becomes an unlikely uniting force. "I think Sid really grows to be a part of the family while they deal with all these crazy situations that are just stacked one on top of another," Nick Krause says. "His journey is about becoming part of a new family. He starts out as this kind of stoner guy meeting a friend's dad but by the end of the story, he and Matt have a deeper understanding of each other."
Producer Jim Burke sees Sid as an essential link in the story. "He winds up allowing Matt to connect to his daughters in a way that he never could have if Sid was not there," says the producer. "Towards the end, he realises Sid might be the only guy he has to talk to. Sid becomes his confessor, although a very unusual one."
Like Sid, Matt's long-time friends Mark and Kai have a galvanizing effect on the King family -as the only ones who have the real scoop about with whom his wife was cheating. Taking the roles are two actors who both emerged from the comedy world, Rob Huebel and Mary Birdsong.
Rob Huebel was excited to be part of one of the film's most dramatic scenes, as Matt bursts into their house out of the blue, demanding immediate details on his wife's affair, even as she lies in a vegetative state. Rob Huebel and Mary Birdsong had to walk a tightrope balanced between angst and absurdity.
"It's a tricky scene because it's serious but it has to be funny, too," notes Rob Huebel "Mark and Kai are horrified because they knew this was going on and we're supposed to be Matt's best friends. We try back-pedaling, we try getting out of telling him, we try defending Matt's wife, but it only makes Matt angrier. In the end, Mark wants to retain his friendship with Matt, so he tells him the identity of the man his wife was sleeping with. I think that's what most guys would do."
The nervy, multi-layered scene worked, Rob Huebel says, mainly because of Alexander Payne's ability to set his cast completely at ease. "He's just the most precise director I've ever worked with," he observes. "He had already imagined every nuance and every gesture by the time we were doing the scene and you really feel like 'oh we're going to be fine, because he's driving the boat.'"
Mary Birdsong sees Kai as being in a particularly precarious position when Matt finds out about the affair because her loyalties are split. "Matt's wife Elizabeth was her closest friend," she explains. "Now she's torn between her devotion to Elizabeth and telling the truth. To her, Elizabeth was this amazing free spirit and now she wants to protect her."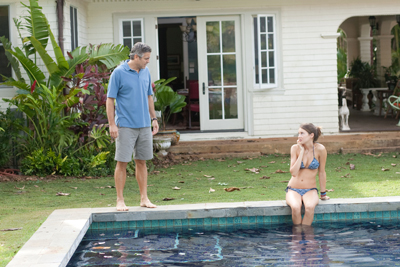 Like Rob Huebel, Mary Birdsong gives credit to Alexander Payne for taking a chance on casting actors from diverse backgrounds. "He has a very original and individual brain," she describes. "And I think the casting of the film is a testament to his sensibility. He saw something in each of us that would help the story."
Reality in Paradise: The Design
"My grandfather, he really loved this place. So did your mother.
So does your mother."
- Matt King
A strong sense of place has always been a hallmark of Alexander Payne's work but with The Descendants it would become even more central. From the beginning, he and his crew of frequent collaborators were acutely aware that they were going where few filmmakers have gone before by following an intimate family drama into the lush fabric of Hawaii. All of the conflicting juxtapositions of contemporary Hawaiian culture - modern and ancient, urban and wild, growth and preservation - became wrapped into the film's design, from the photography to the sets.
The newest of the U.S. states, Hawaiian history goes back 1500 years, when Polynesian explorers first sailed canoes by the light of the stars to the fertile string of volcanic islands. Later, settlers arrived from across Polynesia - Tahiti, Samoa and Tonga - forging a distinctive matriarchal culture with its own language, customs, art forms and legends. In 1810, King Kamehameha, Chief of the Big Island, united all the islands into one Hawaiian Kingdom. Soon after, Christian missionaries began to arrive, followed by colonialists from mainland United States. In 1893, a group of American businessmen overthrew the Hawaiian monarchy, paving the way for annexation. Meanwhile, the culture continued to evolve and adapt, merging elements of American values with native Hawaiian ways. When Hawaii became a U.S. state in 1959, it was dubbed the "Aloha" state, reflecting the impossible-to-translate Hawaiian word that conveys an open-hearted spirit rooted in a love of the land.
To capture the islands as they are today - as rife with developers and suburbia as they are with laid-back surfers and Polynesian traditions - with a fresh eye, Payne reunited with director of photography Phedon Papamichael, who previously worked with him on Sideways. As soon as he read the script, Papamichael knew it was going to be something different. "It was a very dialogue-driven story, which usually means the film will be less visual," he begins. "But in the case, the opposite was true. Because of the way the Hawaiian setting is juxtaposed with the King family's struggles, the visuals take on a major role. It was going to be very important to capture the beauty and nature of the surrounding environment so you can understand the conflict Matt feels over selling his family's land."
Phedon Papamichael divided the film between two Hawaiis: the more hectic, citified Hawaii of Honolulu and the stunning, natural Mecca of Hanalei Bay on the island of Kauai, draped with verdant, tropical rainforests and surrounded by sapphire seas.
"We really wanted to give a feeling for the community in Honolulu but also the beauty of the coast so you understand what could be lost and the connection to history that is there. That's why we decided to shoot wide-screen, which Alexander Payne has only done once before, on Election," he explains. "We decided that it would be a lot of fun to have that epic frame with these small, human figures confronted with the majesty of the landscape."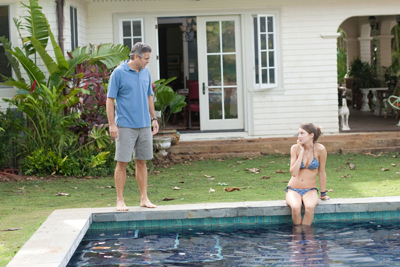 At the same time, both men wanted the film to stay true to Alexander Payne's distinctively unadorned style, which is almost an anti-style. "I like to bring an almost documentary style to fiction filmmaking," says Alexander Payne. "It gives the story a sense of reportage."
Phedon Papamichael concurs. "With Alexander Payne, one of the biggest assignments is always to make sure the photography doesn't get in the way of the story. He really loves realism, to the point that if we go to a location and there are tree trimmers working nearby, he says 'great' and he embraces that as part of what's going on in the scene," he explains. "Or, for example, when we shot in the bar where George Clooney meets Beau Bridges, it was very important to Alexander Payne to have the real locals who frequent the place be in there to get that feel of reality. The same goes for lighting. It's always very natural, to the point that the audience should never realize that they're watching a crafted film."
He continues, "We really want the audience to be taken in by the characters without distraction. The emotions are so intense and the writing so strong, we don't need to add visual drama."
Hawaii, however, often brought its own drama. "The light there is challenging because it is constantly changing," notes Phedon Papamichael. "It can go from overcast to sunny in the time frame of one shot. Fortunately, both Alexander Payne and George Clooney, being a filmmaker himself, are very good at reacting in the moment so you can switch scenes around. It gave us a lot of flexibility."
Some of the filming for The Descandants also took place off terra firma - in swimming pools and the ocean. Legendary underwater photographer Don King came in to help with the scene where Shailene Woodley releases a primal scream while at the depths of the family swimming pool.
Recalls Shailene Woodley, "He waited for me underwater with this crazy-looking camera. I would submerge myself and swim towards him and he would swim backwards super quickly, timing it perfectly with me. It was a fantastic scene to shoot."
One of Phedon Papamichael's favorite experiences on The Descendants was filming the climax of Matt's road trip as the Kings arrive at their ancestral land on Kauai and young Scottie makes Matt rethink the idea of selling it to strangers. "We designed the shot so the family drives up the mountain but you're not really aware of what's coming. It almost feels like a normal tracking shot but then, as they come to the edge of the land, we boom up and reveal this spectacular view, and suddenly, the characters are overwhelmed by the beauty. That was one of my favorites," sums up Phedon Papamichael.
Alexander Payne also reunited with production designer Jane Ann Stewart, who has worked on all of his films since the very beginning of his career. Jane Ann Stewart says that Alexander Payne's aesthetic instincts jibe with hers. "His sense of humor is very much like mine - absurd, a little macabre and where nothing in the human condition is above comedy," she says.
She knew her work was cut out for her when Alexander Payne approached her for this film. "We both had to learn a lot about Hawaiian culture, and really immerse ourselves in it, so we could get to the history, the sense of place and the texture behind the story," she explains.
In creating Matt King's house, Jane Ann Stewart consulted both with the novel and its author, Kaui Hart Hemmings. "Kaui Hart Hemming's advice was invaluable," says Jane Ann Stewart. "For example, she introduced me to the punee [the casual Hawaiian daybeds often used as sprawling sofas] and helped us to reflect the family's history in the details."
When Jane Ann Stewart found a local house that had the right feel, it was missing one key element - the sprawling banyan tree that graced the front yard in the book. So Jane Ann Stewart had one transplanted.