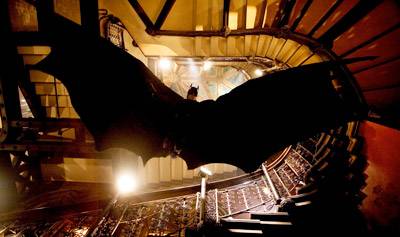 The Dark Knight Rises
Cast: Christian Bale, Joseph Gordon-Levitt, Gary Oldman, Anne Hathaway
Director: Christopher Nolan
Genre: Drama, Action, Crime
Rated: M
Running Time: 164 minutes

Synopsis: Warner Bros. Pictures' and Legendary Pictures The Dark Knight Rises is the epic conclusion to filmmaker Christopher Nolan's Batman trilogy.

Leading an all-star international cast, Oscar® winner Christian Bale (The Fighter) again plays the dual role of Bruce Wayne/Batman. The film also stars Anne Hathaway, as Selina Kyle; Tom Hardy, as Bane; Oscar® winner Marion Cotillard ("La Vie en Rose"), as Miranda Tate; and Joseph Gordon-Levitt, as John Blake.

Returning to the main cast, Oscar® winner Michael Caine ("The Cider House Rules") plays Alfred; Gary Oldman is Commissioner Gordon; and Oscar® winner Morgan Freeman ("Million Dollar Baby") reprises the role of Lucius Fox.

The screenplay is written by Christopher Nolan and Jonathan Nolan, story by Christopher Nolan & David S. Goyer. The film is produced by Emma Thomas, Christopher Nolan and Charles Roven, who previously teamed on "Batman Begins" and the record-breaking blockbuster "The Dark Knight." The executive producers are Benjamin Melniker, Michael E. Uslan, Kevin De La Noy and Thomas Tull, with Jordan Goldberg serving as co-producer. The film is based upon characters appearing in comic books published by DC Comics. Batman was created by Bob Kane.

Behind the scenes, "The Dark Knight Rises" reunites the director with several of his longtime collaborators, all of whom worked together on the "The Dark Knight." The creative team includes director of photography Wally Pfister, who recently won an Oscar® for his work on Nolan's 'Inception'; production designer Nathan Crowley; editor Lee Smith; and Oscar®-winning costume designer Lindy Hemming ("Topsy-Turvy"). In addition, Paul Franklin and Chris Corbould, who both won Oscars® for the effects in "Inception," supervised the visual and special effects, respectively. The music is composed by Oscar® winner Hans Zimmer ("The Lion King").

Verdict: The Dark Knight Rises concludes the trilogy with an explosive and spectacular film that is able to hold attention with major twists and turns for the whole 164 minutes and as the credits rise all audiences will want to see the film again, immediately.

Eight years have passed since the torturous events of The Dark Knight and Batman hasn't been seen since the Joker was captured and Harvey Dent was killed (which Batman is still taking the blame for). The Dark Knight Rises revisits and completes the story of characters from the previous two films as well as introducing new characters such as Bane (Tom Hardy), Selina Kyle/Catwoman (Anne Hathaway) and Blake (Joseph Gordon-Levitt).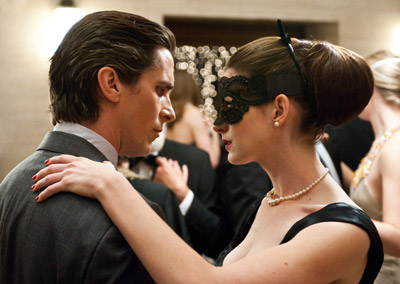 The sexy, alluring and thieving Catwoman is introduced in dramatic disguise and continues to surprise as the film progresses. Anne Hathaway nails the charismatic character and her original encounter with Bruce Wayne encourages him to leave the house for the first time in eight years after the death of his true love, Rachel.

The mature, Joseph Gordon-Levitt provides a phenomenal performance as Blake a young police officer who is compassionate and loyal to the Dark Knight; his performance carries the film, forward.

The merciless Bane's nightmare-inducing voice will haunt you long after the film has finished as his mysterious character and hidden past provokes his lethal actions on Gotham which causes city-wide trauma against everything Bruce Wayne and Batman have worked for.

The Dark Knight Rises is completely unpredictable and thoroughly entertaining whilst being visually magical. The most disappointing part is that Christopher Nolan has apparently finished his epic reinvention of Batman with this final film, whilst I'm ready for more.
Rating: ******

Brooke Hunter

Release Date: July 19th, 2012