The Dark Horse Jewellery
New arrivals from Amber Sceats, White Label, Nicole Fendel & Balyck.
AMBER SCEATS

Hailing from a creative family, Amber Sceats followed in her grandfather's footsteps who founded one of Australia's most prominent watch companies. Alongside her mother Jeanette, Amber's namesake jewellery line was created in Sydney in 2012.

Heavily influenced by their appreciation for art, travel and architecture; Amber Sceats is an ode to the abstract. The quality and versatility of their collections is testament to their family's vast experience in design and production. There is a distinct sense of style, glamour and individuality to Amber Sceats jewellery.

Since the inception of the brand, Amber Sceats has clearly assembled a cult following for her designs; being featured in Vogue, Harper's Bazaar, Elle, Grazia and on Australia's most influential bloggers. Amber Sceats has frequently been seen on Bambi Northwood-Blyth, Sarah-Jane Clarke, Naomi Campbell, Nicole Trunfio, Jennifer Hawkins, Phoebe Tonkin and Isabelle Cornish.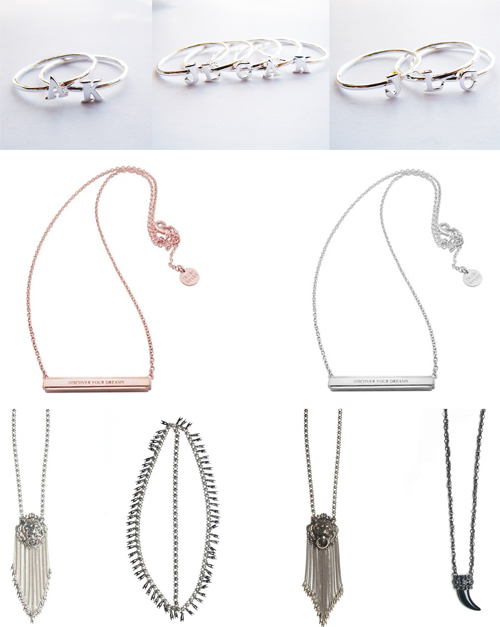 THE DARK HORSE WHITE LABEL

White Label is the in-house brand for The Dark Horse Jewellery, featuring exclusive on trend designs.

NICOLE FENDEL

Raised in Western Australia alongside the iconic and relaxed Australian beaches, jewellery designer Nicole Fendel relocated to the fashion-forward city of Melbourne in 2003. A young and vibrant Fendel started her career initially as an interior architect, before following her true passion of jewellery design and launching her eponymous label soon after in 2005.

She's always found inspiration in her South African heritage, with her constant travels abroad, adventures and relationships continuing to fuel her with new ideas and motivation for her collections.

BALYCK

Balyck was first launched in 2010 by designer Jessica Balyck.

Studying at The Fashion Studio in Sydney, Jessica built her skills and experience in fashion and the arts. She furthered her knowledge by exploring the craftsmanship of jewellery - drawing inspiration from many different places and cultures. She began teaching herself the skills and craft of jewellery making, in the process she formed her own distinct style.

Through her love of worldly travels, Jessica was able to make the connection between the value of an item, and the power it holds to evoke memories. And in a time where society is looking to escape from mass produced fashion, Balyck allows one's self to not only be unique, but to be freed from the clutches of main-stream fashion.

By offering handmade pieces, one off designs and now the launch of the limited collection 'The White Lion', Balyck grants anyone the ability of self-expression simply by wearing a piece or pieces with any outfit.