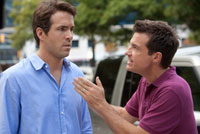 The Change Up
Cast: Ryan Reynolds, Jason Bateman, Leslie Mann, Olivia Wilde and Alan Arkin
Director: David Dobkin
Genre: Comedy

Synopsis: Ryan Reynolds and Jason Bateman star in The Change-Up, from director David Dobkin (Wedding Crashers), writers Jon Lucas & Scott Moore (The Hangover) and producer Neal Moritz (Fast & Furious, Click). This raucous comedy takes the traditional body-switching movie, ties it up tightly and throws it off a cliff.

Growing up together, Mitch (Reynolds) and Dave (Bateman) were inseparable best friends, but as the years have passed they've slowly drifted apart. While Dave is an overworked lawyer, husband and father of three, Mitch has remained a single, quasi-employed man-child who has never met a responsibility he liked. To Mitch, Dave has it all: beautiful wife Jamie (Leslie Mann), kids who adore him and a high-paying job at a prestigious law firm. To Dave, living Mitch's stress free life without obligation or consequence would be a dream come true.

Following a drunken night out together, Mitch and Dave's worlds are turned upside down when they wake up in each other's bodies and proceed to freak the &*#@ out.

Despite the freedom from their normal routines and habits, the guys soon discover that each other's lives are nowhere near as rosy as they once seemed. Further complicating matters are Dave's sexy legal associate, Sabrina (Olivia Wilde), and Mitch's estranged father (Alan Arkin). With time not on their side, Mitch and Dave comically struggle to avoid completely destroying each other's lives before they can find a way to get their old ones back.

Release Date: 18th of August, 2011


About the Production
Greener Grass: Production Begins
For director/producer David Dobkin, the premise of two best friends who are in desperate need of a big change was one that he found fertile ground for comedy. When he was given the new script from Jon Lucas and Scott Moore, the writing team who created 2009's record-breaking R-rated blockbuster The Hangover, the Wedding Crashers director was quickly drawn into their engaging story.

David Dobkin admits: "I look for ideas and scripts that are very comedic, but also have elements that say something and resonate with people. As a filmmaker, you want to take an idea that feels personal, turn it on its head and actually say something about it. With this story, there's that wonderful aspect of walking in someone's shoes and getting to understand why they've made the choices they've made."

The filmmaker felt that Jon Lucas and Scott Moore's take on the body-switching genre pushed the envelope with its raunchy humor, but it didn't sacrifice the heart that would allow the audience to connect with the characters. He notes: "This script was so intelligently written, and I have to give credit to Jon Lucas and Scott Moore because they nailed it with a very comical, revealing look into the world of men…and what we think about love and sex."

"There is an incredibly intricate structure to this script, and it was one of the funniest I have ever read," adds David Dobkin. "Jon Lucas and Scott Moore are such masterful writers that they make things seem easy, when in fact there's been a tremendous amount of thought and depth beneath the surface. It may not be apparent when you first read the script, but once you start pulling it apart, you realise the complexities of it and how much art and effort went into its construction."

Jon Lucas describes his and Scott Moore's unlikely inspiration: "Once a month, I have dinners where a bunch of guys get together. At first it was one other guy and me who were the married ones, and all the single guys would laugh at us because our views were so insanely wrong about what it's like being single. The conversations were like talking to people who were just pulled out of the jungle and didn't understand how electricity works. I would ask dumb questions like 'What exactly do you say to women when you meet?,' and they would ask questions like 'You're married…do you have sex once or twice a day?' Conversations from those nights-and how misunderstood we were to each other-got into the script and became the backbone of the film."

The writing partners constructed the tale of Dave and Mitch, best friends since childhood, now grown men struggling to maintain a waning friendship. While Dave is a successful type A lawyer who is married with three kids, Mitch is single, barely employed and chasing women like he was still in college. Dave finds maintaining the friendship a chore, while Mitch just wants his old buddy back.

When the two friends meet up for drinks at a local bar and compare their lives, each is a bit smitten by the other's situation. Mitch looks upon Dave's stable home life, with a supportive wife and beautiful children, with rose-colored glasses. Mitch can't understand why every moment in life shouldn't be pleasurable and irresponsible, but he is envious of how Dave seems to keep all of his family duties in line and be so successful in his career. To add insult to injury, Mitch's relationship with his father is strained, and the only stability Mitch experiences is when he is around Dave and his family.

The night ends with their getting drunk and peeing in the fountain of the Greek goddess Metis as they argue about how they wish they could be in the other's shoes. When they wake up, the shape-shifting goddess of wisdom has, as things go in these tales, granted their wish.

The writers approached David Dobkin with their screenplay, as they were sure he was the right choice for the material. Says Scott Moore: "We first met David Dobkin years ago, working on Wedding Crashers, and ever since then Jon Lucas and I have wanted to do another project with him. He totally gets story, comedy, and he has really nice hair."

Jon Lucas adds: "David Dobkin has an ability to juggle comedy and heart, which this movie requires. Along with being huge fans of his work, we knew he was married and has two little kids…so he could relate to the material. You don't have to have woken up with a screaming baby at 1:00 a.m., 3:00 a.m. and 5:00 a.m. to direct this movie, but it helps."

For David Dobkin, a body-switching movie was never one he thought he would tackle, but the director was intrigued by the circumstances that could be comically explored when best friends are forced to live each other's lives. "There are body-switching films that I love, like Face-Off and Freaky Friday, but it is a genre of film that I never wanted to do," he says. "It is a testament to how superb the writing was that it drew me into the project with its R-rated approach.

"This has been one of the most fulfilling filmmaking experiences of my career," adds David Dobkin. "I think audiences are going to enjoy the raunchy fun and craziness as we deal with the subject matter. They are also going to be surprised because if we did our job right, they will latch onto the heartfelt moments of these guys' journey that finds them learning life lessons about love, friendship and commitment."

During the film's development process, producer Neal H. Moritz came onto the project under his company's banner, Original Film. Known for such juggernaut actioners as all five films in The Fast and the Furious series, Battle: Los Angeles and I Am Legend, Neal H. Moritz is also no stranger to comedy, with such hits as The Green Hornet, Click and Sweet Home Alabama to his credit.

Neal H. Moritz admired the simple, accessible premise that the script offered. He says: "David Dobkin successfully reignited the world of the hard-R, character-based comedy with Wedding Crashers, and Jon Lucas and Scott Moore wrote one of the most successful comedies of all time with The Hangover. When you bring together his sensibilities as a director with their instincts in this script, it was impossible to turn it down."

Who You Wish For: Casting The Change-Up
Finding the right actors who could portray both Mitch and Dave in the pre- and post-switch would be daunting. The two lead performers had to play each other's parts for approximately 50 percent of the time, and the job would require leading men who were just as deft at broad physical comedy as they were with relatable and heartfelt moments. Enter longtime friends Ryan Reynolds and Jason Bateman, last seen together in 2006's Smokin' Aces.

A lover of anything that doesn't involve responsibility, Mitch is an alpha male who values his nightly rotation of ladies almost as much as his daily bong hits. For Mitch, life is just one long party as he tries to get his acting career jumpstarted in his hometown of Atlanta. "The most important thing about Mitch was that the character needed to be completely unpredictable, irreverent, unedited," says David Dobkin. "Mitch walks through life completely unaware and carefree of what the consequences of his actions and words have on anybody around him."

For the role of Mitch, the filmmakers cast Ryan Reynolds. "Because he is a younger-looking guy, I don't look at Ryan Reynolds and instantly see a family man," explains David Dobkin. "He is winning and exudes a confidence like a single man whom the ladies would love. But in casting both Mitch and Dave, I was cognisant of the turns in the second act. I wanted to see Ryan Reynolds play a guy who is insecure, overwhelmed and worried and doesn't know how to put a sentence together in front of an attractive woman."

Ryan Reynolds, who first read the screenplay during the production of Green Lantern, recalls his reaction: "I remember reading the script in my hotel room when I was in New Orleans, and it was the first one in a long time that made me literally laugh out loud. It was fun to see this concept, which is usually a PG premise, executed in such a hard-R way. It had an edge to it and was no-holds-barred in terms of how the characters were portrayed. Usually in these types of films the characters are broad stereotypes, but in this film they're actually nuanced guys.

"Mitch is a guy who missed that invaluable foothold that most people have in their early twenties when they decide that they're going to grow up," continues the actor. "He is rudderless in life and living in a very carefully constructed reality. He's an out-of work actor/odd-job kind of guy. He's a self-medicating, weed-smoking, self-proclaimed ninja, and he's just a bit on the eccentric side. Despite it all, Mitch is someone who really enjoys life. He's the kind of guy who embraces any surroundings that he finds himself in. His enthusiasm is contagious and infectious, but he has no edit button."

The polar opposite of Dave is Mitch, a high-strung family man who married his childhood sweetheart, Jamie, has three kids and a beautiful house and is on the verge of making partner at one of Atlanta's most prestigious law firms. In casting the role, the filmmakers didn't have to search long. They were fortunate that early on in the development process, Jason Bateman expressed that he wanted the part.

David Dobkin knew he needed someone who had the talents of a comic, but who also had the chameleon abilities of a seasoned actor. He wanted to give Jason Bateman the chance to cut loose and play a character in the second act that audiences aren't used to seeing him portray. "I wanted Jason Bateman to turn into a raging, irreverent asshole as his character deals with his new family environment and obligations," says David Dobkin. "The thought of seeing him do big visual set pieces was exciting. He gets to do and say all of these things that, as parents, you might think about but wouldn't do or say."

"Somehow the script found its way to me-clearly too early-because they needed to find a stud first," Jason Bateman laughs. "After they found Ryan Reynolds, things fell into place. What I liked most about the script was how funny it was with all of the very hard- R humor that was written in a way that wasn't gratuitous. It's not just arbitrary F-bombs. Jon Lucas and Scott Moore wrote a screenplay that was very realistic in terms of how most people would react by having to live your best friend's life for a period of time. It's also an actor's dream in comedy to play both sides of the characters: the straight man and the fool.

"David Dobkin is envious of Mitch's life and his complete freedom to do whatever he wants every single day," adds Jason Bateman. "He spent a lot of time in his twenties chasing the dream of becoming a lawyer and then in his thirties trying to make partner, so he missed out on a lot of the things people do at that age. When you're single, there's a lot of sex and drugs and bad choices in that time period. David Dobkin's not dying to get back there, but he simply thinks, 'Boy, I blew it, and now it's too late.' He's not upset, unhappy or bitter; he's just tired from the grind of it all."

"I've long been impressed by the ability of Ryan Reynolds and Jason Bateman to steal most scenes they're in," Neal H. Moritz notes. "They both have this impeccable sense of timing and a presence that can provoke laughter when you least expect it. I knew if we could bring them together and get the best out of both of them, we'd have something special." Maintaining Dave's family life-with two-year-old twins and five-year-old daughter Cara -is no small task, but Dave's wife, Jamie, makes it look effortless. We meet Jamie and Dave at a time in which they misinterpret the comfort of their relationship for staleness and ennui. David Dobkin and Neal H. Moritz cast comedic performer Leslie Mann in the role of Jamie. From her breakout roles in The 40-Year-Old Virgin and Knocked Up, Leslie Mann has shown the ability to deliver edgy zingers just as easily as dissolving into very real tears.

"Leslie Mann was the first person I thought of when I read the script," says David Dobkin. "She's funny and strong but can also be vulnerable. I thought her performance in Funny People was amazing, and it was one of my favorite performances of the year. She has the ability to play realistic conflict in an entertaining and whimsical way that lets you into her world. Jamie is the emotional core of the film, so we needed an actress who could anchor that. Most actors either lean to comedy or lean to drama, but she can do either effortlessly, which is so rare."

Discussing her decision to join the film, Leslie Mann says, "I thought the story was incredibly funny but very sweet. I loved the relationship between Mitch, Dave and Jamie, as they all have known each other since junior high. Dave and Jamie love each other very much, but they are a modern family and you see how difficult and challenging it is for them when they start to take things for granted."

Leslie Mann explains how Dave isn't the only one who is frustrated in the marriage. She offers: "Jamie feels like Dave is emotionally checked out. In the beginning of the movie, they're in a serious rough patch and trying to figure out how to handle their hectic life. Through this experience of the body switching, Dave learns more about Jamie and she learns more about him. Through that, they grow and become happier."

While Dave only has eyes for Jamie, Mitch can't take his eyes off of Dave's sexy associate, Sabrina, played by Olivia Wilde. Olivia Wilde, who can be seen starring opposite Daniel Craig and Harrison Ford in this summer's Cowboys and Aliens, was impressed with what she read in Jon Lucas and Scott Moore's screenplay, and signed onto the film. "Sabrina is intelligent, funny, smoking hot, and a reminder to Dave of what it would be like to be single again," says David Dobkin. "Olivia Wilde is smart, beautiful and very funny, but what really impressed me was that, although she is only 26, she carries herself like a woman beyond her years. That was important because in the film Sabrina is a little mysterious, and it is slowly revealed that there is a whole other side to her character."

Says Olivia Wilde of her interest in joining the comedy: "The script was insanely funny, and it just kept surprising me because it is as smart as it is crude and outrageous. The story has a relatable message about balance and happiness and family, but it's told in a hilarious way. I also appreciated that the women in the script were allowed to be funny as well. That doesn't always happen."

The actress continues: "I spoke to David Dobkin and we traded ideas about Sabrina, a character I thought should be unpredictable. On the outside she is this very ambitious, smart, successful lawyer, but as we go through the film, we discover she's a wildcat. She has a little bit of a crush on Dave, but she's forbidden fruit until Dave and Mitch switch bodies."

While Mitch avoids anything that resembles responsibility, one person he can't avoid is his estranged father, played by Oscar®-winning actor Alan Arkin. Mitch's dad can't see why his son is so averse to becoming a responsible adult, and it was important for David Dobkin to showcase a powerful figure who gives the audience insight into why Mitch hasn't grown up. "Mitch's dad is an acerbic but loveable father," reveals Alan Arkin. "He comes down hard on Mitch, because he has been watching him screw up his life for years and can't understand why he can't get it together."

Commends Ryan Reynolds of his on-screen father: "The opportunity to spend time with a guy who has been as successful for as long as Alan created a bridge for me to key scenes. Alan Arkin creates a character that shows up at the beginning and the end of the film, but it's somebody you remember when you walk out of the theater."

In Dave's quest to make partner, he must prove to his stiff, humorless boss that he can handle the responsibility and workload that comes along with the firm's promotion. The filmmakers cast veteran screen and television actor Gregory Itizin in this role. Rounding out the supporting cast is a talented group of actors and comedians including Cinderella Man's Craig Bierko and Growth's Mircea Monrow, joined in a cameo by former Atlanta Braves All-Star pitcher John Smoltz.

Switching It Up: Playing Each Other on Set
Principal photography began in Atlanta, Georgia, on a stage created as Mitch's apartment. A true "man cave" as Ryan Reynolds called it, the set was filled with bongs and swords and served as the backdrop for the first time Mitch and Dave realise that they have switched bodies and are stuck.

"Although Ryan Reynolds and Jason Bateman don't have absurd physical polarities, they actually do have very different approaches to their character performances," explains David Dobkin. "This allowed us to polarise the two roles enough so that when the switch happens, you're able to follow it easily and enjoy the comedy."

As the cameras rolled on the pivotal scene, the crew watched Ryan Reynolds and Jason Bateman tear through it. The two actors tried their best not to break character during the takes as they traded comedic jabs. "Jason Bateman is amazing, but the hardest thing about working with him is keeping a straight face," says Ryan Reynolds. "I know I ruined a lot of takes because he throws these one-liners that are so damn funny."

David Dobkin and Neal H. Moritz were pleased to see that chemistry between longtime friends Ryan Reynolds and Jason Bateman was as dynamic on screen as it was off. This was not lost on their fellow cast members. "Ryan Reynolds and Jason Bateman have such an inherent shorthand that you would think they have been doing films together their entire careers," commends Olivia Wilde. "It was fun to watch, but not so easy when you're in a scene and have to keep a straight face."

Jason Bateman and Ryan Reynolds explain how they approached their characters, which often required both actors to play both Dave and Mitch on the same day. "We spoke a lot before we started shooting about what the strategy would be in playing the characters post-switch," says Jason Bateman. "I thought it'd be more interesting to see two actors play versions of the other's archetype. I play my version of a slacker and of a conservative guy, and Ryan Reynolds does the same…as opposed to doing impersonations of each other. I can't play Ryan Reynolds. He's great at what he does, and David Dobkin was open to that. It did get tricky some days when I had to play a couple of scenes as one guy and a couple of scenes as the other."

Ryan Reynolds concurs: "Jason Bateman and I made it a point not to do impressions of one another. We wanted to create the nuances for the characters we established. Post-switch, if the essence of the character is there, that's all that matters. Both Mitch and Dave are characters that Jason Bateman and I have in our wheelhouse, so we did know aspects of them. I was very comfortable playing the lothario loudmouth, and I was also very comfortable playing the neurotic, uptight guy who's defensive and reactive."

For Leslie Mann, who had many scenes with Ryan Reynolds and Jason Bateman together, keeping up with which character was in which actor's body wasn't always so simple. "In the beginning, it was a little confusing with the stage direction and the call sheets-because it was coded a few different ways," laughs Leslie Mann. "So it took a little while to get a system down that was easy to understand. They would write Jason Bateman's or Ryan Reynolds's initials after the character name, but before each scene you had to remind yourself who is playing who and what body they were in."

Pre- or post-switch, the one constant on set was which direction to push the comedy envelope. This dynamic allowed the filmmakers and cast to inject a fresh twist on the body-switching conceit. "If you're going to make R-rated comedies these days, you have to try to break some sound barriers," shares David Dobkin. "Otherwise, just make a movie that everybody can see. There's no reason to make an R-rated comedy if you're not going to completely go for it. You must have a distinctly different conversation of what is possible when you choose to do it."

Having the freedom to push the humor as far as they needed enabled the actors to play the scenes as grounded as possible. "An R-rated movie is the most creative experience you can have because there are no limits to what you can do," comments Ryan Reynolds. "Any joke or idea you might have, big or small, there's nobody there that's going to tell you not to do it. When a studio commits to an R-rated comedy that has a high concept…that alone is worth the price of admission. For an actor, it's like winning the lottery; you're living in a world where fantastic, creative things happen."

Olivia Wilde agrees, and The Change-Up marks her first experience on an R-rated comedy. Says the actress: "There's such an art to doing raunchy comedy, because you can't just throw in a bunch of swear words and expect it to be funny. You have to be smart and delicate about it. It helps when the script is written intelligently; it's hilarious and shocking. Usually in films, women aren't allowed to join in the raunchy fun. Sabrina gets to mix it up, and I had so much fun with that."

With the freedom that an R rating brought to their creative process, David Dobkin encouraged his performers to push themselves and improv when it felt right. "What I do with all my movies is make the preproduction rehearsal process with the actors the time to play with the script and scenes," he explains. "So when we hit the set each day, we stick to the script until we feel like we've got it. Then I like to let the actors loose to do whatever they want…as long as it pushes the scene to where it needs to go."

"I have to admit, there were times on set that I thought, 'Man, I can't believe they're going there with this joke,'" says Neal H. Moritz. "Jason Bateman and Ryan Reynolds' ability to feed off of each other's comedy was shocking and often hilariously disturbing. I know audiences are going to love what these guys were able to get from one another, and what they elicited with Neal H. Moritz and Olivia Wilde."

Ryan Reynolds and Jason Bateman admit that they enjoyed the creative environment. "Jason Bateman is an inventive guy when it comes to improv, and his proficiency at it is something I've never experienced before," commends Ryan Reynolds. "Somebody who's that skilled in comedy is pretty rare, so when he gets on a roll, you have to run with it. It was an enjoyable experience to stretch the boundaries creatively."

During production, there were many scenes in which Ryan Reynolds and Jason Bateman's quick-witted banter made the crew laugh out loud. "Carving out a scene with Ryan Reynolds and David Dobkin was fun because we share the same humor," acknowledges Jason Bateman. "There are a number of ways to make people laugh, and when you don't share a wavelength, it can be frustrating. With our shorthand, we worked fast and had time to explore. Our job was to make the comedy play like it would in the real world if you switched bodies. Hopefully, people will appreciate that while they're laughing at things they might not normally."

Home of the Brave(s): Shooting in Atlanta
In the original script of The Change-Up, the screenwriters set the film in Los Angeles. When the filmmakers received word that Ryan Reynolds wasn't available until late October, the location shifted south to Atlanta, a city whose mild winters could accommodate the film's summer look. The question then became, "Do we shoot Atlanta for another city, or do we shoot Atlanta for Atlanta?"

David Dobkin knew that it was important that the setting of the film feel very grounded, as there is already a fantasy concept behind The Change-Up. He was also quite impressed by what the city offered. "Even though the state's tax incentive was a big factor in our coming here, there is a strong and talented film community in Atlanta," says the director. "We thought it would be funny that Mitch is an aspiring actor, but he's never made the move to Los Angeles because he thinks he's going to be a big fish in a small pond by staying in Atlanta. That grounded his character."

The city's influence extended to the character of Dave. "It's so rare, outside of New York or Los Angeles, to have a city play itself in a movie," reflects Olivia Wilde. "Having Atlanta play Atlanta makes the characters seem as if they're coming from a place that is a bit further removed from other major cities. It helps you understand more about why Dave is living this conservative suburban lifestyle."

Braves Stadium
One of the biggest days on the film was when the production shot a baseball scene at Turner Field, home of the Atlanta Braves. In the scene, Dave, who is in Mitch's body, goes on a date with Sabrina to a Braves game. In order to pull off the sequence, the production had to enlist the help of more than 3,500 Braves fans, who came out and volunteered their time to support and represent their favorite team.

Thousands of people were required to fill a portion of the stadium and to make it seem as if an actual game was being played. The casting department coordinated a massive promotion to get people excited about the event, and the response it received was amazing. Attendees from Florida, Alabama, Tennessee, Kentucky and South Carolina drove in to be a part of the day and to represent Braves fans around the country.

One surprise that the thousands of extras were able to witness was the return of former Atlanta Braves pitcher and World Series champion John Smoltz to Turner Field.

This marked one of his first big appearances since his retirement from baseball in 2008. As well, the day almost marked the first time the eight-time All-Star pitcher had put on his old jersey and stepped onto the field that held so many great memories.

For Ryan Reynolds and Olivia Wilde, it was a fine experience to spend the day in the ballpark off-season, even though an unusual November cold snap kept the temperatures in the low 40s. "Shooting in a major league stadium is incredible," says Ryan Reynolds. "You step out on the grass, and just the smell of the ballpark and being around John Smoltz, who was one of the best pitchers, was a great experience."

Olivia Wilde enjoyed the blending of comedy, action and romance in the scene. "It was such an exciting experience because we had this incredible group of background actors who were so enthusiastic, despite the fact that it was freezing," she notes. "They were getting into the spirit of it and understood the tone of the scene. Everyone was yelling, clapping and cheering, and that gave the scene great energy."

Georgia Aquarium
Another iconic location the production was able to use was the Georgia Aquarium in downtown Atlanta. The world's largest aquarium, it houses 60 exhibits, with 12,000 square feet of viewing windows and an unparalleled collection of blacktip reef and great hammerhead sharks. The largest exhibit holds 6.3 million gallons of water, including inside a 100-foot-long tunnel that surrounds guests with thousands of animals. The gallery features the largest aquarium-viewing window in the western hemisphere and gives a stunning view of manta rays and four whale sharks-the largest fish in the world.

The exhibit provided the backdrop for the scene in which Dave, in Mitch's body, enjoys his newfound freedom and spends the day doing whatever he wants. "After Mitch and Dave switch, Dave tries to get into the spirit of 'now I can do some things that make me happy,'" explains Ryan Reynolds. "He's surrendered to that mantra, and so he's come to the aquarium to hang out and watch the big fish."

"I wasn't intending it to be, but it's an homage to the scene in Ferris Bueller's Day Off," says David Dobkin. "In the scene, Dave is enjoying a moment alone to appreciate everything around him and rediscover the part of himself that he's drifted away from."

Winter Shoot
In January 2011, a record-breaking winter storm dumped more than six inches of snow and ice upon Atlanta, shutting down city businesses and services. Still, the cast and crew of The Change-Up braved the conditions and started their day at Joe's on Juniper in midtown Atlanta. In a stroke of luck, the location was only a few blocks from where a majority of crew was being housed…allowing them to walk to the set.

Though the production was shorthanded, crewmembers were able to pitch together and shoot the scheduled scene. The production was forced to shut down when the storm worsened by the lunch hour and the crew was unable to make the scheduled company move to the next location.

By the end of the film's 62 production days, the team had shot in many of the city's iconic locations and neighborhoods. Additional locales included Piedmont Park, Sweet Auburn Street, Abattoir, Ecco, the Georgian Terrace Hotel and Inman Park. The comedy completed photography in winter 2011 in Powder Springs, Georgia.