The Beatles: Eight Days a Week
Cast: Paul McCartney, Ringo Starr, John Lennon
Director: Ron Howard
Genre: Documentary, Music
Running Time: 106 minutes

Preface: One of the prospects that drew Ron Howard to this famous story was the opportunity to give a whole new generation of people an insightful glimpse at what happened to launch this extraordinary phenomenon. One generation – the baby boomers - had a chance to grow up with The Beatles, and their children perhaps only know them vicariously through their parents. As the decades have passed The Beatles are still as popular as ever across all these years, even though many of the details of this story have become blurred.

We may assume that all Beatles' fans know the macro-facts about the group. The truth is, however, only a small fraction are familiar with the ins and outs of the story, and of course, each new generation learns about The Beatles first and foremost, from their music. So, this film is a chance to reintroduce a seminal moment in the history of culture, and to use the distance of time, to give us the chance to think about 'the how and the why" this happened as it did. So, while this film has a lot of fascinating new material and research, first and foremost, it is a film for those who were 'not there", especially the millennials.

Synopsis:We all know the moment, February 9, 1964, at 8:12 PM EST: After a brief commercial break, four young men from Liverpool step onto the Ed Sullivan stage, unaware of the extraordinary impact this moment would have on America. Seventy-three million people watched The Beatles perform that night " the largest audience to date in television history. It was an event that united a nation and signaled the birth of youth culture as we know it today. But while this single performance introduced The Beatles to America (the band had already taken Europe by storm the previous year) what they did next would introduce them to the entire world, permanently transforming the music industry and forever ingraining them into the fabric of popular culture …

They went on a global tour, a bold move that had never before been attempted by a pop group or even superstar performers like Elvis. From June 1962 to the time the band quit touring in August 1966, The Beatles performed 815 times in 15 different countries and 90 cities around the world. The cultural phenomenon that their touring helped create, known as 'Beatlemania," was something the world had never seen before and, arguably, hasn't seen since. For the first time, much of the world felt truly unified " bound by aspiration and attitude, rather than divided by race, class, religion or nationality.

From Academy Award®-winning director Ron Howard, The Beatles: Eight Days a Week – The Touring Years tells the story of these exceptional touring years " from the perspectives of the band, its orbit, the fans, and their world. The film recreates the touring experience through the eyes of the band members themselves, where every stop was an adventure " from early performances in Hamburg to their January 1964 performance in France. It takes us all over Europe and the Far East to Australia " where the group was greeted by hundreds of thousands of avid fans " and Japan. Along the way, the film delves into the inner workings of the group " how they made decisions, created their music, and built a collective career together " as well as the effect those years had on their personal and musical evolution. But while the band created the spark, it was young people around the globe who created the firestorm. The film also explores the incomparable electricity between performer and audience that turned the music into a movement " a common experience that became something sublime.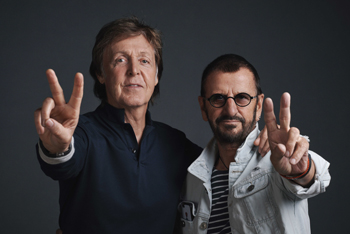 Drawing from more than 100 hours of rare and unseen footage collected from fans, news outlets and national archives, as well as the Beatles' private collection, Eight Days a Week crafts a cinematic experience unlike any Beatles film that has come before, and unlike any other documentary. In addition to multiple new and in-depth interviews with Paul McCartney and Ringo Starr, as well as a host of names with direct experience of the times " Whoopi Goldberg, Elvis Costello, Larry Kane, Dr. Kitty Oliver among others " the film also includes 12 full and partial performances from the concerts. These have been elegantly re-cut and re-mastered in high-definition and 5.1 surround sound and are the closest thing an audience can get to experiencing the band play live.

The studio work of The Beatles during these 1,000 days of touring grew exponentially in richness and innovation from Please Please Me to Revolver. Using studio chatter and outtakes, the film gives an intimate, bird's-eye view of the band's creative process at the legendary Abbey Road. And incredibly, as they left the road at the end of 1966, their studio output grew in power, innovation and exploration, changing the face of recorded music and defining their place in culture.

This film is the story of The Beatles' journey to the top of the world, fueled by their live performances, music, and extraordinary personalities " and how they made the remarkable decision to walk away to focus exclusively on writing music and recording it in the studio. It's the story of a group of artists choosing to reinvent themselves entirely in order to evolve and survive.

And in the first year alone this incomparable work in the studio resulted in some of their most beloved songs: 'Sgt. Pepper's Lonely Hearts Club Band," 'Strawberry Fields Forever," 'Penny Lane," and 'All You Need is Love." The Beatles' work became a history-making, unprecedented expression of popular art. This is the story of the beginning of that remarkable journey and how it came to be.

A Ron Howard Film The Beatles: Eight Days a Week – The Touring Years is directed by Ron Howard and produced by Nigel Sinclair, Scott Pascucci, Brian Grazer and Ron Howard. The editor is Paul Crowder. The film was written by Mark Monroe. Executive Producers are Jeff Jones, Jonathan Clyde, Michael Rosenberg, Guy East, Nicholas Ferrall, Mark Monroe and Paul Crowder. Supervising producer is Mark Ambrose. Co-producers are Matthew White, Stuart Samuels and Bruce Higham. Music producer is Giles Martin.
The Beatles: Eight Days a Week
Release Date: September 16th, 2016


About The Production
When Oscar-winning director Ron Howard was first approached about making a documentary chronicling The Beatles' touring years, he says he was flattered but also somewhat apprehensive. Best known as the prolific director and producer of such acclaimed narrative films as Cinderella Man, Apollo 13 and A Beautiful Mind, he had previously made only one documentary, the 2013 concert film Made in America, about rapper Jay Z's eclectic music festival. Thrilled at the prospect of making a film about The Beatles in collaboration with The Beatles and their families, Howard says his confidence was bolstered by the involvement of veteran producer Nigel Sinclair. 'I knew Nigel had worked on other fantastic music documentaries and had a great team of people, so that gave me some comfort," he recalls. 'He also had good experiences working with narrative directors like Martin Scorsese and others making documentaries."

Still, Howard knew he would only tackle the ambitious project if he could find a fresh approach to telling the oft-told story of The Beatles' runaway success. Once he started reviewing the available material, however, he quickly found a unique way into the subject matter. 'As I looked at those touring years, I began to see it as a kind of adventure, a survival tale of this incredible journey they were on," he recalls. 'I thought that was the story I could tell, a cousin to Apollo 13 in a way that would reflect the culture of the times. At the same time, we could explore the dynamics of The Beatles as a band " a brotherhood of sorts " but also as individuals, because they definitely grew, evolved and changed as they were tested as individuals and as a group."

The project's roots can be traced back to 2002, when production company One Voice One World (OVOW) approached The Beatles' Apple Corps Ltd. with a proposal to scour the world for fan-recorded footage of The Beatles' tours with a view to making a film about the subject. Through its outreach efforts, OVOW collected numerous black & white and color Super 8 home movies as well as other archival materials.

The project was put on hold for several years, but in 2012 Apple Corps began exploring the idea of producing and financing a more comprehensive film about The Beatles' touring years. Around this time, Apple Corps CEO Jeff Jones asked Sinclair, who had produced the Martin Scorsese-directed documentary George Harrison: Living in the Material World, to put together a world-class filmmaking team through his White Horse Pictures production company.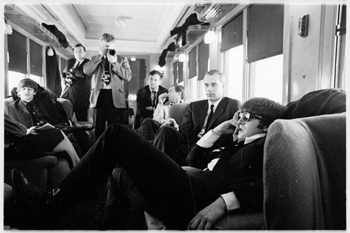 'Apple Corps wanted to get a signature filmmaker, a voice, an artist of great stature to make a film about a band of great stature," explains Sinclair. So in 2013, together with fellow producer and music executive Scott Pascucci, with whom he had worked closely on the George Harrison film, Sinclair approached Ron Howard. He agreed to direct as well as produce along with his producing partner Brian Grazer and their company, Imagine Entertainment. Imagine Co-Chairman Michael Rosenberg signed on as executive producer.

The Beatles and their representatives were thrilled to have Howard at the helm of the first authorised documentary film of the band in over 45 years, says Sir Paul McCartney. 'We know he's a great filmmaker. And this is a film, whether it's a documentary or a feature, so we were very happy to have him on board."

As Howard started sifting through the mountains of archival footage, he gained a new appreciation for the unprecedented nature of the band's global popularity. 'Like many people, I thought I knew The Beatles " I loved their music and kind of had a sense of who they were and the phenomenon they were " but I didn't really know the intensity of it. It's pretty jaw-dropping stuff and I began to see in it a great movie story."

Giles Martin, Grammy®-winning producer and son of legendary Beatles' producer George Martin, served as music producer on the film. 'As soon as I heard that Ron Howard was involved in this I thought what a great choice," he says. 'Here's a man who can tell a story and is also humble, a lot like The Beatles were. I think also having been a child actor who's been in the spotlight for a long time gives him a kind of empathy for what The Beatles' went through. To a certain degree he understands what it's like being in that bubble " plus he's a genuinely nice guy."

Howard says after he began researching Eight Day a Week, it became clear that his encounters with fans as a young actor paled by comparison to the pandemonium The Beatles experienced during their touring days. 'When -Happy Days' was at its absolute height, we were kind of like a boy band and we would occasionally make personal appearances. There would sometimes be thousands of people and rocking limos, and grabbing of clothes and all that stuff, and we used to say -Beatlemania!' and laugh about it. But when I started working on this film and realized the unimaginable chaos these guys experienced, I thought, what we did back in those days was hectic but we had no idea what Beatlemania was."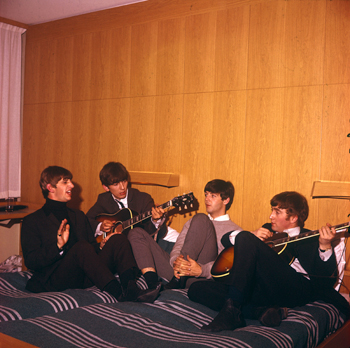 Producer Scott Pascucci explains further 'One of the fascinating aspects of the Beatles' story is the convergence of their explosive popularity with the sociological changes taking place in the world at the time. The post-war generation was discarding many of the constraints of their parents, and the band's passion, creativity and relentless energy was just what people needed. The world was ready for them, and the band brought people together in a way that had never happened before. Ron captures this in his film and encourages the viewer to see the band's ascent in this historical context."

Beyond the unparalleled fan adulation, Howard says the archival material revealed two other aspects of The Beatles' early days which he had only been vaguely aware of: the power of their live performances and their lightning-fast wit. 'We've all loved hearing their records over our sound systems, but there they are live and they're great!" says the director. 'And the energy of it is infectious. It just makes you smile. I think the next big surprise to me was just how funny they were. In interviews or just talking, they're smart and funny and very entertaining."

Most people today are familiar with The Beatles through their meticulously recorded and produced albums, which revolutionised rock music and whose influence is still evident today. But according to Giles Martin, whose father oversaw all of the band's original recordings, The Beatles' music never relied on studio gimmickry. 'My dad would be the first person to say that sometimes too much credit is given to aspects of their recordings," says Martin. 'When I worked on Cirque du Soleil's -Love' project I had the four-track tapes in front of me and the thing that struck me most was that the magic was all within themselves. It wasn't created in the studios. The most exciting thing about great artistry is that you can't explain it. And The Beatles just had it."

One of the goals of the film was to give generations who never got a chance to see The Beatles live a sense of what that experience was like. By the time Howard became involved, One Voice, One World had collected a substantial amount of fan concert footage, mostly shot on super 8. Then in 2014, the filmmakers leveraged the power of social media " including the Beatles Facebook page, with its more than 42 million 'likes" " to put out a call for additional material from the public. 'We were absolutely deluged," says Sinclair. 'We actually had to set up a special switchboard to handle the calls. We got a tremendous amount of footage, photographs and people's reminiscences."

A notable example came from a woman who, as a child, sat in the tenth row at San Francisco's Candlestick Park for the last concert The Beatles ever played. On her super 8 camera she captured the band walking out to the stage for the final time and finishing their last song ever on tour. 'She called us and said -I've got this film footage under my bed that I've not looked at it since 1966. Would you like to see it?'" says Sinclair. 'Well to collectors like us this is like somebody's calling and telling you that they've found a secret way to get to the moon. So we got the footage, transferred it, and it's in the film. Things like that add connective tissue to the storytelling that is just amazing and unique."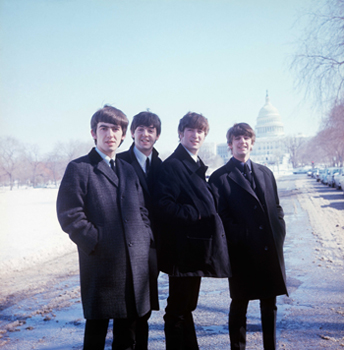 Fixing a Hole

Nick Ferrall, head of production for Sinclair's White Horse Pictures, brought in supervising producer Marc Ambrose and together they built a team of skilled archivists, researchers, assistant editors and film restorers who worked on the project for more than three years, much of that time with day and night crews alternating shifts. Getting the more than 2,000 film and photo elements " many shot over 50 years ago " to work together seamlessly on screen was a gargantuan task, according to Sinclair. 'It was a massive undertaking to find, edit and color-correct all of these assets, some of which are rare or previously unseen, in order to give the audience the sense of intimacy with the band that Ron Howard was seeking."

Not surprisingly, in many cases the concert footage submitted by amateurs was of poor sound quality, with the band's music often barely audible over the shrieking fans. Martin and the rest of the film's sound department used every available technology " and even developed some new ones " to get the best quality audio out of the less-than-ideal source material, without resorting to sampling or adding any new sounds. Academy Award-winning sound mixer Chris Jenkins (Mad Max: Fury Road) supervised the final sound mix.

The filmmakers' ability to improve both the video and audio portions of the recordings is one of the things that make the film such a breakthrough, according to writer and executive producer Mark Monroe. 'Because of the sophistication of the technology, now you can take this film that was shot years and years ago and actually bump it up and make it look unbelievable," says Monroe, whose writing credits include the Oscar-winning documentary The Cove. 'The famous problem with the early recordings of The Beatles live is the crowd noise " the cheering, the screaming " and that there's kind of a din over the whole thing. But technology has allowed us to isolate some of those high-end screams and take them down a bit so you hear the music better."

Adds Giles Martin: 'To be honest, I think we got to a level with the movie where it's probably better than if you were there. When it comes to technology I think in the tradition of The Beatles and the tradition of my father, we pushed every single boundary we could to achieve what we wanted to achieve."

Eight Days a Week features more than 150 separate music cues, necessitating a sophisticated rights clearance operation involving many music publishers and other licensors. Producer and Concord Bicycle Music CEO Scott Pascucci took the lead in this regard, forging agreements that allowed a vast range of music – not all of it by the Beatles – to fit into production's budget.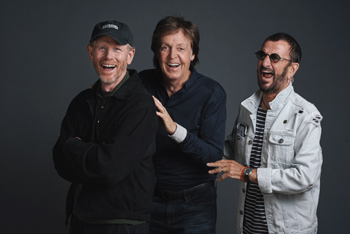 The film ends with an excerpt of the famed 1969 rooftop concert, when The Beatles performed for friends and colleagues on top of their office building at 3 Savile Row in Central London. Perhaps the first time the band could be heard clearly in concert since their Hamburg days, the affecting live performances of 'Don't Let Me Down" and 'I've Got a Feeling," were recut under the supervision of executive producer and Apple Corps executive Jonathan Clyde. The audio was remixed and remastered by Giles Martin.

As is the case with most documentaries, the filmmakers set out with a general idea of which aspects of the story the film would cover and then went where the material took them. 'We had these incredible assets: the footage, the songs, but also the vérité, the things that have been found underneath beds, in attics, in basements," says Monroe. 'One of the pieces that I think was vital in terms of how our direction changed was exploring outtakes from Albert and David Maysles' documentary What's Happening! The Beatles in the USA about The Beatles' first tour of America in 1964. Some of the footage they didn't use was very exciting. It really felt like you were with them. And that's one of the ways the film was shaped."

The behind-the-scenes footage shot by the award-winning Maysles brothers (Gimme Shelter, Grey Gardens), provides previously unseen glimpses of the four young musicians at a time when they still seem to be delighting in their explosive success, says editor and executive producer Paul Crowder. 'There's a great scene where they're just messing around in the hotel room and fighting over the camera," says Crowder, who previously collaborated with producer Sinclair and writer Monroe on the Formula One documentary 1 and the music documentary Amazing Journey: The Story of The Who. 'One of them spots that the camera is rolling and they're like, -me,' -no me,' -television me me!' And not only do you see like this little fun moment, but you get a slight insight into their personalities off the bat."

As another example, Crowder cites a scene in which George is excitedly telling someone on the phone about The Beatles' string of early No. 1 hits. 'Off camera you hear John Lennon say, -big head,' as if to say George is showing off. And again it's a really cool look at them that also tells you how much they keep each other on the ground. And I think that's why this film's so powerful and works so well, because it really does feel like we're with them for so much of their journey."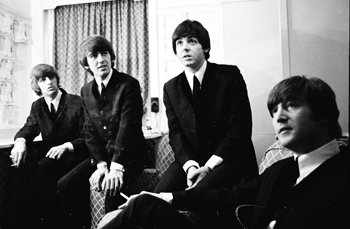 In the end, says Howard, the goal was to tell a story about The Beatles and their place in the world during a time of momentous social upheaval. 'In addition to giving people a great experience of what The Beatles were like live, I hope it also offers a reminder, in a really focused, story-driven way, of who they were before Beatlemania, what they became during the course of it, and how they grew and evolved artistically and personally, and their role in this monumental cultural shift."

I Want to Tell You

Eight Days a Week features original interviews with Paul McCartney and Ringo Starr, who offer candid, first-hand accounts of the heady and tumultuous days of The Beatles' touring years.

Although throughout his acclaimed career director Ron Howard has worked with some of the biggest names in Hollywood, he readily admits to being initially nervous about interviewing Paul and Ringo. 'I was anxious " I'm not a journalist " but the conversations really flowed," he says. 'I found the second interviews to be even more revealing, because at that point they had begun to see some of the sequences cut together and understood what I was driving at, which was a real sense of what it was like to be there. If I were making a narrative movie with actors playing the band members, my goal would be to try to put the audience there on the bus, on the plane, in the car, in the stadium with them. Even though I was using archival footage and interviews, I wanted to try to offer that same kind of intimate experience." Howard believes that from a distance of 50 years, Paul and Ringo were able to view their time in The Beatles with a fresh perspective. 'I think they have a renewed sense of appreciation for what the band was and what The Beatles meant," says the director. 'They've both achieved so much since then and there's so much water under the bridge, so much life having been lived and two friends lost, that I think they feel at liberty to look back in a very clear-eyed way with a great sense of satisfaction. And so they were digging hard to retrieve memories that I think for a long time they kind of just said, -well that was then … ,' and the movie benefits from that."

'I think the basic thing about The Beatles is that we were a great little band," says McCartney with trademark humility. 'So to see us performing as a band is a great thing, because without that, we couldn't have made the records. That was the foundation of everything we recorded."

The film also captures the camaraderie the band members enjoyed throughout their early days of traveling and playing together, says Starr. 'I've said it before: I'm an only child and suddenly I had three brothers. What was very difficult for a lot of people to understand was that we were these four guys going through the Beatle life together, which you'll see a lot in this film, and we had each other all the time. People can actually see that we were just this band of rockers who loved to do what we did."

In addition to Paul and Ringo, the filmmakers wanted to ensure that the voices of the two other Beatles, the late John Lennon and George Harrison, were also well represented in the film. 'One of the benefits of the fact that The Beatles were so recorded and so filmed," says Sinclair, 'is that although we've sadly lost two members of this incredible band, we are able to find enough interviews of them talking about the experiences Ron wanted to highlight. That was very important to the filmmakers, to the band, and to the band's families."

You Can't Do That

Among the film's most striking revelations is the stand the group took on racial segregation when it toured the American South in 1964. The Beatles' refusal to play any segregated venues forced the Gator Bowl in Jacksonville, Florida, to change its policy of segregated seating. Howard says he was unaware of the controversy before he began researching the film. 'I knew they were drawn into the anti-war movement at a certain point, but I had no idea about this, and as an American, to recognise that these guys from the outside were coming in and saying this is ridiculous at that time, was a very courageous thing. But for them it was all just about their sense of logic and their integrity."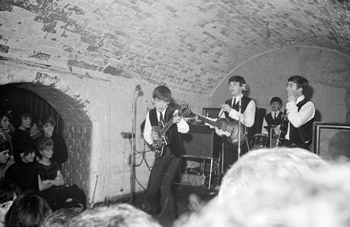 McCartney says he had forgotten about the incident until he watched early footage of the film. 'We weren't just four thick musicians," he observes. 'We were guys who looked at the world through, I think, pretty intelligent eyes. The idea that we might play to an audience where there were black people on one side and white people on the other was just like a joke to us. We just couldn't see it. So one thing that I love in the film is that it shows we actually put it in our contract: we will not play to a segregated audience. I must say I was very proud of that, seeing it again in the film."

The film features an interview with author, historian and college professor Kitty Oliver, who recounts her own experience attending the historic Gator Bowl concert. 'We were very fortunate to find Dr. Oliver, who grew up in Jacksonville, which was at the time very segregated," says Monroe. 'She went to The Beatles' concert at the stadium, which had held segregated concerts in the past. Having been a witness to that night, she could put us vividly in the moment of what life was like for her as an African-American teenager feeling both separation and then " in that night with that music " togetherness. She's a remarkable woman and a great communicator."

Another key voice in the film is journalist Larry Kane. As a 21-year-old reporter, he travelled with The Beatles to every stop on their 1964 and 1965 U.S. tours. Kane, who later went on to become a respected TV news anchor in Philadelphia for nearly 40 years, developed a close relationship with the band members.

'They came to like him and trust him and he was invited back to the set during the filming of Help!," says Sinclair. 'Larry gave us access to the hundreds of hours of interviews he recorded with them and he's an on-camera figure in our film because he was right there."

There are also reflections from Ed Freeman, one of the roadies from the band's final tour in 1966. 'Talk about a guy that was there with them every day for the 23 days of the tour," remarks Sinclair. 'He tells stories in the film about how chaotic it was and how they couldn't hear themselves and crowd control is becoming a big problem. Then there was the controversy about John Lennon's comments on Jesus. He lived through all of that so he was an incredible find as a witness, a smart guy with a very clear memory and a clear head."

Other interviewees include Richard Curtis, the acclaimed writer-director of Notting Hill and Love Actually, who discusses The Beatles' place in the tradition of British humor, and composer and musicologist Howard Goodall, who compares the Beatles' prodigious creative output with those of past musical geniuses including Mozart and Schubert.

The film also features several personal accounts from celebrities about their early memories of The Beatles. The filmmakers stumbled onto some of these stories almost by accident, says Howard. 'For instance, I was being interviewed on -The View' and backstage Whoopi Goldberg asked me what else I was doing, so I started talking about editing this documentary. She told me this very personal story about going to see The Beatles at Shea Stadium as a kid and what it meant to her. When it was over I said, -I'm so sorry I didn't have a camera going, can we get this on camera?' And she said sure. And that was something that none of us would have known to look for."

In all, the filmmakers interviewed more than 40 subjects for Eight Days a Week. While only some of these people's voices are included in the film, each of their contributions helped enrich the story it tells.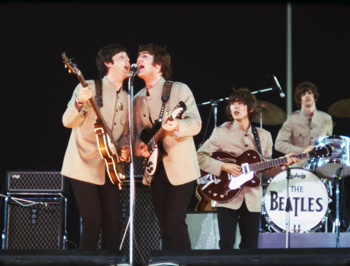 P.S. I Love You

Of course, as lifelong Beatles fans themselves, the filmmakers behind Eight Days a Week have their own memories and personal connections to the band, which made the project that much more special to work on.

Although Ron Howard never got to see The Beatles perform live, he has a vivid recollection of the band " and its influence on his early sartorial style " from a young age. 'I saw The Beatles on the -Ed Sullivan Show,' like most of America, in early February of 1964," says the filmmaker. 'My birthday is March 1 so for my 10th birthday I asked my parents for a Beatle wig and Beatle boots. They couldn't find the Beatle boots but I got a Beatle wig that I proudly wore throughout the whole party. Then, maybe three years later, I had an English teacher who began using Beatles lyrics to engage the class in understanding poetry. She was the first person I knew to elevate what they were doing to a level of classic significance."

Adds executive producer Michael Rosenberg: 'I started my career being one of the millions of Beatles' fans in America. To now be working alongside this exceptional creative team and playing my part in bringing this documentary about the band I have always admired to audiences around the world is a once-in-a-lifetime joy."

Producer Nigel Sinclair describes his involvement in the film as a dream come true. 'I was 14 when -Love Me Do' came out in 1964," he recalls. 'I lived in Scotland with my parents and I got two tickets to see The Beatles in Glasgow. I actually went to the show the same day they were interviewed on BBC's Radio Scotland, which appears in our film, and I kept my ticket all these years. It was the most extraordinary privilege to do this film."

One of the questions often asked about The Beatles' music is why it continues to resonate with audiences young and old, more than 50 years after it was made. Howard says he hopes the film will help unlock that mystery for people who may know the band's music, but weren't around when it was first released. 'They may have an understanding that there are these great songs and there was this great band but they have no idea of the circumstances under which this work was created," says the director. 'I don't subscribe to the theory that somebody was going to have to fill that void in our culture and it just happened to be The Beatles. They are exceptional artists " I would call them geniuses "and I think that's why it's endured this long and will continue to for a long, long time."


The Beatles: Eight Days a Week
Release Date: September 16th, 2016