The Artist
Cast: Jean Dujardin, Berenice Bejo, James Cromwell, Penelope Anne Miller, Malcolm McDowell, Missie Pyle, Beth Grant, Ed Lauter, Joel Murray, Ken Davitan, John Goodman
Director: Michel Hazanavicius
Genre: Comedy, Drama, Romnace
Rated: PG
Running Time: 100 minutes

Synopsis: The Artist is a heartfelt and entertaining valentine to classic American cinema. Set during the twilight of Hollywood's silent era and shot on location in Los Angeles, The Artist tells the story of a charismatic movie star unhappily confronting the new world of talking pictures. Mixing comedy, romance and melodrama, The Artist is itself an example of the form it celebrates: a black-and-white silent film that relies on images, actors and music to weave its singular spell.

Release Date: February 2, 2012


About the Production
Beginnings
A celebration of Hollywood moviemaking at its most magical, The Artist represents the fulfillment of a long-held dream for writer/director Michel Hazanavicius. "From the beginning of my career, I fantasised about making a silent film," he says. "I call it a fantasy because whenever I mentioned it, I'd only get an amused reaction - no one took this seriously."

But Michel Hazanavicius was entirely serious. The legendary filmmakers he most admired had begun their careers in silent cinema: Alfred Hitchcock, Fritz Lang, John Ford, Ernst Lubitsch, F.W. Murnau, and, in his early years as a screenwriter, Billy Wilder. Mainly, though, he was drawn to the format for creative reasons. "As a director, a silent film makes you face your responsibilities," he remarks.

"Everything is in the image, in the organisation of the signals you're sending to the audience. And it's an emotional cinema, it's sensorial; the fact that there is no text brings you back to a basic way of telling a story that only works on the feelings you have created. I thought it would be a magnificent challenge and that if I could manage it, it would be very rewarding."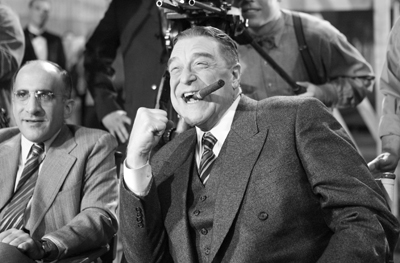 In 2006, Michel Hazanavicius scored a critical and commercial success with his second theatrical feature, the buoyant spy spoof OSS 117 - Cairo, Nest of Spies, starring Jean Dujardin and Bérénice Bejo. A sequel, OSS 117 - Lost in Rio, followed in 2009, cementing Michel Hazanavicius's reputation as a maker of artful and crowd-pleasing entertainment. Set in the late 50s and early 60s, respectively, the films had given Michel Hazanavicius a solid grounding in the logistics of period storytelling and cinematic tribute. With those back-to-back hits under his belt, the filmmaker decided to pursue his silent movie for his next project. His quest for a producer eventually led him to Thomas Langmann, whose credits include the award-winning Mesire gangster films and whose father was the Oscar®-winning filmmaker Claude Berri. Thomas Langmann immediately understood what Michel Hazanavicius wanted to do and why. "Thomas Langman is a producer like no other," asserts Michel Hazanavicius. "Not only did he take what I said seriously, I saw in his eyes that he believed in it. It was no longer a fantasy but a project. I could start working."

Says Thomas Langmann, "Michel Hazanavicius had such passion and understanding for the genre, and it was clear he had the creativity and drive to make a silent movie that would be vibrant, beautiful and relevant to the 21st Century. The whole idea was so daring, so enthralling, I didn't hesitate to pledge my support to Michel Hazanavicius."

As he began mulling story ideas, Michel Hazanavicius remembered an anecdote he'd heard from a family friend, screenwriter and playwright named Jean-Claude Grumberg. One day, Jean-Claude Grumberg pitched a producer an idea about a silent movie actor ruined by the arrival of talkies. "The producer had replied: 'That's wonderful, but the '20s -- that's too expensive. Couldn't it be set in the '50s?'"

Michel Hazanavicius recalls. "That's how this idea of a film set in the Hollywood of the late '20s and early '30s, in black and white, was formed. I don't make films to reproduce reality. What I love is to create a show and for people to enjoy it and be aware that's what it is, a show. In any case, you can't remake films exactly the way they were made 90 years ago. Audiences have been exposed to so much; they are sharper, quicker and a lot smarter. It's exciting to stimulate them."

He continues, "My starting point was a silent movie actor who doesn't want to hear anything about the talkies. I circled around this character, and then I got the idea of this young starlet and crossed destinies. Everything fell into place, including the themes - pride, fame, vanity, love."

Having never written a silent film, Michel Hazanavicius immersed himself in the genre to gain an understanding of what did and didn't work. "At the very beginning I watched movies from all over: America, Germany, Russia, France, England. I observed that as soon as the story starts to grow unclear - too many new developments, too many characters - you lose interest," he says. "Very soon I focused on the last four or five years of the silent era, especially in America. I think those were the best movies, and also the ones that aged best. The way the stories are told in American silents isn't so different than the way the stories are told today."

Along with watching films, the director read cinema histories as well as memoirs and biographies of silent era directors, producers and stars. He looked at photographs and other archival materials and listened to music of the period. He drew inspiration from the work and lives of such stars as Douglas Fairbanks, Joan Crawford, Gloria Swanson, John Gilbert and Greta Garbo. "Research is very important," he comments. "Not so much to be strictly realistic - that's not what I'm after -- but as a springboard for the imagination. The research fed the story, the context, the characters. The more research you have done, the more you can play with it all."

Unfolding during a four year period, 1927-1931, The Artist introduces its titular character, the action-adventure hero George Valentin, at the peak of his popularity. Fans flock to see George Valentin in films tailored to his dashing persona: exotic tales in which he triumphs over evil with wit, panache and the aid of his devoted sidekick, a Jack Russell terrier with impeccable timing. When sound arrives, George Valentin resists the upstart format (as did Chaplin, among others). He stakes his career on his belief that the talkies will remain a novelty, and sets out to prove that he can succeed on his own terms, as an artist of the silent cinema.

Though The Artist is set over 80 years ago, George Valentin's circumstances - and the powerful emotions attached - are as current as ever. Says Michel Hazanavicius, "To me, it's interesting to think of George Valentin's story in terms of a human being in a transition period. The world is always moving, and you might be looking in another direction. One day, the world says to you, 'you're part of the past.' It can happen in your own office, in your factory, in your relationship. It's a feeling any person can understand."

But before he begins his descent from Hollywood heights, Michel Hazanavicius meets the energetic young actress Peppy Miller. The famous actor and the effervescent unknown are irresistibly drawn to one another, but are kept apart by chance and circumstance, unable to give voice to their feelings. It's a classic scenario of star-crossed romance, intense yet chaste. "It's an old-fashioned vision of love, very pure, and it also holds with the form of silent movies," comments Michel Hazanavicius. "Some of the masterpieces of silent cinema are simple love stories. They inspired me to take the film in a direction that was lighter, more optimistic and joyful."

By the time he finished writing, Michel Hazanavicius felt confident that he had constructed a story that could sustain a silent format. Michel Hazanavicius believed The Artist - steeped in Hollywood cinema history, sensibility and technique - had to be shot in Los Angeles. And a Franco-American production in Los Angeles would mirror yet another aspect of silent movie history: many of the most renowned directors of the American silent cinema were native Europeans, including Charlie Chaplin, Erich von Stroheim, F.W. Murnau, Ernst Lubitsch, Josef von Sternberg and Victor Sjöström. To Michel Hazanavicius's delight, Thomas Langmann agreed the film belonged in Los Angeles. "If Thomas Langmann had said to me, 'Okay, we'll make the film but we'll shoot it in the Ukraine! - I would have gone to the Ukraine to shoot it," the filmmaker remarks. "Thomas Langmann did everything within his power to allow us to shoot The Artist where it should be shot, where the action took place."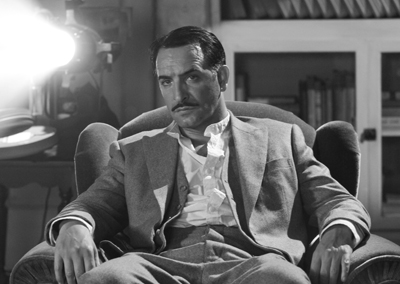 The Players
It was during the making of OSS 117 - Nest of Spies in 2005 that Michel Hazanavicius first mentioned his dream about making a silent movie to that film's stars, Jean Dujardin and Bérénice Bejo. "We thought it was wonderful madness; we never imagined such a project could ever be achieved," Berenice Bejo acknowledges.

When Michel Hazanavicius finally set to work on his silent movie story, he wrote the roles of George Valentin and Peppy Miller with Dujardin and Berenice Bejo in mind, certain they would excel in the format. "Jean Dujardin is as good in close-ups, with his facial expressions, as he is in long shots, with his body language," he comments. "Not all actors are good with both; Jean Dujardin is. He also has a timeless face that can easily be 'vintage.' Bérénice Bejo has that quality, too. She exudes freshness, positivity, goodness. I thought viewers would easily accept the idea that she would stand out from the crowd and become a big star in Hollywood. George Valentin and Peppy Miller are, in a way, Jean Dujardin and Bérénice Bejo fantasised by me!"

Jean Dujardin knew that the filmmaker had been researching the silent era and watching numerous films, but he had little idea of what to expect when Michel Hazanavicius gave him the screenplay for The Artist. "He handed it to me, slightly feverish: 'Read this, but don't laugh, do you think it's possible? What do you think of it? Would you be ready to do it?'" the actor remembers. "I read it in one sitting. My first thought was that it was really gutsy to have pursued his fantasy all the way. As was the case with each of Michel Hazanavicius's scripts, I thought it was really well written, with everything perfectly in place. Up until then, we'd made comedies where we had a lot of fun with characters and situations. The Artist had comedy and action, yet it was full of emotion. I was touched by all it said about cinema, its history and actors. I loved the premise, the meeting between George Valentin and Peppy Miller, the story of crossed destinies."

Jean Dujardin was moved by the transformation George Valentin undergoes as he grapples with the arrival of sound. "At first George Valentin doesn't ask himself a lot of questions. He's not arrogant, but he's sure of himself, confident in the charm that he assumes so easily," the actor remarks. "George Valentin is very showy, always acting. It's as if he was only an image, a face on a poster. Then, little by little, this confidence, this lightness starts to crack. He starts sliding towards the bottom. Luckily, there's an angel watching over him. At the end he is not a photo but a man - only a man. I liked this path."

Berenice Bejo is Michel Hazanavicius's partner and so had the closest view of the story's development and evolution. She reports that Peppy Miller began life as an incidental character, less central to the story than the dog who is George Vlaentin's best friend. Remembers Berenice Bejo, "Michel Hazanavicius told me, 'There will be a girl who will appear here and there. It will only be a small part but I'd really like you to do it.' I would joke, 'Even the dog has a bigger part than me!' Later, Michel Hazanavicius told me, 'it's strange when you write: you create characters, a story, but at a given point they become stronger than the hand that writes them.' The story of this silent movie star became a love story between him and this young extra. From version to version, Peppy Miller gradually became more and more important."

Berenice Bejo found much to admire in the fledgling actress. "I liked Peppy Miller right away; she stimulated me. When you do improv you're taught never to say no and take everything that is offered to you, accept it and play with it. Peppy Miller applies this rule throughout her life; she has fun with everything. Stars often have that quality. They're not where they are by coincidence: they have enormous self-confidence, they grab what's available to them, that's how they climb the ladder and become stars. But Peppy Miller's not in any way calculating. She's a good person, and doesn't forget where she came from. And she doesn't forget George Valentin."

The casting process moved to Los Angeles, where Michel Hazanavicius worked with casting agent Heidi Levitt. John Goodman was approached to play Al Zimmer, the studio chief who walks the line between coddling and corralling his contract stars. The actor liked the script, and a meeting was arranged at his agent's office. Remembers Michel Hazanavicius, "We talked for a few minutes. Then John Goodman said, 'Okay. I've never seen a movie like this and I want to be part of it.' I said, 'Okay' and that was it!"

Another key addition to the cast was James Cromwell, who plays Clifton, George's trusted and steadfast chauffer. A native of Los Angeles, James Cromwell is a child of the movie business; both parents, as well his grandmother and stepmother, worked in the industry. "My father arrived in Hollywood at the advent of the sound era and became a director in the 30s. My mother was DeMille's leading lady when he first moved into sound pictures," the actor remarks. Prior to meeting with Michel Hazanavicius, James Cromwell reviewed a presentation book the filmmaker had put together that included detailed storyboards. "The book was wonderful. Michel Hazanavicius had put a lot of thought into how exactly he would make this movie, and had a very clear vision. To me, the project was too good to pass up, and I'm certainly glad I didn't."

James Cromwell describes the chauffeur as a steady, reassuring presence in George's life. "Clifton is more than a chauffeur. He's really George's right-hand man and he cares for him a lot," says James Cromwell. At the same time, there is a formality to their relationship that is true to the period and true to Clifton's nature. "Clifton is old-school: gentlemanly, quiet, unobtrusive, sympathetic, handy and dependable."

Michel Hazanavicius also sought out actress Penelope Ann Miller, who portrayed silent movie actress Edna Purviance in the biopic Chaplin with Robert Downey Jr. In Chaplin, Penelope Ann Miller had played silent scenes recreating portions of Chaplin's work, and she was intrigued by the notion of acting in a feature-length silent. The period setting also held great appeal to the actress, a lifelong movie buff who is extremely knowledgeable about Hollywood cinema history. She gravitated to the part of Doris, George's increasingly disaffected wife. "I saw a lot of emotion to work with in Doris," says Penelope Ann Miller. "At the point where we come into the movie, there's clearly some tension in the marriage. Doris is a proud woman, upright, and it's very important to her to keep up the appearance of a stable marriage. They've grown apart, but deep down, Doris still loves George, and still wants him to adore her. I think she's suffering as a result of that."

The Artist was an unusual casting proposition in Los Angeles: a film without dialogue and only a handful of supporting roles, some quite small. Nonetheless, the film attracted an ensemble of accomplished, well-known actors whose faces will be very familiar to American moviegoers. Among them: Missi Pyle, who plays Constance, an actress who is none too pleased when George upstages her; Beth Grant, who plays Peppy's maid; Ed Lauter, who plays Peppy's butler; Ken Davitan, who plays a pawnbroker; Joel Murray, who plays a policeman; and Bitsie Tulloch, who plays George's co-star in a jungle adventure.

Veteran star Malcolm McDowell heard about the production and requested a meeting with Michel Hazanavicius. "I only had a very small part to offer him, almost an extra, and he was delighted!" marvels the filmmaker. "I really had tremendous good fortune with the entire cast."

Behind the Camera
The Artist is Michel Hazanavicius' third film with director of photography Guillaume Schiffman, who shot both OSS comedies. "With Guillaume Schiffman, it's more than just collaboration," Michel Hazanavicius remarks. "We've done films together, we've done ads together, and we know each other very well. As soon as I had the idea of The Artist, I talked to him about it. I gave him tons of films to watch and he did a lot of professional research about the techniques, cameras and lenses of the time. The idea was the same for all us, on both sides of the camera: do some research; nourish ourselves; understand the rules thoroughly in order to be able to forget them at the end."

Michel Hazanavicius had storyboarded the entire screenplay for The Artist, and during pre-production he and Guillaume Schiffman spent countless hours looking at these blueprints and discussing their options. In a black and white silent movie, lighting and color scale become critical tools of the storytelling, Guillame Schiffman points out. "Because there's no dialogue, light has to tell you something, the shadows have to tell you something. Michel Hazanavicius told me how he envisaged the story, how he was going to play with the blacks and whites, shadow and light, and a lot of grays. What is fascinating about Michel Hazanavicius is that he never loses sight of the story he wants to tell. You can't produce only beautiful images and lose the audience in the process.

The goal isn't to make the audience go 'Wow!' at each shot but to captivate them and, in this case, to move them."

Guillaume Schiffman describes the film as a rare creative opportunity. "A black and white movie; 1.33 format; 20s and 30s style: it's a dream come true for a cinematographer. What a pleasure to revisit this moment of cinema history, particularly today, when we are moving towards digital supremacy."

As pre-production got underway in Los Angeles, news of The Artist spread quickly in the film community. The black and white style and period setting offered interesting and unusual work for all the industry's trades: set design, costume design, hair and makeup, camera, electric, etc. Michel Hazanavicius was delighted to find himself surrounded by some of best and most experienced professionals in Los Angeles, all of them eager to contribute. "Everyone got very excited," the filmmaker smiles. "I think people appreciated the fact that this was a movie about their profession. People from the camera department offered to make special lenses, old projectors were pulled out of closets … it was very special."

One of the earliest hires was production designer Laurence Bennett, who has worked extensively with writer/director Paul Haggis on films including the Oscar-winning CRASH. Michel Hazanavicius notes that he had very specific elements he wanted to incorporate into the film's design, responsibilities that Laurence Bennett took on. "The Artist is about the fall of an actor, so I was always looking for locations with stairs. I wanted the actors to go down, and down, and down, sequence after sequence," says Michel Hazanavicius. "It's the same with mirrors; it's the idea of representation because George is an actor. There are always many George Valentins in the frame. Larry brought his own sensibility to the production design, while achieving all the very precise effects I asked him to create. He did a great job."

Michel Hazanavicius found another enthusiastic colleague in costume designer Mark Bridges, a lifelong fan of silent cinema who remembers seeing classics like Wings as a child. Over the course of his career, Bridges has outfitted films set in virtually every era of the 20th Century, making key contributions to the likes of Paul Thomas Anderson's early 20th Century epic There Will Be Blood and 70s-era drama Boogie Nights, and David O.

Russell's 80s boxing drama The Fighter. For The Artist, Mark Bridges happily immersed himself in research, studying silent films, old publicity stills and day-in-the-life candid photos to get a feel for the impeccable tailoring of the era and the elegant clothing that a movie star like George Valentin would have worn in his leisure time. For the character of Peppy Miller, he found inspiration in early Joan Crawford films, which capture her evolution from average chorus girl to dynamic jazz baby and finally to glamorous star. The silent backstage comedy Show People provided clues about what studio workers wore, as did a short film, 1925 MGM Studio Tour, made on the MGM lot.

Mark Bridges found both garments and ideas in Hollywood's professional costume shops, including The Collection at Western Costume, Motion Picture Costume Company, United American Costume Company, and Palace Costume Company. "Here in Hollywood, we're really set up to do a movie like The Artist. I could go to any of these costume shops I regularly use, go through 100 dresses or 50 dresses, and something would read to me 'Peppy,'" he says.

Milliners freshened and re-blocked hats that had spent decades in boxes. Veteran tailors made duplicate formal wear for Dujardin, and expert shoemakers copied vintage shoes. Some original garments were in fine condition and were used in the film, including a nightgown worn by Bejo and a tennis dress Mark Bridges found in a shop. But many vintage items were too fragile or dilapidated to be worn, and were instead copied and made in new fabrics. Sometimes old was incorporated into the new; when Bridges found a panel of Art Deco-styled vintage brocade, he used it to trim the dress Bejo wears during the scene when Peppy is being interviewed.

Michel Hazanavicius was impressed by Mark Bridge's talent and work ethic. "Mark Bridges knows everything, and I think he works maybe thirty hours a day!" the director enthuses. "He's very perceptive and he knows that small details can be very powerful. For example, there's an ellipse from '29 to '31, when George's decline accelerates. I asked Mark Bridges to adjust Jean's costume, and to make it a little bit larger so we have the feeling that his character has shrunken a little bit. And Mark Bridges did that, very subtly, with a lot of taste. His work throughout brought so much to the film."

Music is an indispensable part of silent film storytelling, serving variously as emphasis and counterpoint to the actions and emotions onscreen. For this critical element, Michel Hazanavicius turned to his longtime collaborator Ludovic Bource, who has scored all the director's films since his feature debut, 1998's Mes Amies. Like the other collaborators working on the film, Ludovic Bource did his homework, listening to scores by legendary Hollywood composers such as Max Steiner, Franz Waxman and Bernard Hermann; music written by Chaplin for his films; and the 19th Century composers whose work was the foundation of Steiner, et al. With that knowledge absorbed, Ludovic Bource was then free to write the score that would help tell the story of The Artist. He began working on the score before production began, coming up with melodies and themes based on the screenplay and storyboards. Once production began, Michel Hazanavicius sent him rushes on a regular basis. "I immersed myself in the rushes as they came in, and in the performances of Bérénice and Jean," Ludovic Bource remembers. "Watching these magnificent images as they arrived was very inspiring. The hardest thing, particularly with Jean's character George, was to respect the combination of comedy and emotion. As a result, rather than pastiche or spoof, we worked - a bit like Chaplin - along the lines of a light sophistication. And for the tap dance sequence, I wrote music that was essentially big band/jazz, which was a pleasure."

Work continued on the film's music during the editing process, when Ludovic Bource worked with Michel Hazanavicius to refine the music and match it to the final scenes. Ludovic Bource recorded the score in Brussels with the Flanders Philharmonic Orchestra. Says Ludovic Bource, "I recorded with 80 musicians: 50 string players, 4 French horns, 4 trombones, 5 percussionists who ran around all over the place, a harpist, 10 technicians, 5 orchestrators, 3 mixers - it was sublime. I was lucky enough to get marvelous people. They told me it had been a long time since they had felt this way while recording the music for a film. It was very moving and gratifying."

Quiet on the Set? Filming the Artist
The Artist began filming in Los Angeles at the start of October 2010, and shot for 35 days.

The stylistic approach of The Artist necessitated the use of some special equipment and techniques, in part to accommodate the 1.33 format. For Guillaume Schiffman, the effort was well worth it. "It's not by chance that cinema was invented with this format. It allows beautiful close-ups; it allows you to compose the picture differently, to have diagonals, to create perspectives. It was heaven! It is a bit more complicated to light because you have to place the projectors a lot higher. I understood why the studios of the time were 8 meters high. So I had to learn how to light with very tall sets, and more powerful sources. And I used a lot of old projectors from the '50s and '60s."

Paradoxically, perhaps, modern black and white film stock turned out to be too precise and sharp-looking for The Artist. As a result, Guillaume Schiffman used 500 ASA color film that could impart a grainer look, and used unusual filters to achieve the diffused whites and underplayed blacks.

The cast of The Artist found themselves in an unusual situation when the cameras began to roll. As James Cromwell describes it, "As an actor, you have to trust that something you can't see - namely your own face - is expressing all that you feel and need to communicate to tell the story." He notes that there were technical differences as well, because they were shooting at 22 frames per second versus the more common 24 frames per second. "You have to adjust to the slightly faster film speed by sustaining the moment a fraction longer to allow the audience to 'read' the intention and adjust their perception."

"For the actors, shooting this film was a very particular exercise," Michel Hazanavicius acknowledges. "For most actors, the voice is a great asset. Suddenly, they had to make do without it. Text is an essential aid to convey feelings, but here, everything had to be conveyed visually, with no help from words, breath, pauses, tone, all the variations actors normally use. I think that what they had to do was very difficult, even more so than usual."

As George Valentin, Jean Dujardin travelled an emotional landscape that went from light to dark and back again. "It was exciting to start with this character who is always showing off, in front of the camera, with his fans, with his wife, but then slides gradually into darker waters. At first I was nervous about those more serious scenes, for which I had no lines to hold on to. But I discovered that silent film was almost an advantage. You just have to think of the feeling for it to show. No lines come to pollute it. It doesn't take much - a gaze, an eyelash flutter - for the emotion to be vivid."

He trusted Michel Hazanavicius to give him the guidance he needed, without imposing too much. "Michel Hazanavicius puts you, with great sensitivity and without any wickedness, on the track of these darker feelings, painful emotions. He lets you go and find them yourself, though he has no hesitation in asking you to go even further. I appreciate very much that he lets get on with your work as an actor."

Making a silent did bring a major, very welcome advantage during filming: silence was not required on the set. The actors could speak their lines to one another, and Michel Hazanavicius could, and did, speak to them as they were filming. Says Berenice Bejo, "Without cutting, Michel Hazanavicius could give us indications to make us go from one emotion to another. It was interesting and rewarding, because it made you search for something else in the heat of the moment."

Michel Hazanavicius also played music on set, ranging from classic Hollywood scores and early themes composed by Mark Bource to individual songs he knew would resonate with the players. "It made our lives easier because it allowed us to overplay with the voice and not be embarrassed; it carried us wonderfully," says Berenice Bejo. "Certain pieces of music will carry you away immediately if you listen to them just before an emotional scene. Michel Hazanavicius always knew which music to play. For the scene where I get off the bus and arrive at the studio for an audition he played 'Day for Night.' It's so cheerful that I was immediately transported: it gave me wings!"

Jean Dujardin and Berenice Bejo may have had few lines to learn, but there was one thing they had to study: dance, specifically tap dance. Both spent months taking dance and tap lessons, and then spent a few weeks working on choreography together. When the day came to film the tap dance number that brings The Artist to its jubilant conclusion, they were ready. Remembers Jean Dujardin, "We knew that Michel would cut as little as possible, which made it more exciting. We had to remember our steps and at the same time maintain expression, grace and feeling. Of course there were two of us playing that scene: not only did we need some know-how, we also had to have a rapport. Luckily, that's easy with Bérénice Bejo. We were the first to say at the end of each take: 'Let's do it again!'"

Of all his co-stars, Jean Dujardin had the most scenes with Uggie, a Jack Russell terrier with several films to his credit. "Uggie can steal a scene, no problem. Frankly, it was very simple to work with him," Jean Dujardin confides. "I just had to listen to the trainers, who did their job very well. The only problem was keeping bits of sausage in my pocket all day long so he would obey. Some days I felt like I was just a great big sausage!"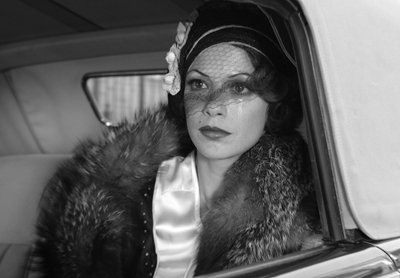 Locations were an invaluable element to creating mood on-set and onscreen. Throughout the shoot, cast and crew were stepping into Hollywood history. The theater sequences were shot at two historic downtown movie palaces: the Orpheum Theater, where the premiere sequence was shot; and the Los Angeles Theater, a destination at different times for George and Peppy. Exterior scenes were shot on the backlots of Warner Bros. and Paramount. The landmark Bradbury Building in downtown Los Angeles provided the most magnificent staircases in the city - perfect for a key scene when George and Peppy unexpectedly encounter one another.

George's impressive mansion was located in Fremont Place, a gated section of Hancock Park, the affluent neighborhood that was developed in the 1920s and favored by the city's business and civic elite. A second, smaller home in Fremont Place served as the post-stardom residence of Peppy Miller; in a stroke of serendipity, the filmmakers learned that pioneering silent star Mary Pickford had lived in the house in the years prior to her marriage to Douglas Fairbanks.

Though The Artist shot on a tight schedule with many long days, the atmosphere on the set was merry and convivial. Fittingly for a movie in which language plays a small role, it didn't much matter whether a person spoke French or English as their first language. Remembers Berenice Bejo, "Everybody had a sense that they were doing something special and they were proud to be part of it. We felt like a crew, not French/American, just a crew talking about movies, Hollywood, a profession that we love. It was very special."

Long before the phrase "interactive entertainment" was formed, silent movies thrived on the fact the viewers created their own narratives as the images unspooled. Comments Michel Hazanavicius, "There's no spoken language, so you are very close to the story, very close to the characters. As a viewer, you participate in the storytelling. It's hypnotic. And in a black and white movie -- and it's more obvious with the silent format - the actors are so beautiful. They speak but you don't hear them; it's like they are gods on Olympus. Watching a silent, I get the same feeling I had when I was a child looking at the movies in theaters. I wanted to share that experience with an audience today."