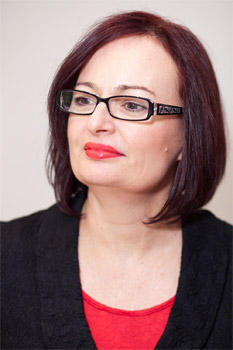 Michelle Boyd Ellura Interivew
Ellura™ is a new natural cranberry supplement designed to help promote and maintain urinary tract health.

The new clinically tested natural medicine from Flordis is now available for Australian women who know too well the uncomfortable symptoms of recurring cystitis.

Stocked in community pharmacies and select health food stores nationally, Ellura is a unique cranberry extract designed to help promote and maintain urinary tract health. Each capsule of Ellura contains a very specific and effective dosage amount - 36mg - of the key active ingredient called proanthocyanidins (PACs). By helping to maintain a clean urinary tract, Ellura may help to reduce the frequency of recurring cystitis in women.

Ellura RRP: $32.95
Flordis products are available in pharmacies and select health food stores nationally.
For further information please visit www.flordis.com.au



Interview with Michelle Boyd
Flordis clinical investigator, Michelle Boyd is a successful Naturopath, herbalist, educator at Endeavour College of Natural Health (Brisbane), author of various publications and a contributor to 'Clinical Naturopathy: An Evidence Based Guide to Practice".

Question: What is Ellura?

Michelle Boyd: Ellura™ is a natural medicine that helps maintain urinary tract health. This extract of cranberry (Vaccinium macrocarpon) has been shown to help prevent bacteria (E.coli) from sticking to urinary tract walls and effectively flush out the bacteria from the urinary tract. By helping to maintain a clean urinary tract, Ellura may help to reduce the frequency of recurrent cystitis (infection of the bladder) in women.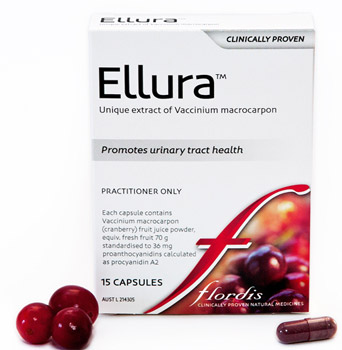 Question: Why did Flordis believe a natural supplement such as Ellura, was needed within the current market?

Michelle Boyd: With more than 30 per cent of women experiencing at least one episode in their lifetime of recurring cystitis, Ellura offers a large proportion of the Australian female population a new, clinically tested and natural formulation to help manage their urinary tract health.

There is a well-established global cranberry market however there is great variation in the quantity of cranberry juice in cranberry extracts as well as how they are produced. When it comes to cranberry extracts, clinical studies have shown it's a minimum dose of 36 mg of proanthocyanidins (PACs) that is required to prevent E. coli from sticking to the urinary tract wall.

Ellura is equivalent to 70 g of fresh cranberry juice powder, standardised to provide the recommended daily dosage of 36 mg* of PACs in each capsule.
*As measured by the DMAC method.


Question: How does this supplement promote and maintain urinary tract health?

Michelle Boyd: Each capsule of Ellura is equivalent to 70 g of fresh cranberry fruit juice powder and contains a very specific dosage – 36 mg of the key active ingredient called proanthocyanidins (PACs).

Ellura works by helping to prevent bacteria (E.coli) from adhering to the urinary tract wall and to effectively flush out the bacteria from the urinary tract.


Question: Why is it important that we have a healthy urinary tract?

Michelle Boyd: If a healthy urinary tract is not maintained, it can lead to more serious problems.


Question: What are some of the symptoms associated with an unhealthy urinary tract?

Michelle Boyd: Symptoms of recurring cystitis include:
Frequent need to urinate, even when bladder is not full
Pain or burning sensation on urination
Urine that appears cloudy or discoloured
Strong-smelling urine
Lower abdominal pain
Urinary incontinence


Question: What more can you tell us about the key active ingredient, proanthocyanidins?

Michelle Boyd: PACs are a type of phytonutrient found in the American cranberry (Vaccinium macrocarpon), that are responsible for helping prevent bacteria (E. coli) from sticking to the urinary tract wall. It is the recommended amount of PACs in Ellura (36 mg*) that make it effective in flushing out the E.coli bacteria from your urinary tract. PACs achieve this by -anti-adhesion' whereby the bacteria lose their ability to attach to the urinary tract walls and are naturally eliminated in the urine.
*As measured by the DMAC method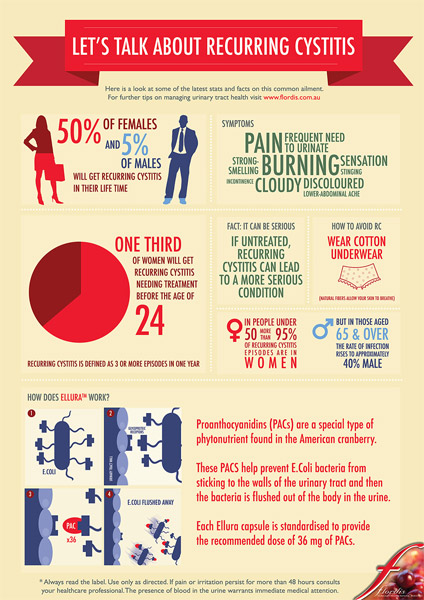 Question: How can Ellura help to reduce the frequency of recurring cystitis in women?

Michelle Boyd: This extract of cranberry (Vaccinium macrocarpon) has been shown to help prevent bacteria (E.coli) from sticking to urinary tract walls and effectively flush out the bacteria from the urinary tract to help promote urinary tract health. By helping to maintain a clean urinary tract, Ellura may help to reduce the frequency of recurrent cystitis (infection of the bladder) in women.


Question: As a naturopath and herbalist why do you believe natural supplement such as Ellura are important for women?

Michelle Boyd: Recurring cystitis is much more common in women than men - fifty percent of females and only five percent of males will get recurring cystitis in their life time. In my experience, most women prefer a natural medicine for maintaining their urinary tract health over the long term. It's important that consumers are aware of the differences between the cranberry extracts available on the market and are selecting products that have clinical evidence to show efficacy.


Question: What else can we be doing to promote a healthy urinary tract?

Michelle Boyd: Wear cotton underwear
Drink plenty of water every day to flush your urinary system
Wash yourself regularly
Don't use perfumed soaps, powders or deodorant around your genitals
Treat infections promptly


Question: Who should be taking Ellura?

Michelle Boyd: Ellura can be used by adults and children, as well as during pregnancy, and in combination with prescribed medicines. The dosage for adults and children over 12 years is one capsule daily and the recommended duration is two weeks (i.e. one pack).


Interview by Brooke Hunter