Following a nationwide call out that saw over 600 applicants, the stars of the Australian premiere of The Wedding Singer have been cast!

Overflowing with all the best '80s nostalgia, this raucous rom-com will see Kinky Boots' star, Teagan Wouters, pull up her leg warmers and tweak her side-pony, ready to belt out the role Drew Barrymore made famous.

Teagan graduated from the Victorian College of the Arts (Music Theatre) in 2006, and then went on to study full-time dance under the guidance of Robert Sturrock. Teagan performed the role of Nicola in the Australian stage production of Kinky Boots, for which she received a Helpmann Award nomination for Best Female Actor in a Supporting Role in a Musical. Prior to that, she played Tzeitel in Fiddler On The Roof for TML Enterprises, Lisa Houseman in the Australian Tour of Dirty Dancing – The Classic Story On Stage, and Rosanna in the Australian premiere production of Calvin Berger at the Lawler Studio. She has also performed as Babette in the Melbourne Zoo production of Disney's Beauty and the Beast, Sonia in They're Playing Our Song for HIT Productions, and starred as Wednesday Addams in The Addams Family Musical, directed by Jerry Zaks, which played at the Capitol Theatre in Sydney. Most recently in 2019, Teagan was part of the Australian tour of Peter Pan Goes Wrong. Other credits include Legally Blonde the Musical (GFO/Ambassador Theatre Group), Janet during the Melbourne season of The Rocky Horror Show at the Comedy Theatre, Francine in the original Sydney season of Jersey Boys (Dainty Group/ Dodger Theatricals/ Newtheatricals), Sharpay Evans in Disney's High School Musical – Live on Stage (Jacobsen/Really Useful), Laura in High Fidelity (Highway Run Productions) and Woman 1 in Songs For A New World (Joshua Robson Productions). For The Production Company, she has appeared in Follies and Dirty Rotten Scoundrels.
Interview with Teagan Wouters
Question: Can you tell us about your role in The Wedding Singer?

Teagan Wouters: I play Julia Sullivan. She is a hopeless romantic. A goofy people pleaser, who dreams about getting married and having the perfect life.


Question: How does it feel to play Julia, a role made famous by Drew Barrymore?

Teagan Wouters: It is always a challenge when a movie is so well known to then translate that onto a stage without creating a direct copy. It's about finding the correct balance of giving the audience what they know and expect to see and also creating something new, and it can sometimes feel like a blessing and a curse when you get to take on such an iconic role like Julia. Drew Barrymore is so gorgeous in the movie, and I'm honoured to be able to take on the role. Luckily for me, the Julia character in the stage show has been fleshed out, which means I really get to create my own version of her which has been really fun and exciting to find. She has a lovely little journey of finding her voice and eventually trusting her gut which is rewarding to play.


Question: What can you tell us about the casting progress?

Teagan Wouters: Due to Covid, casting for musicals has become a little different! Self-tapes have been the go-to for first round auditions. There were apparently around 600 people who put a tape down for The Wedding Singer Musical. The creatives then invited those who they thought suited the show to face to face auditions. On that day I spent a couple of hours in and out of the audition room being matched with different people who were auditioning for the other roles. It was a really fun, relaxed process and it felt so great to be back in a room auditioning after a year off! And then the very next day I received an offer for the role.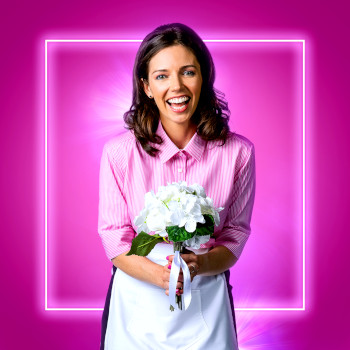 Question: What is your favourite part of the musical?

Teagan Wouters: The music as a whole is by far my favourite part. It's an original contemporary music theatre score with music by Matthew Sklar and lyrics by Chad Beguelin, and has a definite nod to the 80s, with power ballads, pop, rap and everything in between. It is a joy to sing. And seeing it come to life with the choreography and staging with our crazy talented cast has left me speechless on numerous occasions! I also love that in the story, amongst all the comedy and silly moments, we get to see the genuine connection between two best friends, who finally fall in love and find what they had been looking for all along.


Question: What moment in your career stands out the most?

Teagan Wouters: So many! It's hard to pick one. I think the moment I was cast as Wednesday Addams in The Addams Family Musical in 2012 was a definite highlight for me. I had worked so hard on the audition and I had a really good feeling about it from the very first audition because the material was completely in my wheelhouse. Being cast in the role and then being able to work with the incredible creative team and cast was really something else. I feel so lucky to have had that experience.


Question: What or who was your inspiration to go into the musical industry?

Teagan Wouters: I am your typical musical theatre actress that started dancing at 3 and continued performing right through my school years. I was also really fortunate that my parents took me to the theatre quite regularly. I absolutely loved the experience of sitting in the dark, feeling the live energy of the performers radiating off the stage and the music thumping all the way into my bones. In my final year of high school, I saw the professional production of We Will Rock You in Melbourne and something just clicked within me. I was so inspired and craved being on stage creating that feeling for others, but I didn't quite know how to make it happen as a career. My school didn't exactly encourage acting as a career choice, so I originally decided to take on a nursing degree but soon after, a dance mentor encouraged me to audition for the Victorian College of the Arts Music Theatre course and that's what led me to where I am today.


Question: What's a typical day like?

Teagan Wouters: At the moment, we are in rehearsals. We work from 10am to 6pm, Monday to Saturday. I get up around 7am, meditate and write in my journal, then either go to a Pilates class or work out at home before making my way into the studio for rehearsals. When I get home in the evening, I consolidate everything we had worked on that day, have dinner, prepare my food for the next day and then I take a moment to completely switch off and chill out, otherwise I find I can be completely consumed in the show which after 14 years in the industry I know is not a particularly healthy way to live.


Question: What has been your favourite part of your career?

Teagan Wouters: Again, so many favourite parts. I feel so lucky to have had the career that I have had. I have honestly really enjoyed every single job I have done. One of my favourite shows to be a part of was Legally Blonde the musical. We really connected as a company and had so much fun as a cast on and off stage. And Kinky Boots will always have a special place in my heart because of its important message of acceptance. And I also think, that at this point in my life, after the devastating year we have had with Covid and the live performance industry being shut down around the world, being a part of The Wedding Singer and bringing shows back to audiences around Australia feels really, really special. And I am so very grateful to be working again.


Question: What's next, for you?

Teagan Wouters: We tour The Wedding Singer around Australia for the next few months, and after that I have a couple of projects in the works that had to be postponed in 2020, so this year is shaping up to be pretty exciting!


Interview by Gwen van Montfort