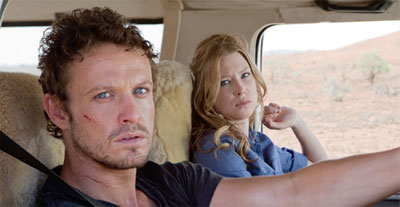 Swerve
Cast: Jason Clarke, Emma Booth, David Lyons, Travis McMahon, Vince Colosimo
Director: Craig Lahiff
Genre: Thriller
Rated: M
Running Time: 88 minutes

Synopsis: Colin (David Lyons), a drifter driving across the desert on his way to a job interview, takes a short cut and comes across a fatal road accident. One driver, Jina (Emma Booth), is shaken but the other is very dead, with a briefcase of money by his side - money from a drug deal gone wrong.

Colin drives the intriguing Jina home, then heads into the nearest town to do the right thing and hand the money over to the local cop, Frank (Jason Clarke). Suspicious after visiting the crash site with Colin, Frank invites him home, determined to find out more about the money's owner. Colin is startled to see Jina there and realizes that she's married to Frank and intent on leaving him.

When the drug money doesn't turn up, trouble-shooter Charlie (Travis McMahon) arrives in town to clean up the mess. Leaving a trail of bodies in his wake, he tracks Frank to his house and knocks him unconscious, but when he can't find the money, he sets off after Jina. Frank recovers just as Jina and Colin arrive on the scene, and not having seen his assailant, jealously fuels him to attack Colin.

In the ensuing chaos, Frank is knocked out, seemingly lifeless. Jina convinces Colin that self-defense is no defense at all when a cop is involved, and reluctantly he helps her dump the body down a disused mineshaft, then returns to the house to clean up the evidence.

Jina begs Colin to help her flee, but he wants no part and is about to drive off when he finds his car keys are missing. The only place they can be is down the mineshaft where they dumped Frank's body. The two go back to the mine and discover Frank's body has gone. With no car and an enraged cop after him for murder, Colin has no choice but to get out of town with Jina.

Frank, with the aid of police, sets up roadblocks, forcing Colin and Jina to flee on the overnight train for the city. But Colin doesn't know that Jina now has the money… and both Charlie and Frank are on board the train.

Release Date: June, 2012



Biographies
Craig Lahiff
Director

After graduating with a Masters in Film at Flinders University, Craig has worked as a director and producer on seven films and TV movies as well as a number of documentaries. These include the Australia/UK co-production Black and White with Robert Carlyle, Charles Dance and Kerry Fox; and Heaven's Burningstarring Russell Crowe. Both films were released locally and internationally and screened extensively at prestigious film festivals. Craig has been nominated for Best Director at the Australian Film Institute Awards.

Jason Clarke
Frank

A graduate of the prestigious Victorian College of the Arts, Jason has extensive credits in theatre, film and television and is currently in demand in the United States. His lead role in Swerve is a welcome return to Australian screens. Jason will soon appear in a trio of highly anticipated projects: BazLuhrmann's The Great Gatsby, John Hillcoat's Lawless and Kathryn Bigelow's Zero Dark Thirty. Some of his other recent film credits include Texas Killing Fields, Public Enemies and Trust. Jason recently won the lead role in the US dramatic series The Chicago Code last year and had success in the acclaimed series Brotherhood which ran for three seasons from 2006-2008. Onstage, he has performed in Hamlet and The Tempest and has directed a musical version of A Clockwork Orange. On television, Jason worked alongside Geoffrey Rush as a series regular on Mercury. Jason's other film credits include: Park Street, Praise, Better Than Sex and Rabbit Proof Fence.

Emma Booth
Jina

Emma Booth is one of Australia's leading young actors in film and television. In 2012, in addition to Swerve, Emma will appear in Taylor Hackford's feature Parker, with Jason Statham and Jennifer Lopez and the ABC telemovie Jack Irish: Bad Debts with Guy Pearce. Emma's feature credits include starring in Joel Schumacher's Blood Creek, Karl Golden's independent feature Pelican Blood and Scott Hicks' The Boys Are Back opposite Clive Owen, which premiered at the 2009 Toronto International Film Festival. Emma also appeared as 'Germaine Greer' in the Working Title feature, Hippie Hippie Shake opposite Cillian Murphy and Sienna Miller. Emma made her feature film debut in Cherie Nowlan'sClubland aka Introducing The Dwights, which premiered at the 2007 Sundance Film Festival. Her performance in the film earned her the Best Supporting Actress Award at the 2007 Australian Film Institute Awards and the Film Critics Circle of Australia Awards, and the Best Australian Newcomer at the 2008 Movie Extra Filmink Awards. In 2011, Emma starred as 'Rose Pickles' in the acclaimed mini-series realisation of Tim Winton's Cloudstreet, directed by Matthew Saville and produced by Screentime for Showtime Australia. Emma's other television credits include Underbelly: The Golden Mile, Rowan Woods' ABC miniseries Three Acts Of Murder,The Shark Net, Small Claims, The Circuit and All Saints.

David Lyons
Colin

David Lyons has built a diverse list of credits since graduating from Australia's most prestigious drama school, NIDA. David was just recently announced as part of the cast of JJ Abrams' new NBC drama pilot, and has completed shooting the NBC/Universal series The Cape in the lead role of superhero Vincent Faraday. He also had a lead role in the NBC/Universal pilot Day One as well as a high impact cameo opposite Julia Roberts in the recent Columbia Pictures film Eat, Pray, Love. In 2009, David played the charismatic Dr. Simon Brenner in season 15 of the long-running NBC series ER. He also starred as ET Holiday in the Nine Network's action series Sea Patrol and as convicted murderer Gordon Wood in the Network Ten telemovieA Model Daughter: The Killing of Caroline Byrne. Other feature film credits include the 2008 crime thriller Cactus and Jamie Blank's 2007 horror film Storm Warning. David has also performed on stage for both The Sydney Theatre Company in A Hard God and the Melbourne Theatre Company in Cyrano De Bergerac. He will next appear in Save Your Legs.

Travis McMahon
Charlie

Travis McMahon studied Creative Arts at the University of Woollongong before going to the acclaimed drama school, NIDA. Travis has previously co-starred with David Lyons in the crime thriller Cactus (2008), and his other film credits include I Love You Too, Roadman, Birthday and Kokoda. Travis' television roles include shows such as City Homocide, Last Man Standing, Through My Eyes, All Saints and Changi, and he has worked on the series' Stingers, Blue Heelers, Good Guys Bad Guys and Halifax f.p. Travis has extensive theatre credits, working in productions with theatre directors such as Simon Phillips (Don's Party, Trelawny of the Wells), Wayne Harrison (Alone It Stands), Neil Armfield (Cloudstreet) and Robyn Nevin (Kid Stakes). Travis works with the Sydney Theatre Company, Company B and the Melbourne Theatre Company. He will next be seen as Paul Hogan in the TV production of Howzat! The Kerry Packer Story and can currently be seen on Miss Fisher's Murder Mysteries.

Vince Colosimo
Sam

Vince Colosimo is one of Australia's most recognized and celebrated leading actors. With a Best Supporting Actor AFI Award in 2002 for his performance in the highly successful feature film Lantana and a featured role in the internationally acclaimed Chopper, he attracted attention from the US earning guest starring roles in the top rating US series Without A Trace and the final series of The Practice. He appeared recently in Face to Face, directed by Michael Rymer, and was reunited with Nick Giannopolous in the sequel to The Wogboyin Kings of Mykonos. Vince first came to the public's attention in the feature films Street Hero and Moving Out, which earned him an Australian Film Institute Award nomination for Best Actor and a Sydney Film Critics Circle Award for Best New Talent. He won the Empire Award for Best Australian Actor for his role in Walking on Water in 2003 and has also appeared in the features The Hard Word, The Nugget, Take Away, Opal Dream and the 2006 Project Greenlight feature, Solo. Vince has also worked extensively in television, recently most notably as Alphonse Gangitano in Underbelly for which he received AFI and Logie nominations. Vince will next be seen in BazLuhrmann's The Great Gatsby.