CSR Sugar - the Sugar Experts - has launched an exciting new product range - CSR Jam and Marmalade Setting Sugars. Thanks to this unique range, creating luscious homemade jams and marmalades has never been quicker or easier!
While traditional jam and marmalade making processes have relied on trial and error in finding the correct ratio and combination of ingredients, CSR Jam and Marmalade Setting Sugars eliminates all the guesswork, and helps to reduce cooking times and steps.
The secret to CSR Jam and Marmalade Setting Sugars is the precise blend of natural Australian cane sugar, apple pectin, citric acid and canola oil to ensure your jam achieves a perfect set every time. All you need to do is add fruit.
CSR Jam Setting Sugar: ideal for fruits low in pectin - such as strawberries, raspberries, apricots, blackberries, blueberries, pear, peaches, figs and rhubarbRRP - $3.36
Ingredient
Strawberries (hulled) 1 kg
CSR Jam Setting Sugar 1 kg
A Knob of Butter
Method:


1. Crush strawberries coarsely with a potato masher or blender.
2. Place strawberries and sugar in a large, heavy based 6 litre pot.
3. Heat mixture over a low heat until sugar is dissolved. Do not allow to boil.
4. Add a knob of butter then increase heat and bring to a full rolling boil (a boil that cannot be stirred down).
5. Boil for 4 minutes only. Remove from heat, skim off any foam and bottle in pre-sterilised jars immediately.
To test for a set: after boiling, remove pot from heat, and put a small amount of the jam on a cold plate. Allow to cool and then push a finger gently through this. If the surface wrinkles, the setting point has been reached. If not, return to boil for and retest at 2 min intervals
Makes approximately 1.5kg of jam.
Jam Flavour Substitutes
Apricot Jam
Apricots, cleaned or drained 1 kg
CSR Jam Setting Sugar 1 kg
Knob of Butter
Fresh Pear Jam
Pears, peeled and cored 1 kg
CSR Jam Setting Sugar 1 kg
A Knob of Butter
Apple and Raspberry Jam

Raspberries (hulled) 500 g
Apples, peeled and cored 500g
CSR Jam Setting Sugar 1 kg
A Knob of Butter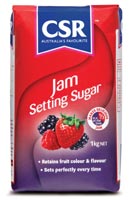 Visit CSR Jam and Marmalade Setting Sugar's website for helpful tips, information and recipes to make your perfect pot of jam or marmalade -
www.csrjamsugars.com.au