Warm up for Winter with Vaalia
As the days get shorter and the air gets crisper, there's nothing better than tucking into a warming winter meal.
Vaalia has a range of warming winter recipe ideas, which will keep you hale and hearty.
Add antioxidant rich blueberries and Vaalia Low Fat Luscious Berry Yoghurt to your steaming porridge - featuring three active probiotic cultures including Lactobacillus GG (LGG), plus Acidophilus and Bifidus, your porridge will pack a powerful, healthy punch.
Or why not whip up a batch of Vaalia Dried Fruit 'n Oat Muffins - they are as good for you as they taste!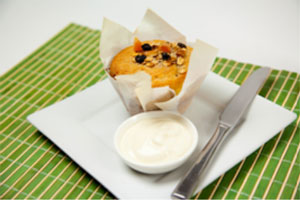 Vaalia Dried Fruit 'n Oat Muffin (Low fat)
Ingredients:
150g (1 cup) self-raising flour
pinch of salt
110g (1/2 cup) caster sugar
1 tsp vanilla extract
1 medium free range egg (60g)
125ml (1/2 cup) Vaalia Low Fat French Vanilla Yoghurt
50g melted butter
30g of dried apricots (chopped)
30g of sultanas
30g of oats
Makes 6 large muffins
Method:
1. Preheat oven to 180 degrees Celsius. To make paper cases, cut 6 x 20cm square pieces of baking paper and line muffin pan.
2. Mix the flour, salt and caster sugar together. Add vanilla extract, egg, Vaalia Low Fat French Vanilla Yoghurt and butter, beat until smooth.
3. Add approximately ¾ of the diced apricots, sultanas and oats to the muffin mixture and fold through. Spoon the mix into the muffin paper cases and sprinkle remaining apricot, sultanas and oat mixture on top of each muffin. Bake in the preheated oven for 15-20 minutes, or until risen and golden. Allow to cool slightly before serving.
4. Serve muffins warm or cold with Vaalia Low Fat French Vanilla Yoghurt on the side.
Variations
If you prefer your muffins less sweet, replace Vaalia Low Fat French Vanilla Yoghurt with Vaalia Low Fat Natural Yoghurt. Dried fruit and oats can be replaced with a similar quantity (90g) of muesli or berries of your choice.
Vaalia Dried Fruit 'n Oat Muffin (Serves 6) - Nutritional analysis per serve: 1250kJ (298 Calories); 5.7g Protein; 9.0g Total Fat (5.2g Saturated Fat); 48.5g Carbohydrate (27.5g Sugar); 69mg Calcium (9% RDI).
Did you know...?


While the probiotics in Vaalia Yoghurt don't survive baking in the oven, adding Vaalia Yoghurt to this muffin base gives them a great light texture and keeps the total fat content below 10g per serve. Using Vaalia Yoghurt as a low fat cooking ingredient also provides all the other great nutritional benefits of dairy foods such as protein, B group vitamins and calcium.
Because probiotics are living organisms, they cannot survive the cooking process, but a side serve of Vaalia straight from the fridge will do the trick!
Vaalia's winter dinner suggestion is warming on a cold night, great tasting and low in fat: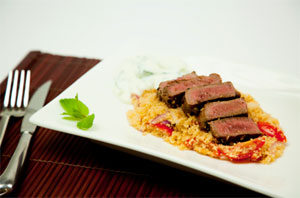 Vaalia Marinated Lamb Steaks with Cous Cous and Tzatziki (Low fat)
Ingredients:
4 lamb steaks
3 tbsp Worcestershire sauce
1 tbsp lemon pepper*
1 tbsp bush spices*
juice of 1 lemon
250g Vaalia Low Fat Natural Yoghurt
1 Lebanese cucumber
1 spring onion
1 tsp of minced garlic
1 tbsp olive oil
10 cherry tomatoes
1/2 red onion
200g (1 cup) cous cous
* Available in the herb and spice aisle of supermarkets
Serves 4
Method:
1. Marinate the lamb steaks in worcestershire sauce, lemon pepper, bush spices and lemon juice. Leave aside for an hour.
2. To prepare the tzatziki, chop cucumber into small cubes, drain well and mix with 250g of Vaalia Low Fat Natural Yoghurt. Add in chopped spring onion, minced garlic, salt and pepper to taste. Set aside.
3. Cook the lamb steaks in one tablespoon of olive oil until they are medium rare (or cooked to your liking) and finely slice them into thin pieces. These can be served warm or cold.
4. Prepare one cup of cous cous according to the instructions on pack. Chop up half a red onion and the cherry tomatoes and mix in with the cous cous.
5. Spoon the cous cous onto plates and gently place the sliced strips of lamb steak on top. Place some tzatziki on the side of each plate, or as preferred.
Cook's Tip:
Tzatziki is a tasty, quick, easy dip to prepare, ideal for hassle free entertaining! Tzatziki goes well with chicken, salads and seafood.
Vaalia Marinated Lamb Steak with Cous Cous and Tzatziki (Serves 4) - Nutritional analysis per serve: 1736kJ (413 Calories); 30.5g Protein; 9.9g Total Fat (3.6g Saturated Fat); 48.8g Carbohydrate (10.2g Sugar); 188mg Calcium (23% RDI).
For more Vaalia serving suggestions and delicious recipes to inspire visit
www.vaalia.com.au