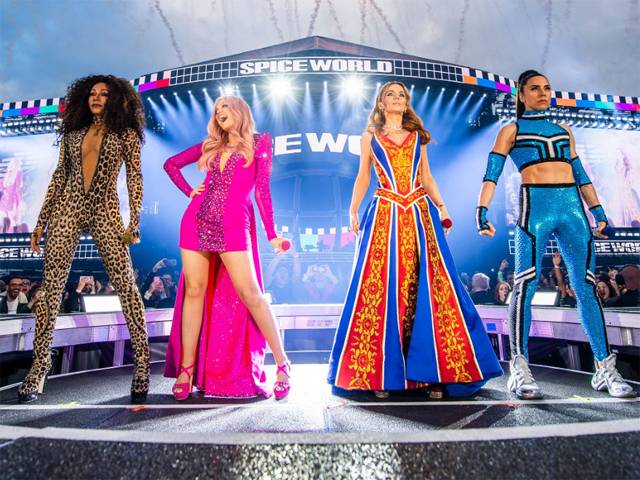 Swarovski has collaborated with award-winning costume designer Gabriella Slade to add sparkle to the Spice Girls' Spice World Stadium Tour (May 24 – June 15). One million Swarovski crystals illuminate the stage as the iconic pop group bring back Girl Power in cocktail dresses.

Costume Designer Gabriella Slade worked closely with the Spice Girls to create a contemporary spin on their trademark style, drawing on the DNA of their 90s heyday to create costumes for their sold out UK and Ireland stadium tour.

Gabi devised costumes unique for every act in the show, using Swarovski crystals and pearls to add sparkle and a sense of fun to over 100 costumes for the Spice Girls and their backing dancers.

The show opens with a reimagining of the Spice Girls' most iconic looks. Gabi captures the essence of each Spice Girl, amplifying and elevating their signature style with thousands of Swarovski crystals: a shimmering pink mini dress for Baby (Emma Bunton); a sparkling Union Jack gown for Ginger (Geri Halliwell); a glittering animal-print jumpsuit for Scary (Melanie Brown); and a shining Olympian outfit for Sporty (Melanie Chisholm).

The exclusive looks, including shoes and bespoke accessories, were hand-embellished with individual Swarovski crystals and pearls by a team of artisans.

Each costume throughout the show is bold and empowering, celebrating the Girl Power at the heart of the band.

Nadja Swarovski, Member of the Swarovski Executive Board, commented: "We are delighted to collaborate with Gabriella Slade to celebrate the amazing, empowering and iconic spirit of Girl Power for the 'Spice World' tour. With one million Swarovski crystals hand applied to over 100 shimmering costumes for the Spice Girls and their dancers, we are thrilled to help magnify the magic and dazzle of this stellar show."

Gabriella Slade commented: "It's an absolute dream job to design for a tour like this, and to be working with such brilliant women as the Spice Girls. The use of Swarovski crystals is really important and integral in designing for a pop show – it really elevates the costumes. You can always tell it's a Swarovski crystal costume, even from the back of the stadium!"

For over a century, Swarovski crystals have held center stage in theatre, film, and music, magnifying prestigious talents and commanding audience attention. Swarovski is committed to supporting musical talent, from the world's top musicians to a new generation of artists. Swarovski has recently added sparkle to stage costumes for Lady Gaga, Beyoncé and Jennifer Lopez.