How Sophie Falkiner Gives Her Kids A 'Helping Hand' With Their Studies
Australian Almonds launch campaign to support students heading back to school

With thousands of Aussie teenagers returning to school this January, parents across the country are considering how best to set their kids up for success.

Television presenter and mum of two Sophie Falkiner is a passionate advocate for leading a healthy lifestyle, and has gotten behind the Australian Almonds Helping Handfuls campaign to encourage other parents to make healthy choices for their kids as they head back to school. Falkiner hopes to pass on her healthy habits to her 13-year-old daughter Isabella as she enters year eight, and knows that including a 'helpful handful' of almonds into her study routine can be a great way to support her daughter through the busy school year. "I can't believe my little girl has grown up so quickly!" said Falkiner. "While she's developing into an adult and expanding her mind more than ever, I know how important it is to provide nutritious options for my daughter."

Always having almonds in the pantry means they're in sight when she's searching for a quick after school snack that'll keep her satisfied until dinner, and help keep her brain focused on homework".

Dietitians and Nutritionists Anna Debenham and Alexandra Parker of The Biting Truth are also supporting the campaign, hoping to empower parents to help their kids make nutritious choices as they head back to school. "Healthy habits are made at home," said Debenham "As kids get older and they begin to prepare their own snacks and simple meals, it's important that they've got the knowledge and tools to make nutritious choices on their own. Teaching your kids some simple, nourishing recipes or snack options will get them more invested in what they put into their bodies and give them a sense of responsibility for their own nutrition".

"Foods rich in protein, healthy unsaturated fats and vitamin E, such as almonds, are perfect for simple snacking between meals and are great to help kids and teenagers with increased focus for prolonged periods for effective learning."

Australian Almonds has also partnered with the AFL Players' Association to highlight how young people can incorporate a helping handful of almonds into their daily snacking to best fuel their bodies for physical and mental endurance.

A convenient and nourishing after-school snack of almonds, keeps kids full while providing important nutrients for focus and energy imperative for effective study. With the Australian Dietary Guidelines recommending a 30g serving of nuts every day, almonds make a great addition to Aussie teens' diets.

To learn more about the Australian Almonds Helping Handfuls campaign and for healthy snacking and recipe inspiration and tips, visit www.australianalmonds.com.au. The Biting Truth has also developed additional nutrition tips and healthy study-aiding recipes for children and teenagers that are available at www.thebitingtruth.com and on their Instagram, @thebitingtruth.


Interview with Sophie Falkiner
Question: Can you tell us about the Australian Almonds Helping Handful campaign?

Sophie Falkiner: The Helping Handfuls campaign is all about helping parents understand how important a healthy diet is for kids as they head back to school, and showing them how nutritious snacks like almonds can be one of several 'helping handfuls' that help their children with the studies ahead. As kids go through school pressure can build from juggling homework and after school commitments like sport, the campaign is all about encouraging students to have snacks on hand to stay focused and make healthy choices during these times. As a mum of two I'm all too aware of how busy this part of the year is – so I was more than happy to work with the Australian Almonds team to help share some tips to make this time a little easier for parents!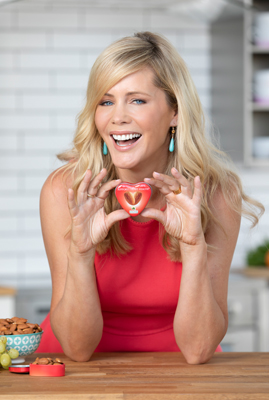 Question: What message do you hope to spread with this campaign?

Sophie Falkiner: Having a healthy lifestyle has always been important to me, I actually studied nutrition when I was younger and I always make the effort to lead a healthy and balanced life. I've tried to pass these habits onto my son Jack and daughter Isabella so that they can develop a healthy mindset and healthy habits early on so that they're invested in what they're putting in their bodies from an early age.

I'd love to help empower parents to make great, nutritious choices for their kid's snacks– especially when the after-school hunger strikes - and almonds are the perfect option!


Question: How do almonds give our kids a helping hand, when returning to school?

Sophie Falkiner: Returning to school can be a hard time for kids and getting them (and yourself!) back into a routine can be tricky! Almonds are a great healthy after school snack because they are rich in protein, healthy unsaturated fats and vitamin E , which helps to keep kids and teenagers focused when they're studying. They're also a really simple snack for kids to quickly grab a handful of, so you don't have to worry if they're not confident in the kitchen yet.


Question: When and how many almonds do you give your kids as a snack?

Sophie Falkiner: The 'helping handfuls' message is a great way to keep the right serving size in mind. My kids love to snack on a handful of almonds after school, which is typically around 30g.


Question: What other snacks do you often have with your children, after school?

Sophie Falkiner: If it's not our "go to" almond snack it's usually a piece of fruit or some carrot sticks with hummus. All really quick and easy, snakes for kids on the go, filled with vitamins and antioxidants. I find healthy snacks, really helps them with their moods, concentration homework and sleep.


Question: Can you share your favourite almonds recipe, with us?

Sophie Falkiner: I love cooking, especially when I can get the kids involved and we love to try new recipes. Almonds are a staple in our household and come in handy when making some of our favourite snack recipes, like: snack recipes. I love to chop almonds and sprinkle them on salads, make healthy fruit cakes with them, bliss balls and the kids and I love them when they're smoked or tamari flavoured. So delicious!


Interview by Brooke Hunter