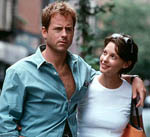 Someone like you is the new bittersweet, funny romantic comedy starring gorgeous Ashley Judd in the main role as Jane, alongside co-stars Greg Kinnear (Ray a.k.a. Mr Right), Aussie hunk Hugh Jackman (Eddie), Marisa Tomei and Ellen Barkin.
Directed by Tony Goldwyn and based on the novel by Laura Zigman titled "Animal Husbandry", the plot of the film revolves around Jane, who after lucking out in the love department finally meets a man who is not afraid of commitment. After six weeks of romancing they decide to look for an apartment together but this proves fruitless as her boyfriend Ray starts to distance himself from Jane who has comes to the conclusion that she is about to be dumped AGAIN - the story of her life it seems!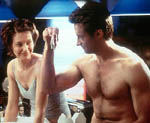 Desperate to get over Ray, Jane comes up with a theory of interpreting male-female relations by observing the behaviours of wild animals. After telling her theory to a close friend of hers who works as an editor of a men's magazine, she subsequently gets her own column anonymously writing about the matter.
But no one could have predicted the chord she'd strike among women with her theory and the column's wild success makes Jane start to question her conclusions and opens her eyes to what might be right in front of her.
A good film, it has all the trappings of a romantic comedy, so grab a fella and go and see this flick, if only for the Hugh Jackman factor!