Smiggle Light Up Bag
Christmastime is party time at Smiggle! With more than just your favourite stationery stuff to choose from, there are games and toys, gadgets, gizmos and activity sets too.

Everything is in Smiggle's signature bright colours and cool patterns, with gift ideas big and small. Smiggle really does have something to surprise and delight everyone.
Want to add a whole lot of sparkle to Christmas morning?
Wow! check out this smiggle backpack with motion sensor activated flashing lights! comes with batteries - batteries are replaceable. features double zip access main compartment, padded shoulder straps, computer compartment for 15 laptop. Size: 30x42x13cm
Smiggle Light Up Bag
Available in Pink & Black

RRP: $59.95
More from Smiggle
Smiggle Advent Calendar 2016 RRP $44.95
You can't beat the Smiggle Advent Calendar. And the Christmas 2016 one is better than ever! Packed full of Smiggle goodies, you get 25 days of surprises including cute and colourful erasers, toys and pens!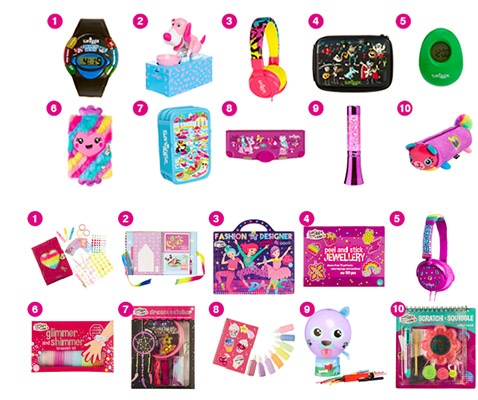 Top 10 Must-Have Smiggle Gifts
The definitive Smiggle -I just must have it!!' Chrissie pressie list… how do you choose just one??
1. Mood/Predicto Watch RRP $39.95
2. Mechanical Money Boxes RRP $29.95
3. Fold Up Neon Headphones RRP $36.95
4. Scented Party Hardtop Pencil Case RRP $26.95
5. Wobble Clock RRP $29.95
6. Fluffy Bunch Lockable Notebook RRP $24.95
7. Triple Pencil Case Kit RRP $34.95
8. Scented Party Pop Out Pencil Case RRP $29.95
9. Mega Swirl Cosmic Light RRP $39.95
10. Pals Pencil Case Series 2 RRP $22.95
Top 10 Creative Smiggle Gifts
Get your craft on with these fun Smiggle packs that will keep you busy all holiday long.
1. DIY Journal Kit RRP $36.95
2. Friends Happy Mail Journal RRP $24.95
3. Dance Fashion Designer Book RRP $22.95
4. DIY Peel -n' Stick Jewellery Kit RRP $22.95
5. DIY Headphones Kit RRP $29.95
6. Glimmer Shimmer Bracelets RRP $19.95
7. DIY Dream Catcher Kit RRP $22.95
8. Sand, Glitter & Foil Art Book RRP $24.95
9. DIY Balloon Animal Kit RRP $19.95
10. Squiggle and Scratch Book RRP $19.95