Smiggle
Where a smile meets a giggle!


Your favourite stationery store with more, Smiggle is bursting with games and toys, gadgets, gizmos and activity sets that will surprise and delight on Christmas morning.

A gift from Smiggle will colour kids happy with excitement, ticking off any number of items on their Christmas wish lists.

From Christmas essentials, to must-have gifts, creatively crafty or DIY holiday fun and stocking stuffers,there's something for everyone. Smiggle is making Christmas merrier!



Smiggle Christmas Essentials

Have yourself a merry little Christmas with Smiggle's festive themed range.

1. Advent Calendar RRP $39.95
2. Christmas Cane Erasers RRP $9.95
3. Mini Christmas Tree RRP $14.95
4. Christmas Stocking RRP $16.95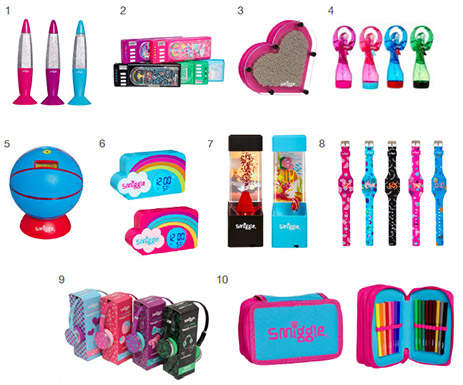 Top 10 Must-Have Smiggle Gifts

A must have for Christmas, which one or two or three must you have?

1. Twister Mega Light RRP $34.95
2. Pinball Pop Out Pencil Case RRP $24.95
3. Pin Art Heart RRP $19.95
4. Keep Cool Water Fan RRP $22.95
5. Basketball Money Box RRP $29.95
6. Times up Clock RRP $34.95
7. Aquarium or Volcano Lights RRP $34.95
8. Watch This Space RRP $29.95
9. Colour Bop Headphones RRP $29.95
10. Triple Pencil Case Kit RRP $29.95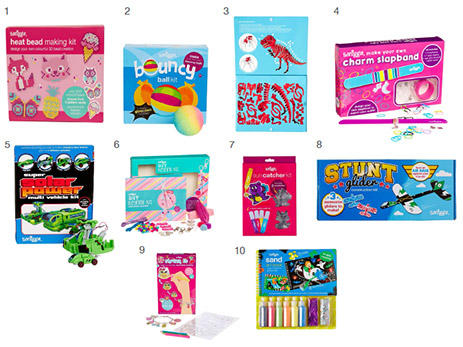 Top 10 Holiday Fun Smiggle DIY Gifts

DIY holiday fun that keeps on giving after the excitement of Christmas fades.

1. DIY Heat Beads Kit RRP $19.95
2. DIY Ball Kit RRP $9.95
3. DIY Dinosaur Kit RRP $9.95
4. DIY Slap Band Kit RRP $19.95
5. DIY Solar Power Kit RRP $29.95
6. DIY Keyring Kit RRP $14.95
7. DIY Window Art Kit RRP $9.95
8. DIY Stunt Gliders Kit RRP $24.95
9. DIY Shrink It Kit RRP $14.95
10. DIY Sand Textures RRP $24.95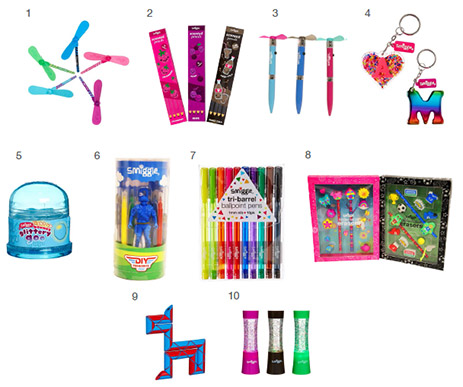 Top 10 Smiggle Stocking Stuffers under $15

For that little something extra to stuff your stocking, a Kris Kringle gift, or school surprise, there's heaps of clever and
quirky finds all under $15. Bargains!

1. Lift Off Pen RRP $3.95
2. Scented HB Pencils 4 Pack RRP $4.95
3. Fan Pen RRP $9.95
4. Rainbow Holograph & Beaded Heart Keyrings RRP $7.95
5. Bouncy Goo V2 RRP $8.95
6. DIY Parachute Dude RRP $9.95
7. Tri-barrel Pen Pack RRP $9.95
8. Eraser Gift Box RRP $11.95
9. Puzzle Serpent RRP $14.95
10. Mini Swirl Light RRP $14.95
Everything is available from Smiggle stores nationally (and internationally!)
or online at www.smiggle.com