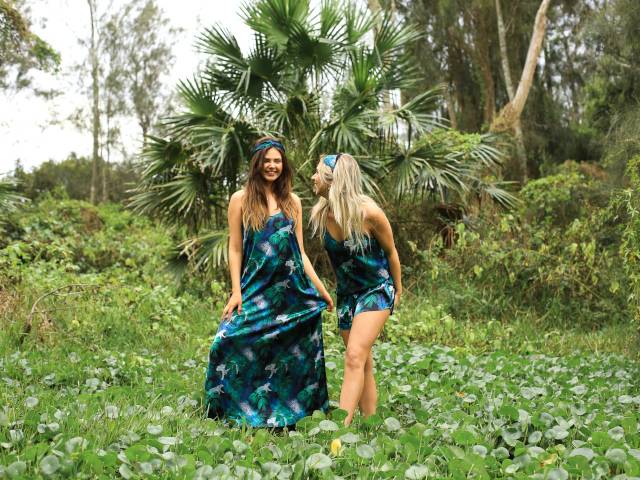 The Australian Sleep, Lounge and Resort Wear that is lusted after in the UK.
Melbourne Designer, Mum and Illustrator finds gap in market for designer sleep, lounge and resort wear…

Ostara Collection, a sleep, lounge, and resort wear label known for bold and bright prints, was created by designer Sonya Dukes with the support of her husband Leonard Dukes.

Sonya has been working as a designer and illustrator for over a decade.

Sonya says: "Life is an adventure and the thing that has always guided me is my passion and love for designing prints and bright patterns."

In 2017, Sonya started Ostara after plenty of daydreaming, illustrating, and copious amounts of coffee.

"At the time I was seeing my now-husband, Leonard, and was struggling to find something I could wear at his house while relaxing that wasn't cartoon cutesy PJ's or leggings and an old t-shirt.

I wanted to look cute without looking childish and feel sexy while still being a little modest. I soon realised there was a gap in the market: Sleep & Loungewear that could be stylish, sexy, and functional for the bedroom and beyond.

I wanted to design something that worked as much at home in my downtime as it did to pop on a pair of jeans and wear down to the local cafe or for (another) latte. I want my customers to feel playful, luxurious, and confident while still being modest (you can still answer the front door)."

Between Sonya being from the UK and Leonard from Africa, they bring together a unique love of travel, fashion, and bright prints. Sonya says her inspiration comes greatly from nature, water, and her personal experiences.

"For me, Fashion and wearing prints is a form of art and expression. I also believe that you don't need to be a millionaire to make a difference. Having previously worked in the water industry (as a designer) and along with our personal experiences, we recently made the decision to partner with Wateraid - Donating $1 from every order to improve global access to clean water".

Ostara was recently featured in Vogue in the UK.