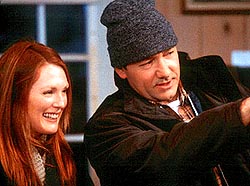 SHIPPING NEWSRelease Date:
Feb 7, 2002
Genre:
Drama
Cast:
Kevin Spacey, Julianne Moore, Cate Blanchett, Dame Judi Dench, Scott Glenn, Rhys Ifans, Pete Postlethwaite, Jason Behr, Katherine Moennig, Gordon Pinsent.
Directed by:
Lasse Hallstrom ("Cider House Rules", "Chocolat").
Rating:
To Be Classified
Based upon the Pulitzer-prize winning novel of the same name by E. Annie Proulx.
A struggling newspaper writer, Quoyle (Spacey) returns to the small fishing town in Newfoundland his family has long lived in with his two young daughters, after a traumatising experience with their mother (Blanchett).
Though he's had little success thus far in life, his "shipping news" column in the local newspaper, The Grammy Bird, finds an audience and his experiences in the town change his life.