Seven Psychopaths
Cast
: Colin Farrell, Sam Rockwell, Woody Harrelson, Christopher Walken, Tom Waits, Abbie Cornish, Olga Kurylenko
Director
: Martin McDonagh
Genre
: Crime, Comedy
Rated
: MA
Running Time
: 111 minutes
Synopsis
:
Have you ever looked around and thought you were surrounded by a bunch of psychopaths? Well, writer Marty Faranan has just realised that in his case, it's literally true. Already past deadline on his latest screenplay and way past the end of his girlfriend Kaya's patience, Marty's personal and professional lives are constantly disrupted by his best friend Billy.
But Billy's well-intentioned attempts to help his friend soon spiral into a whirlwind of crime and crazy when Billy and his partner Hans find that their dognapping business has led them to inadvertently take a dog they should never have kidnapped…a shih tzu belonging to Charlie Costello, a Los Angeles gangster with a devotion to his dog that borders on obsession.
Vowing to kill whoever took his dog, Costello sets off to find those who stole Bonny…and suddenly Billy, Marty and Hans find themselves in a whole lot of shih tzu.
Seven Psychopaths in cinemas November 8th, 2012



About the Production
It's got layers.
The idea kicked in about six or seven years ago. "I had one of the stories of one of the psychopaths," recalls Academy Award® winning Writer/Director Martin McDonagh (In Bruges, Six Shooter). "Another couple of stories soon followed and it just kind of snowballed from there. As it developed, I kept thinking about someone who would write this type of story. Also, about what makes a good movie and the tug-of-war between wanting to do something spiritual but also something dark and deranged."
Caught in the crosshairs of the perfect POV were Martin McDonagh's cinematic influences - Directors Terrence Malick (Badlands, Days of Heaven) and Sam Peckinpah (The Wild Bunch, Pat Garrett & Billy the Kid). "During production I was constantly evaluating how these opposing viewpoints and extremes had to coexist in order for this film to work."
Martin McDonagh actually wrote Seven Psychopaths at the same time as his directorial debut In Bruges, which he also wrote. For that film, his first collaboration with Colin Farrell, Martin McDonagh won a BAFTA Award and received an Academy Award® nomination for Best Original Screenplay. The film premiered at the Sundance Film Festival in 2008 and followed Six Shooter, his first foray into film, which brought him an Oscar® for Best Live Action Short Film.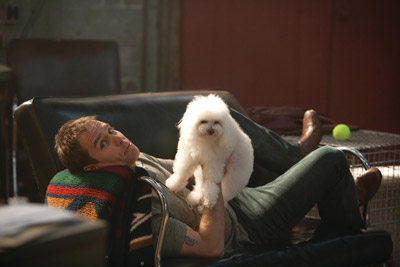 An accomplished Irish playwright, Martin McDonagh has also received two Laurence Olivier Awards and four Tony Award nominations for his plays The Beauty Queen of Leenane, The Lonesome West, The Lieutenant of Inishmore and The Pillowman. He first teamed with Sam Rockwell and Christopher Walken on his 2010 play A Behanding in Spokane. It was his first play set in America.
Despite his acclaimed career, Martin McDonagh was unsure about tackling the complex and multi-layered Seven Psychopaths as his first turn behind the camera. "It was too big to get my head around cinematically before I dipped my toe in the water. As a first-time director, I decided to start with something that was more about things I knew. In Bruges was in some ways a character and relationship study, all set in one place. I felt I knew that territory from my work in theatre. Seven Psychopaths was like a puzzle, like a gigantic cinematic jigsaw. I don't think I could ever have done this film without having done Bruges first."
Producer Graham Broadbent (In Bruges, The Best Exotic Marigold Hotel) agrees that In Bruges gave Martin McDonagh the confidence he needed to bring Seven Psychopaths to the big screen. That said, he remembers the moment Martin McDonagh approached him with the Seven Psychopaths script. "It was a great read, a wonderful piece of writing - original and extraordinary. It had a rich mix of humour, humanity and danger."
Graham Broadbent continues, "Martin McDonagh makes the reader walk a tightrope. I think that's the smart element in this script - it constantly subverts where you think it's going to go. Martin McDonagh will play a different card just when you think you know where it's going."
As for the juxtaposition of humour with darker elements, Martin McDonagh is no stranger to meshing the two. "My humour is leavened with a little bit of darkness but the trick is to never let the darkness weigh the humour down," he notes. "And I try to put a lot of humanity in my scripts. I think this one has a good amount of tenderness and is a big human story at its heart…it's really about friendship."
Martin McDonagh finds the process of bringing the written word to life while defining the tone with the actors exhilarating, acknowledging that the most challenging scenes are those solely "based on dialogue and performance." Observes Martin McDonagh, "That is when I enjoy my job the most."
With seven distinct performances on the agenda, the challenge here would be to have a firm grip on what exactly defines a psychopath…a challenge indeed given, as Martin McDonagh explains, "some of the characters have elements of the psychopathic to them, but at the same time they don't. I guess psychopathy is in the eye of the beholder in some ways. It's a fun puzzle to play with, who is and who isn't a psychopath in this movie."
The comedy's protagonist just happens to be a screenwriter named Martin McDonagh who is struggling with contradictory perspectives. Autobiographical? "Let's just say I throw a good deal of my truth into the mix along with things that are 100 percent false."
No.1 The Seemingly Normal One: Marty
And what do you think we should do in real life?!
Colin Farrell (Marty) reads a lot of scripts. "Every now and then, writing jumps off the page. This one does that. It slaps you in the face, gives you a kick in the arse, and takes you on a wonderful ride. So, yeah, I was delighted to be working with Martin McDonagh again."
"He has a particular way of stringing words together that has an insane effect on the imagination," notes Colin Farrell (Crazy Heart). "There's an emotional core to everything he writes - the humour, the chaos, the violence, the quick wittedness of dialogue. The scenes, the scenarios, and the characters are so operatic. But I find beneath it all there's an element of truth concealed. The characters are inspired by a truth - love of a pet, need to help a friend, the wish that a lover was closer, ambition. There are some voices in cinema that write very nuanced, really specific, incredibly character-driven material. If you close your eyes and just listen to the dialogue, you know it's Martin McDonagh."
For an actor the challenge, he says, is finding the tricky balance between humour and drama. "If you play up for laughs it'll fall flat on its face. All comedy grows from the fertile ground of truth. Martin McDonagh's stuff is so heightened…if you come up to match how heightened it is, well, it can really become over the top so sometimes you have to underplay it."
When Martin McDonagh broached Colin Farrell about the role, he asked him to keep his Irish accent. "I thought there's no reason why a screenwriter based in Hollywood couldn't be Irish," remarks Martin McDonagh. "And it was a no brainer to have Colin Farrell in the lead - he's fantastic."
Colin Farrell is into mining backstory. "I think it's important to understand where Marty is coming from," says Colin Farrell. "He's fallen in love with this title but he hasn't come up with any psychopaths. Marty is renowned for writing good dialogue and violent scenarios but he's trying to take that violence and somehow render a story that is in essence about peace and love."
"(Marty's friend) Billy thinks Marty is not living up to his creative potential and will go to any lengths to make sure he succeeds," says Colin Farrell. "He thinks Marty is one of the best writers of his generation. But Billy wants to be a part of the writing process as well, which is kind of a problem. The means by which he goes about trying to help him is just a little bit extreme."
When Colin Farrell first read the script, he was drawn to the role of Billy played by Sam Rockwell. "He's got some killer lines. Familiarity had me lean in that direction `cause he's more like Ray, the character I played in In Bruges. Marty is more the observer, the only one that's sane really. Billy is out to lunch; the rest are kind of nuts too. They're all mad!"
No.2 His Best Friend: Billy
This dog is my Patty Hearst.
"Billy's loyalty to Marty is undying, maybe to the point of being a little unhealthy," says Sam Rockwell (BILLY). "Marty is Billy's best friend and Billy is trying to help him write his screenplay. He gets a little carried away in the process. Their friendship is like Chazz Palminteri and Sean Penn in Hurlyburly or Harvey Keitel and Robert DeNiro in Mean Streets. It's an odd co-dependency balanced with a lot of love and forgiveness, and don't forget anger too."
As Martin McDonagh and Sam Rockwell (Iron Man 2, Frost/Nixon) were fleshing out Billy's complexities, they weighed in on cinematic prototypes. "There's a Travis Bickle reference (Robert De Niro's character in Taxi Driver) and a Johnny Boy in Mean Streets (personae). Martin McDonagh is very specific about what he's looking for. He knows exactly what he wants, a very particular aesthetic about what's going on with the character emotionally. We talked about playing it straight, not playing the comedy, instead playing the stakes. The comedy would come out of the absurdity; the casualness toward the high stakes involved that to a normal person like Marty would be extraordinary, but to Billy, uh, maybe not."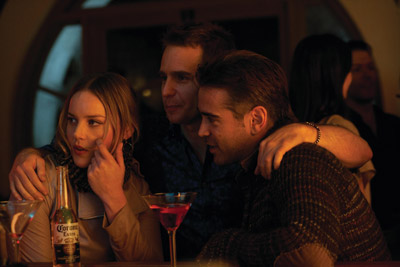 Martin McDonagh and Sam Rockwell teamed the first time on stage in the Writer/Director's Broadway play A Behanding in Spokane, which also starred Christopher Walken. Martin McDonagh has been a fan of Sam Rockwell's work since he saw his performance in the 1998 black comedy Jerry and Tom. Sam Rockwell played Jerry, a novice assassin. "One of Sam Rockwell's strengths is that he is both a great comedian and dramatist," says Martin McDonagh. "I needed both for this role. Billy is a real mess, but in a disturbingly likeable way."
"Everything I've seen him in, he's been amazing," compliments the director.
Colin Farrell says Sam Rockwell's "crazy imagination" meshed perfectly with the requirements of the role.
"I am going to be honest…I have psychopathic moments every day," quips Sam Rockwell. "We all have the potential to be psychos. We just make choices not to act on it."
"I'd do every film with Sam Rockwell from now on," exclaims Colin Farrell. "He's funny, generous and really talented. He's always digging." The camaraderie and admiration for each other was infectious. Sam Rockwell was not only thrilled to collaborate with Farrell but also with Walken once again, and for the first time Woody Harrelson. "Working with those guys was a lot of fun," says Sam Rockwell.
One supporting character with whom Sam Rockwell spends a lot of screen time is Bonny. "Bonny is a dog Billy steals and holds hostage," explains Sam Rockwell. "The dog just happens to belong to gangster Charlie Castillo. From there, things go uphill (not downhill)" from Billy's perspective.
No.3 The One with Issues: Charlie
I've got to pull myself together. My dog is going to end up killed!
When Billy steals Bonny, "the stakes couldn't be higher," says Woody Harrelson. "This is Charlie's beloved little Shih Tzu. When Bonny is stolen it's the inciting incident in the movie. Charlie and his henchmen will do whatever is necessary to get Bonny back."
What makes Charlie a psychopath, Woody Harrelson says, "is a sense of violence that is always rumbling underneath and is easily exposed. Charlie feels like he's the smartest person in the room, smarter than anyone else. He doesn't tolerate people well."
Charlie has many issues in the film. Another issue involves his weapon of choice. "Charlie loves the handle on his gun," notes Woody Harrelson. "It's blue, a special handle with some skulls on it. Even though it tends to malfunction, he keeps using it." It is just one more window into the demented psyche of Woody Harrelson's character.
Academy Award® nominee Woody Harrelson (The Messenger, Rampart) took on the role two weeks before production began. "I'm a big fan of Martin, have been for years. Several years ago I wanted to read the best playwrights. I read Lonesome West. I was blown away by how brilliant and dark and funny it was…the funniest play ever written. I got to know him and he showed me The Pillowman and offered me the play. I thought the darkness had outshone the light so I decided not to do it. Then I saw it on Broadway and I kicked myself. When this script came along I was like - I am not going to make that same mistake twice. Charlie is a terrific part."
Martin McDonagh says Woody Harrelson proved the perfect fit for the role: "I needed someone who could be out-and-out funny, but turn sinister on a dime. Woody Harrelson had it down."
Woody Harrelson says Martin McDonagh's sense of what is funny wasn't just on the page, "it was in his directing" as well. "And he really makes you feel great as a cast member, always checking in with you. He sends you a text after the workday, telling you he thought you did a great job. He's got a good vibe, and I really like working with him."
But the esprit de corps extended beyond actor and filmmaker for Woody Harrelson. "To be able to get up and do scenes with Christopher Walken, I was just in Heaven. Christopher Walken is a (bleep) legend. I was telling my friends before I started working with him, `I am so giddy and excited to do a scene with him'." And he considers Colin Farrell to have the soul of a poet in his performances, and Sam Rockwell an acting force unto his own.
No.4 The Hot Girlfriend - She Thinks She's Hot Shih Tzu: Angela
You've got to give it back!
Olga Kurylenko (Angela) is certain about one thing: "Angela likes psychopaths. She's attracted to bad guys."
Olga Kurylenko continues to describe her character, who happens to be Charlie's girlfriend - "Angela is playing a very dangerous game. And all the while, she has to compete with Bonny for Charlie's attention and affection."
How would Olga Kurylenko (To The Wonder), best known for her role as the Bond Girl Camille in Quantum of Solace, define a psychopath? "Oh I have met some psychopaths in my life. They are very concentrated on themselves and a little bit out of reality. It's all about them, all the time."
When Martin McDonagh approached Olga Kurylenko about the role of Angela she was eager for the part. "The script is one of the smartest I've ever read. It's funny, very witty."
No.5 The Non-Violent One: Hans
Too bad.
"I don't think of Hans as a psychopath," says Christopher Walken. "He steals dogs and returns them for a reward..."
Broadbent's favourite character is Hans. He appreciates that he's not your typical psychopath. "Martin McDonagh's genius is to have this psychopath who refutes all violence." The role is tailor made for an actor the caliber of Academy Award® winner Christopher Walken (The Deer Hunter, Catch Me If You Can), says Martin McDonagh. The two previously teamed on Martin McDonagh's play A Behanding in Spokane, which garnered Christopher Walken a Tony nomination. "He was a big hero of mine since childhood," says Martin McDonagh.
"You know, actors always like terrific words and Martin McDonagh writes terrific words," remarks Christopher Walken. "When we did the play together we rehearsed for six weeks. Martin McDonagh was in the room every day. He didn't say a lot but he was there. You get to know people just by being around them. I always like working with people I have worked with before. It makes everything so much easier. Plus, I feel very comfortable with Martin McDonagh." As for working with Sam Rockwell, who was also in the play, Christopher Walken notes "we had a great time."
No.6 The Passive-Aggressive Girlfriend: Kaya
Why would I be pissed at you Marty?
"Kaya has one foot out the door when the story begins," says Abbie Cornish of her character. "She's in a state of flux. Marty and Kaya are in trouble. She's tired of his drinking, his laziness, and all the time he's spending with Billy, whom she thinks is not the best influence on Marty. They are disconnected to the point where there is not much of a relationship left to hold onto."
Although Kaya is the straightest character in the movie, she suffers the envy of a psychopath for her boyfriend's time and attention. "Psychopaths aren't always conscious of their psychopathic behaviour," says Abbie Cornish. "It's just the way they are. So actions that someone else might call crazy, for them is totally normal. Billy is the epitome of this."
Abbie Cornish (Limitless, Sucker Punch) jumped at the chance to play Kaya, in large part due to the stellar cast already in place. "I was interested in coming on this set and working with Martin McDonagh, an incredibly talented and intelligent director, and actors like Colin Farrell, Sam Rockwell, Woody Harrelson, and Christopher Walken who are at the top of their game. Christopher Walken is an acting god to me," she says. "To be in a film with him is a dream."
"Abbie Cornish is fantastic and I've loved her work through the years," says Martin McDonagh. "She, along with Olga Kurylenko who I met a few years ago, is fantastic. I was so thrilled both these actresses agreed to hop on board. In some ways this is quite a male film but these actresses take care of the feminine side."
No.7 The One with the Bunny: Zachariah
Dandy.
"My first thought was to ask `how does he feel about psychopaths to begin with'?" says Tom Waits (The Book of Eli, The Imaginarium of Dr. Parnassus) of his character Zachariah, an odd, disturbed man with a violent past. "Well first of all a psychopath would never refer to himself or anybody else as a psychopath. It's the P word. You just don't use it. There may be actual psychopaths around you. You wouldn't be certain until something goes off. They live among us. They are people that live with enormous secrets. I play a guy who is deeply in love and has been separated from his wife and he's trying to be reunited with her."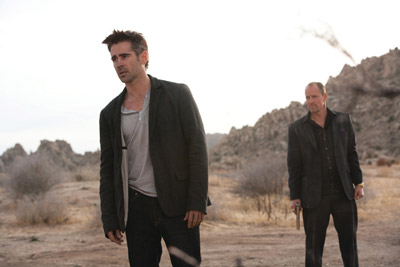 "Oh, and he has a rabbit. What's wrong with that?" muses Tom Waits. "I spent many days chasing rabbits in a yard on this set, one of the best workouts for an athlete. Turn a rabbit loose and you're only goal is to catch the rabbit. I talked to our rabbit wrangler and learned how to hold the rabbit so that it sits because if he jumps out of your arms the entire day is shot. But as a companion I don't know if a rabbit would be my companion of choice. It's more of a character thing."
"When Tom Waits was on the set, all of us were in complete awe," says Martin McDonagh of the legendary actor, musician and poet.
"I don't like to be thought of when people say, `Psychopath for the role? Get Tom Waits!' I'm a little concerned about that. I'll never be able to play a father now that I've done this. 'What kind of a father would he make?'" jokes Tom Waits.
Jokes aside, he continues: "It's been fun to do this film. Martin McDonagh and I crossed paths a few years ago when we tried to get a musical opera of sorts off the ground but it never happened. I had seen In Bruges and thought his work was so interesting. Martin McDonagh's dialogue is remarkable - perverted, hilarious, and rich. He is poetic and always has something to say. Let's just say this film is an insane ride."
One Shih Tzu: The fur fatale.
There are casting calls and then there is Craig's List.
A month before shooting began Performing Animal Troupe (PAT)'s Head Animal Trainer Claire Dore, who was assisting Martin McDonagh in his search for the perfect pup, says PAT adopted the 10-month-old Imperial Shih Tzu for the part after spotting an ad for her on Craig's List. Martin McDonagh had already looked at dozens of Shih Tzus for the key canine role. The dog was already named Bonny, the same name as Charlie's prized possession in the script. It was a sign - life mirroring art.
Martin McDonagh had wanted a Shih Tzu on the small side; Bonny weighed less than 10 pounds. "It was obvious from the casting sessions very early on that Martin McDonagh was an animal lover," says Dore. Bonny, of course, falls victim to Hans' and Billy's sideline trade of dognapping. Martin McDonagh saw the dynamic as a delicate line to balance between the dognapping being an amusing plotline and something that could turn the audience off. "This is a quirky, fun version with nothing mean or cruel involved. Billy is just an out of work actor who starts dognapping to pay the bills. When the dog goes missing, it starts a whole sequence of events that turns the story on its head."
Broadbent says Martin McDonagh has an affection for dogs and seemed to have particularly enjoyed casting Bonny's role. Once hired, Bonny did not want for anything. But still the cast and crew showered the lovable furball with constant attention; particularly Sam Rockwell who kept the dog close to him for much of the shoot and for good reason…his character demanded it.
Sharice
I always loved Bonny like he was my own child.
In the film, Academy Award® nominee Gabourey Sidibe (Precious) plays Sharice, Bonny's dog walker who loses the dog in the park and as a result feels the brunt of Charlie's wrath. "Gabourey Sidibe joining us for half a day to be beaten up by Woody Harrelson was great! It is such a funny scene, those two together," says Broadbent. "They had worked the awards circuit together and knew each other, so she just flew in for a half day of bullying and moved on. She was great!"
Gabourey Sidibe's was one of a number of stellar cameo performances in Seven Psychopaths. Linda Bright Clay (Myra), Amanda Warren (Maggie), James Hebert (The Killer), Long Nguyen (Vietnamese Priest), Brendan Sexton, (young Zachariah), Michael Pitt (Larry), Michael Stuhlbarg (Tommy), and Harry Dean Stanton (The Quaker In The Black Hat) fill out the eclectic lineup.
"To make one movie (In Bruges) was a dream come true, and now to have made this film with this cast…it's just unbelievable," says Martin McDonagh.
Graham Broadbent reminds that "in all independent films, no one comes to the project for the money, they come for the quality of the work. The cast assembled is a real testament to Martin McDonagh's writing. Every actor inhabits every character in a way you can't imagine anyone else in that role."
The cast includes Bonny, numerous supporting canine cast members, and 52 rabbits. As is always the case when working with animal actors, special consideration had to be taken to get the desired performances.
In one particular scene Zachariah is sitting in a garden surrounded by all of the rabbits. "The pressing issue was how to have them all there without shagging each other," remembers Graham Broadbent. "It's not apocryphal apparently; rabbits like to shag a lot." The solution? "We had to get pre-pubescent rabbits. We managed to get through it without the rabbits shagging, which was good." The touching part, adds Graham Broadbent, is that Tom Waits took it upon himself to become a rabbit whisperer. "He developed a way of being with the rabbits in which they were utterly calm and content with him the whole time."
It should be noted this was not Martin McDonagh's first trip down the rabbit hole. But the white rabbits fared better with the psychopaths in this film than in his 2005 Academy Award® winning short Six Shooter.
When the animal actors were on set, American Humane Association Set Representative Beth Langhorst was a constant presence, monitoring the animal action and making sure they were taken care of correctly on the production and by the animal trainers. "The set was a really nice work environment," says Beth Langhorst. "In addition to Bonny's normal lap cuddling duties, there was some intense animal action for (the canine). The production and trainers always made sure that Bonny was comfortable on set at all times, especially when gunfire was in play. There are very strict guidelines as to what type of loads you can use when animals are on set and there is always a stuffed toy double for the main animal cast so that they can switch it out for the real dog if need be."
The animal characters were important to the story, as was the film's setting. "(The setting) is a character in the film," emphasises Graham Broadbent. "What we got out of L.A. worked really well for us."
Martin McDonagh says, "This movie was always set in Los Angeles. I wanted L.A. to have the same quality that Bruges had for the last film. It is comforting to know that there is such a creatively rich film history in L.A., a history that includes some of my favourite filmmakers like Billy Wilder and Preston Sturges."
The 41-day shoot ran from November 7, 2011 thru January 13, 2012 in Los Angeles, at landmarks in the city and surrounding area. Key locations include the Venice Beach pier, the La Brea Tar Pits (this is the location where Bonny is dognapped), and an ultra-modern house on Mulholland Drive built by Southern Californian architect Ed Niles (as Angela's house) - a location that had never been used in a film before. The dog warehouse was built in Whittier in an abandoned correctional facility.
Billy's imagined shoot-out scene was shot at Rosedale Cemetery. "Martin McDonagh asked us for an Ed Wood-type, B-movie take on this scene," recalls Production Designer David Wasco (Inglourious Basterds, The Royal Tenenbaums). "He was fine if you saw some pieces of wood in the background holding up the sets. In fact, he encouraged it!"
The Hollywood Forever Cemetery, near the graves of Hollywood legends Cecil B. DeMille and Alfred Hitchcock, the Hollywood Sign beaming above the Lake Hollywood Dam Reservoir, the Showcase Theater on La Brea, and the Paramount Studios back lot were also used.
Outside of the city, the filmmakers ventured into Joshua Tree National Park after gaining permission to shoot the Cholla Cactus Garden Trail where the unique spiked succulents hover 4-to-7-feet high. In Lancaster, a mock "Joshua Tree Visitor Center" set was built in 14- degree weather. The shoot occurred over the coldest days on record in more than 100 years of Lancaster's history. Due to gale force winds, David Wasco's crew had to wire down the roof of the Welcome Center building with heavy cables to prevent it from blowing off. The cold weather also proved a serious challenge during the three weeks of filming the campsite scenes in the Lancaster area.
Restrictions on gunshots and explosions in the nature preserve meant the final standoff sequence in the desert had to be shot on Skyline Ranch Road in Pioneertown. The shoot-outs at Pioneertown were only part of the extensive special effects work done by Key Special Effects Makeup Supervisor and Emmy Award nominee Greg Nicotero (The Walking Dead, Breaking Bad) and his special effects team: Carey Jones of KNB FX Group, who coordinated the effects on set, and Special FX coordinator Ron Trost from Class A Special. Aside from the excessive gunfire and fires in the film, they also created the dummy body count from the psychopaths' handiwork. Because of the fires and action-heavy desert sequences, Director of Photography Ben Davis (The Best Exotic Marigold Hotel, The Debt) chose to shoot Seven Psychopaths on film using Panavision cameras instead of a digital system. "I felt that the grain and texture of film was the right fit for this project," Ben Davis explains.
Ben Davis says when he and Martin McDonagh began conceptualising the look and feel of the film it was challenging to create the different character worlds, including the flashback sequences that spanned decades.
"We were constantly going back to Marty's script, then Hans' version of the script, then Billy's version and what it should be…so many textures," he says. "The core of the film was pretty easy because it was about the friendship of Billy and Marty, which was straightforward. The film is contemporary and we wanted to give a very strong sense of Los Angeles. But, at the same time, you had all the different psychopath characters and their experiences ranged from the 1940's up to present day, in America and outside of America."
Ben Davis says he and Martin McDonagh swapped a lot of references. "If it was Marty's version of the script, what were his reference points? What would he imagine his film to be like? When Marty talks about the Quaker killer, we very much felt it was sort of like Night Of The Hunter (the 1955 film noir thriller starring Robert Mitchum and Shelley Winters). Another inspiration point was the work of American still photographer Stephen Shore known for his thought provoking images of the mundane in the daily life experience."
The variances were constantly shifting depending on the characters' storytelling references.
"We wanted contemporary L.A. to be colourful and vibrant and the period flashbacks to the 40s, 50s and 70s to be monochromatic for contrast," adds Wasco. "We were constantly treading the line between reality and fantasy."
As for working with Martin McDonagh, David Wasco has nothing but praise. "It's great working with Martin McDonagh. As with other writer/directors I've worked with, including Quentin Tarentino, Wes Anderson and David Mamet, he has the story and the vision clear in his mind and knows what he wants…you can't get better than that."
David Wasco has collaborated with Costume Designer Karen Patch on several Wes Anderson films including The Royal Tenenbaums, Bottle Rocket and Rushmore. He was influential in bringing Karen Patch on board Seven Psychopaths She had wanted to work with Martin McDonagh for some time. Of the experience, Karen Patch echoes David Wasco: "When you have the opportunity to work with a writer/director it really is the best. Martin McDonagh knows his characters inside and out," Patch says. "Because of that, I was able to interpret and actualise them for him even with a short prep time and a complicated script with flashbacks in various time periods."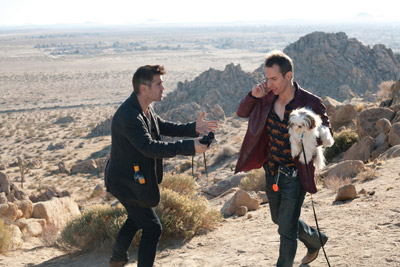 "The subject matter for the film was multi-layered so visual references were helpful," Karen Patch continues. "Costumes are clues to explaining the history of the characters and help inform where and who the characters are now. I looked at Robert Mitchum's character in Night of the Hunter for Hans. In his present day look there is a formality to the linen suits, all hand dyed to get the right grey/blue. For the characters living in present day Los Angeles I turned to their inner life for inspiration. We were dealing with disturbed, complex personalities. Billy operates like a fast car without brakes. He's a charming, attractive liar who is astounded when people are upset by his behaviour. He loves dogs, is childlike and lovable. So I built a dark blood red leather jacket that he wears in the final shoot-out with a panther print shirt. He also wears a child's animal hat in a few scenes and pajamas with monkeys and ponies. It's in the contradictions that the psychopath shines through."
Karen Patch recalls how some actors used hidden "costume" elements to get into character. Case in point: Tom Waits. "He asked for things in his pockets," says Karen Patch. "I came up with mints, Chapstick, nail clippers and matches. He was very happy. But you never see them in the film." One of the bigger challenges was "how to conceal the weapons and guns with holsters under clothing. Squibbing and blood while wearing period clothing also present a dilemma."
In the end, Graham Broadbent believes such attention to detail and commitment to craft by all involved in the production is evident in the film. "Martin McDonagh is newer to filmmaking than he is to theater and it is my understanding of theater that it is a company of people doing something good. I think that's what we've created here… a company of great people doing some very good work."
In the final analysis, the premise of Seven Psychopaths begs the observation: If writers write what they know…" Martin McDonagh seems to understand psychopaths a lot better than anyone I know, worryingly," Ben Davis ponders humorously. "After I read the script, I met with him and I kept wondering 'what dark corner of the mind does this come from?!' All I know is… it comes from him. And it's been a pleasure."
It is only right to give the helmer the final word. Says Martin McDonagh, "I'm not one. So far."