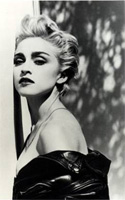 Madonna, one of the worlds most influential women is no stranger to trend setting and creating eye-catching style. The Queen of POP, with her constantly evolving look is this weeks inspiration for the Scunci Look of the Week.
Launching their new eco range, Scunci understands how important it is to have products that are made from 100% recycled materials - so people like Madonna, who live an eco-friendly lifestyle, can support green living even when creating FABULOUS hairstyles.
Whether youre going for the long, wavy untouched look or a cropped back crunched doo, the Scunci eco range has a product to suit.
Scunci Eco Clips are strong enough hold thick hair and are perfect for up and go hairstyles.
The range offers clips and bits ranging from $5.95.
For full stockist details, you can call 1800 242 848 for or visit
www.scunci.com.au