Scott Eastwood The Longest Ride
Cast: Scott Eastwood, Britt Robertson, Jack Huston
Director: George Tillman Jr.
Genre: Drama, Romance

Synopsis: Ira and Ruth, Luke and Sophia – two couples separated by time and age – have little in common until a series of unexpected events are set in motion and their lives become intertwined. From New York Times bestselling author Nicholas Sparks comes an extraordinary love story that begins when a box of old letters, filled with a lifetime of love, wisdom and experience, set Luke and Sophia on a path to discover their true values and the real meaning of love.

Sophia (Britt Robertson), a senior at the University of Wake Forest, sees her lifelong dream about to come true. With just weeks to go until graduation, she has landed an internship with a prestigious New York art gallery. Sophia is on her way. That is until a friend barges through her door with a pair of cowboy boots and an invitation to a bull riding event. Though not her thing, Sophia relents and the two friends make their way to their seats, past the band of female fans known as Buckle Bunnies.

In the chute, Luke Collins (Scott Eastwood) prepares to ride the eight seconds that will put him back on the road to the top spot on the Professional Bull Riding circuit. Returning from a serious injury suffered during a previous ride on the world class bull known as Rango, Luke is determined to regain the riding championship. But the bull has other thoughts. He charges Luke, who climbs onto a fence and out of harm's way. As his hat flies off and into a surprised Sophia's lap, their eyes meet for a brief moment – just long enough for Luke to decide he wants to get to know this beauty. 'Hold on to it for me, will ya?" he asks Sophia. And as the bull crashes into the fence, Luke is gone, leaving Sophia breathless.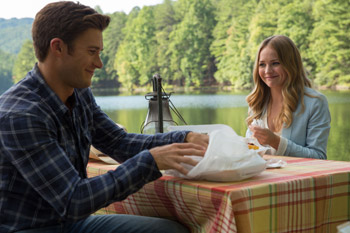 That evening, Sophia, wearing Luke's hat, runs into him, but instead of asking for his hat, he asks her for a date. She accepts, never guessing that the course of her life has changed and will become far removed from the one that she had imagined.

Ninety-one year old Ira Levinson (Alan Alda) is also on a life-changing course. Having lost his wife Ruth some eight years earlier, he begins a journey to Black Mountain, North Carolina and Black Mountain College, an art colony where he bought Ruth her first painting, starting a collection that would span the decades of their marriage.

Ira's trip is interrupted when, on a rain-slicked road, he loses control of his car, crashes through a guard rail and down an embankment. As the car begins to burn, Ira is aware of someone pulling him from it. It's Luke, with Sophia right behind him. Though semi-conscious, Ira can only think of the simple, worn box filled with letters left behind in the car. 'The box; get the box," he murmurs and Sophia braves the flames to rescue it.

Later, at the hospital, Sophia looks inside the carton and finds it filled with old letters. Ira is secretly pleased and asks her to read them to him. The two develop a bond and Sophia discovers how much the two couples have in common and how, in spite of the age difference, Young Ruth (Oona Chaplin) and Young Ira (Jack Huston) have lived a life filled with many of the challenges facing Luke and Sophia. The two couples' lives will converge, providing the wisdom that will guide Luke and Sophia on their journey.

The Longest Ride
Release Date: April 9th, 2015
About the Production
The Ride Begins

With The Longest Ride, Nicholas Sparks marks the third feature film adaptation of his novels with producers Marty Bowen and Wyck Godfrey. The author and Temple Hill producers previously teamed for the 2010 romantic drama Dear John and for 2012's Safe Haven. Neither project prepared the author for the preparation required for The Longest Ride book-to-film journey.

'The Longest Ride is something I've never done in film before," says Nicholas Sparks. 'It's really two stories in one. It's the story of Ruth and Ira, a couple who've been married for a long time. Ira is now a widower. Their life together, told in flashbacks, is a fascinating story that Ira tells to Sophia, a college student at Wake Forest, and to Luke, a professional bull rider.

'The Longest Ride has an epic quality that applies to both love stories," continues the author. 'It covers the love story between Ruth and Ira, which starts before World War II, and it's contrasted with the entirely different world of professional bull riding. What differentiates this film from the other adaptations of my work is its epic quality and the dual love story. It's about the way the two love stories come together."

Nicholas Sparks continues: 'When you meet the person with whom you fall in love, the feeling's the same, whether you're in the 1930s or in the present day. Everybody goes through the same emotions. There's universality to the way we feel and that's what I wanted to show. I think the fun of the film is trying to figure out how on earth these two stories are going to come together in the end."

Bringing Nicholas Sparks' story to the big screen is director George Tillman, Jr., whose eclectic body of work encompasses romantic comedy (Soul Food), action-drama (Men of Honor) and biopics (Notorious). 'George Tillman Jr. has the ability to marry emotion with masculinity, both of which are required to tell this story," says producer Marty Bowen. 'I begged him to read the script and he called me and said, -You know what, Marty Bowen? I've been married to my high school sweetheart for 25 years, and to me, what I take out of this film is sacrifice, which is the most important thing in a relationship.' And I'm sitting there listening to George Tillman Jr.and thinking -Oh, I've found my director.'

While George Tillman Jr. appreciated the love story, he was also captivated by the bull riding elements. 'One of the things that I enjoy as a director," he explains, 'is discovering cultures where people can experience new things.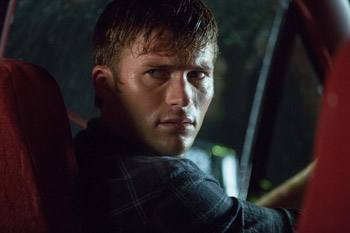 'I've always been a fan of bull riding," he continues, 'and there hadn't been a lot of films dealing with that subject. I was so excited to see a story set against that background," he exclaims. 'I wanted to direct The Longest Ride."

George Tillman Jr.'s partner at State Street Pictures, and one of this film's executive producers, Bob Teitel, was, like the director, taken with the film's theme of sacrifice. 'When I read The Longest Ride, the first thing that came to my mind was the word -sacrifice.' With Luke and Sophia, as well as Ruth and Ira, it's about what do you sacrifice for one another."

Two Couples

Finding actors who could bring the vivid characters to life on film was a challenge, but one that the filmmakers were excited to accept. 'Scott Eastwood was one of our initial top five for the role of Luke," says Nicholas Sparks. 'We bantered around a lot of different names, but Scott was always there. When we brought him in, Scott proved to be just what we were looking for. He looks like a leading man, and had a good understanding of the characters."

Marty Bowen adds that, 'Casting the male lead in a love story is very, very hard. You want the actor to be emotionally accessible, but you also want him to be masculine, vulnerable and strong. That combination of traits is difficult to find.

'When Scott Eastwood came in to talk to us about the part, he left with the movie being his. It's as if the movie was written for Scott Eastwood. He has real charisma and toughness. We had to keep close tabs on him during the shoot because if he could, he'd get on the bulls and ride them himself. That's just who he is. It's in his DNA. He had that blend we were looking for."

Scott Eastwood's onscreen love interest, Britt Robertson, notes that she was 'drawn to Scott Eastwood's different qualities. He's a guy's guy who's also vulnerable, sweet, and a bit shy. When we filmed a scene where Luke and Sophia go on a date, it was amazing to see all the different colors Scott Eastwood brought to the role."

Scott Eastwood notes that 'Luke is very determined, at times selfish, but he's a good guy. He's a gentleman and a hard worker. Luke is coming back from a life-threatening injury and is determined to be the number one rider."

The filmmakers tapped Britt Robertson to play Sophia because, says Marty Bowen, 'With a love story, women want to put themselves into the lead actress' shoes. You have to be beautiful but accessible at the same time, and that's an unusual marriage of characteristics.

'Britt Robertson is captivating and she can change an entire scene in just a moment," Marty Bowen continues. 'She feels a scene's subtext. It's instinctual."

Britt Robertson has always been drawn to Nicholas Sparks' work, and especially to his depiction of the character she would portray on film. 'I love that Sophia is passionate about art and how driven she is to succeed. I was drawn to the fact that Sophia was so goal oriented at such a young age."

After finding the actors for the contemporary love story, the filmmakers turned to the task of casting the couple that inspires Sophia, beginning with Oona Chaplin, who plays Ruth. 'Oona Chaplin really selected herself for the role," says Nicholas Sparks. 'She was just so vibrant. She practically leaped off the screen and said, -I'm Ruth!' Oona Chaplin has spent most of her time overseas, like Ruth, so she really brings that authenticity to the role. Her energy was just what we were looking for in casting the role.

For Oona Chaplin, the fact that she could portray a character from ages 17 through 45 was a dream come true. 'I really respect Ruth because she's very strong," says the actress. 'Like Ruth, I was fortunate to have an upbringing that was full of different types of culture. There was art and music and film, and it was interesting to explore that background with the character and how she would react if that was suddenly ripped away. The [film's flashback] historical context of the Second World War and having to leave behind everything that you know, was an interesting thing to explore."

The filmmakers knew it would take a strong actor to portray Ruth's husband, Ira, someone who would match Oona Chaplin's formidable energy and with whom she would have great chemistry. Jack Huston filled that bill. 'Jack was fantastic," says Bob Teitel. 'We knew his work from Boardwalk Empire, but his character in The Longest Ride was the trickiest to find."

'Jack Huston is hilarious," adds Oona Chaplin. 'From the beginning, we were on the same page about where we wanted to take Ira and Ruth. We really wanted to bring a bit more humanity and grit to the onscreen relationship. It's been so wonderful to explore that dynamic between them.

'Oona Chaplin and I quickly developed a very strong friendship," concurs Jack Huston. 'We spent the first couple of weeks of pre-production just getting to know each other. George Tillman, Jr., Marty Bowen and Bob Teitel were really happy that we wanted to bring it to life and insert our own ideas."

The story's romantic elements drew Jack Huston to the film. 'The theme of enduring love is so beautiful," he explains. 'I loved the challenge of making an authentic love story. I wanted to explore the reality of love rather than its fabrication."

Completing the starring cast is Alan Alda. The acclaimed actor's character, Ira, is a central figure in the film, says Sparks. 'He has his own story with Ruth, and another with Sophia and Luke, and we wanted someone who had the depth to be able to link the two love stories. Alan Alda brought levity and lightness to the role."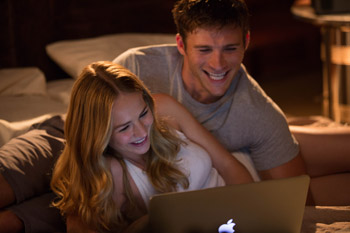 'Who doesn't, at some point in their career want to do a project with Alan Alda," interjects Marty Bowen. 'He's been a consummate actor for decades. He's a national treasure. He brings together Ira's gruffness and humanity, which combined create maximum emotional impact. In a single take he can upset you, make you laugh and then right into it, he can make you cry."

Alan Alda embraced the film's story and characters. 'I'm in this wonderful spot in my life where I can do things that interest me," he says. 'And this story really interested me. It's about deep and enduring love. I was also interested in the challenge of mostly playing a guy in his 90s. I had never done that before, and it intrigued me. I wanted to see what the problems were and how I would approach them."

'Alan Alda gave me so much to work off of," says Britt Robertson. 'He's such a kind and generous human being and actor. I learned so much about life and this business from him. Our relationship really did parallel the one between Ira and Sophia. I was constantly on the edge of my seat wanting him to just keep talking.

'That's how Sophia feels about Ira," she continues. 'She wants to learn from Ira's experiences and use it in her own life."

Luke Eastwood found Alan Alda to not only be a great actor from whom he could learn, as well as 'an overall good guy. He's almost from my dad Clint Eastwood's era and sometimes I would look at him or he would comment on something and I was just -God, you remind me of my dad right now. I think he would say something almost exactly like that.'"

Bull Riding Meets Modern Art: Researching The Longest Ride

Nicholas Sparks did more research for The Longest Ride than he had for any of his other novels. 'My explorations covered many areas I didn't know anything about," he explains. 'I needed to find out what the art world was like in the -30s and -40s; what life was like for Jewish people in North Carolina in the 1930s; and the many facets of the Professional Bull Rider's tour and its riders."

A key source for this research was Professional Bull Riders (PBR), the world's premiere bull-riding organisation, which the filmmakers brought on board as technical advisors. PBR produced the movie's bull riding events. The PBR segments were filmed in Jacksonville, North Carolina and Winston Salem, North Carolina.

Current and active PBR Built Ford Tough Series riders served as stunt doubles for Scott Eastwood, with a few of them, such as 2009 PBR World Champion Kody Lostroh, and Billy Robinson appearing as themselves.

'Nicholas Sparks captured the essence of a PBR bull rider with his character Luke Collins," says PBR chief operating officer Sean Gleason. 'We enjoyed working with Scott Eastwood to bring the character of Luke to life on the big screen as a PBR cowboy in and amongst the real-world stars of the sport."

Marty Bowen actually had some experience with bull riding. He was born in a small Central Texas town called Wortham (population: 1000), which, he says, didn't even have a stoplight. 'But once a week, for six weeks every summer, there was a rodeo with bull riders. I learned then that there's a section of the United States that thinks of bull riding like others think of basketball. It's part of our cultural institution.

'There is something primal about watching a man on the back of a two thousand pound beast," Marty Bowen continues. 'I think conquering that fear must be an incredibly liberating thing to do. With the character of Luke, bull riding is about conquering that fear. But it's hard to confront it when you know that it could kill you.

'You know," Marty Bowen adds, 'bull riding is like running into the fire, instead of away from it, and it takes a special breed of person to think in those terms. It's mesmerising to watch, and it's an incredible culture."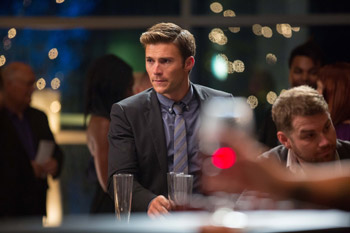 Director George Tillman, Jr. says his first encounter with PBR was an eye-opening one. 'During pre-production we traveled to Las Vegas, where we saw the PBR finals," he recounts. 'Being in a real bull riding environment, seeing the power of the bull, how much life and death this can really be – and at the same time, seeing the energy, the love of bull riding."

Going into production, George Tillman discovered he had a few misconceptions about bull riding. 'The riders have to hang on for eight seconds to win," he explains. 'On television, that seems very slow and normal, but when you are actually at the ring, those eight seconds go by very quickly.

'It's the toughest sport on dirt."

While the actors and stunt crew/bull riders were always professional, George Tillman, Jr. found his four-legged performer to be a handful. 'We had a top bull named Rango," says George Tillman, Jr. 'The first day of shooting, we had five cameras set up. Rango goes into the chute and is very quiet. He was renowned for his toughness."

Rango was more than ready for his close-up. That first ride was unbelievable: Rango came out of that gate, jumped about five feet in the air, and our rider held on for the eight seconds," George Tillman, Jr. continues. 'In fact, he may have gone on nine or ten seconds and then he flipped up in the air. It was all that we needed and on top of that, the rider landed on his feet." Sadly, on September 15, 2014 Rango died of heart complications while receiving treatment for an intestinal ailment.

Rango's rider was Brant Atwood, a PBR cowboy who doubled for Luke Eastwood. 'Brant Atwood really has the swagger we needed for Luke Eastwood," explains George Tillman, Jr., 'and he's one of the top bull riders in the country. When you work with the real bulls and the bull riding PBR, you're working with some of the best riders around."

'The great thing about the PBR," says Bob Teitel, 'is that its members are probably the last American cowboys. We captured PBR like no other film has. They get bucked off a bull and they're lying there. The doctor comes out to check them out and they refuse help. It's just wild! 'I don't think people realise how dangerous the sport is," adds Luke Eastwood. 'Bull riders are probably the toughest guys in the world. Even our stunt guys were in awe of them. I'm fascinated by the sport and have tremendous respect for the riders."

Scott Eastwood traveled to a ranch to train. The facility's owner, Troy Brown, raises bucking bulls and is a stunt coordinator. 'Scott Eastwood was a joy to work with," says Troy Brown. 'He put in the time and effort and he really cared that his bull riding looked right. He was always asking the bull riders for advice. We had the best bull riders in the world – the who's who of the PBR – in this movie and Scott Eastwood worked with them to make it look as real as possible.

'Scott Eastwood had no bull riding experience coming into this," Troy Brown continues. 'He rides horses but that's a whole different ball game than bulls. But he's a great athlete – he surfs – so he picked it up quickly. And Scott Eastwood looks like a bull rider. He's muscular but not too big. He's very fit."

From the art of bull riding to the art of…art, Nicholas Sparks' research took him to unexpected places. 'One of the story's principal locales ended up being one of the greatest moments of kismet in my entire career," he continues. 'I remember sitting at the desk thinking, how on earth is this couple [young Ira and Ruth] from North Carolina going to become big art collectors?

'My research led me to Black Mountain College, which was the center of the modern art movement in the 1930s, 1940s and 1950s."

Black Mountain College was founded in the 1930s as an experimental college. It came to define the modern art movement. 'Everyone from de Kooning to Rauschenberg was there," says Nicholas Sparks. 'Robert De Niro's father, another noted artist, attended Black Mountain College. There were very famous artists there and if you look at the American modern art movement in the 1940s and 1950s, there were important intersections there with the great works of this century."

About The Production

The Longest Ride took its cast and crew across the state of North Carolina, from the coastal city of Wilmington to Lake Devotion, nestled in the foothills of the Blue Ridge Mountains.

Nicholas Sparks, a transplant to North Carolina, had fallen in love with the state and decided to raise his family there. He takes great pride in making sure that he shows the rest of us what it really means to be a North Carolinian.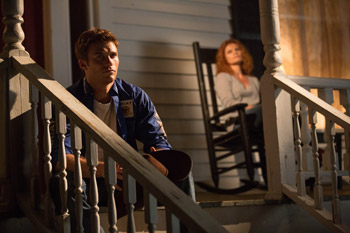 Scouting for a location to match the town where Ira grows up was a pleasant surprise for the filmmakers. 'We found this town in North Carolina called Wallace," says Bob Teitel, 'and it looks like it was still back in time – like nothing had changed. We took over this one-block street, which didn't require much set dressing. The buildings felt like they were from the 40s and we captured the celebrations at the end of World War II. It was an amazing scene to capture – like almost a parade downtown."

For the scenes with Ira and Ruth set in the 1940s, the city of Wilmington served as home, providing a synagogue and beautiful Victorian houses. The town of Wallace served as the location where Ira grows up and meets Ruth. A farm near Wilmington doubled for a World War II battlefield, and other locales included Caswell Beach and Eden, the latter standing in for Black Mountain College.

Scenes set in the present day, featuring Luke and Sophia, were filmed in Jacksonville, home to the story's outdoor bull riding ring; and in Winston Salem, among other locations.

Bull Rings, Soda Shops And Art

Production designer Mark Garner pulled together the designs for the film's various sets, encompassing the period between 1940 and 1945, and the present.

'To differentiate between the present and the past on this movie was to split it into three areas," says Mark Garner. 'We had Sophia's world, Luke's world, and the past."

For the scenes with young Ira and Ruth, Mark Garner says he 'kept everything kind of muddy with more earthy colors, which were prevalent during the period. I used deep cinnamon and browns and tans and cocoa colors with a little green. I stayed away from the bright blues and pinks, because those colors transition into Sophia's world."

'I kept the foundation of Sophia's world fairly neutral because I wanted the artwork to provide the color. I wanted the art to pop against the neutral background to show where she was. When we are in the galleries, the walls are creams or pale greens so that everything pops against it. You don't see the architecture.

'In the period world," he continues, 'you want to see the architecture, brick colors, mortar colors, and sidewalk colors. In Luke's world, I took a middle ground and stayed with primary colors – reds, blues, greens, yellows. There are no shocking colors, just primary tones that also then relate to the PBR or the bull riding world.

Although the production was unable to film at Black Mountain College, Mark Garner was eager to showcase the institution's architecture. 'To evoke the past, the buildings at Devotion Lake, which stood in for the college, were a little more rustic, but they were still in keeping with some of the buildings of the college," he explains. 'We chose to stay away from modern architecture because I'd already used that in other areas of the film. The structures at Devotion Lake provided a better setting for the period."

Mark Garner's vision of Luke's ranch stemmed from the story point that Luke's father was a bull rider who passed away five years before the story begins. 'We display Luke's trophies from when he was a kid and his ribbons and belt buckles," says Mark Garner. 'There are also a lot of family photographs of Luke's father riding bulls."

Selecting the pieces of art for Sophia's dorm room took Mark Garner back to the artists at Black Mountain College. 'Because Sophia is studying at Black Mountain, I wanted to use a lot of the art that came from the people who were involved in it, and the script dictated some of the pieces," Mark Garner points out.

Bull riding was another area that Mark Garner had to research before he could begin his designs. 'The PBR people were incredible, and we worked very closely with their creative team," he says. 'That world had to be authentic. If you watch PBR on television, or if you see it live, every venue is exactly the same. They don't change anything, wherever they're riding. I needed to differentiate each location, so PBR worked with us to incorporate the color palette for each location.

'Then there's the soda shop set," muses Mark Garner. 'I have to say that was my most favorite set in the film, because that was an empty store that had been a beauty parlor. It was all chopped up into little cubbies. It had six layers of floors and a dropped ceiling. We found this little corner shop that was in pretty rough shape, but I could see its potential. Ultimately, it was like you were back in 1941."

Costumes

Mary Claire Hannan designed the costumes, which like the production design, span different eras and looks. 'We worked in the -40s and the -60s with tidbits of the -80s and -90s," she notes. 'I wanted these costumes to look like a memory – magical – as opposed to realistic. So I had this contrast: contemporary versus period, as well as realism versus movie magic.

'The -40s dictate their own palette," she explains, 'because there were no chemical dyes during that time so the colors were earthy: olives and browns of different shades and certain colors were not that available during wartime.

'For the character of Ruth, who is a lover of art, you see the textiles in her clothing, the embroidery on her garments, instead of just a simple A-line silhouette dress. I wanted to show off her interest in textile, color and culture.

'Young Ira was a merchant," she continues, 'so I wanted to show that he liked clothing and he had two-toned shoes and two-toned jackets. They weren't as simple as the apparel worn by the typical 1940s gentleman. Ira has splendid looking ties and a bit of a splash about him. I was also trying to show that he was in love. He's got his date night pocket square and fancy ties and two-toned shoes."

Designing the wardrobe for Luke and Sophia presented a different challenge. 'I knew nothing about bull riding, but found it very interesting," says Mary Claire Hannan. 'Like some of the other filmmakers, I was invited to a PBR event in Las Vegas, where I talked to riders about how they wear clothes, what works for them, and why it works. I thought that was the best way to get the character of the cowboys, their personality and the integrity of the ride.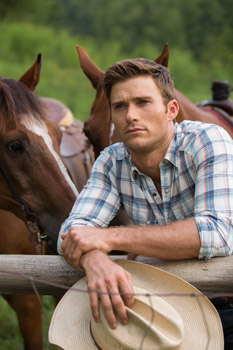 'I learned a great deal from the riders," she continues. 'I began to understand the art of the sport and realised the riders required baggy jeans and that smaller framed riders were more common that larger men. I learned that to maximize balance while riding, their chaps were all individually made and that the riders owned a single pair their entire lives. They designed them and a shop maker manufactured them."

Mary Clarie Hannan chose blue as Luke's signature color. 'It's very vibrant and I kept that same shirt on him throughout the film. As the bull riding vignettes were so quick and we were creating a kind of momentum, we could recognise Luke right away via that shirt.

'We wanted him to have other qualities, as well, so there was a lot of leather work in the barn showing that he also had an appreciation for the arts, and from time to time, you saw a much more relaxed look on him where he wore a t-shirt. He is more than a bull rider."

Hannan approached Sophia's wardrobe with soft pastels – pinks, blues and greens. As Sophia falls in love with Luke, her style begins to change. 'Sophia's starting to mingle into Luke's world," she explains. 'She shows up at the bull riding events with cut-off shorts, maybe a little bit of a western feel in her shirts, but not wearing a western shirt. Sophia and Luke are melding together and towards the end, she's actually in dresses and feeling very feminine and less the college student."


The Longest Ride
Release Date: April 9th, 2015