Scott Derrickson Sinister
Cast: Ethan Hawke
Director: Scott Derrickson
Running Time: 110 minutes

Synopsis: Sinister is a frightening supernatural horror from the producer of the Paranormal Activity films and the writer-director of The Exosmic of Emily Rose. Ten years ago, true crime writer Ellison Oswald (Ethan Hawke) made his reputation with a best-selling book based on the account of a notorious murder. Now, desperate to replicate the success of his first book, he moves his family into a new home; the scene of his most recent story and the setting of an unsolved, gruesome murder. The discovery of a batch of disturbing home movies on 8mm film in the attic offers Ellison shocking proof to the crime he is investigating. The same unidentified figure appears in each film, and as he uncovers the terrifying truth, Ellison loses his grip on reality, and possibly his life. Once you see him nothing can save you.

Sinister
Release Date: 30th of May, 2013



Director's Statement
The idea for Sinister came to my co-writer, C. Robert Cargill, in a dream the night he saw the horror film The Ring. Having had this terrifying dream, he had thought about the idea for years - but being a professional film critic and not a screenwriter, there wasn't much for him to do with it. Cargill and I were friends online, and had only met once in person; but then, two years ago on a cool January night in Las Vegas, I ran into Cargill and we decided to meet for drinks well after midnight. He drank five White Russians then proceeded to tell me the idea for Sinister. I was hooked. We sold the idea to Producer Jason Blum the next week, and five weeks later we had written the script. The film went quickly into production and was completely finished less than a year later.

During the casting stage I toiled over which actor should play Ellison Oswalt. My fear was that, because Ellison is such a flawed character, the audience may turn on him. If I put the wrong actor in the role, the audience wouldn't care what was happening because they would simply dislike Ellison himself. I decided on Ethan Hawke because I knew that he could play this deeply flawed character without the audience losing interest in him. Ethan in turn introduced me to Juliet Rylance, and after auditioning her, I was sure she was right for the role of Ellison's wife.

The process of making the film was joyful, because it was the first time in my career that I've made a film without any creative intrusion. I didn't have to make any adjustments to the script based on studio notes, and I had final cut on the film – so Sinister is exactly the film I wanted to make. Very few filmmakers are ever fortunate enough to have that kind of experience.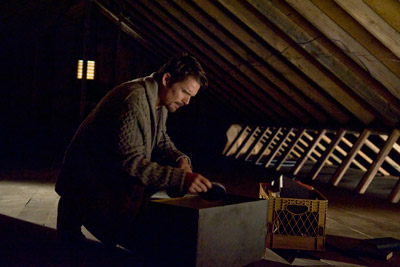 Thematically, this film – like all horror films – is about fear. But there are many different kinds of fear, and many levels of fear intensity. Anyone who pays to see a horror film is paying to experience genuine fear vicariously, in a safe environment. They want to be scared. So my first goal in making Sinister was to make the scariest film I possibly could. But I also wanted to make a film with some depth and meaning. Ellison Oswalt gets scared a lot in Sinister – by the Super 8 films he watches, by the inexplicable sounds in his house, by the behavior of his children, etc… But Ellison's deepest fears are much more normal and relatable than his reactions to the horrific things he encounters in the film. He is afraid of losing his status in the world. He is afraid of not being as rich and famous and he once was. He is afraid of not being perceived as a success. This fear in Ellison - which is a fear that I relate to - drives his choices in the film. And that's really what Sinister is about – the choices that Ellison makes (and doesn't make) because of his own deep personal fears. And what makes him interesting is that while his deep fears are obvious to the audience, he himself is blind to them and how they rule his life.

Sinister is also intended to be a horror film about watching horror films. I love the horror genre because it forces the audience (myself included) to confront the things we fear. Good horror can inoculate us against the real evil in the world by forcing us to grapple with it, to reckon with, to admit that we are often powerless against it. Good horror is a manifestation of unspoken and unspeakable human anxieties, and watching it can and should be a healthy experience. But there is a dangerous side to good horror as well – we can get too scared. We can find ourselves not sleeping for nights after seeing the movie. We can awaken deep fears within us that can't be controlled. And that's also part of what Sinister is about – the danger and thrill of watching horror. This is not exploitation horror; it is horror to be taken seriously – and much of that seriousness comes from the simple self-reflexive idea of watching a horror film about someone watching horror films.

Lastly, I am often asked if Sinister is a found footage film. The answer is no, this is not a found footage film – it is a film about the guy who finds the footage. To me, that is much more interesting.
Scott Derrickson

Sinister
Release Date: 30th of May, 2013