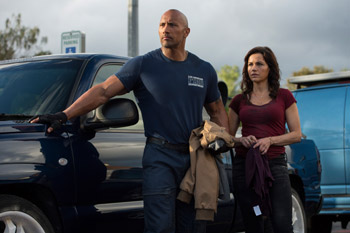 San Andreas $3.206 Million Opening Weekend
Dwayne Johnson's action-adventure San Andreas has crushed the competition, taking $3.206 million on its opening weekend to become the number one film at the Australian box office.

After the infamous San Andreas Fault gives, triggering a magnitude 9-plus earthquake in California, a search and rescue helicopter pilot (Johnson) and his estranged wife (Carla Gugino) make their way together from Los Angeles to San Francisco to save their only daughter.

But their treacherous journey north is only the beginning. And when they think the worst may be over…it's just getting started.

The action thriller San Andreas reunites Dwayne Johnson with director Brad Peyton and producer Beau Flynn, following their collaboration on the global hit 'Journey 2: The Mysterious Island."

The film also stars Carla Gugino, Alexandra Daddario, Ioan Gruffudd, Archie Panjabi, Hugo Johnstone-Burt, Art Parkinson and Oscar nominee Paul Giamatti ('Cinderella Man").

San Andreas was released nationally on May 28 and is rated M.