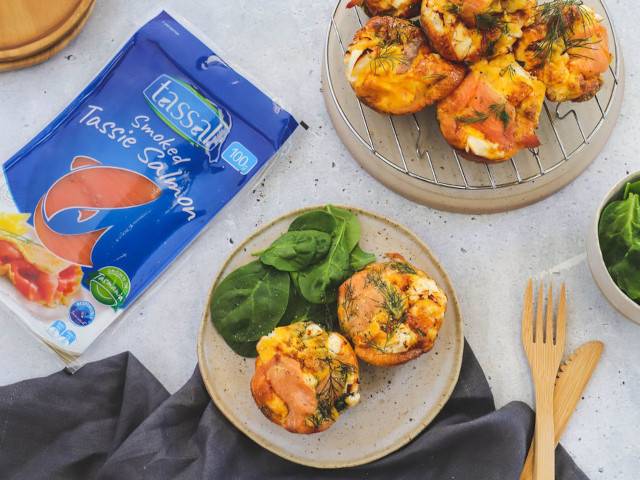 SALMON & FETA BREKKIE MUFFINS
● Cooks in 35 min
● Easy
● Serves 4

INGREDIENTS:
6 eggs
1 medium sweet potato, peeled, diced into 1cm cubes
4 slices (100g) smoked salmon, diced or fresh salmon, lightly cooked and flaked
1 cup baby spinach leaves, shredded
Olive oil spray
1/3 cup feta, crumbled
2 tbsp dill, roughly chopped
Cracked black pepper, to taste

METHOD:
STEP 1: Preheat the oven to 180-200°C and lightly spray an 8-cup muffin tray.
STEP 2: Whisk eggs and set aside.
STEP 3: Microwave the sweet potato until just tender (remember to add some water to your microwave safe bowl first). Drain well.
STEP 4: Evenly distribute the spinach and sweet potato among the 8 muffin cups. Pour over the beaten egg. Top with smoked salmon, then feta, then dill. Season with pepper.
STEP 5: Cook in a preheated oven for 15-20 minutes or until cooked through.