Roz Shaw Queensland's Moreton Island Glamped Interview
Moreton Island Adventures unveils exciting new Glamping Getaway accommodation

One of the world's most beautiful islands has just become even more accessible with the unveiling of a cluster of wonderfully designed Glampsites nestled amongst the famous giant Melaleuca trees on Moreton Island.

Just 70 minutes from Brisbane's CBD, the Glampsites are the brainchild of Moreton Island Adventures, the Hawkins family-owned and operated Moreton Island specialist which has been promoting and protecting the island and it's richness of eco-experiences and natural diversity for 42 years.

Not familiar with the term? Glamping is a growing travel phenomenon in which lovers of the outdoors can enjoy all the elements of camping but with a little luxury and glamour, or at least the comforts of home. This new style of holiday means visitors no longer have to have their own tent and pitch it; nor do they need camel-loads of equipment; rather they simply arrive, and either relax or begin their adventure.

Hidden away amidst the Melaleucas at Castaways at Bulwer, the Glampsites are half a heartbeat from the stunning beaches for which Moreton Island is famous. Each tent is beautifully furnished with a queen size bed, private ensuite and verandah, with two and four person tent options available. Package options include breakfast and dinner packs, 4WD tour options and more.



Glamping at Moreton Island is both easily accessible and affordable – unlike many Glamping experiences around the world. Overnight in the two people tent starts at $80 per night in the low season, with the four person tent beginning at $110 per night in the low season. This is an exciting addition to the getaway holiday experience, giving both local South East Queenslanders and visitors from interstate or overseas an incredible new accommodation and adventure alternative – one that combines the very real environmental connection of camping, with just a touch of glamour, with all the comforts of home at the ready.

'It's perfect for families or couples who dream of the camping getaway, but can't justify the expensive setup; or for those who yearn for a true island escape to reconnect with nature and feel the sand between their toes," said Moreton Island Adventures CEO Roz Shaw. 'For our international visitors, this is a breath of fresh air (literally), as it provides the extraordinary experience of visiting Moreton Island, in a camping environment, but with the comfort of a Queen sized bed to end the day on."

This project is co-funded by the Australian Government under T-QUAL grants.

There are few islands as stunning as Moreton Island – it's the third largest sand island in the world and is just 70 minutes from Brisbane's CBD; a natural wonder waiting to be explored and celebrated. Home to some of the world's most beautiful freshwater lakes, coloured sands, rugged cliffs and sand hills, the island also boasts the largest sand dune in the world in Mt Tempest. Importantly, this natural majesty has and remains carefully protected - 98% of Moreton Island is a National Park, with the Hawkins family passionate ambassadors of the island's natural status quo. Famous Moreton Island experiences include sandboarding at Tangalooma Bypass, the Mt Tempest hike, snorkeling the wrecks, visiting the Cape Moreton Lighthouse and Rous Battery on Eastern Beach, swimming in Moreton Island's famous Blue Lagoon, fishing at North Point and sunset at North Point.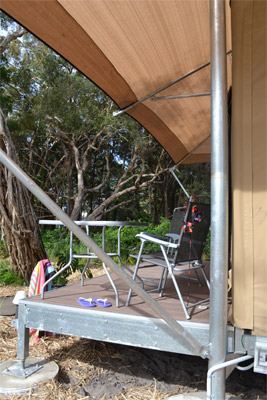 Glamping at Castaways

Price: 2 person tent from $80/night in low season; 4 person tent from $110/night in low season
Information: Each tent is beautifully furnished with a queen size bed, private ensuite and verandah.
Contact: 07 3909 3333
Website: www.moretonislandadventures.com.au

Moreton Island Glamping offers all the beloved aspects of camping; it is an environmentally friendly travel option, offering an escape from technology and the city and a way of getting closer to nature, but does it in style with quality furnishings, private ensuites, central BBQs and kitchen facilities and on-going quality of presentation.

Moreton Island Adventure operates the MIcat ferry, Castaways accommodation and restaurant on the Island and caters for the general public, four wheel drive customers and many types of groups, including schools, universities, social groups and educational tours. The business began in 1971, and believes that connecting people to Moreton means future generations will understand and appreciate this incredible natural beauty.


Interview with Roz Shaw
Question: How long have you been working at Moreton Island?

Roz Shaw: I visited Moreton Island, 44 years ago and although I don't live there, I've spent most of my life on Moreton Island.


Question: Why is it important to you to promote and protect Moreton Island?

Roz Shaw: Moreton Island is the last frontier of any island around Brisbane as there are no bitchumen roads, there is no power and you don't get that unspoilt beauty very often.


Question: Can you tell us about the Glamping Getaway accommodation?

Roz Shaw: Moreton Island has nine Glamping tents and each has their own ensuite. The accommodation is for two and four people. The four people tents suit a family as there are bunks for kids. The Glamping Getaway accommodation is settled in amongst the trees only 100 meters from the beach.


Question: What is involved in the typical Glamping Getaway accommodation?

Roz Shaw: Some people travel to Moreton Island when they have a 4WD and they use that as their base, which allows them to travel and look around the island. If you don't have a 4WD that's fine because we offer packages that include 4WD island day tours. You can incorporate the Glamping Getaway experience with the tour around the island which involves snorkeling, as well.

It's your adventure, your way. We don't like to dictate what people like to do to whether they want an action packed day or to relax on the beach and swim or even take a bush walk.


Question: What is a typical day like, for you?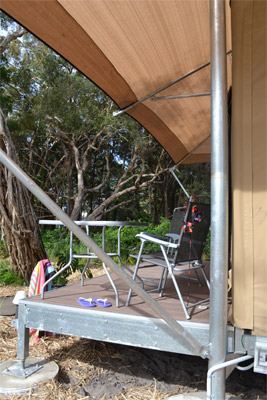 Roz Shaw: If I get to the island, it's only a short drive to the beach which is when my mind often turns off, which is a great thing. You can escape from the mobile phone and email because they don't work well, on the island. Moreton Island offers a complete chill out.


Question: For you, what's the best thing about Moreton Island?

Roz Shaw: The best thing about Moreton Island for me is that it's a step back in time. There are not a lot of people; it has beautiful water which is home to dolphins and fish which can be seen whilst snorkeling which is amazing. Moreton Island is a true getaway that is 70 minutes from Brisbane and you can see the city skyline from the island even though it's a complete world away.


Question: How do tourists get to Moreton Island?

Roz Shaw: The MIcat ferry leaves from the port of Brisbane, which is 15 minutes from the airport. There is parking at the terminal or the facilities to bring your own car (4WD).


Interview by Brooke Hunter