A SERIOUS KIND OF MAN
EXCLUSIVE Richard Kind, A Serious Man Interview by Paul Fischer
Richard Kind has been making audiences laugh on television and film for over two decades but it was his role as Mark in rthe iconic sitcom Mad about You that established him as the comic master of neurotic comedy. Kind further established his comic sensibility in the Michael J. Fox show Spin City. Born in Trenton, New Jersey, Kind was the oldest of two children born to father Samuel Kind, a jeweler, and mother Alice, a homemaker. A frequent and enthusiastic performer in school plays, Kind attended Northwestern University as a pre-law major and graduated in 1978, but at the urging of a family friend, pursued acting for a year prior to law school. Kind relocated to New York to find full time work as an actor, but found little there beyond commercials and theater. He then moved to Chicago in the early '80s, where he found success as a member of the Practical Theatre Company, an improv comedy group founded by Julia Louis-Dreyfus, husband Brad Hall, and fellow "Saturday Night Live" (NBC, 1975- ) alum Gary Kroeger. Later, Kind made an impression on Chicago audiences as a member of the venerable Second City troupe, before moving once again to Los Angeles to join its West Coast wing.
By the mid 1980s, Kind was finding regular work in episodic television, starting in 1985 with the TV movie "Two Fathers' Justice," "Mr. Belvedere" (ABC, 1985-1990) and "Anything But Love" (ABC, 1989-1992). His first series role came with the very short-lived crime/suspense drama "UNSUB" (NBC, 1989), which was soon followed by turns on a pair of short-lived Carol Burnett series, "Carol and Company" (NBC, 1990-91) and "The Carol Burnett Show" (NBC, 1991). Kind also landed what would be the first of many voice-over jobs in 1992 as the only credited voice for the venerable cartoon cat Tom in "Tom and Jerry: The Movie." That same year, Kind was cast as Mark Devanow, husband to Jamie Buchman's (Helen Hunt) best friend Fran (Leila Kenzle) on "Mad About You" (Kind was written out of the show after the show's first season, but returned repeatedly during its network run).
Post-"Mad About You," Kind appeared in a handful of features, including small roles in "Stargate" (1994) and the offbeat Martin Short comedy "Clifford" (1994), but television provided his most consistent showcase. He played an amusingly oily and crooked accountant on the comedy "Blue Skies" (ABC, 1994), enjoyed a recurring role in the Michael Chiklis series "The Commish" (ABC, 1991-95), and logged episodes on "The Nanny" (CBS, 1993-99) before returning to full time series work with the ABC series "Spin City."As nebbish press secretary Paul Lassister, Kind stayed with the show throughout its tumultuous history (which saw the departure of star Michael J. Fox and arrival of new lead Charlie Sheen) until its cancellation in 2001. During his tenure on "City," Kind remained impressively busy with other projects. He appeared on Broadway as Tony Roberts' replacement in "The Allergist's Wife" in 2000; was a sympathetic hotel clerk in the downbeat gay hustler drama "Johns" (1996), and played an attorney in John Ridley's modern noir "Cold Around the Heart" (1997). He also lent his voice to numerous animated features and series, most notably the Pixar film "A Bug's Life" (1998), for which he voiced Molt, the chatty henchman/brother of villain Hopper (Kevin Spacey), and the Nickelodeon series "Oswald" (2001-), for which he provided the voice of Pongo, The Friendly Dragon.
In recent years, Kind's animation credits expanded to include the popular Disney Channel series "Kim Possible" (2002- ) as faux Euro villain Frugal Lucre, the feature version of "Garfield" (2004) as Daddy Rat, "American Dad!" (Fox, 2005), and most recently, as Larry the anaconda in "The Wild" (2006) and as Van in the Disney/Pixar production "Cars" (2006). He also provided a voice for the "Stitch's Great Escape" ride at Walt Disney World.
Kind's returned to live action with a small role in his close friend George Clooney's directorial debut, "Confessions of a Dangerous Mind" (2002), as well as playing himself in Clooney's short-lived HBO series, "Unscripted," 2005). He had supporting turns in "The Station Agent" (2003), and "Bewitched" (2005) as well as being a consistent source of amusement on the NBC series "Scrubs" (2001-) as the ultra-hypochondriac and litigious patient Harvey Corman. Kind periodically stole scenes as Larry David's obnoxious and needy New York cousin Andy on "Curb Your Enthusiasm" (HBO, 2000-). He also appeared briefly as the jury foreman at the conclusion of "The Producers" (2005), as well as made his Broadway musical debut as Max Bialystock opposite his former "Spin City" co-star, Alan Ruck. Most recently, Kind appeared as a scientist in the kids' comedy "Spymate" (2006), co-starring Emma Roberts, and on the syndicated series "Stargate: Atlantis"
Richard Kind's latest appearance on the big screen in the Coen Brother's dark comedy A Serious Man is garnering strong reviews as he plays Arthur, the loser brother of a dentist whose world comes crashing down around him, in this very Jewish film set in 1967, from the Oscar winning Coens. Following its world premiere at the recent Toronto Film Festival, a very enthusiastic and talkative Kind chatted about the film and his career to Paul Fischer.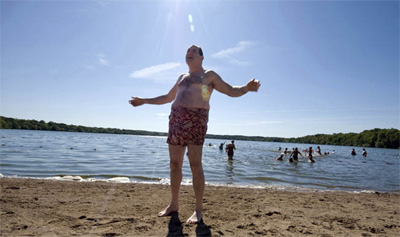 QUESTION: What really impressed me about A Serious Man was that the Coen Brothers decided to hire a lot of Jewish actors. They didn't hire movie stars, big movie stars, to be in this. How did it come your way?
RICHARD KIND: Well, I gotta tell you, everybody auditioned for this movie. So, so, so, so many people. To the point where - not just actors in New York and LA. I know some directors, and writers who you might know, who also auditioned for this. But they saw everybody. And with me, and then you'll find out when you talked to Michael, you know, we auditioned for different parts when we first started auditioning. And then we ended up with the parts that we got. Now, maybe that was their MO, to see us read - you know, I read Adam Arkin's part, then I read the rabbi's part. And so maybe it was their process, to get to the - what I would say would be the larger parts in the movie. But Michael auditioned for the husband in the prologue. That was his first thing. So, I'm ruining it for him. But that was - you know. So, that took a long time. I actually auditioned for this movie, and the movie Burn After Reading. They hadn't started Burn. And I wanted the part in Burn After Reading much more than I wanted The Serious Man. And the part in - it's not forgettable, and the guy who did it was great. But he was certainly 15 years older than me. He was very distinguished and WASPy, and played the - Tilda Swinton's divorce lawyer. You don't remember him, I'm sure, but - okay. Divorce lawyer.
QUESTION: But you, I would remember, then.
RICHARD KIND: Maybe. Maybe it's true. I don't know. But anyway, that was the part that I wanted. He had two monologues, and they were great, and they were meaty, and I really could play with it. But that's all it was. There was very - I guess it was more theatrical. And it was certainly a stronger man. Not a stronger character. But he had no arc. But just two good monologues. Arthur has an arc. And certainly has a - you know, it's very funny. When you're doing movies - William Goldman once said that one of the great screenplays of modern time was Titanic, because there's not a lot of dialogue, and yet so much happens. And that's what a screenwriter does. He doesn't just write dialogue. I'm a man of the theater, and so the words that I saw in Burn After Reading were so - that's what resonated to me. And yet, the character - Arthur is really the great acting thing. But for cinema. Who knows whether something like that would work so well on stage.
QUESTION: Now, were you able to identify with Arthur at all? I mean, it must be a very difficult character to tap into.
RICHARD KIND: You know, no. I don't agree with that. I mean all the details about the man are so sad. But is there a person, a thinking person that we know, who isn't insecure, or doesn't have his foibles? And just feels like a misfit every once in a while, in the world? He has trouble? And of course, I feel that way. You know, everybody feels that way.
QUESTION: Have you ever thought of yourself as being a bit of an outsider?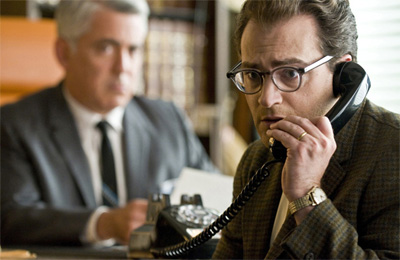 RICHARD KIND: No, not really. Okay, an outsider, versus a bit of an outsider? I'm a bit of an outsider. But I'm not an outsider. As a matter of fact, I'm very much the opposite. But the insecurities that this man has, that sense of - what's the word? Because - what can we all tap into, with a man like Arthur? I would hope the people who see it feel bad for him. And of course, may not relate to him, but may relate to his sadness. That they have to have felt a type of sadness that Arthur has felt before. Just like, in a much greater sense, we feel the sadness that Larry feels. We all have problems. Most people have had economic problems. Most people have relationship problems. Many people who were parents will have problems with their kids. We can all relate to what Larry goes through and not in a Jewish way. In a world way. Arthur, maybe not so much. But the despair that he feels sometimes, we all feel that. I mean, we all do.
QUESTION: Was Arthur in any way a product of his time?
RICHARD KIND: Absolutely not. I know - I can tell you a few places, what I think. And I never went back to this one. But, you've seen the movie Crumb? Remember R. Crumb's brother? He was the genius. I think of Arthur being a little bit like him. I also knew some bartenders at Second City in Chicago who were brilliant. Just brilliant. And they were a bit outré. But you could talk to them about the Renaissance, you could talk to them about physics, you could talk to them about the Brooklyn Dodgers. You could talk to them about anything, they'd have the answers. But they were raging alcoholics. And they were sad. And they were misfits. And I thought they were all so interesting. And they found a home, at Second City. And - smart people. I mean, brilliant people come through Second City. Great, great minds who think, and read. I mean, to go on stage every night and improvise is such a tough thing, you've got to be quite learned. And I was not. I was a nice improviser, but there's some brilliant, brilliant people. But the real brilliant people were often the ones who were behind the scenes. And I think - I used that for Arthur a little bit.
QUESTION: How surprised were you that a studio movie is so intrinsically Jewish? Was that kind of a surprise to you? It's very risky.
RICHARD KIND: It's shocking. It's shocking. I - you know, the budget of this movie - it's not high, at all. And I was talking to the guys about this. They said that the movie that they disliked making the most was Hudsucker Proxy, because they had so much money to play with and they don't like to have that much money. And I think that the minute Focus said that they would produce this movie, they knew exactly how much money they weren't going to make. They had to. Are they stupid? And not just a movie about Jews, where every state between Ohio and Nevada will not relate to, on the surface. To them, exacerbate it by saying, "And we're not going to have anybody famous in it." I mean, what idiots would make a movie like that? And yet, what if they came to them and said, "We're going to make it about Jews, so nobody can relate to it. We're going to make it with no famous actors, so nobody will be attracted to come to the movie. And yet, we promise you we will make a great movie." What would you do? Now, most people will say, "I'm sorry, you can't do that." But I like the first line of Variety's review, that said, "This is the type of thing you do when you have the power that an Oscar can bring." I think that they always wanted to do this movie. I think the guys always had this script in mind. Maybe they even had it written already, who knows. And now is the time to do it.
And the unusual thing is that a lot of times, I think it brings bad things. For instance, Barry Levinson had a script called Toys that he had written. I think it's the first script he ever wrote. Well, he felt very dear to it. Finally he wins the Academy Award for Rain Man, and what does he do? He goes and makes Toys. And it's a disaster. But these guys did something.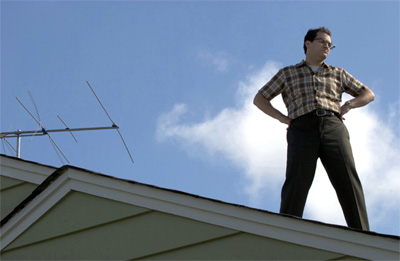 QUESTION: This is a very personal film, I think. It seems to me.
RICHARD KIND: I think Toys was probably very personal to Levinson. Usually, when you do something very personal - it's like trying to describe - "Oh, you can't believe the dream I had last night." You tell the dream, and nobody's interested in your dreams. They're so discordant, and - you know, they're tangential, and they go nowhere. But for you, it's so personal. But these guys did. They - they did make something that was great. So, who knows? Now, it is very Jewish. But here is the - and it's such an outdated reference. But during the height of World War Two, an American - a huge American studio made Mrs. Miniver, where Greer Garson, an English actress, played an English woman whose family was in the midst of World War Two. And it was made for American war widows. Now, is it a movie about an English woman? Of course. But it wasn't. It's a movie about women during wartime. Well, this is a movie about a man whose world is crashing around him, and spiritually, how does he confront it? Well, it could have been Greer Garson. But it's a Jew. It's not. And so although it's very Jewish, it's also universal. Because I can't believe there aren't people, especially today, whose economic lives are crumbling, whose marriages are crumbling, whose teenagers are dabbling in drugs, or teen sex, and they don't know the answer. And who do they go to? They go to their spiritual leader. I believe that this is an astoundingly universal movie, even though it is simply about Jews.
QUESTION: Even though this movie's very sad, you do have your comedic moments in this film.
RICHARD KIND: This movie's a goddamn comedy.
QUESTION: Especially in the bathroom. This whole business in the comedy.
RICHARD KIND: Oh, me. You're talking about me. Oh, I gotta tell you. Me, I was shocked. I saw it last night. And I didn't get nearly the laughs that I thought - I mean, I'm standing there trying to get the pus out of a cyst in the back of my neck. That, to me, is hilarious. And the machine is gurgling, and nobody laughed. And I'm going, "Are you kidding? Are you kidding?" But - you know, I did get my laughs. But the movie itself, everybody else certainly got their laughs.
QUESTION: Can you talk about how your Second City background has impacted your life on film and television?
RICHARD KIND: Tremendously, because there are a couple of things - when you're at Second City, you're on stage six nights a week, improvising five nights a week. And you are able to shape a persona, a sense of who you are as an actor, because the audience is telling you every night. And if you're smart, you're going to listen to them. But they're giving you signals all the time. Every actor goes through that. Now, from that hub, comes spokes of different characters that you could play. But you get a sense of who you are, and how you are perceived. And I don't - there is not an actor, no matter how versatile that actor is, he still comes from a core, that he knows who he is.
QUESTION: Do you know what you're doing next?
RICHARD KIND: No, I don't know what I'm working on next. I know Curb Your Enthusiasm is - I've got an episode of that that's hilarious. But I really - I don't know. I mean, I know a couple of small things, but nothing on a larger scale.
QUESTION: Will you go back to TV again?
RICHARD KIND: I'd love to go back to TV. It's TV that has not embraced me again.
QUESTION: Really because it seems that you've stolen every television show that you've been on.
RICHARD KIND: Ah, you're too nice. You' re too nice. And I talk too much, and I'm sorry. I go on and on.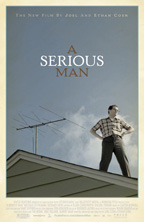 A Serious Man
Starring: Michael Stuhlbarg, Fred Melamed, Richard Kind, Aaron Wolf, Sari Wagner, Jessica McManus
Director: Joel Coen, Ethan Coen
Genre: Comedies
Imaginatively exploring questions of faith, familial responsibility, delinquent behavior, dental phenomena, academia, mortality, and Judaism - and intersections thereof - A Serious Man is the new film from Academy Award-winning writer/directors Joel and Ethan Coen.
A Serious Man is the story of an ordinary man's search for clarity in a universe where Jefferson Airplane is on the radio and F-Troop is on TV. It is 1967, and Larry Gopnik (Tony Award nominee Michael Stuhlbarg), a physics professor at a quiet Midwestern university, has just been informed by his wife Judith (Sari Lennick) that she is leaving him. She has fallen in love with one of his more pompous acquaintances, Sy Ableman (Fred Melamed), who seems to her a more substantial person than the feckless Larry. Larry's unemployable brother Arthur (Richard Kind) is sleeping on the couch, his son Danny (Aaron Wolff) is a discipline problem and a shirker at Hebrew school, and his daughter Sarah (Jessica McManus) is filching money from his wallet in order to save up for a nose job.
While his wife and Sy Ableman blithely make new domestic arrangements, and his brother becomes more and more of a burden, an anonymous hostile letter-writer is trying to sabotage Larry's chances for tenure at the university. Also, a graduate student seems to be trying to bribe him for a passing grade while at the same time threatening to sue him for defamation. Plus, the beautiful woman next door torments him by sunbathing nude. Struggling for equilibrium, Larry seeks advice from three different rabbis. Can anyone help him cope with his afflictions and become a righteous person - a mensch - a serious man?