Rabbit Hole
Cast
: Nicole Kidman, Aaron Eckhart, Sandra Oh, Jon Tenney, Dianne Wiest, Mike Doyle
Director
: John Cameron Mitchell
Genre
: Drama
Running Time
:
Synopsis
: Rabbit Hole is a vivid, hopeful, honest and unexpectedly witty portrait of a family searching for what remains possible in the most impossible of all situations.
Becca and Howie Corbett (Nicole Kidman and Aaron Eckhart) are returning to their everyday existence in the wake of a shocking, sudden loss. Just eight months ago, they were a happy suburban family with everything they wanted. Now, they are caught in a maze of memory, longing, guilt, recrimination, sarcasm and tightly controlled rage from which they cannot escape. As Becca finds pain in the familiar, Howie finds comfort. The shifts come in abrupt, unforeseen moments. Becca hesitantly opens up to her opinionated, loving mother (Dianne Wiest) and secretly reaches out to the teenager involved in the accident that changed everything (Miles Teller); meanwhile Howie lashes out and imagines solace with another woman (Sandra Oh). Yet, as off track as they are, the couple keeps trying to find their way back to a life that still holds the potential for beauty, laughter and happiness. The resulting journey is an intimate glimpse into two people learning to re-engage with each other and a world that has been tilted off its axis.
Release Date
: 17th of February, 2011
Website
:
www.rabbitholemovie.com.au
Rabbit Hole Recieves Spriti Award Nominations
Rabbit Hole has received four nominations at the Film Independent Spirit Awards.
Nicole Kidman has been recognised in the best female lead category for her role in the drama, Rabbit Hole while her co-star Aaron Eckhart is up for best male lead at the awards, which will be held in LA on February 26th, 2011.
See below for full list of Rabbit Hole nominations:
Best Director, John Cameron Mitchell, Rabbit Hole
Best Screenplay, David Lindsay-Abaire, Rabbit Hole
Best Female Lead, Nicole Kidman, Rabbit Hole
Best Male Lead, Aaron Eckhart, Rabbit Hole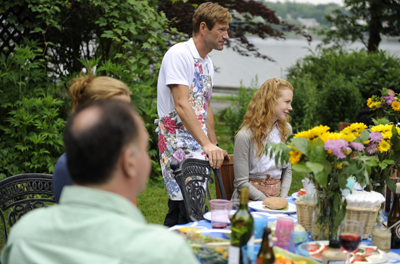 About the Production
In Rabbit Hole, a family faces a crisis that changes everything. Everything except the fact that they are still a family, just as entangled by love, humor, anger, need, rivalry, blame and hope as they ever were. The Corbett family's safe, comfortable world may have been turned upside down since the death of their young son. But it is their connections that remain - no matter how absurd, awkward or hanging by a thread - that form their lifeline. It is these relationships that render their story into not only a moving portrait of loss and grief, but also an unexpected journey into the raw, funny and surprising human moments that keep us all fighting to regain one's life in the face of tragedy Olympus Pictures, Blossom Films and OddLot Entertainment present Rabbit Hole. The film, a departure for director John Cameron Mitchell (Hedwig and the Angry Inch) - and featuring a cast passionately drawn to the material, including Nicole Kidman, Aaron Eckhart and Dianne Wiest - was adapted for the screen by acclaimed playwright David Lindsay-Abaire from his Pulitzer Prize-winning play. The producers are Leslie Urdang, Dean Vanech, Nicole Kidman, Per Saari and Gigi Pritzker; executive producers are Daniel Revers, Bill Lischak, Linda McDonough and Brian O'Shea.
David Lindsay-Abaire's play took the New York stage by storm in 2006. It was a wholly unanticipated work from an artist who then was best known for his madcap twists on the screwball comedy with such pieces as Fuddy Meers and Kimberly Akimbo. Yet, while Rabbit Hole explored the more serious subject of a young family upended by a random accident, and was far more palpably real than anything David Lindsay-Abaire had done before, the story did not go in a conventional direction.
With a complete lack of sentimentality, David Lindsay-Abaire created Becca and Howie Corbett as a couple full of wit and bite, and smart enough to know they're not going to have any soaring, grand, Hollywood-style triumph over loss, no matter how much they want it. Instead, their story became about the way people really cope with tragedy - awkwardly, stubbornly, sarcastically, and in fits and starts of forgiveness and reconciliation that come out of nowhere, only to move them slowly, achingly forward towards an altered, but still cherished, life.
The very name of the play - suggesting Alice In Wonderland's famous dive into an extraordinary, unfamiliar realm where impossible things happen - evokes the surreal experience of grief, which leaves nearly everyone who encounters it feeling like a stranger in a strange land.
David Lindsay-Abaire not only created a very true-to-life couple caught up in this off-kilter world, but he created them as emotional polar opposites. Private, carefully controlled Becca wants to put away the past and all the relationships in it, yet reaches out to the teenager who inadvertently caused the accident. Meanwhile her husband Howie grasps onto memories and friendships, and tries to find comfort in their marriage.
Then the playwright surrounded the pair with a cast of flawed characters who help to bring them home again. Equally key to the story was Becca's wilder sister Izzy, who in an awkward twist of timing announces her pregnancy; Becca's mother Nat, who so desperately wants to help ease her daughter's sorrow yet only seems to frustrate her; and Jason, the teenage boy whose own life unraveled when he accidentally hit the Corbett's son with his car and is now as lost as they are. All of them are left ill at ease, and yet together, they uncover hard-won moments of humor and grace that might be the small steps toward a life they can someday recognise again.
Rabbit Hole garnered five Tony® nominations including Best Play, won the 2007 Pulitzer Prize for David Lindsay-Abaire and quickly became internationally renowned. Meanwhile Oscar®-winning actress and producer Nicole Kidman became intrigued with the play before she even saw it - so intrigued that Rabbit Hole would become the first project she produced and starred in for her company Blossom Films.
Producer Per Saari, Nicole Kidman's partner in Blossom Films, recalls: "Nicole Kidman, who was in Australia at the time, read a review of the play and thought it sounded like the kind of material we wanted to support: powerful, human drama coming from a new and talented voice in the form of David Lindsay-Abaire. Nicole Kidman and I had a good feeling about it. Determined to see the show before it was discovered by Hollywood, I flew to New York on the eve of the worst blizzard to hit the city. I ended stranded there for almost a week, but it was time well spent."
As soon as he saw Rabbit Hole on stage, Per Saari understood why critics were so excited by its deft, dry, humor-laced approach to tough topics that are often undone by sentimentality. "The play was raw and it didn't shy away from the truth of what grief is, but it was also hopeful and it was funny - humor and new beginnings, of course, being a big part tragedy," Per Saari says. "Having lost my father and my brother recently, watching the play was a tremendously clarifying experience: "oh yeah, I remember that," or "I've never been able to put that experience into words, but there it is." It was like David Lindsay-Abaire had written the perfect sentence with the perfect words defining what loss is, and yet it all had such humanity and character."
Nicole Kidman had a similar reaction. "I believed in the subject matter," she says, "and I like to champion stories that are hard to get made. I was just really captivated by this couple who share an extraordinary, deep tragedy and yet they react in such very different ways. They have to grieve in their own ways and yet still live together. I found that very fascinating and I really wanted to play Becca, who was so brilliantly brought to life on Broadway by Cynthia Nixon. I was so excited to help introduce that character to a movie-going audience."
When Per Saari met with David Lindsay-Abaire, the playwright was ready to jump in. "I never quite felt like I was finished with the characters in Rabbit Hole," the writer confesses. "So when Per Saari and Nicole Kidman approached me, the idea of exploring them from the new perspective of a film really excited me as a writer."
He continues: "Right away, Per Saari told me they wanted me to feel the same sense of ownership as I had with the play. Of course, writers are never told that, but they were true to their word. I was involved at every turn, and not a single line of what I wrote was changed. Ultimately, everyone who came onto the project - John Cameron Mitchell and the truly amazing cast - contributed so much to it. I was indebted to them but I always felt like I was in there, too, and that was a real gift."
"Supporting the artist is a priority for Nicole Kidman and me," explains Per Saari, "and I think we all saw eye to eye on the importance of maintaining this project?s integrity from beginning to end. David Lindsay-Abaire was a part of the family from that meeting onwards."
Also joining the new team were producers Leslie Urdang and Dean Vanech of Olympus Pictures, who took a lead role in bringing the project to the screen. Says Per Saari, "Nicole Kidman and I were lucky to be partnered with Leslie Urdang and Dean Vanech, who were also the film's financiers, along with OddLot. Leslie Urdang is well versed in the language of smaller-budgeted films and everyday they proved to us what could be done for little or no money. Even a project whose stars seem aligned has something each day that threatens to shut it down - swine flu, a freak New York tornado - and Leslie Urdang was there with her smile and her dozen independent films under her belt to remind us that this is the way of indie filmmaking. You just keep on moving forward."
Leslie Urdang and Dean Vanech were as drawn to the material as Nicole Kidman and Per Saari. "I had seen the play, and easily imagined Nicole Kidman as an exquisite choice for Becca," says Leslie Urdang. "And I, like so many producers, had been in search of material that would interest John Cameron Mitchell since Hedwig. Needless to say, I was extremely excited to read the screenplay, and it was more elegant, funny and heartbreaking than I could have ever anticipated."
"The particular appeal of Rabbit Hole," elaborates Dean Vanech, "was the number of factors that came together to tell a difficult yet hopeful story - and in a way a producer could reasonably wait an entire career to find. The elegant simplicity and emotion of the script, the casting (which alone would make any filmmaker rush to make the film), the brilliant choice of director and our accomplished production partners made the decision to proceed as easy as eating ice cream on a hot summer day."
Producer Gigi Pritzker from OddLot Entertainment added her first impressions on reading the script: "I was immediately drawn to the material, and the way that it walks the fine line of tragedy, irony and levity is brilliant. I was also impressed with the fact that Nicole Kidman and Per Saari had chosen to work with the play's author for the adaptation. David Lindsay-Abaire was able to achieve what few playwrights can in adapting his own work for the screen."
"It seemed an important story to tell because all of us have or will have to deal with loss," concludes Leslie Urdang. "And Rabbit Hole, with its humor, honesty, and forgiveness reminds us of how people - each in their own way - can carry on to a beautiful and valued life even after the most impossible pain."
The Thing That Frightens You Most: Developing the Story for the Screen
When he began writing Rabbit Hole, David Lindsay-Abaire was inspired by a piece of advice that had stuck in his mind from his Julliard professor Marsha Norman: "Write about the thing that frightens you most." The writer confesses that, for a long time, he wasn't exactly sure what she meant by that.
Then, he had a son, and suddenly, it made perfect sense. "When I thought about what it would be like for me to lose my son, I experienced the grip of fear in the most profound way," David Lindsay-Abaire explains. "That became the seed of Rabbit Hole."
As he began to explore the roots of his fear, that seed opened up organically into the Corbetts, who came to life in a series of family conversations in their lovely Westchester home, conversations filled with terse, charged dialogue that belied all the emotions boiling under their seemingly placid and beautiful surface. Faced with translating the tightly-crafted play into a motion picture experience, David Lindsay-Abaire had to look at the Corbetts anew and expand their story beyond the play's single on-stage location.
"The play had stayed entirely in the Corbett house but I quickly realised that writing a movie was going to allow me to completely open up Becca and Howie's world," he explains. "I had the chance to take a lot of the incidents that are just talked about in the play and allow the audience to experience them. For example, I was able to show the Corbett's support group and what goes on there, and to show what really happens when Becca is in the supermarket and sees a mother with her child. All of this in turn gave me a better chance to understand these people because their world was now more expanded and they could move through it in a whole different way."
Nicole Kidman was impressed at how organically David Lindsay-Abaire was able to switch into a broader, cinematic viewpoint. "He's a natural," she says. "He really knows how to speak a cinematic language, and he has such a great understanding of these characters and what they're going through. I loved working with him."
In refining the dialogue for the screen, David Lindsay-Abaire also made it a priority to bring the wry humor and sense of the absurd that were woven through the play into the film's script.
"I've worked incredibly hard as a writer to push against the possible dourness of this story," he says. "That matches my experience, which is that people don't lose their sense of humor even in the saddest of times. I think that the Corbetts were always funny people and now that they happen to be going through a tragic loss, that doesn't just go away. It was important to me that moments in the film feel as buoyant, humorous and engaging as the characters themselves."
To ensure his vision, David Lindsay-Abaire knew it would take a director who could bring his own fresh perspective to the story. As he wrote, the producers approached John Cameron Mitchell, whose roots are also in the New York theatre world but broke out into film with the critically-acclaimed indie musical Hedwig and the Angry Inch, based on the off-Broadway play he co-wrote with Stephen Trask. John Cameron Mitchell followed this with the award-winning sex comedy Shortbus, revealing his diversity as a filmmaker. Rabbit Hole would be a major stylistic departure, yet everyone, says Per Saari, could see John Cameron Mitchell bringing something special to the story.
"Our biggest challenge was finding a filmmaker who could translate this story to film in a way that would fulfill its potential. Part of what makes the play work so well is there isn't a false note in the whole piece. One false note and the spell would be broken," comments Per Saari. "What unifies John Cameron Mitchell's work is an unflinching look at the human condition. Right away, Nicole Kidman and I were intrigued by the idea of John Cameron Mitchell applying the no-holds-barred approach we saw in Hedwig and Shortbus to the characters in Rabbit Hole. John Cameron Mitchell, whose own brother died when he was young, had a personal connection to the material, and it was clear from his insights that it was his film to make."
"I had never met John Cameron Mitchell before," reflects producer Dean Vanech, "but spent two hours with him over a coffee in the village and was immediately won over. I was particularly excited by his thoughtfulness and specific approach to the balance of sadness, hopefulness and humor that was required to make Rabbit Hole authentic as well as entertaining."
David Lindsay-Abaire also felt an affinity with John Cameron Mitchell. "What I love about John Cameron Mitchell is that all of his work is emotion-driven and honest, while also being whimsical and funny," he says. "Watching John Cameron Mitchell's previous films, I felt like he reaches for all the same things as a director that I do as a writer and there was a very good match between the two of us."
John Cameron Mitchell says that Rabbit Hole actually has a lot in common with his two more comically offbeat films, once you peer under its more naturalistic surface.
"I've always been most attracted to stories about people trying to connect, trying not to be alone, and to characters who are chipping away at their walls," the director says. "All my films share that. They're all about people looking for that scrap of light at the end of the tunnel. They are each done in completely different styles, but they share that same soul, if you will."
Upon reading David Lindsay-Abaire's script for Rabbit Hole, John Cameron Mitchell felt the allure of its themes. "I loved that it's a story not only about loss but about the loss of communication that comes with it. I found myself alternately weeping and laughing my way through it," he says. "I usually like to develop my own scripts but this felt so deep, so mature, so rich that it knocked me right off that course. My interest was instantaneous and I dropped everything."
Soon after putting down the script, John Cameron Mitchell spoke with Nicole Kidman. Whatever happened, he wanted to let her know of his feelings for the material and, to his amazement, an instant communion was struck between them. "I think there was some kind of instinct in her that this was the right match and things started moving very quickly," recalls John Cameron Mitchell. "It rarely happens that way, but it was lightning in a bottle."
Says Nicole Kidman of John Cameron Mitchell: "I don't know if you can say we chose him as a director. I think he found the piece and we found him. That's a far better way of phrasing it because ultimately if the motives are pure, everyone is there because they want to tell this story. So you find each other and you walk the road together."
"I have always admired John Cameron Mitchell's work," added Gigi Pritzker, "but I admit I was surprised at first that he was eager to direct this material, as it seems such a departure for him. After a long conversation with John Cameron Mitchell, it was clear to me that not only was he perfectly in sync with David Lindsay-Abaire's work, but would also bring his unique sensibility to it."
As it had been for David Lindsay-Abaire, the humor of the piece was essential to John Cameron Mitchell, providing a way for the audience to connect and a way for him to get to the characters? sense that their world has suddenly flipped from calm and comfortable to implausible and illogical.
"I think whenever there's tragedy, it is accompanied by absurdity," notes John Cameron Mitchell. "To me, it wouldn't be realistic to have a story like this without humor. Humor is such an integral part of everyday life and it' one of our tools for navigating relationships and for surviving. I always thought it was vital to David Lindsay-Abaire's screenplay and it became vital to the performances."
A Couple Divided: Becca and Howie Corbett
At the heart of Rabbit Hole are Becca and Howie, who thought they had the quintessential family life and modern marriage until it was shattered by a senseless accident, leaving them suddenly unsure of how to do anything, including relate to each other as husband and wife. The story moves, in a sense, on the waves of their unpredictable emotions, making the roles both highly challenging and fascinating to actors. Though they have been brought to life by many extraordinary performers on stage, John Cameron Mitchell says that Academy Award® winner Nicole Kidman and Golden Globe® nominee Aaron Eckhart recreated them in their own distinctive way.
"Nicole Kidman and Aaron Eckhart created a Becca and a Howie who feel absolutely believable and who are each partly right and partly wrong," he says. "Their performances are so transparent you can see the mistakes they're making as they commit them, but also you understand why they do what they do."
Nicole Kidman committed herself fully to the role of Becca, knowing it would take her to some shadowy inner places. For Nicole Kidman, Becca isn't taciturn and aloof because she feels nothing, but instead because she is bravely trying to hold back the oceanic flood of emotions that threaten her.
"I related to her stoicism," Nicole Kidman says. "I always approached Becca as if she is in such enormous pain that if she even touches on it she'll break, which I think could be true of any woman who loses their child. She has to wake up every morning with this debilitating and crippling loss, and the only way Becca can deal with things is to just keep moving forward. She's desperately trying to choose life - so by taking paintings down and cleaning out the house she's saying "I can't just crumple up and die now, so how do I live? I've got to find a way.?"
She continues: "That touched me on a nerve in some deep, terrifying place. It is somewhere psychologically I never wanted to go, yet for some reason, here I am. I think that's me with a lot of my work. It takes a lot to get me there, but when I'm there I'm completely absorbed. I have deep compassion for Becca and for the whole family."
As intense as the emotions of the piece were, Nicole Kidman was also drawn to its wit and splashes of comedy. "I think in life, even in times of extreme pain, people are funny and that's what makes us riveting. I think that's also what makes a story like this palpable, because if you can make people laugh, even when they are suffering, somehow that opens the heart," she says. "The humor is always there, even if it's a dark shade of humor."
Leslie Urdang says that Nicole Kidman found just the right balance between revealing Becca's sharp wit and torn heart. "She is one of the most talented actresses with whom I've ever had the pleasure to work," says the producer. "She set a bar that inspired everyone to do their best."
Key to Nicole Kidman's performance was also the rapport she built with Aaron Eckhart as the husband who is Becca's total opposite in his approach to recovering from loss and would do anything to get back the emotional intimacy that they once took for granted. "Aaron Eckhart brought everything to this," says Nicole Kidman. "He brought humor and intelligence, and he makes for a wonderful husband. He came into this film and lit it up. I think he's so good in it and I loved watching his process, the way he explores all the avenues. He's so open as an actor and he's a dream to be around."
Aaron Eckhart is renowned for portraying a roster of sly, tricky characters, from the misogynistic manipulator of Neil LaBute's In The Company of Men to the tobacco spin doctor of Jason Reitman's Thank You For Smoking, to the dual good-and-evil roles of Harvey Dent and Two Face in Christopher Nolan's Batman epic, The Dark Night. But in Rabbit Hole, he portrays one of the most ordinary men he's yet tackled and gives one of his most nakedly emotional performances to date.
Aaron Eckhart was drawn to Howie Corbett's yearning to pick up the pieces and go on, even if he can't quite figure out how to do that in concert with his wife. To Aaron Eckhart, Howie just seeks some kind of solace, and as Becca pulls further and further away, he's tempted to find it with another woman who seems to understand what he's going through.
"What interested me is that Howie and Becca are trying to salvage a relationship that was once very playful, fun and loving, but now everything is different," Aaron Eckhart says. "Theirs is a good story that I think is worth telling, one that will have resonance for a lot of people. It is a story for anyone who has ever dealt with confusion, loss, family pressures, marital troubles, really all the things we all deal with on a daily basis."
He, too, couldn't help but respond to the screenplay's unexpected vein of humor. "I think it captures those family moments that are both funny and poignant at the same time," the actor observes. "It brings out the kind of humor that happens when nothing makes sense and you just need some relief."
While the writing was a magnet for Aaron Eckhart, it was the opportunity to work with Nicole Kidman that truly sealed the deal. "When I read the screenplay, I knew that Nicole Kidman was going to be so good," he muses, "that I just couldn't pass up the chance to work with her on this. It was truly a pleasure to watch her become Becca and to experience the power of that. She was passionate, dedicated and so close to the material that you can feel it."
For David Lindsay-Abaire, seeing Nicole Kidman and Aaron Eckhart bring something new to Becca and Howie was thrilling. He had lived with these characters for so long and in so many different incarnations, you wouldn't think he could be surprised by them. But the very opposite was true.
"No matter how much I had thought about every aspect of their personalities and relationship, something happens when you put those characters into a great actor's hands," he says. "Suddenly, you find moments that you didn't know were there."
He goes on: "Nicole Kidman is such a soulful, smart and funny actress, she has all of the components you need for Becca. She gets to something very complicated under Becca's surface, and she's able to show that with just her eyes. It made my job as writer easier because she doesn't even need words to make an impact. And you can't find a more likeable person than Aaron Eckhart. He has this incredibly deep emotional sense that is always accessible - and that is Howie. The two of them brought the characters to life in a magical way."
Family History: Nat and Izzy
As tilted as their world has become, Becca and Howie still have to deal with the rest of their family, including Becca's mother and sister who have no idea how to help her but nevertheless keep trying. Becca's mother Nat, one of the stage play's most beloved characters, is an offbeat woman who is a little loopy, very funny and yet touchingly real. To play her, the filmmakers chose Dianne Wiest, a two-time Academy Award® winner for Bullets Over Broadway and Hannah and Her Sisters and a nominee for a very different look at maternal angst in Parenthood.
Dianne Wiest sank her teeth into Nat, portraying her as a woman who wants to say all the right things to her grieving daughter, but whose words never come out right. The good intentioned Nat does everything out of love and empathy. As the story unfolds, it is revealed that Nat also had a child who died, albeit under very different circumstances, and she knows more about this loss than Becca is willing to acknowledge.
"In casting Nat, we wanted someone who could be the glue of the story, in a way," says Par Saari. "Dianne Wiest brings warmth to every role she plays. She's like a member of the family - everybody's family - that we turn to for wisdom and kindness."
David Lindsay-Abaire was completely won over by Dianne Wiest's nuanced portrait. "Nat could be played as overbearing," he notes, "but Dianne Weist has this way of coming underneath all of her scenes and showing the hopefulness that is there inside of Nat. You see her desperation to do the right thing for her daughter, even if she has no idea what it is, and ultimately you see how she helps Becca move forward, even if it's just a single step."
Tammy Blanchard, known for her work on Broadway, for her Emmy®-nominated role as Judy Garland in the telefilm Life With Judy Garland: Me and My Shadows, and for playing Matt Damon's deaf lover in The Good Shepherd, takes on the role of Becca's contrasting sister, Izzy.
Izzy is as rowdy, reckless and unsuccessful as Becca is controlled, serious and carefully put together, and their relationship becomes more complicated when Izzy announces she will be having a baby, news that hits Becca like a blow to the gut.
Tammy Blanchard was fascinated by the clashing siblings. "Izzy is a hip, spirited woman who has always been a fun-loving partier," she explains. "She can't keep a job, she still lives with mom and yet she's had this wonderful thing happen to her. Becca, on the other hand, has done all the right things in life, made all the best decisions, worked very hard, and yet the most horrible thing imaginable has happened to her.
There's this sense of unfairness they are both aware of, and one of the big questions of the story is how are these two very different sisters going to cope with how things have turned out? I think it's really only love that gets them through."
As moved by the material as Tammy Blanchard was, nothing could quite prepare her for her first day on the set with Nicole Kidman. "For the first 20 minutes with her, I couldn't even look at her!" she laughs. "I was just so completely nervous. I remember seeing her in Moulin Rouge and feeling like she inspired my passion, so I was just in awe of being next to her. But we were able to develop this kind of disconnect with each other, which is what we needed to play these two sisters who are very much at odds."
Nicole Kidman enjoyed the naturally contentious rapport they found together. "We had to be diametrically opposed as sisters," she says, "but I think because Tammy Blanchard and I both have children, we were each very emotionally attuned to the piece and to one another."
An Unexpected Connection: Miles Teller as Jason
One of the most challenging roles in Rabbit Hole went to the film's young newcomer Miles Teller who portrays Jason, the teenager whose life takes a fateful turn when he is driving just as the Corbett's son bolts into the street after the family dog. Trying to cope with the paralysing guilt, Jason tentatively reacts to Becca's unexpected contact with him with pure honesty that comes in the form of a confession, as if declaring more guilt will ease her pain. And yet somehow their connection seems to do just that. Miles Teller, who was a student at New York University when he auditioned, makes his feature film debut in the role. "I think Miles Teller will be an exciting new face for audiences," says director John Cameron Mitchell. "He embodies this teenager dealing with a life-changing event so beautifully. He's very young but in his eyes you really see that he's lived through hard times. He and Nicole Kidman developed a kinship that is palpable."
Nicole Kidman felt at ease with Miles Teller from the start. "He's a real discovery," she comments. "One of the beautiful things about him is that he blushes and we captured that on screen. I love that because to see an actor's skin change color is a great piece of acting. To be able to grab that magical moment makes the emotions so true."
Adds Aaron Eckhart, "Miles Teller has an incredible road ahead of him. His scenes with Nicole Kidman are tender and human."
Miles Teller was also drawn to the secret but necessary relationship Becca forges with Miles Teller that gives them both a much-needed chance to share the burden. "To me, the story is in part about how you can make connections in a time of tragedy that you might never have made under ordinary circumstances," he explains. "Jason forges a relationship with Becca that seemed at first like it could never happen. But it might be just enough to get them through today and into tomorrow."
Also rounding out the cast in supporting roles are Sandra Oh (Sideways, Grey's Anatomy), Jon Tenney (The Closer, the upcoming Green Lantern) and Giancarlo Esposito Breaking Bad).
A Beautiful, Altered World: The Film's Design
Rabbit Hole was filmed on location in New York, primarily in the upscale Douglaston area of Queens, a neighborhood lined with winding, hilly streets and sprawling houses, where the production created the Corbett family's home and community in an intense 28 days of shooting.
John Cameron Mitchell worked closely with an artistic team led by cinematographer Frank G. DeMarco, who has shot all of Mitchell's films; production designer Kalina Ivanov, who recently won an Emmy® for her work on HBO's Grey Gardens; and Academy Award®-winning costume designer Ann Roth (The English Patient, The Hours).
"We were thrilled with the production team John Cameron Mitchell enlisted," comments Dean Vanech. "It was an honor to work with Kalina Ivanov and Ann Roth, whose talent in our industry is so well respected. Their sets and wardrobes add layers of history, character and resonance to the movie. The passion and commitment they brought to the project inspired every other crew member's admiration and their own best work."
John Cameron Mitchell worked closely with Frank G. DeMarco to keep everything highly naturalistic, even minimalist - and yet, just slightly askew - creating an ever-so-subtly shadowed world that for Becca and Howie is no longer quite as beautiful, bright and sexy as it was a year ago, even though the feeling of that other life lingers like a ghost in their home.
Per Saari was thrilled with the artistry the team brought to the film. "Despite our limited budget, we had a lot of talented and experienced people involved, including Frank DeMarco, Ann Roth, Kalina Ivanov and our miracle-working line producer, Caroline Jaczko. Everyone who came on board did so because they loved the script and wanted to be a part of it. The budget was lean, but I never once felt like John Cameron Mitchell's vision or the integrity of the film was compromised."
Says John Cameron Mitchell of his team: "Frank G. DeMarco's visual sense was indispensable to me, Kalina Ivanov is an incredibly talented designer and Ann, of course, is a legend who brought a pedigree, a sense of humor and lots of inspiration to the production. I was just honored to have them all working together."
Kalina Ivanov had the particularly intricate challenge of creating the Corbett's house as a living, breathing testament to a vibrant family life suddenly halted. She says she was instantly attracted to the script. "My agent called and said "you have to read this script, it's the most beautiful thing I've read in years" and when I read it, I agreed. It seems like a tough subject but it's done in such a poetic, humorous, surprising way. I was in Providence when I read it, and I took the first train I could to meet John Cameron Mitchell to talk about it."
Their conversations led Kalina Ivanov to think deeply about what kind of house the Corbetts would inhabit. "We agreed that the house had to carry the same emotional weight as the story," she explains. "It had to both capture what their lives were like before the accident, but also really embody Becca and Howie's inner lives. In many ways, the house became like the third character in their marriage, and the place that gives the audience clues as to what this family was like."
In searching for the right location for the house, Kalina Ivanov knew her criteria. "I was looking for something authentic," she recalls, "a place that felt emotional and real, and was interesting to look at without being ostentatious. I felt that the Corbetts were the kind of people who would do their own renovation and I wanted that feeling to it. It was also important that it feel happy, that it have lots of light and a wonderful flow to it. I believe every house has a spirit and I was looking for just the right one."
After looking at some fifty homes, Kalina Ivanov finally narrowed it down to one where a young family actually lived, lending it just the right atmosphere. Then she set about decorating the house, including their son Danny's untouched bedroom, as she felt the Corbetts would have done themselves.
At times, things became almost too real. "When the Corbetts put their house on the market, we set out an Open House sign and suddenly people from the neighborhood were coming in to take a look, as if it were really for sale!" she laughs. "The community knew we were making a film, but something about everything we did felt so real that they kind of bought into it too."
John Cameron Mitchell also recruited graphic artist and comic book writer Dash Shaw, creator of several imaginative graphic novels including Love Eats Brains: a Zombie Romance, to bring Jason's sci-fi comic books to life. "I was drawn to his work, which is full of dry humor," says John Cameron Mitchell. "Dash had to channel Jason's style and he found the perfect balance between creating something that could have been done by a high school student but is still visually compelling and full of character."
From the comic book designs of Shaw to Frank G. DeMarco's cinematography to the performances that are the heart of Rabbit Hole, everything centered on bringing the Corbett's reality to life. According to Leslie Urdang, "Everyone on the film - cast and crew - wanted to tell this story for the same reasons: because it goes to the heart of a universal human experience and does so with respect, integrity and just the right amount of humor."
For Nicole Kidman, Rabbit Hole is a story of hope and humanity. She summarises: "I think we open up to the people in Rabbit Hole because they're honest and genuine. Families are really like that, and it allows moviegoers to experience this journey with them."