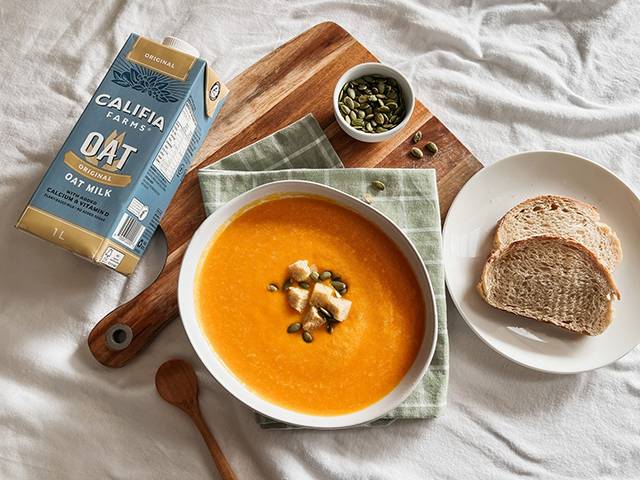 "Nothing like a nourishing bowl of soup to warm you up on a chilly winters day! This Pumpkin Soup is creamy, easy to make and packed full of nourishing ingredients," says Sabrina Lu.
Serves 3-4

Ingredients :
• 2 cups of Steamed / Puréed Pumpkin
• 1 cup vegetable broth (I used a low sodium one)
• 1 cup Califia Farms Original Oat Milk
• 1 tsp grated ginger
• 1/2 tsp tumeric
• 1/2 tbsp of garlic powder
• salt and pepper to taste

Toppings (optional):
• Pumpkin seeds
• Croutons


Method:
Simply add the ingredients except the salt and pepper into a blender and blend until creamy and smooth (alternatively add to a pot and use a stick blender to blend all the ingredients together)
Add the ingredients into a saucepan/pot (if not already) and pop it on low heat for approximately 5 minutes.
Add in your salt and pepper to taste and stir through
Serve your soup with your desired toppings and enjoy!
More info:
Sabrina Lu is a Melbourne-based recipe creator focused on healthy and nourishing feeds. Follow her Instagram here: @nourishfulsabrina For more details on Califia Farms visit: califiafarms.com.au or head to @califiafarmau