Produce to Platter: Yarra Valley & The Dandenongs
Drive along the highways and byways of the Yarra Valley to discover a unique cosmos of regional vignerons, wine-makers and chefs making use of local produce supplied from farm gates, small shop fronts, artisan craftsmen and boutique enterprises.

Full-colour photography showcases this famous food and wine region to its stunning best - and stories about the vineyards, restaurants and producers take you behind the scenes to discover the locals' secrets.

Readers are also provided with sumptuous signature recipes using local produce by the region's top chefs whilst discovering the connection between the region's traditional owners, white settlers and today's inhabitants.

As the latest instalment in the Produce to Platter series, Yarra Valley & The Dandenongs, beautifully showcases the unique atmosphere of the region, and provides readers with an insiders look at the locals who produce the best the region has to offer.

The unique combination of mother and daughter are behind Produce to Plater Yarra Valley & The Dandenongs. Both Daniele Wilton and Jonette George hold degrees in Communications and are both avid writers, designers and publishers. They care for their local environment, and are very mindful that small achievements can have a universal impact.

Produce to Platter: Yarra Valley & The Dandenongs
Smudge Publishing
Authors: Daniele Wilton and Jonette George
ISBN: 9780980789157
Price: $34.99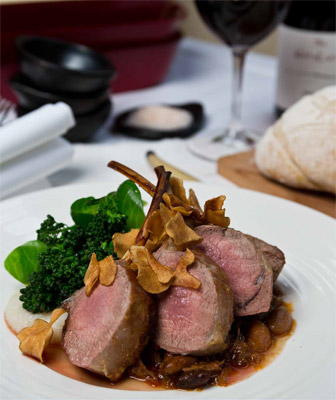 Yeringberg Lamb Rack, Braised Harvest Farm Borlotti Beans, Winter Vegetables and Lamb Shank
Healesville Hotel
Serves 4
Chef Tim Foster

Ingredients
Braised Beans:
2 tbsp olive oil
1 carrot, peeled and diced
1 brown onion, peeled and diced
1 stick celery, diced
2 cloves garlic, peeled and chopped
½ sprig rosemary
2 sprigs thyme
1 bay leaf
1 lamb shank
300g dried borlotti beans (soaked overnight in water and then drained)
150ml white wine
750ml chicken stock
Sea salt and black pepper
4 lamb racks (4 points each)

Artichoke Purée:
600g peeled Jerusalem artichokes
50g butter
Sea salt
White pepper

Artichoke Chips:
300g peeled Jerusalem artichokes
6 cloves peeled garlic
Vegetable oil
Sea salt

Method
Heat the olive oil in a saucepan and sauté the onion, carrot, celery and garlic until the onion is translucent. Add the lamb shank, thyme, rosemary, bay leaf and dried borlotti beans. Pour in the wine and chicken stock. Reduce heat to a simmer, cover and cook for about 2 hours or until the beans are soft and the lamb is falling from the bone. Remove the shank from the braise, pull the meat from the bone and shred. Return the meat to the braise. Continue to cook uncovered until the braise reduces and thickens slightly.
To cook the lamb racks, trim the racks of excess fat. Season the racks with salt and pepper and sear in a hot pan until golden brown on both sides. Transfer lamb racks to a tray and roast at 1800C for 12 minutes. Remove from the oven, loosely cover with alfoil and allow to rest for eight to ten minutes. Carve each rack into 4 and serve.
Arrange the lamb racks on the braised beans and accompany with some steamed seasonal green vegetables and a purée of Jerusalem artichokes.

Artichoke Purée:
Cover the Jerusalem artichokes with cold water and bring to the boil. Boil the Jerusalem artichokes until tender. Drain well. Return to the pan and toss over a medium heat to ensure that any residual water has evaporated. Add the butter and blend with a stab blender until smooth. Taste and season with sea salt and white pepper.

Artichoke Chips:
Thinly slice the Jerusalem artichokes and the garlic on a mandolin. You want to slice them as thinly as possible. Place in a small saucepan and cover with vegetable oil. Place over a medium heat to bring up to frying temperature. Once the artichokes and garlic start to bubble, keep a close on eye on them as once they start to brown they will brown very quickly. When golden brown, remove from the oil and drain on absorbent paper.
Sprinkle with sea salt.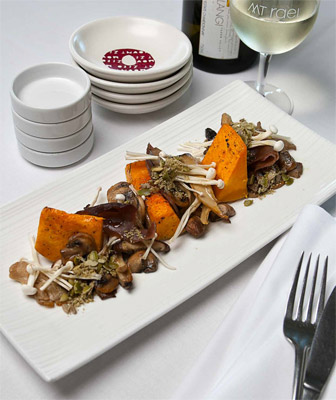 Selection of Yarra Glen Mushrooms, Roasted Heirloom Pumpkin & Pumpkin Seed Crumble
Mount Rael Restaurant Entrée
Serves 6
Chef John Knoll

Ingredients
Selection of mushrooms (Heirloom, Jap, QLD Blue, Butternut, Golden Nugget)
500g seasonal exotic mushrooms (King Oyster, Black Fungus, Shitake, and Enoki)
Fresh garlic finely chopped
6 sprigs fresh thyme finely chopped
Extra Virgin Olive Oil (EVOO)
Salt and pepper
Truffle oil

Pumpkin Seed Crumble:
3 tbsp pumpkin seeds
1/2 cup dried fresh bread crumbs
1/4 tbsp lemon zest grated
1/2 tbsp Extra Virgin Olive Oil

Method
Toast pumpkin seeds.
Pulse breadcrumbs, sugar and lemon zest in food processor to combine.
Add 3/4 of the toasted seeds to breadcrumb mixture and pulse for 3 seconds.
Place this mixture into a bowl.
Add enough EVOO to make mixture crumble, add balance of whole toasted pumpkin seeds and mix through. It is texture you are after.
Oven roast the selection of rough-cut pumpkin pieces tossed with EVOO, salt and pepper, until cooked through.
In a separate deep oven dish, roast mushrooms with minced garlic, chopped thyme,EVOO, salt and pepper.
Arrange mushrooms and pumpkin artistically on plates, top with pumpkin seed crumble, drizzle with Truffle Oil.
Serve immediately.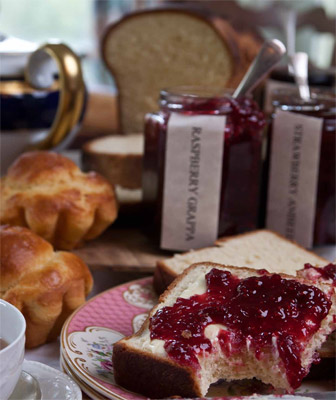 Brioche Loaf
Jam Lady Jam
Makes 1 brioche loaf
Recipe from Richard Hauptmann

Ingredients
500g strong flour
20g yeast
4 tbsp warm water
60g castor sugar
6 eggs
300g softened butter

Method
Activate your yeast with the water and half the sugar.
Add to flour and mix with your dough hook - adding your eggs one at a time until it is smooth and elastic (approx 10 minutes in electric mixer).
Beat the softened butter and remaining sugar together and slowly add this mixture to the dough a little at a time. Continue to mix for five mintues making sure the dough is smooth and glossy.
Cover your bowl with a tea towel and rest in a warm place for a couple of hours, until the dough has doubled in size.
Knock it back and cover with tea towel and place in the refrigerator for another couple of hours.
Knock it back again on a lightly floured bench and mould into a ball. Line a saucepan with a sheet of butterred greaseproof paper, twice the height of the saucepan.
Place the dough in the saucepan and lighly glaze the top of the brioche with an egg wash.
Leave for 20 minutes in a warm place to rise once more and then bake for 40 - 45 minutes in a preheated oven 3500C.
Place on a wire rack to cool and then slice and serve with your favourite Jam Lady Jamů

The fresher the eggs and the better the butter you use, will be the making of your brioche.