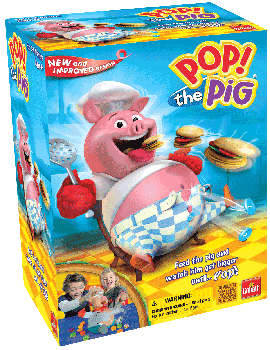 Pop! The Pig Provides Hours of Family Fun
An international best-seller, Pop! The Pig keeps everyone on their toes.

Kids and adults alike will have a blast playing the fun new family game, Pop! The Pig. Simply spin the die, pop a hamburger into the pig's mouth, and pump his head. If he eats too much, he will suddenly pop! The whole family will love the suspense as you watch his belly grow, and the player who makes his belly burst loses.

Pop! The Pig provides hours of family fun and is completely kid powered (no batteries needed).

Suitable for 2-6 players aged 4+.
RRP $39.99
Available at all leading retailers.
Watch the video here.