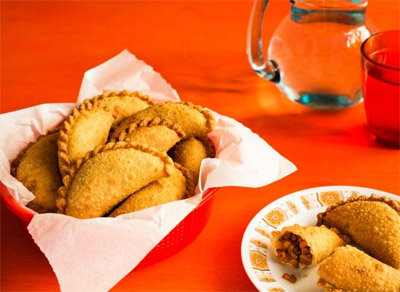 Poh's Curry Puffs



Learning how to crimp a curry puff perfectly was most certainly one of my earliest food memories. If you feel you can't quite replicate the perfect pleat, you can easily find plastic curry puff makers in Asian grocers or not worry about the execution too much. As long as they're adequately sealed, they will go down the same way. For those longing for a sauce, there is no need – these moorish little parcels are traditionally eaten as is.

Preparation Time: 45 mins
Cooking Time: 25 mins
Serves: 8-10 as a starter or snack

Ingredients
500g plain flour
1 tsp salt
250g unsalted butter, chilled, 1cm dice
Chilled water
OR
1kg frozen shortcrust pastry

Filling
250g chuck steak or chicken breast, diced into 5mm cubes
2 Tbs vegetable oil
1/2 large brown onion, peeled, diced into 5mm cubes
100g sweet potato, peeled, diced into 5mm cubes
1 medium potatoes, peeled, diced into 5mm cubes
1 1/2-2 Tbs meat curry powder or to taste (available in Asian grocers)
1/2 tsp sugar
1 tsp salt or to taste
2 L vegetable oil for frying

Method
In a medium sized non-stick frypan, saute onion on a medium heat until tender and slightly brown. Add meat curry powder and cook for a further 10-20 seconds. Add chicken and stir fry until cooked, then remaining ingredients and stir-fry until potatoes are tender. Taste and add more salt and/or sugar if required. Cool slightly before covering with cling wrap and refrigerating.
To make shortcrust pastry, combine flour, salt and butter in a large mixing bowl. With your fingers, rub butter into flour vigorously until you achieve a crumbly consistency. Add very small amounts of water at a time to bind the mixture into a firm, single mass. Roughly shape into 3 disks, cover with clingwrap and rest in fridge for 20 minutes.
Alternatively, combine all ingredients except water in a food processor. Pulse until the mixture is a crumbly consistency, then add very small amounts of water at a time (by the tablespoon), pulsing until the mixture forms a single mass. Roughly shape into 3 disks, cover with clingwrap and rest in fridge for 20 minutes.
To stuff curry puffs, dust bench with flour and roll pastry until 3mm thick. Cut 10cm circles with a pastry cutter, fill with a tablespoon full of mixture and crimp edges to seal. Repeat until all pastry or filling is used up.
Heat oil in a large pot or wok. Drop a very small portion of pastry into oil. If it turns golden in about 15 seconds, the oil is ready. Fry 4-5 pieces of curry puff at a time until the pastry is beautifully golden.



Malaysia Kitchen Australia is a nationwide celebration of Malaysian cuisine – the original fusion food, combining the best native Malay, Chinese and Indian cooking to create new, vibrant flavours and dishes.
Spearheaded by Poh Ling Yeow and other top Malaysian chefs around the country, the Malaysia Kitchen Australia campaign is all about encouraging Aussies to embrace delicious Malaysian cuisine – the vision is that Australians from all walks of life will be familiar with a menu of Malaysian dishes, want to seek out their unique flavours in restaurants and know how to cook them at home.