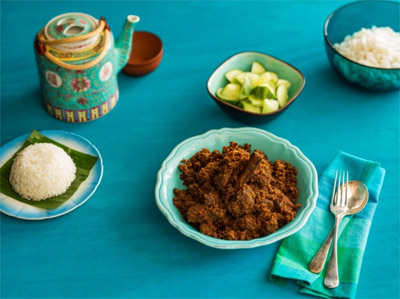 Beef Rendang


Rendang is possibly the most famous Malaysian beef dish. Unlike many Malaysian dishes that involve a rempah (spice paste), this one is not caramelised but is used as a marinade and then simmered until the meat is tender and gravy reduced. Because rendang is a dry style curry, it is usually served as part of a shared meal.

Preparation Time: 25 mins
Cooking Time: Overnight marinade + 90 mins
Serves: 4


Ingredients
1.25 kg gravy beef or chuck steak, cut into 3-4 cm pieces
3 medium brown onions, peeled,
roughly chopped
3-4 cloves garlic, peeled and roughly
sliced
2 1/2 Tbs ground coriander
1 1/2 Tbs ground fennel
1 1/2 Tbs ground cumin
1 tsp ground black pepper
10-15 dried chillies, seeds removed, cut into small pieces, rehydrated in hot water for 20 minutes
(reserve 1 cup chilli water for cooking)
4 stalks lemongrass, white part only, dry outer layers removed, finely sliced
3 cm galangal (fattest part), peeled and finely sliced
3 cm fresh ginger, peeled and finely sliced
1 Tbs tamarind paste – easily found in a jar at supermarkets or Asian grocers
2 Tbs brown sugar
1 1/2 tsp salt
1/4 cup water
1 cinnamon stick
4 cloves
6 cardamom pods
800 ml coconut milk
1 cup reserved chilli water
150g kerisik (150g desiccated coconut required – see method below)
Extra brown sugar and salt to balance at the end

Method
Combine all rempah ingredients in a blender and blitz into a smooth paste. Pour into a large mixing bowl together with beef and mix thoroughly. Cover, refrigerate and leave to marinate overnight or for 2 hours at minimum.

To cook, transfer meat into a large non-stick saucepan. Add remaining ingredients except kerisik and cook uncovered on a low to medium heat until half the liquid has evaporated. Stir occasionally to check the mixture is not catching on the bottom.

To make kerisik, simply dry toast 150g desiccated coconut in a medium frypan, tossing regularly until it develops a deep golden brown. Transfer to a mortar and pestle or a spice grinder to grind into a grainy paste.

Add kerisik and cook until the rendang develops into a dark brown with most of the liquid
evaporated and beef tender. This should take 1 - 1 1/2 hours.

Serve immediately with steamed jasmine rice and fresh cucumber.



Malaysia Kitchen Australia is a nationwide celebration of Malaysian cuisine – the original fusion food, combining the best native Malay, Chinese and Indian cooking to create new, vibrant flavours and dishes.
Spearheaded by Poh Ling Yeow and other top Malaysian chefs around the country, the Malaysia Kitchen Australia campaign is all about encouraging Aussies to embrace delicious Malaysian cuisine – the vision is that Australians from all walks of life will be familiar with a menu of Malaysian dishes, want to seek out their unique flavours in restaurants and know how to cook them at home.