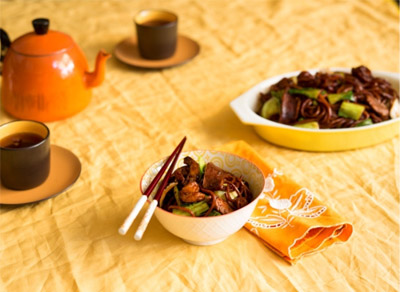 Dark Hokkien Noodles
This is a dish my Mum and Great Aunty Kim cook a lot for Sunday lunch or for big family gettogethers. There is always a big dish of this in the middle of the buffet table because the little ones love it. This is best eaten hot when the sauces haven't been completely soaked up by the noodles giving them a delightfully slippery texture.

Preparation Time: 15 mins
Cooking Time: 15 min
Serves: 2-3

Ingredients
2-3 Tbs vegetable oil
2-3 cloves garlic, finely chopped
250g pork neck or chicken, finely sliced
100g fish cake sliced into 5mm thick
pieces (optional and available from
Asian grocers)
10 medium green prawns, shelled,
deveined and halved length ways
1/2 medium cabbage, shredded, 1cm
width OR equivalent amount of
Chinese cabbage, choy sum or bok choy, sliced into 4 cm pieces
3 Tbs thick soy (sometimes called caramel soy but is NOT kicap manis or dark soy)
2 Tbs oyster sauce
1 Tbs light soy
500g hokkien noodles
2 cups chicken stock or water

Method
Heat oil in a medium sized wok and sauté garlic until slightly golden. Combine pork, fish cake and prawns in wok and stir fry until cooked through and then add cabbage. Stir fry for a further 2 mins.*
Add caramel soy, oyster sauce, light soy, noodles and chicken stock or water. Simmer until cabbage and noodles are just tender and stock has reduced a little. Serve immediately.

* If using other Asian greens (which are a more watery vegetable), add at the end while noodles are simmering, so as not to overcook the vegetables. You want them to retain a nice crunch.


Malaysia Kitchen Australia is a nationwide celebration of Malaysian cuisine – the original fusion food, combining the best native Malay, Chinese and Indian cooking to create new, vibrant flavours and dishes.
Spearheaded by Poh Ling Yeow and other top Malaysian chefs around the country, the Malaysia Kitchen Australia campaign is all about encouraging Aussies to embrace delicious Malaysian cuisine – the vision is that Australians from all walks of life will be familiar with a menu of Malaysian dishes, want to seek out their unique flavours in restaurants and know how to cook them at home.