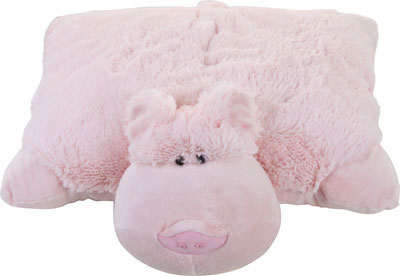 Pillow Pet
It's a Pillow. It's A Pet. It's A Pillow Pet.
Super soft, cute and huggable, Pillow Pets provide kids with a cuddly companion as well as a pillow.

Fun and easy to use, simply open the tab for your pet to pop open into a pillow.
Pillow Pets combine the utility of a pillow with the playfulness of a stuffed animal. Made of ultra-soft chenille, Pillow Pets are an ideal travel pal, naptime buddy and all-round snuggly friend. They can also hold your PJs for a sleepover.

Mums will love Pillow Pets too. Machine washable, the ultra soft high quality chenille fabric and durable stitching will provide years of enjoyment.

The cute and cuddly collection includes a Magical Unicorn, Bumbly Bee, Ms. Lady Bug, Silly Monkey, Wiggly Pig, Comfy Panda, Playful Penguin and Snuggly Puppy, available in small and large sizes.

The perfect companion, kids' love their Pillow Pets by day and are comforted sleeping with them by night.

You're never too old for a Pillow Pet. Collect them all.
Pillow Pets are available in September from all major toy retailers and independent toy stores for RRP$12.99*ea (small) and RRP$19.99*ea (large).

For customer enquiries or more stockist information please contact Funtastic's free-call Customer Care Line on 1800 244 543.