Philippe Legorjus Rebellion Interview
Cast
: Mathieu Kassovitz, Iabe Lapacas, Malik Zidi
Director
: Mathieu Kassovitz
Genre
: Action, Drama, History
Running Time
: 129 minutes
Synopsis
: April 1988, Ouvéa Island in the French colony of New Caledonia. 30 policemen are kidnapped by Kanak separatists.
300 French special-forces operatives are sent to restore order.
Two men face off: Philippe Legorjus, captain of the GIGN, an elite counter-terrorism police unit, and Alphonse Dianou, the rebels' leader.
They attempt to find a peaceful solution based on common values and dialogue.
But, against the backdrop of presidential elections in France, the political stakes are high, and order is not necessarily a moral question.
With this violent and troubling saga based on real-life events, Mathieu Kassovitz makes a powerful comeback in front of and behind the camera.
Release Date
: April 12th, 2012
Website
:
www.lordreetlamorale-lefilm.com
Interview with Philippe Legorjus
Born in 1951, Philippe Legorjus graduated in law from Caen University. Passionate about theology and philosophy, and an activist in the May 1968 student movement, he hardly seemed cut out for a military career. Nonetheless, he enlisted in the Gendarmerie in 1979 and became a member of its elite unit, the GIGN, in 1982. He was made GIGN commander in 1985 and was thrust into the spotlight by the tragic events in Ouvéa.
Question:
When did you first hear of Mathieu Kassovitz's project?
Philippe Legorjus
: In 2004 or 2005, when Mathieu contacted me. He'd read my book, Morality and Action, and told me he wanted to turn it into a movie. We met up and immediately got on well, but to begin with I was pretty reticent about transposing what I had written in 1990 into cinematic form.
Question:
Why?
Philippe Legorjus
: The events in Ouvéa only represent part of the book. I wrote it to "debrief" a fairly intense part of my working life and move on. It was a way of drawing a line under that part of my life. And that's what I did. I went from the military-style world of the Gendarmerie, to which I was totally committed and which meant so much to me, to civilian life with an entrepreneurial project in a completely different field. I needed something solid to mark that turning point. That's why I wrote the book. The publisher had raised the issue of rights for a possible film adaptation and I'd always thought that if it ever happened it couldn't be a Hollywood-style action picture. In fact, I was approached by US companies on several occasions and I always refused. Then, around 2004, Mathieu turned up and explained his project in a very appealing way. He'd just got back from Ouvéa, where he'd been getting a feel of the situation. His approach seemed worthy of interest and we started talking, meeting up pretty often. I also met Mathieu's father, Peter, who wanted to make a purely factual documentary about the events in Ouvéa.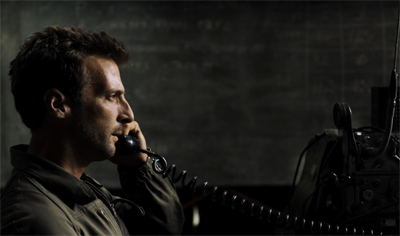 Question:
Did he keep you updated while he was writing?
Philippe Legorjus
: Of course. I read an early draft. Then, for a couple of years, not much happened. Radio silence. Then, contact started up again. Another writer had joined the dance, our comrade-in-arms Benoît Jaubert, and we began to move forward. Mathieu, Benoît and I met up often, several times a month. Mathieu often came by my house in Nantes. We'd spend whole evenings going over details, working things through until late into the night. Mathieu had me explain different military attitudes that vary depending on the army corps, personality and even origin, which creates different identities, behavior and approaches to military reality. In 2009, Mathieu started writing alone and it was fascinating to watch. He was like a sponge. At the same time, he was meeting lots of the other protagonists, including people with whom I had an uneasy or unfriendly relationship. One source of inspiration wasn't enough for him.
He dug deep and that resulted, in summer 2010, in the 22nd draft, if memory serves me right. He shot his movie from that script. It is his movie, not mine. I'm not cut out for shooting pictures or telling stories in film. I placed my faith in Mathieu, fully aware of the risks that entailed.
Question:
Meaning?
Philippe Legorjus
: I know that Mathieu's temperament and way of working could lead him to rewrite a whole scene on set or rework the script live, while he's shooting the movie. When I saw the first rough cut, I realized what a complex business making a movie is. It can't have been easy for Mathieu to play the lead and stay in character while directing the movie, but it underscored his commitment. What surprised me most when I saw that first cut is that I am in almost every scene. I knew the film was structured around me, but I expected events to play out from various angles. It even shook me up a bit during the screening. Five minutes later, I'd got over it, of course! I'd closed that chapter in my life and the film thrust me back into it, bringing back powerful emotions. Above all, it made me think I did the right thing in 1988. Mathieu puts his finger on exactly what I felt back then.
Question:
Were you surprised when he said he would be playing you?
Philippe Legorjus
: Yes and no. He had talked to me about actors he was thinking of. But when he started writing alone and began to drive the project almost on his own, it struck me as logical for him to go all the way by playing my character. I was fine with that because we'd spent goodness knows how many hours together and, in the film world, he is clearly the person who knows me best and who was, therefore, best placed to play me. I was also very impressed by his performance. He plays it so low key. Unlike everything you see from actors in movies nowadays. Mathieu gives such a simple, understated performance. He is always just right, never over the top.
Question:
How do you explain his desire to make a movie about this episode?
Philippe Legorjus
: It's still a mystery to me. I think his first stay with the Kanaks deeply affected him. He had no idea of Melanesian culture and it really touched him. I also think the story itself spoke to him in the differences it throws up between human beings, even soldiers in the field of operations, and a supposedly higher authority disdainfully rolling over human lives. It clearly resonated in the rebellious side of him. Personally, in the last twenty years, I've been struck by the similar character, qualities and values that one finds in a military, business or humanitarian environment and the weakness of character prevalent in the world of politics. We have intellectually high-powered political leaders with superb training, who too often behave as if they were in acute psychological distress. It's down to weakness of character not cowardice, because they can be very courageous, but they never doubt themselves. It's true across the board and the Ouvéa affair exemplifies that because politicians on all sides-supporters of Chirac, Mitterrand or the FLNKS-were equally abject. They sent men on a mission that could only result in fatalities. When you tell them, "Look, it's in everybody's humanitarian interest for the stupidity to stop-you sent men out there, now let's bring them back nice and easy, and resolve this," and they don't listen, it makes you despair. If we could have done that, nobody would have died. It's the only time I failed in negotiations. It sounds pretentious, but they didn't let me see the job through. I remain convinced that if we had been allowed to go through with the plan to bring journalists to the cave, that would have been an end to it and we might even have come back with the hostages. Once Dianou had broadcast his message to the whole of France on TV, we could have settled everything peacefully. The problem is, we would have settled it before the runoff in the presidential elections on the following Sunday, and that didn't suit anyone, especially not the politicians, on all sides including the leftwing, because Mitterrand was smart enough to know he would benefit from it later, once the election had been won. How can you not resent politicians when you know that?
Question:
In what way do you think it's important this film exists today?
Philippe Legorjus
: It's important because the weakness of character in French politics, since De Gaulle died let's say, stops historical events like this being studied in an appropriate way to enlighten future generations. It's better to redeem negative acts than leave them to fester in silence and caricature, so it's important to revisit historical events, not only for the future but also for the present. I'm not sure that a similar episode today would not be settled in exactly the same fashion.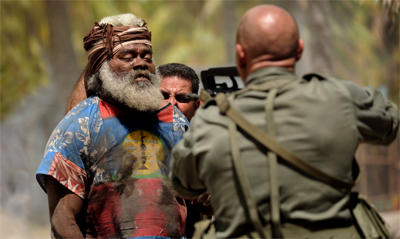 Question:
When you watched the assault scene, what were your feelings?
Philippe Legorjus
: It's very powerful and pretty accurate, but paradoxically I was much more impressed by the accuracy of the depiction of the relationship between Legorjus-sorry to talk in the third person-and Alphonse Dianou. And by the atmosphere that prevailed in the Kanak village, which is very close to the reality.
Question:
In your book, you tell the story of the assault in victorious terms-the hostages and your comrades were freed. The unease and controversy only set in a few days later. In the film, Mathieu Kassovitz compresses time and introduces bitterness at the consequences of this "victory" into the assault itself.
Philippe Legorjus
: It's an excellent shortcut. And it's very smart, because otherwise the film would have to explore the circumstances around the publication of the article in Le Monde, and it would go on forever. I remember that it's exactly what I told my men at the briefing before the final operation, as if I'd had a premonition. I told them, "You know how hard I tried to ensure it didn't come to this, but if we have to do it, let's do it. It's our duty. We'll win and be held up as heroes, but it won't last. Our probable success will be dismissed and vilified, and ideologists on all sides will reach for pens dripping in scorn to dispossess you of the reality of what you are about to do." That's what happened! What's more, a few members of the assault forces did things that gave the scribblers and ideologists I was talking about something to sink their teeth into.