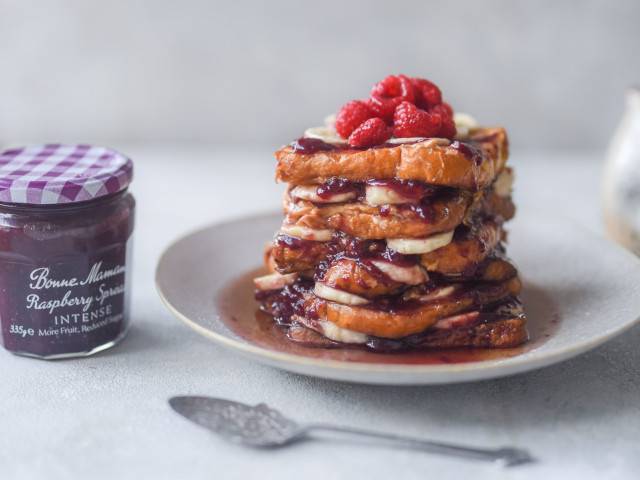 Peanut Butter and Jelly French Toast
Ingredients
• 2 large eggs
• 75ml milk
• 1 tbsp ground cinnamon
• 1 tbsp butter
• 8 slices of brioche
• 4 tbsp Peanut Butter
• 4 tbsp Bonne Maman Raspberry Spread INTENSE
• 2 bananas, sliced
• 1 punnet of raspberries
• Icing Sugar to Dust
• Maple syrup to serve.

Method
1. Place the eggs, milk and cinnamon in a large shallow bowl and whisk until well combined.
2. Dip each side of the brioche into the egg mixture. Heat the butter over low heat in a large frying pan and fry each side of the brioche for 1 – 2 minutes until golden brown. Repeat until all slices of brioche are cooked.
3. Spread a layer of peanut butter and Bonne Maman Raspberry Spread on each slice and top with banana. Stack the slices to serve, top with fresh raspberries and dust with icing sugar or drizzle with maple syrup to serve.