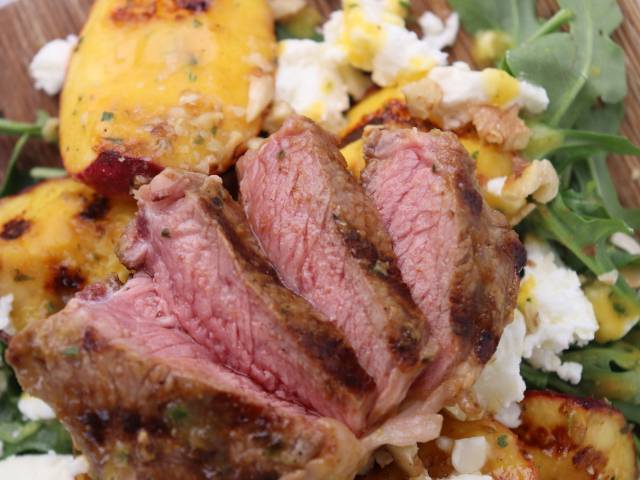 TIM BONE'S PEACH GLAZED CLEAVER'S LAMB CUTLETS WITH GRILLED PEACH SALAD
2 Serves (MAIN) 4 Serves (ENTREE)
30 Mins Preparation
10 Mins Cooking

INGREDIENTS
• 2 mini Cleaver's Meats Lamb Racks, separated into 8 cutlets
• 4 fresh peaches, de-stoned and quartered
• 100g pack of rocket leaves
• 200g Goats Cheese
• 1/2 cup toasted walnuts, roughly chopped

FOR THE MARINADE AND GLAZE
• 1 x 410g tin of peach slices and juice
• 2 tbsp maple syrup
• 1 tbsp apple cider vinegar
• 2 large garlic cloves, chopped
• 1 tbsp rosemary, chopped
• 1 tbsp olive oil
• Good pinch of salt and pepper

METHOD
1. For the marinade and glaze, blitz all ingredients with a stick blender or food processor until smooth and combined.
2. Place the lamb cutlets into a container or bowl and pour half of the marinade over the top. Allow to marinate in fridge for at least 30 minutes or the day before if you can
3. Toast the walnuts in a small frying pan over medium heat. Stirring for a few minutes until fragrant.
4. Grill lamb chops and peaches on the BBQ for approx. 3 minutes either side, basting with the marinade glaze along the way. Hot tip - use a bunch of Rosemary as your basting brush to give some extra flavour. You want the peaches to start to soften and the lamb to be still pink in the middle.
5. For the salad, toss the rocket leaves in a little bit of the marinade to coat, it makes a great salad dressing as well.
6. Place rocket onto serving platter and top with the grilled peaches, crumbled goats cheese and walnuts.
7. Place lamb cutlets onto the platter and drizzle lamb and salad with some extra peach glaze.
8. Serve and enjoy!

TIPS
• A trick to knowing when it's done is that when you press down on the meat with your finger, it should still feel quite soft.